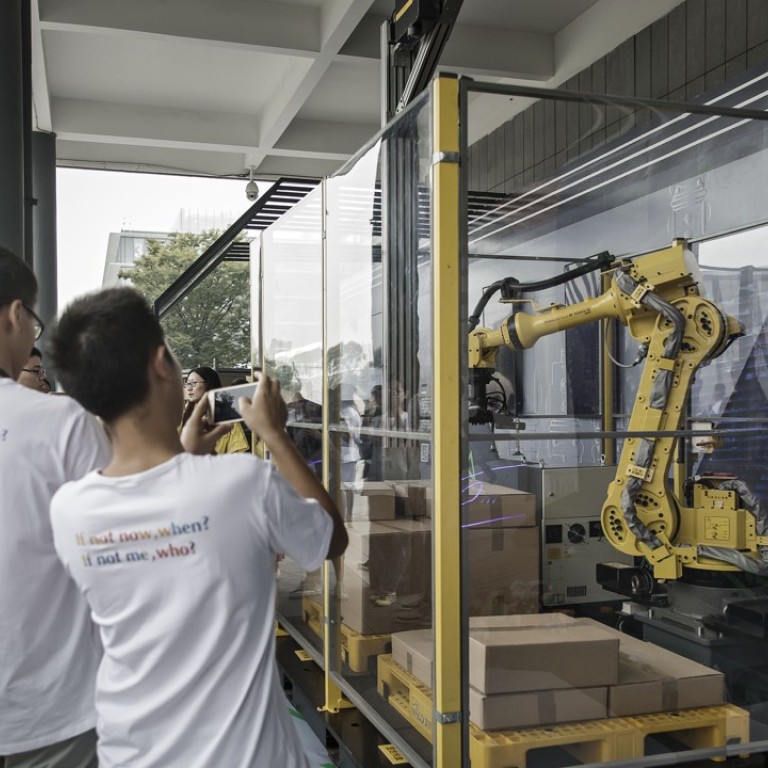 How Singles' Day has helped Alibaba ascend on an AI-powered cloud in China
The world's largest shopping festival is also the day that Alibaba pushes the boundaries on its technology and services
By combining big data, artificial intelligence and cloud computing, Alibaba can offer an AI platform for business solutions

Within minutes of the clock striking midnight on November 11 this year, consumers across China will be racking up billions in purchases on Alibaba's e-commerce marketplaces. Alibaba engineers and employees watching the transaction numbers on big screens will whoop as the figure instantly crosses the hundred million yuan mark, then zooms into the billions.
As the orders start to roll in, the company's proprietary cloud computing platform Alibaba Cloud will, at its peak, process hundreds of thousands in transactions and payments per second. Robots in the automated warehouses of Alibaba's logistics arm Cainiao will begin sorting and packing the orders that come in, readying them for the battalion of trucks, scooters and millions of deliverymen that will send an estimated 1 billion packages to their rightful owners within days of November 11.
For China's largest e-commerce firm, Singles' Day is not just its most important shopping event of the year. It is also the day that the Alibaba pushes the boundaries on its technology and services, stress-testing its technology systems during the world's largest shopping festival that grows in scale every year.
The technology and innovation that Alibaba has developed to serve the needs that arise from Singles' Day have allowed Alibaba to expand into a variety of services, including Alibaba Cloud, logistics, and artificial intelligence.
Take Alibaba Cloud for example. Alibaba's cloud computing arm was borne out of a belief by Alibaba co-founder and executive chairman Jack Ma that it was important for the Hangzhou-based firm to develop its own core technology.
Before 2008, Alibaba relied heavily on technology from Yahoo, one of Alibaba's largest shareholders, according to Wang Jian, who served as president of Alibaba Cloud since its inception in 2009 until September 2013.
"Jack Ma understood the importance of technology, he felt deeply that without [your own] technology, you cannot survive," Wang recounted in a CCTV interview in July. Alibaba did not make Wang or other executives available for interview.
Ma wanted Alibaba to develop its own cloud computing capabilities instead of relying on external technology, and pledged to invest 1 billion yuan every year for the next decade for Wang to build Alibaba's proprietary cloud computing systems.
Wang led a team of engineers to create Apsara, a cloud computing system that could cluster thousands of PCs and act like a supercomputer to implement extremely powerful computing performance. Within just a year, Alibaba Cloud supported its first Singles' Day shopping festival, supporting 2.4 billion page views in 24 hours.
Alibaba Cloud's systems have today become the backbone for subsequent Singles' Day bonanzas. In 2017, the system supported a peak of 325,000 transactions and 256,000 payment transactions per second.
"This is like a stress test and this shows the very strong cloud capability of our elastic [compute], big data and security," said Wang Yeming, an Alibaba Cloud general manager in an interview with ComputerWorld UK in June this year.
"Nowhere else can you find such a workload on the cloud … Alibaba is well proven in extreme stress tests."
Alibaba Cloud is now essential infrastructure – it powers every business unit throughout the Alibaba Group.
In its 2018 fiscal year, Alibaba transacted a massive 4.8 trillion yuan worth of transactions on its e-commerce platforms, giving the company access to big data that it can use to test its cloud computing architecture and feed into its machine learning systems.
By combining big data, artificial intelligence and cloud computing, Alibaba today offers not just cloud services, but also an intelligent AI platform called ET Brain that helps companies solve business and even social problems.
Solutions offered can help improve traffic flow, predict medical needs in a hospital and even ease congestion at the Beijing Capital International Airport, which is notorious for its flight delays.
In January, Malaysian capital Kuala Lumpur signed an agreement with Alibaba to use its ET City Brain smart city platform, that will use big data and AI on its cloud computing infrastructure to process video feeds, social media and traffic information to manage traffic on the streets, and even help provide data for urban planning and reduce traffic congestion. Other cities that will also use ET City Brain include Macau and the African nation Ghana.
Similar solutions are on offer for industries that are looking to increase efficiency, whether on the production line, during the supply chain process or to protect themselves from copyright infringement, as Alibaba chairman Ma looks towards smart manufacturing as the next big thing that will upend the retail industry over the next decades.
While much of its AI and cloud products are still aimed at providing solutions to enterprises, industries and cities, Alibaba has also introduced several consumer-facing features, tucked away in its Tmall mobile app, that will give consumers a peek at its AI prowess.
Located in the "My Tools" section of Tmall's app are three AI features that Alibaba calls "Select items with AI". Specifically, three options are available – users can snap a picture to determine the ripeness of a melon, check the type of kiwi fruit (golden or green) and even whether one's longjing tea leaves are hand- or machine-roasted.
The latest AI tea leaves feature was demonstrated onstage by Simon Hu, president of Alibaba Cloud, at the company's 2018 cloud computing conference in September. Inviting the emcee on stage to taste some of Hangzhou's famous longjing tea, Hu asked if the emcee could identify whether the tea leaves on the two saucers before him were roasted by hand or by machine.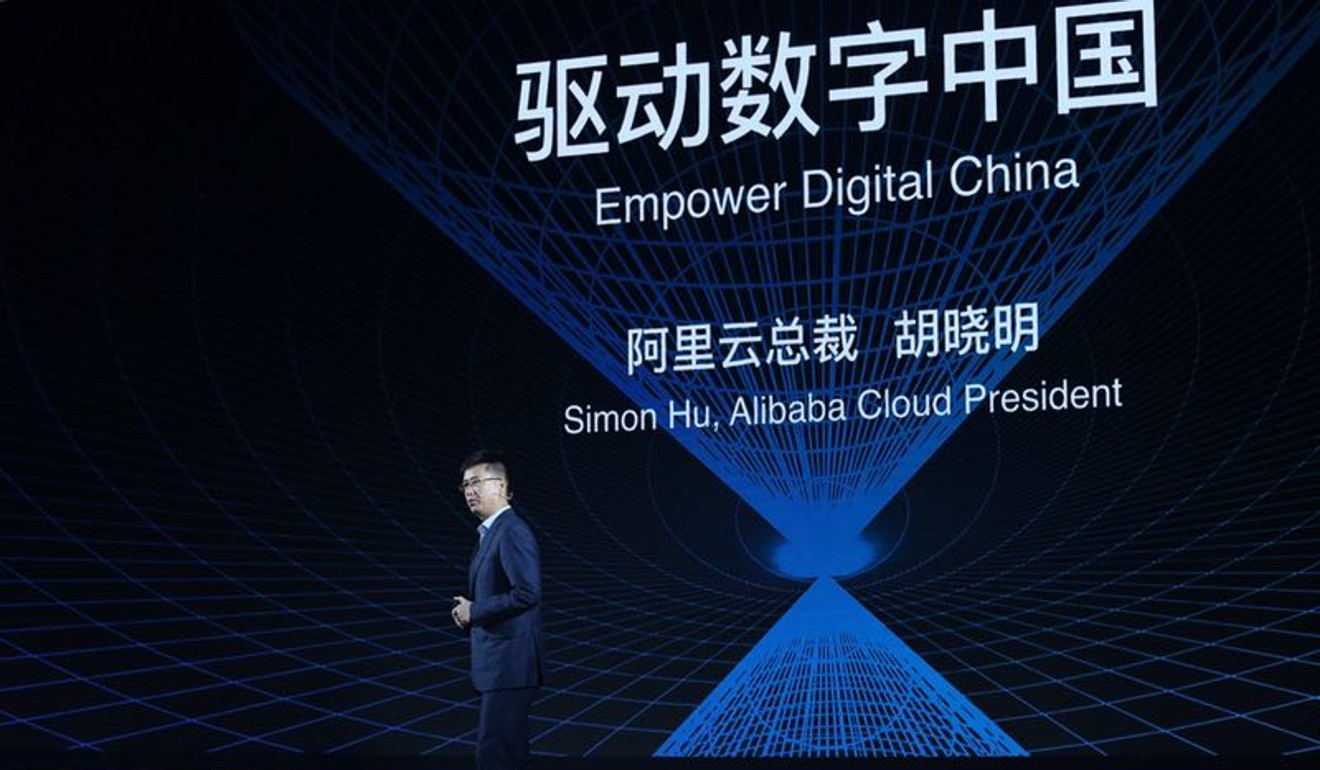 When the emcee demurred, Hu pulled out his smartphone, drew up the AI feature and snapped a picture of each saucer, allowing the AI tool to identify the roasting style of the two kinds of leaves.
"Through lots of image recognition and machine learning, we can use smartphones and AI today to distinguish between the two," he said.
Over a span of nine years, Alibaba's cloud computing arm is now ranked third in market share behind Amazon and Microsoft for infrastructure as a service (IaaS), a form of cloud computing that provides virtualised computing resources over the internet, according to a Gartner report in August.
In Alibaba's second-quarter earnings results in early November, the company reported that its cloud business generated revenue of 5.6 billion yuan, up 90 per cent from the previous year.
To be sure, although Alibaba Cloud may be among the world's top three cloud services providers, its 4.6 per cent global market share is still dwarfed by Amazon's 51.8 per cent and Microsoft's 13.3 per cent market share, according to Gartner – means it still has a long way to go to become the world's dominant cloud services provider.
Cloud computing services have also helped Alibaba improve upon a vital industry that impacts its business – logistics.
Alibaba formed its logistics arm Cainiao with a consortium of delivery and courier firms in 2013 to improve efficiency among the couriers, with the aim of finding a way to deliver packages even quicker into the hands of consumers.
Cainiao primarily operates a logistics information platform that links up a network of logistics providers and their warehouses and distribution centres, allowing more information sharing and integration directly into Alibaba's e-commerce platforms.
This means that merchants can easily select the courier companies they want to deliver the customers' orders within Alibaba's marketplaces, and consumers can track the status of their package deliveries within sites like Taobao and Tmall, no matter which courier is delivering the package. For logistics companies, the open information flow means that they can provide more efficient and better services to customers.
Using Alibaba Cloud's infrastructure, Cainiao is able to offer data-driven services to the supply chain, allowing couriers to determine the best delivery routes and allowing both companies and consumers to monitor the real-time location of packages.
With the Cainiao network, Alibaba managed to deliver 100 million parcels within just 2.8 days last year, compared to almost 9 days in 2013, according to Ben Wang, vice-president at Cainiao.
"The logistics industry has grown tremendously over the last 10 years, mostly benefiting from e-commerce. [Singles' Day] plays a key role in this," Wang said in a video interview on Alizila, Alibaba's news site.
Alibaba is the owner of the South China Morning Post.