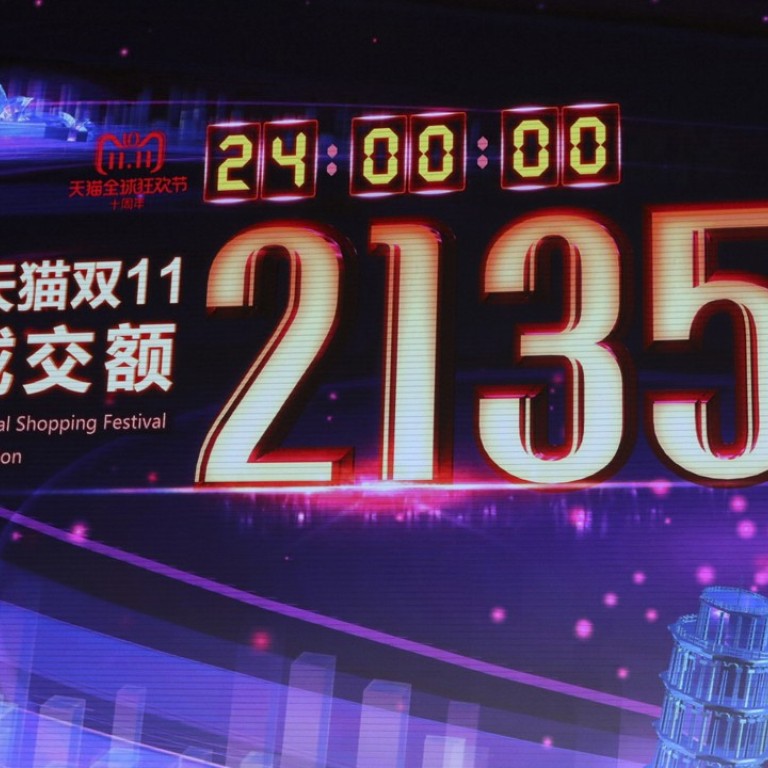 Alibaba sets record US$30.8 billion for Singles' Day sales, underscoring resilience in consumer spending
Sales tally surpassed last year's record at 3.49pm on Sunday
Singles' Day sales performance increasingly seen as a barometer for China retail health and consumer confidence
Alibaba Group Holding set a record 213.5 billion yuan (US$30.8 billion) in Singles' Day sales, underscoring the resilience in consumer spending in the world's second-biggest economy.
The gross merchandise value was about 27 per cent higher than last year's tally, also a record, which was surpassed mid-afternoon on Sunday. Sales were helped by the participation of Alibaba's Southeast Asia unit Lazada Group. The final tally excluded sales from other businesses that participated in the shopping festival, such as Ele.me and the Hema supermarket chain.
"Chinese consumers, especially the millennials, are incredibly confident about their futures, and that tends to enable spending, when you feel like you're going to make more next year than this year," said Jeffrey Towson, a professor of investment at Peking University Guanghua School of Management. "It's commerce but it's also entertainment, this is not necessarily people who are buying stuff that they need in life, it's a big festival, it's fun and there are good discounts."
The US-China trade war will not derail the rise of China's middle-class consumers, who are estimated to double to 600 million in the next 10 to 15 years and will power a long-term upgrading of consumption spending, said Alibaba executive vice-chairman Joe Tsai.
"China has developed consistently over the last 20 years," Tsai told reporters in Shanghai on Sunday. "China's GDP per capita was about US$800 per person back in 1999 when I joined the company, and has risen to about US$9,000 per person today, an average across 1.3 billion people. Is it going to US$20,000, US$30,000 in the future? Absolutely, it's happening."
Consumers took less than two hours to rack up 100 billion yuan in purchases after the festival began at midnight, a milestone that took seven more hours to achieve last year. In just 30 minutes, 30 brands including Nike, Adidas, Apple and Xiaomi had crossed 100 million yuan in sales. MAC sold out its 3,700 special edition lipsticks in one second.
Health supplements topped the most popular imported products, with milk powder, diapers and skincare products also high on consumers' shopping lists.
The biggest spenders were from Shanghai, where this year's Singles' Day gala was held, followed by those in Beijing, Hangzhou and Guangzhou.
Cherry Wang, 29, spent almost 800 yuan this year on groceries, cushions and some thermal underwear for winter.
"I got some discount coupons for Tmall this year as many friends were sharing them on their feeds," said the resident of Hefei, the capital of Anhui province. "Some of them were really good deals."
Consumers like Wang from the so-called lower-tier cities have become a force in online commerce with rising incomes. Through e-commerce, a lot of the products that otherwise are not available in smaller cities can be bought and despatched by courier.
Singles' Day got its name from its date, November 11. Written numerically as 11/11, the date looks like "bare branches", a Chinese expression for the single and unattached.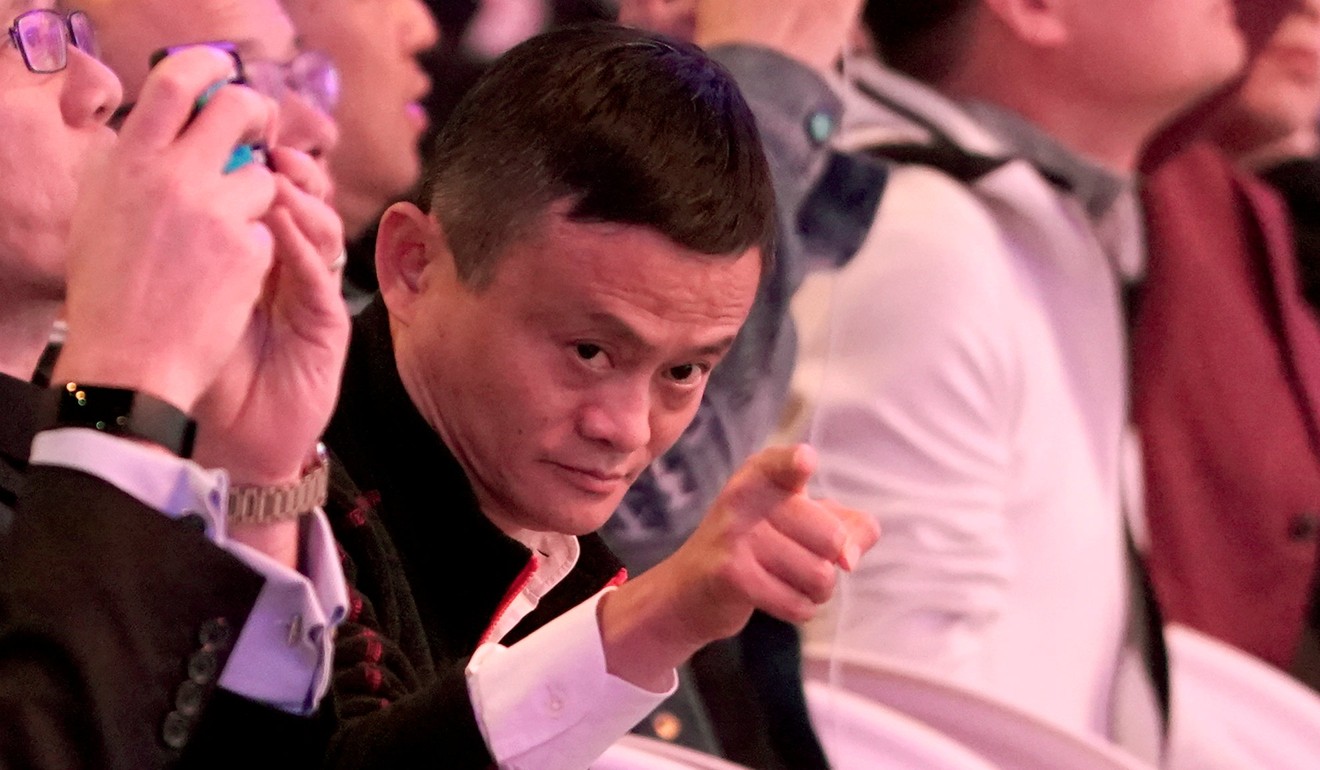 As a kind of antidote to the societal pressures of being in a relationship, many of China's singles began splurging on themselves on Singles' Day, which became seen as a type of anti-Valentine's Day. To cater to these consumers, Alibaba held its first Singles' Day shopping event in 2009 to serve these consumers.
Today, Singles' Day has expanded to become a shopping festival for everyone, and Alibaba holds an annual Double 11 star-studded gala packed with celebrities and performances to entertain its millions of users as they shop.
This year, stars including Mariah Carey and performers from the Cirque du Soleil entertained in a four-hour gala televised on Alibaba's Youku video platform and through other media partners. But the loudest screams and applause were reserved for Jackson Yee, a member of the popular boy group TFBoys.
With sales dwarfing those of Black Friday and Cyber Monday in the US, the festival has become the largest of its kind globally. In Hong Kong, many retailers are taking the opportunity to offer offline sales and discounts, including the Sogo department store and Market Place by Jasons.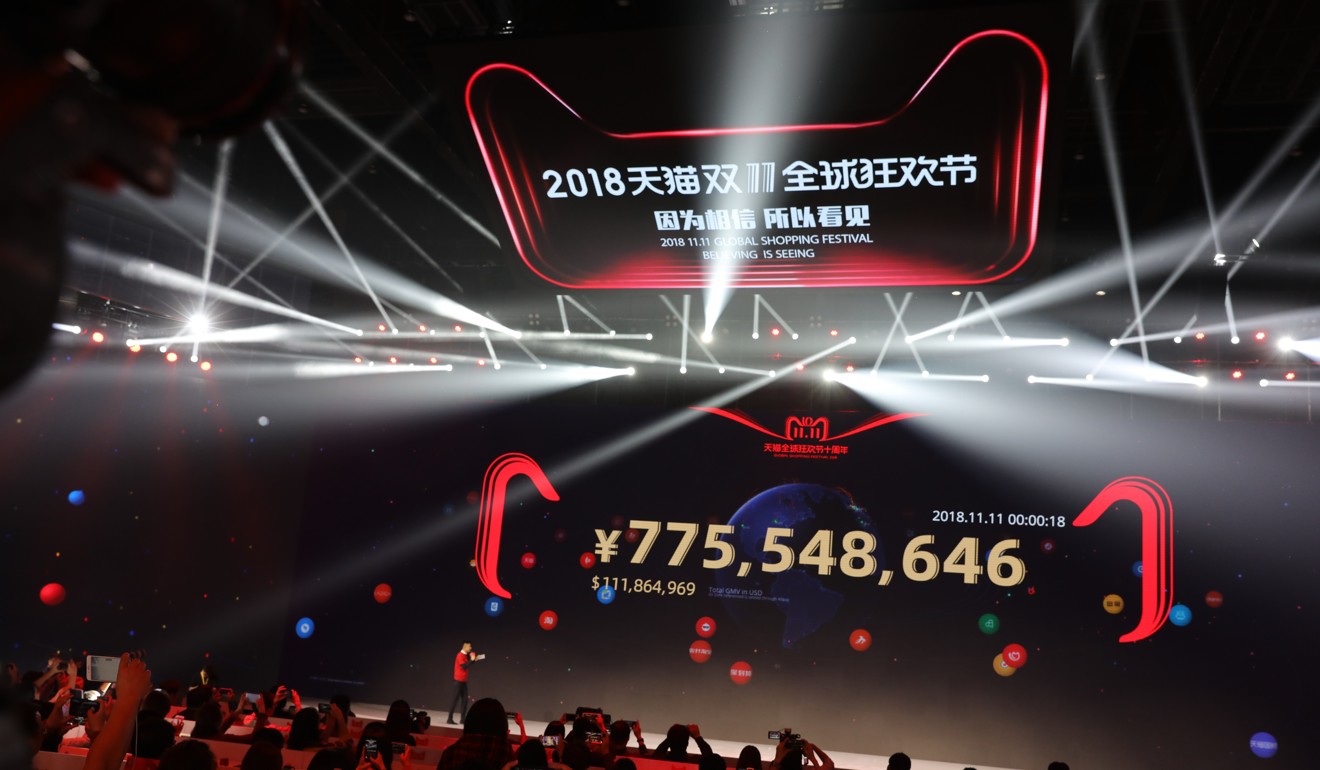 In Southeast Asia, Lazada's participation in Singles' Day has made it easier for consumers like Kent Toh to check out what is on offer.
"I felt compelled to buy something as I was afraid of missing out," said Toh, 31, a digital marketing executive in Singapore. He spent about S$170 (US$123) this year on Lazada this year, including S$29 on a surprise box from apparel brand Dockers that would come with S$100 worth of items.
Beyond the bargains, Singles' Day holds another significance for Alibaba, which uses the event as a test bed for new technologies that it has been exploring, such as New Retail – the integration of online and offline commerce – as well as artificial intelligence and augmented reality.
The success of the one-day shopping festival has prompted other brands and e-commerce retailers like JD.com, Mogujie and VipShop to jump on the bandwagon, with campaigns and promotions to entice buyers to spend on their platforms.
The strong consumer spending provides some welcome news for economy watchers concerned about the impact of the trade war on overseas shipments.
"Singles' Day in the future will be even more different than today, so that we can reach sales of 300 billion, 500 billion, 1 trillion. It's just like how in the past, Jack Ma said that we will one day reach 1 billion packages in a day, but at the time almost no one believed him," Alibaba chief executive Daniel Zhang Yong said in a closing speech. "But today, that has became a reality. Sales of 1 trillion will definitely happen, it'll become the norm for everyone – we just have to believe and see for ourselves."
Alibaba is the owner of the South China Morning Post.