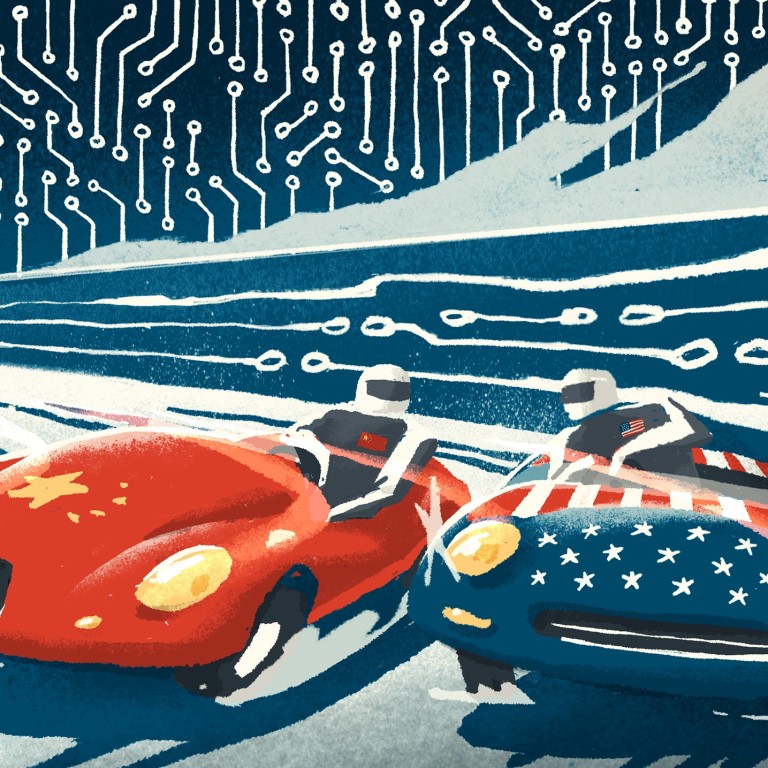 Lagging in semiconductors, China sees a chance to overtake the US with AI chips as 5G ushers in new era
This is the final part in a series of in-depth articles examining China's efforts to build a stronger domestic semiconductor industry amid rising trade tensions
Here we look at whether the coming shift in computing from mobile to the internet of things is the break that China needs to close the technology gap
Today's iPhone has 100,000 times the processing power of the Apollo computer that landed humankind on the moon 50 years ago while costing a tiny fraction of the Nasa machine. This is down to Moore's Law, the observation by one of the founders of Intel, a chip maker, that computing power doubles every two years.
That this correlation has held for five decades helps to explain China's position on the proverbial hamster wheel – never quite catching up in semiconductor technology. As a relative latecomer to the chip industry, experts reckon China is somewhere between five to 10 years behind the cutting edge in the technology to design and produce integrated circuits (IC).
This is important because ICs go into everything from smartphones to spacecraft, and despite pouring funds into research and development, China has struggled to catch up to global leaders like US-based Intel, South Korea's Samsung Electronics and Taiwan Semiconductor Manufacturing Co (TSMC), all of which are investing billions of their own money into pushing the boundaries of physics and materials science.
But with Moore's Law slowing down as it challenges physical limits, many in China see this tapping of the brakes as the once-in-a-lifetime chance for the country to close the gap, maybe even to overtake, as computing shifts from smartphones to everyday objects, powered by artificial intelligence (AI).
In this new data economy, the argument goes, China has an edge because of its huge population and application of AI on a large scale in many areas, from facial recognition used in law enforcement to finding the best route for a meal delivery. Or as venture capitalist Lee Kai-fu put it, if data is the new oil, then China is the Saudi Arabia of data.
In theory, this should translate into an advantage in designing so-called AI accelerator chips to suit each different application. And because AI chips will be custom-built for the specific application, they can offer superior performance over conventional ICs even when manufactured using older (and cheaper) technology and equipment that are widely available in China, a boon to the country's push for self-reliance in core technology.
Wang Yuntao, a deputy director at the state-backed China Academy of Information and Communication Technology, alluded to this in a speech in Beijing last month when he said that "awesome software can achieve the same specs of a faster chip".
He went on to say that China has a chance to "overtake the competition on the bend" in AI chips given the country's experience in a range of real-world applications, from assisted driving systems to virtual reality to drones.
For China, achieving self-reliance in technology deemed crucial to the country's military and economic security has taken on added urgency after the US government brought ZTE Corp, a Chinese state-owned telecommunications equipment company, to the brink of collapse last year for breaching US sanctions.
The Trump administration banned American companies in May from supplying Huawei Technologies, the world leader in 5G network equipment, on national security grounds.
The show of force is part of a broader campaign by the US to curtail China's progress in advanced technologies that have the potential to alter the balance of military and economic power. Alarm bells rang in Washington after Beijing laid out its ambitions for global dominance in an industrial policy plan – "Made in China 2025" – that it has since downplayed.
Michael Kratsios, the head of technology policy in the Trump administration, last week called for "collective power" from both the US government and America's private sector to keep the US ahead of China in the tightening race for global AI dominance.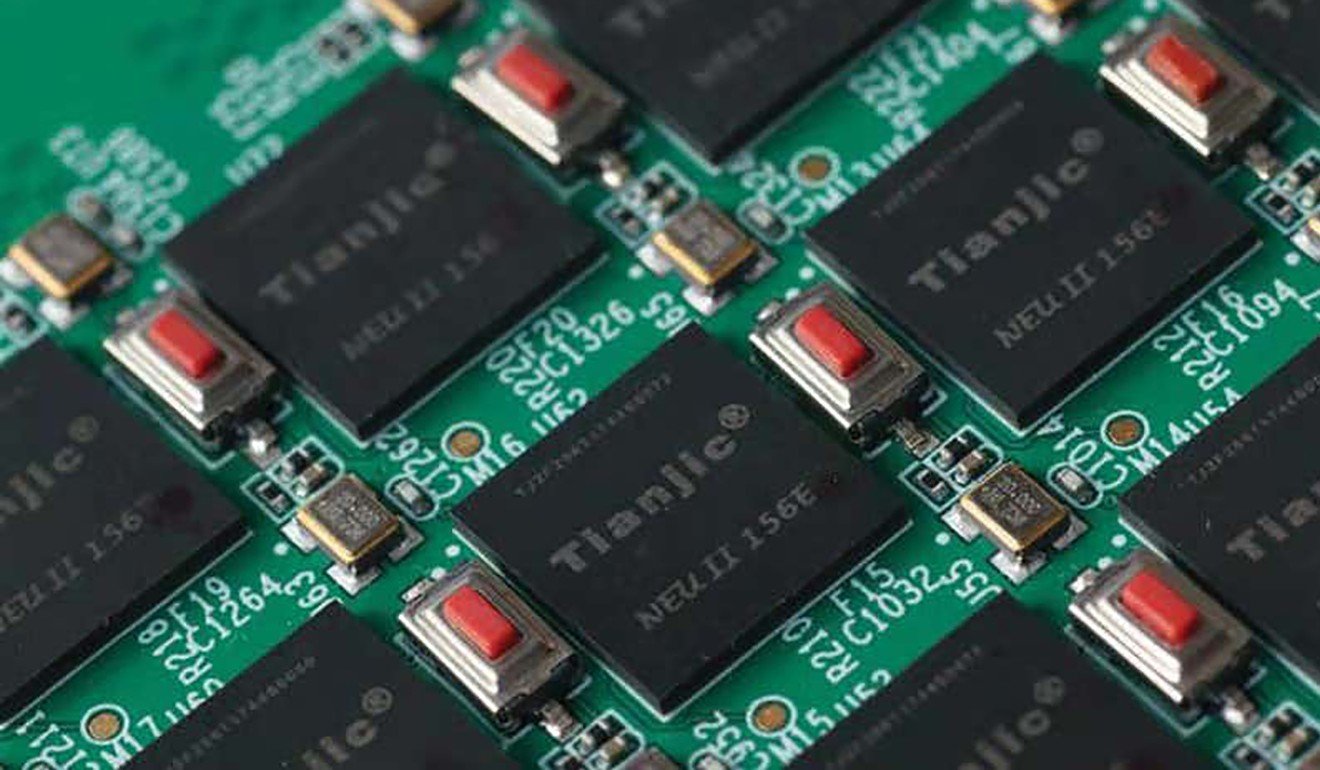 It is in this context that some in the industry see AI chips and the slowing of Moore's Law as a window of opportunity for China.
"As Moore's Law slows down, it means companies like TSMC won't be able to move forward as fast any more," said Jackson Hu, former chief executive of semiconductor foundry United Microelectronics Corporation (UMC). "If China works hard enough, invests significantly enough, they can gradually move forward and [narrow the gap], while the industry might slow or hit a wall."
Already, some of China's top technology firms have established their own chip subsidiaries, focused primarily on designing AI chips that would work for applications ranging from the Internet of Things (IoT) to autonomous driving.
Alibaba Group Holding, China's e-commerce giant and market leader in cloud computing, last year set up a chip subsidiary called T-head (or Pingtouge in Mandarin, a nickname for the honey badger) to make its own AI inference chips.
In July, it unveiled its first processor – the Xuantie 910 – that can be used in fields including 5G, AI and autonomous driving. Alibaba owns the South China Morning Post.
A month later, Huawei launched the Ascend 910, calling it "the world's most powerful AI processor" that can help to train AI models, going up against global leaders like Nvidia and Google. Chinese start-ups such as Horizon Robotics and Cambricon have also raised hundreds of millions in venture capital to develop AI chips.
In August, a group of researchers from Tsinghua University in Beijing created the Tianjic chip, a hybrid processor that has the architecture of a brain-inspired neuromorphic chip but can run algorithms for deep learning at the same time. These chips are more energy efficient than normal ICs because they only "fire" when required, like how neurons in a brain would "spike".
The result was displayed in a self-driving, self-balancing bicycle equipped with the Tianjic chip – a two-wheeler that is capable of navigating obstacles, picking up speed and following voice commands.
The chip caused a stir in the industry and was held up as China's breakthrough in advanced chip design and artificial general intelligence, in which machines can comprehend and learn the same way humans can.
"This chip for general AI has the potential of being applied across many industries," said Shi Luping, a professor at Tsinghua's Centre for Brain-Inspired Computing Research, in an interview in August.
"Autonomous driving, robotics and automation would be among the fields where this chip can make a difference."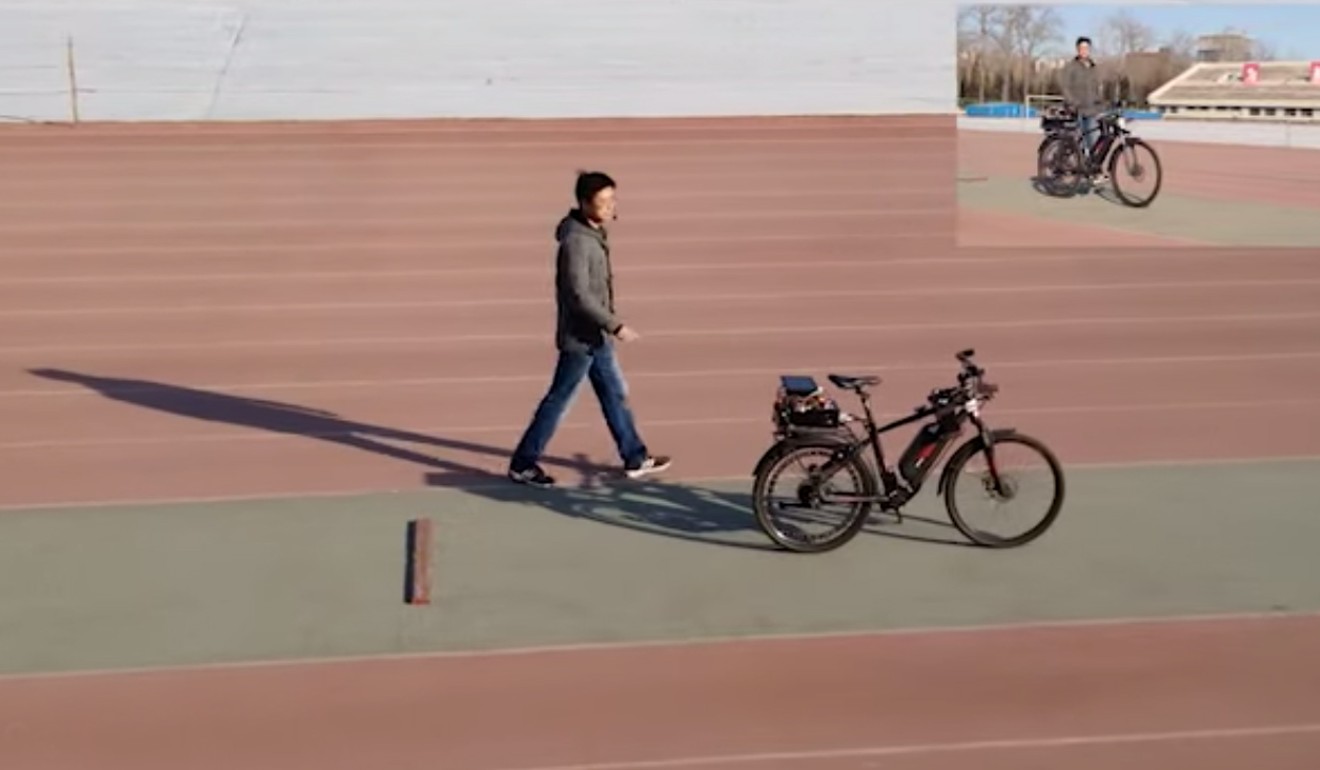 The Washington-based think tank Centre for Data Innovation seconds the view that China has begun to show signs it may be able to close some of the gaps with the US, at least in AI chips.
According to research published last month, the think tank found that China had only one company that is among the top 15 for semiconductor sales in the world in 2019, while the European Union had two and the US six.
But take the number of firms designing AI chips in 2019 and the gap narrows – the US has 55, followed by China with 26, while the EU is in third place with 12 firms.
"China is certainly better set to compete in developing AI chips than traditional chips," Michael McLaughlin, a research analyst with the Centre for Data Innovation and co-author of the report, said in an interview.
"With semiconductors for AI purposes, whether it is for autonomous cars or for facial recognition, the best performance comes from the redesign of the chip. So some of the chips are fundamentally different."
Still, even with the substantial investments by Chinese companies, there is no guarantee that China will match or even substantially close the gap with the US in AI chips. "It is premature to say that," said McLaughlin. "After all, China's advances are relatively recent and have not translated into consistent market share in AI chips."
There also needs to be a trade-off between the cost and performance of AI chips, finding killer applications is important as is building an ecosystem around their use.
"It's too simple to say that AI chips can replace [traditional] chips," said Daniel Shi, senior director for integrated circuits and systems at the Hong Kong Applied Science and Technology Research Institute.
"For AI chips … manufacturing costs will be much lower if you use 28nm technology and not 10 or 14nm tech … you need to spend a lot of effort from scratch – the mathematical models, the physical layers, the computational language, all these need investment."
In the semiconductor industry, nm refers to nanometre, one billionth of a metre, and a smaller nm size for a chip means more computing power per given unit of space.
Scientists are also working to extend the exponential increase in computing power through research into new materials like carbon nanotubes and 3D packaging, which seeks to stack chiplets vertically. Another branch of computer science is researching quantum computing, which once commercially available, could render today's computers and cryptography obsolete.
"The semiconductor industry will try and extend itself for as long as it can," said Hu, the ex-UMC chief. "They will come up with different architecture to address the problems [of the slowing of Moore's Law], like neuromorphic chips and the use of 3D packaging to increase the number of transistors and computing power."
For now, the costs of developing custom AI chips are still prohibitively high without economies of scale, said Bruce Wang, chief strategy officer at Beijing Orion Star Technology, which produces service industry robots.
He expects demand for lower-end AI chips with simple conversational or interactive capabilities to rise with the roll-out of ultra-fast 5G telecommunication networks.
These ICs can also be manufactured on 28nm or 40nm processes, technology available at Shanghai-based chip foundry Semiconductor Manufacturing International Corp.
"What's good is that domestic attitude to chip investment is very hot, even hotter than in the US, so there'll be a lot of innovation appearing," said Wang, who has more than 20 years of research and development experience in semiconductors.
"China's advantages are its huge market, its world-leading development of applications, while Shenzhen is a hardware base. These few points will speed up [China's] development."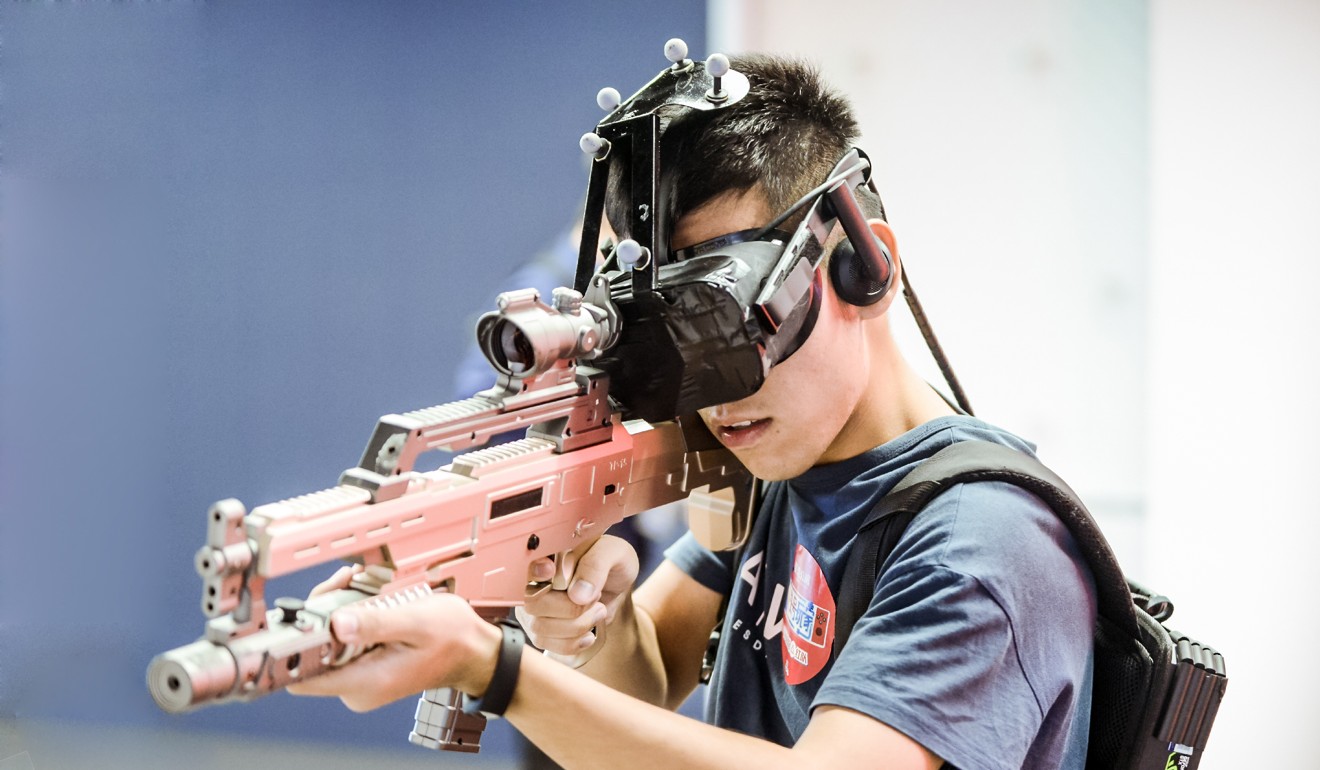 At AI and Sensing Technology Corp, founded in 2018 with backing from TUS Financial Group, executive director Wang Xuguang is betting that the coming era of IoT, where computers are embedded in everything from baby diapers to skyscrapers, would kick off demand for sensors.
Based in Suzhou, the company focuses on research and development of sensor chips and low-power AI chips that can be used in applications including biometric recognition, augmented and virtual reality for gaming, health care, urban mapping and autonomous driving.
While AI chips offer a window of opportunity for China to catch up, the country has little time to waste and needs to focus on "deep tech", he said.
"Looking at China, the innovations have mostly been innovations of scale, except for Huawei, very little has been core tech … It's all mobile internet e-commerce models and reaping the population dividend," Wang said.
"This US-China trade war has forced us to work on core tech. In the past we kept saying the wolf is coming, now that we're really caught in its teeth, we have finally started to place importance on it."
This article appeared in the South China Morning Post print edition as: AI spurs China in race