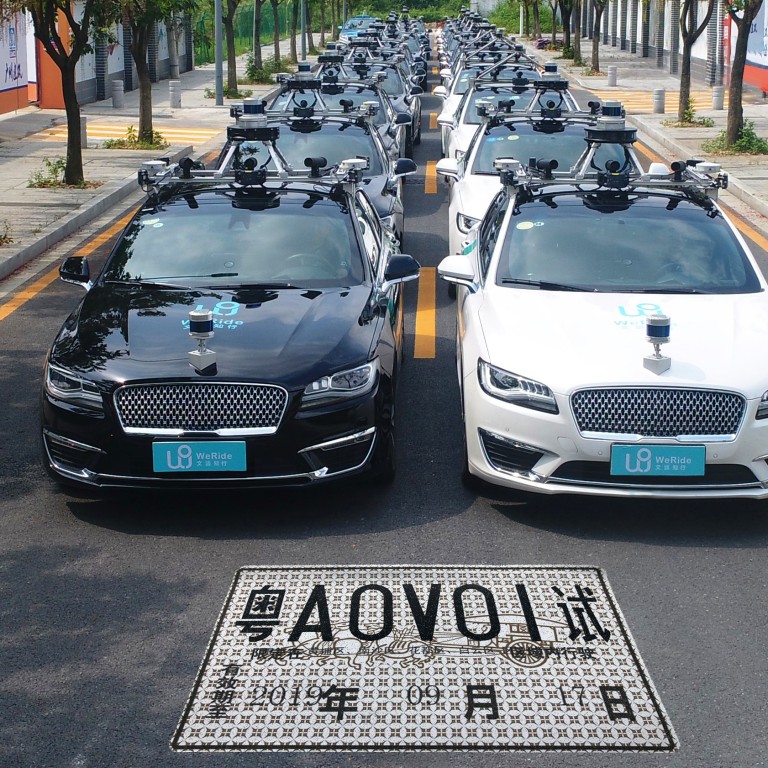 Remote control technology could be the key to moving autonomous driving forward, WeRide CEO says
Currently, most autonomous cars tested on the road in the US and China still require the presence of a safety driver
After 10 years in academia, Tony Han Xu gave up a coveted tenured position as an associate professor at the University of Missouri two years ago to pursue a new path – becoming an entrepreneur.
Following close to a decade of research in computer vision and deep learning, coupled with a stint as Baidu's chief scientist for autonomous driving at a time when investors were chasing the industry, Han decided it was time to strike out on his own to build WeRide, a start-up specialising in autonomous driving technology.
Today, WeRide is part of a group of Chinese start-ups, including Pony.ai and AutoX, hoping to eventually put driverless cars on the road for passengers by creating multi-sensor systems aimed at helping the cars drive themselves.
For Chinese companies like WeRide and Pony.ai, as well as US firms like Waymo, the holy grail is to reach Level 5 in autonomous driving – whereby a driverless car would be able to perform driving tasks in all environmental and road conditions the same way (or even better than) a human can.
The catch – achieving L5 could still be over 10 or even 20 years away, says 43-year-old Han.
"There are genuine challenges today – we still cannot really get a reliable machine to pass the Turing test," said Han, referring to a test that assesses the ability of a computer to exhibit intelligent behaviour that is indistinguishable from a human.
"We still need some breakthroughs, but [no one knows] when that breakthrough will happen. It could take a long time."
But despite the challenges to complete automation in driving, Han is steadfast in his belief that driverless cars can still hit the road, thanks to teleoperations technology, which enables self-driving vehicles to be remotely controlled if necessary.
What sets WeRide apart from its competitors in China is that it is among the pioneers of teleoperations technology in the country. Last year, it worked with China Unicom to demonstrate the teleoperation of a driverless car over an ultra-fast 5G network, making it the first company to do so on the next-generation network in China.
5G networks are expected to advance industries like autonomous driving and the internet of things, thanks to massive capacity and speeds expected to be up to 10 times faster than current 4G networks.
With teleoperations technology, a human operator will be able to oversee a fleet of autonomous cars remotely, stepping in when any of those cars encounter a situation in which they cannot navigate safely, said Han. At this point, the operator will be able to take over the car remotely to proceed.
This model will reduce the number of drivers needed to oversee driverless vehicles in today's industry, says Han. Currently, most autonomous cars tested on the road in the US and China still require the presence of a safety driver – a human driver who is ready to take over if the autonomous driving system is befuddled by a complex road situation.
One such exception is Google's Waymo, which last year received a permit to road-test fully driverless cars (with no driver) in California, provided there are remote operators standing by.
For driverless cars to truly be a cost-efficient business, Han believes that technology must eventually reach a level of safety that does not require physical supervision.
"It doesn't matter whether you have 100 or 500 cars doing road testing," said Han. "Eventually, you have to be confident enough [in your technology] to be able to remove the safety driver to make this a real business, otherwise it won't be profitable."
As 5G networks loom, teleoperations will become much more reliable since latency will be reduced from 90 milliseconds to 10 or 20 milliseconds. But even that is not necessarily good enough for autonomous driving.
"Autonomous driving for robotaxis will probably do best between 5G and future 6G networks," said Han. "But we don't need to wait for 6G to be a reality before autonomous driving can be on the road."
He pointed out that autonomous cars tested on the roads right now already run on 4G networks, emphasising that with 4G cars need to run at a much slower speed for safety reasons.
However, while networks are important especially for functions like teleoperations, the most important thing is to ensure that the self-driving cars are intelligent enough to compute most road situations locally, Han said.
In August, WeRide teamed up with a taxi company in Guangzhou to form a robotaxi venture. The company currently has a fleet of 50 autonomous cars in Guangzhou, all of which are equipped with safety drivers. By next year, WeRide hopes to have a fleet of 200 on the streets.
The Guangzhou-based start-up is currently in the middle of raising funds for its Series B round, but unlike two years ago when investors were happy to invest in many autonomous driving start-ups and aspiring automakers, the capital market today has become more cautious amid an uncertain economy.
"At that time, [autonomous driving was really hyped] and teams could easily get US$20 million, but today people are stepping back and looking at the industry more carefully and objectively," said Han.
"It's a good thing, because people start to reflect on what is really needed. Do we really need hundreds of start-ups doing autonomous driving? Probably not – it's a huge waste of human resources."
Han says the market cooling has helped companies like WeRide attract discerning investors who are more patient and supportive, and who do not expect "three times the return in three years". Currently, WeRide counts AI firm SenseTime, Qiming Venture Capital, and co-founder of Chinese electric car start-up Xpeng He Xiaopeng among its pool of investors.
To be sure, WeRide is locked in competition with rivals like AutoX and Pony.ai, some of which are better funded and ahead in terms of road tests. Pony.ai is currently China's most well-funded autonomous driving start-up – it has raised about US$300 million with a valuation of US$1.7 billion. In contrast, WeRide has raised only half that amount so far.
In terms of autonomous driving licences, WeRide has obtained 20 self-driving licences in Guangzhou whereas Baidu has 45 in Beijing. Pony.ai and EV maker Nio currently have two each, according to a 2018 report released by the Beijing Municipal Commission of Transport.
But at the end of the day, Chinese autonomous driving companies – whether it is Baidu, WeRide or Pony.ai – are still far behind global market leader Waymo.
Last year, Waymo announced that its autonomous vehicles have driven over 10 million miles on public roads in the US. In contrast self-driving cars in Beijing, where a majority of the autonomous driving companies are located, have travelled just over 150,000 kilometres (93,205 miles) in 2018, or just 0.9 per cent of what Waymo's cars have driven, according to the 2018 report.
Despite the uphill challenges that China's autonomous driving industry still faces, Han is optimistic that driverless cars will help to reduce pollution and congestion on the roads and help humans lead better lives.
Ultimately, he envisions a world where people will live in megacities with populations of 50 to 70 million, with autonomous driving cars as the main form of transport, eliminating the underutilisation of private cars today. Outside the megacities, large swathes of rural land and rainforest can and should be preserved, he said.
And what about those people who still enjoy driving as a sport? Han likens driving to horse-riding – an important facet of transport in the past, horse-riding today is enjoyed as a hobby, with designated areas where you can continue to ride.
"Driving will become a luxury, a hobby," he said. "In the future if you want to enjoy driving, it will be like riding a horse today – if you enjoy it you can find places to do that, but it's no longer a necessity."