Hong Kong online payments market proving a tough nut for AlipayHK to crack
The company has signed up 1.5 million users, but is running up against the city's attachment to more traditional means of payment as well as competition and privacy concerns
Online payment service AlipayHK has signed up 1.5 million users in Hong Kong, but encouraging the adoption of mobile payments is proving to be an uphill task amid the city's attachment to more traditional forms of transactions and concerns over data privacy.
AlipayHK had 1 million users in March, but saw a 50 per cent surge in growth to 1.5 million users by the end of June. The company is a joint venture between tycoon Li Ka-shing's conglomerate CK Hutchison Holdings and Ant Financial, e-commerce giant Alibaba's financial affiliate. Alibaba owns the South China Morning Post.
But AlipayHK faces competition from other providers as well as a mature payments market in Hong Kong, dominated by the city's home-grown Octopus stored-value card.
"The Octopus card was very innovative, allowing people to store money on a card and pay for the MTR or 7-Eleven. But this was so popular that it hurt innovation," said Shaun Rein, managing director of China Market Research Group.
"Everybody in Hong Kong has a credit or debit card, so there isn't a pressing need to figure out a new form of payments system, because what they had worked, while Hong Kong is also so convenient that e-commerce hasn't taken off in any meaningful way, so there also isn't a need for online or mobile payments to take off," he said.
Adding to the difficulty are concerns over data privacy because of a perceived connection between AlipayHK and its mainland China peer Alipay, as AlipayHK discovered in a recent survey it commissioned in Hong Kong. The survey found that only 30 per cent of the 1,049 respondents had experience of mobile payments, while over 55 per cent expressed worries over "personal data leakage".
"In general, Hongkongers are still not comfortable with using Chinese apps," said Kitty Fok, managing director of IDC China. Although AlipayHK is a separate app from the mainland version, consumers may not differentiate between the two because of the "Alipay" branding, she said.
Jennifer Tan, chief executive of AlipayHK, acknowledged the concerns, but said that Hong Kong users were labouring under a misconception.
"AlipayHK does not demand a lot of personal information, we only need a user's mobile number during registration to use basic functions like payment or transfer services," Tan said, adding that there was no data sharing between AlipayHK and Alipay.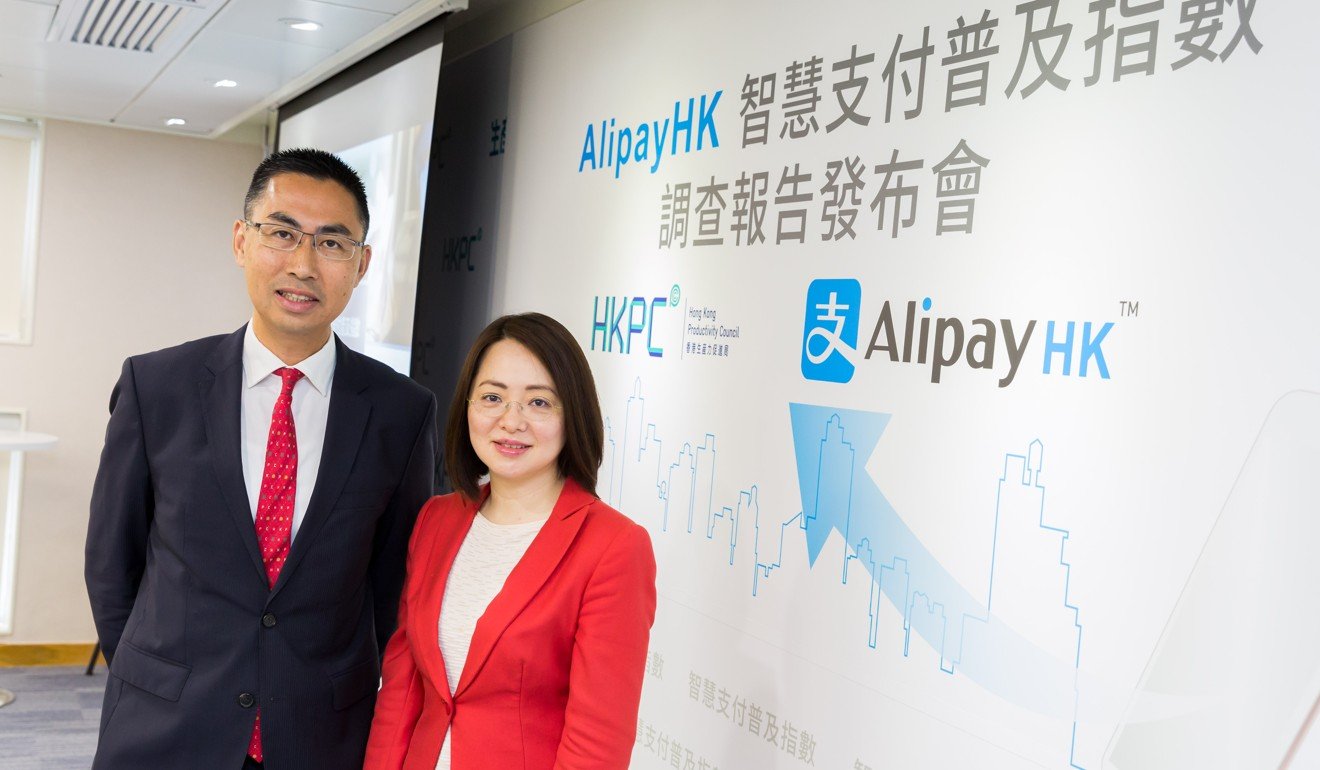 Unlike the mainland Alipay service, which requires users to submit personal identification information, AlipayHK only requires users to sign up with their mobile number. The wallet can be linked to credit card or bank accounts, or topped up with cash at convenience stores and other locations.
The company also faces stiff competition in Hong Kong, with Western payments firms such as PayPal, mainland Chinese firm Tencent's WeChatPay and local players such as TNG Wallet all vying for reluctant consumers' attention.
AlipayHK has stepped up promotional activity, such as offering discounts at McDonald's to those paying with the wallet, but Tan said that such promotions were done mostly to encourage adoption and raise the profile of the service.
"We need to invest to increase brand awareness and attract the eyeballs of the general user in Hong Kong because there are so many [payment] choices," said Tan.
"But offers or discounts are only at the initial stage to attract attention. In the longer term, to win users over, the key is to have sufficient coverage and merchants where users can go to different shops and pay with Alipay. It should become part of their lifestyle."