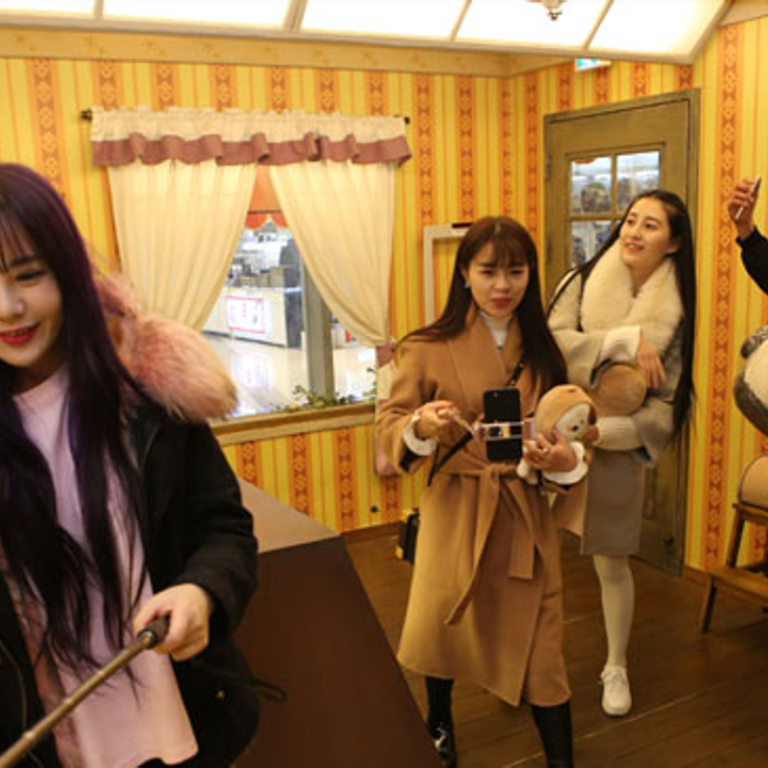 Korean duty free shops rely on online Chinese celebs
Chinese internet celebrities stream their shopping experiences and is predicted to garner more than 5 million views in a week
By Park Jae-hyuk
Duty free shops in Korea have begun to invite internet celebrities from China, better known as "Wang Hong" there, to attract Chinese tourists during the upcoming holiday season.
The shops are seeking to break through Beijing's economic retaliation against Seoul's decision to deploy a U.S. Terminal High Altitude Area Defense (THAAD) battery here.
Last Wednesday, HDC Shilla invited four Chinese internet celebrities to HDC I'Park Mall and Shilla I'PARK Duty Free in Yongsan, central Seoul.
The online stars, who have millions of followers on social media such as Weibo, broadcast their shopping for two hours to China through their smartphones.
At toy store Toys & Hobby in I'Park Mall, the four introduced "kidult culture" in Korea, which has yet to be seen in China. They introduced Korea's fashion and beauty brands as well at The Handsome and 3 Concept Eyes outlets in Shilla I'PARK Duty Free.
"The promotional video broadcast by the four celebrities will likely get more than 5 million views within a week," an HDC Shilla official said.
The Shilla Duty Free also invited 15 Chinese internet celebrities to Korea to offer them a trip for five days and four nights from this Monday to Friday. The affiliate of Hotel Shilla plans to give them various experiences beyond shopping.
Traveling from Seoul to Jeju, the 15 will visit hidden local restaurants and a tangerine farm on the island. They will also enjoy make-up sessions, a tea ceremony and pop arts, according to The Shilla Duty Free.
An official said, "We expect more Chinese tourists, who are interested in beauty, food and experiences, to come to Korea."
The duty free shops want the celebrities to attract more Chinese tourists to Korea during the Lunar New Year festival from Jan. 27 to Feb. 2, which is regarded as one of the most lucrative times of the year in the industry.
Last year, Lotte Duty Free and The Shilla Duty Free posted 10 per cent more in sales during the festival.
However, duty free shops this year are facing a gloomy outlook due to Beijing's order to regulate group tours to Korea.
According to the Korea Duty Free Association, the number of foreign shoppers last November declined 17.8 per cent from a year earlier. The total sales of duty free shops also fell 8 per cent year-on-year, as sales to foreigners decreased 9.6 per cent.
Observers said the recent invitations of Chinese celebrities are targeting non-group tourists, who visit Korea individually without travel agencies and who can replace the group tours.
"The non-group tourists are not regulated by the Chinese authorities," another HDC Shilla official said. "So, we want those tourists to visit Korea more, after watching promotional videos filmed by Chinese celebrities."
The Shilla Duty Free also said the itinerary of celebrities was arranged to help non-group tourists who are considering visiting Korea.