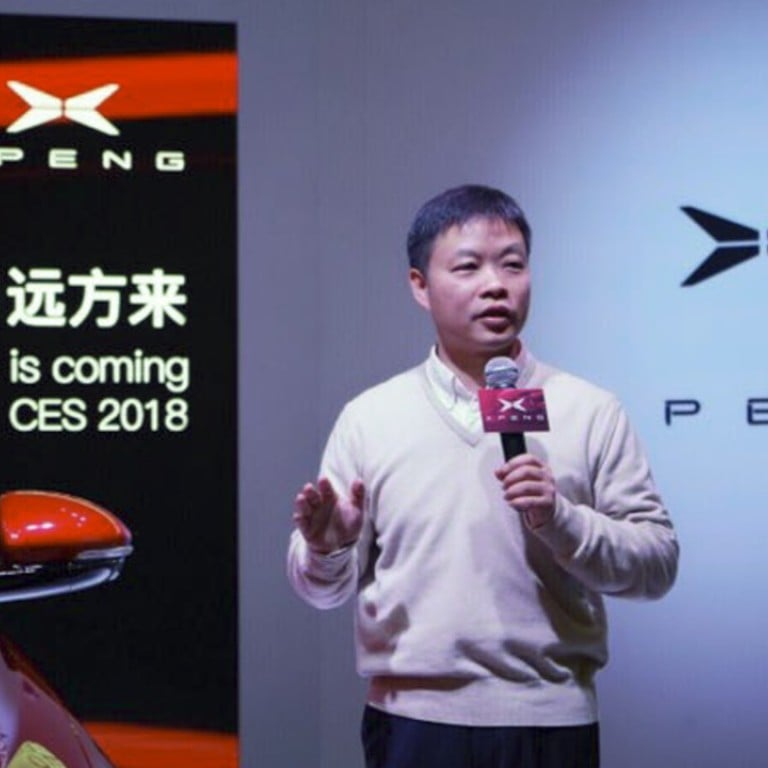 Xpeng raises US$348 million as Chinese electric car start-ups battle for attention
Start-ups investing billions in advanced technologies that form the backbone of autonomous and connected driving, both seen as the future of mobility
Xiaopeng Motors, the electric car start-up backed by Alibaba Group Holding, is nearing the close of a 2.2 billion yuan (US$348 million) funding round, accelerating the pace of competition among start-ups in the world's largest auto market.
The latest series B round is led by Alibaba, Foxconn and IDG Capital, the company announced in Hong Kong on Monday. Other investors include Yunfeng Capital, CICC and Morning Ventures.
"The funding round is a milestone for Xiaopeng," said co-founder and chairman He Xiaopeng. "While financing may be vital to the survival and development of internet cars, game-changing factors depend on innovation, rapid execution and product managers with a customer-centric mindset."
Xiaopeng, also known as Xpeng, unveiled its first production model at the CES technology show in Las Vegas earlier this month. The G3 features a windscreen that extends all the way back to mid-roof giving occupants a sky view, Star Wars-inspired headlights – the auxiliary lamps are shaped like light sabres – and a contour that the company said resembles a shark.
The car is expected to be priced between 250,000 yuan and 300,000 yuan (US$47,440) when it goes on sale later this year, putting it in the same price bracket as Audi's Q3, Mercedes-Benz's GLA and BMW's X1. Tesla's Model X starts from about US$118,000 in China.
Xpeng is one of the few dozen Chinese electric car start-ups that have emerged in recent years after the government started issuing special manufacturing permits to companies outside traditional auto industry players.
Venturing into territory dominated by GM, Japan's Toyota Motor and Germany's VW, the start ups are investing billions of dollars in advanced technologies that form the backbone of autonomous and connected driving, both seen as the future of mobility.
"Smart mobility is going to be the fastest-growing and most imaginative industry, and will bring tremendous change to people's life," said Joseph Tsai, co-founder and vice-chairman of Alibaba, which owns the South China Morning Post.
The e-commerce giant reportedly holds a 10 per cent stake in Xpeng.
"Money and talent are the two most important core assets if start-ups are going to make it in the long term," said Yale Zhang, managing director of Shanghai Automotive Foresight.
The financing race is also likely to escalate the rivalry among the country's top electric car unicorns – those with a private valuation of more than US$1 billion – which include NIO and WM Motor.
This article appeared in the South China Morning Post print edition as: Xpeng on track with 2.2b yuan funding