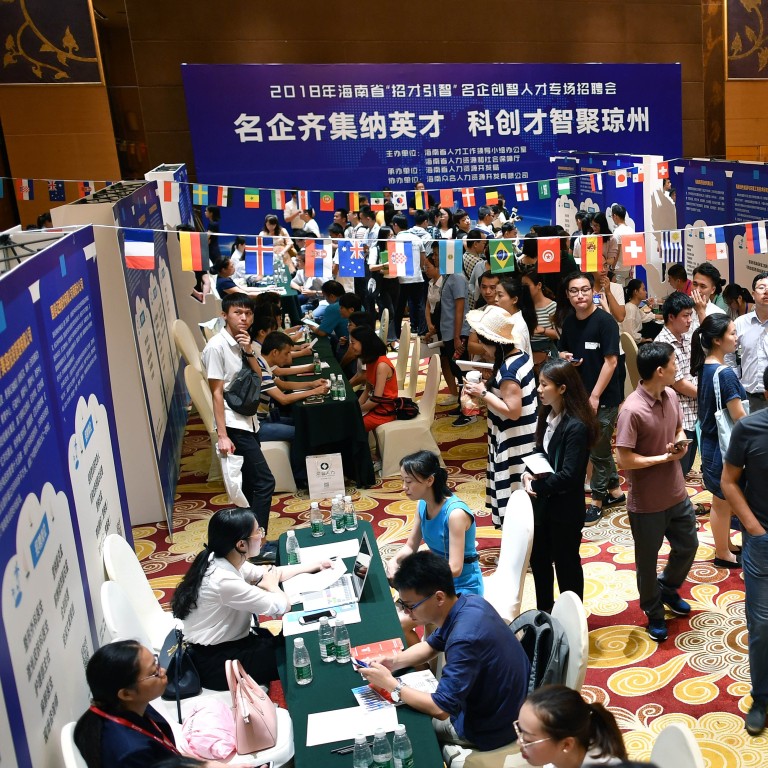 From blockbuster bonuses to pink slips: China's tech industry nurses a hangover
The world's second-largest economy is growing at its slowest pace in nearly three decades, adding to the gloom in the country's once red-hot internet economy
A long-waited promotion can make you feel on top of the world and an unexpected lay-off can take you to rock bottom. In China's rapidly changing tech scene, this career roller-coaster can be ridden in days – not months or years.
One ex-employee from Chinese internet major NetEase was promised a promotion ahead of the Lunar New Year holiday after several years at the Hangzhou-based company. But soon after she returned from the seven-day national holiday, NetEase laid her off as part of a companywide restructuring.
"It was sudden and unexpected," said the ex-employee in her late 20s, who declined to be identified after losing her job. "Some new hires reported for work in mid-February, after the holidays, and just weeks later they were laid off too."
NetEase, China's second-biggest online games publisher with a growing e-commerce unit, is one of a wave of technology companies that are laying off employees amid a slowdown in China's economy – and the retrenchment runs from "low-end" manufacturers to some of the country's "high-end" tech darlings., including China's second-largest e-commerce firm JD.com and ride-hailing giant Didi Chuxing.
The world's second-largest economy is growing at its slowest pace in nearly three decades, adding to the gloom in the country's once red-hot internet economy, which has also seen a pullback in venture capital funding, adding to the uncertainty for some of China's most well paid office workers.
New York-listed NetEase said in a statement that the lay-offs were part of a broader restructuring as the company focuses on becoming more efficient. According to a report from financial magazine Caijing, the job cuts mainly came from e-commerce unit Yanxuan, agriculture brand Weiyang and NetEase's education technology unit.
NetEase declined to comment beyond the statement it issued.
Didi Chuxing, which had to contend with a safety scandal in 2018 after two of its drivers murdered female passengers, announced a 15 per cent cut in its workforce at a February internal meeting, according to people familiar with the matter, as the company re-evaluates its business. With 2,000 jobs at stake, this would be one of the country's biggest cutbacks to date in the tech sector.
JD.com said in February that it intends to cut 10 per cent of senior management while simultaneously adding 10,000 jobs, mostly front-line staff and junior management, at its logistic unit, as the Beijing-based firm adopts a "small group, big business" model to "revitalise resources", said a JD representative.
"It is like battening down the hatches. When ships are going into rougher waters, they need to get ready," said Jeffrey Towson, a Peking University professor.
Unlike US tech companies, most Chinese internet companies are dependent on consumers buying products and services via smartphones, said Towson. "So if consumer confidence drops further because of an uncertain economy, they could face even tougher times."
For decades, working for Chinese government or state-own enterprises was the pinnacle of stability and success, regarded as holding an "iron bowl" in China. But the "iron bowl" has been replaced by the "golden bowl" of tech jobs amid the inexorable rise of the country's tech giants and internet upstarts at home and abroad.
The IPO of Alibaba Group Holding, the e-commerce giant and owner of the South China Morning Post, in New York, created overnight millionaires and billionaires. Reports of jaw-dropping year-end bonuses at some tech firms have attracted jobseekers from across the world.
In early 2015, Baidu chief executive Robin Li Yanhong said at an event that the search engine giant had given one of its employees a bonus equal to about 50 months of salary as a reward for his contribution in 2014.
In 2018, however, more than 50 per cent of tech workers said they did not receive any bonus, leaving the tech industry as the least generous for bonuses among 12 sectors surveyed, according to a January report from Zhaopin.com, one of the largest online recruitment sites in China.

But now it seems like the wild ride of China's tech sector has come to an abrupt halt – at least for the time being.
Didi Chuxing has cut a range of workplace benefits, including the cancellation of free afternoon snacks and refreshments, reduced shuttle buses, and cut corporate gym access and fitness subsidies, according to a story in late February from Chinese online news portal Sina.com.
In an emailed statement on Friday, the company said it recently "made adjustments to these perks; however, we have no plans to make any major cuts."
Li Qiang, executive vice-president of Zhaopin.com, said "these adjustments mean tech companies in China are entering a new phase that focuses more on making profits".
"In the short term, this is bad for jobseekers and brings pressure to management, But it is a necessary correction for the long run," he said.
Additional reporting by Sarah Dai and Zheping Huang
This article appeared in the South China Morning Post print edition as: When the going gets rough for tech firms