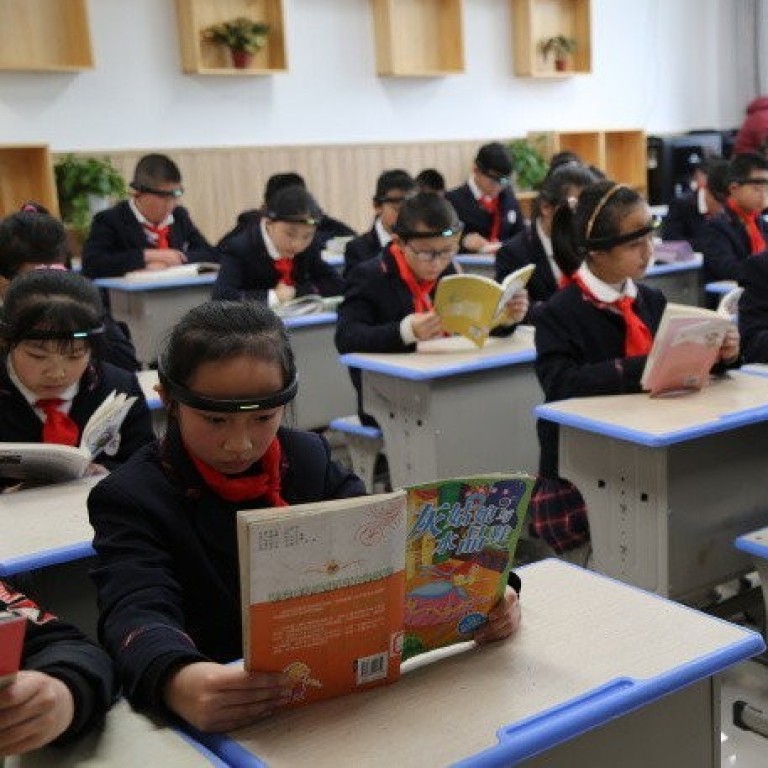 Brainwave-tracking start-up BrainCo in controversy over tests on Chinese schoolchildren
Start-up has raised concerns on social media controversy about China's increased use of surveillance technologies
The concept of telekinesis, which is the ability to move objects at a distance through the sheer power of the mind, can be a feat to behold.
Start-up BrainCo has removed that capability from the realm of science fiction into practical applications, some of which it has presented in trade exhibitions.
At the annual CES trade show in Las Vegas in January, a number of visitors to BrainCo's booth were given the opportunity to demonstrate their brain power. They were asked to wear the company's headband, focus on the toy car in a miniature racetrack and, as if by magic, see it zoom away and make the rounds of that track.
BrainCo, which was incubated at Harvard University and founded by Chinese engineer Han Bicheng, has been attracting plenty of buzz for its brain-machine interface (BMI) products since the firm first took part in CES in 2017. The company's Focus headband, which features what it describes as "real-time brainwave feedback and visualisation", is targeted at the education, fitness and wellness sectors.
In China, however, BrainCo has been caught in a social media controversy amid concerns over the wide use of technologies, such as facial recognition and big data, could trigger the creation of a surveillance society.
BrainCo has received plenty of criticism on microblogging service Weibo after a post earlier this month showed its Focus headbands being worn by Chinese pupils at an undisclosed primary school. The devices allowed teachers to monitor how focused pupils were during class. The findings were instantaneously revealed via a light on the headband: Blue means relaxed, yellow means focused and red means very focused.
"What did these children do wrong to deserve this life of constant monitoring? It boggles my mind that we can't put ankle bracelets on paedophiles, but it's astonishingly easy to put headbands on these powerless kids," one commenter posted on Weibo.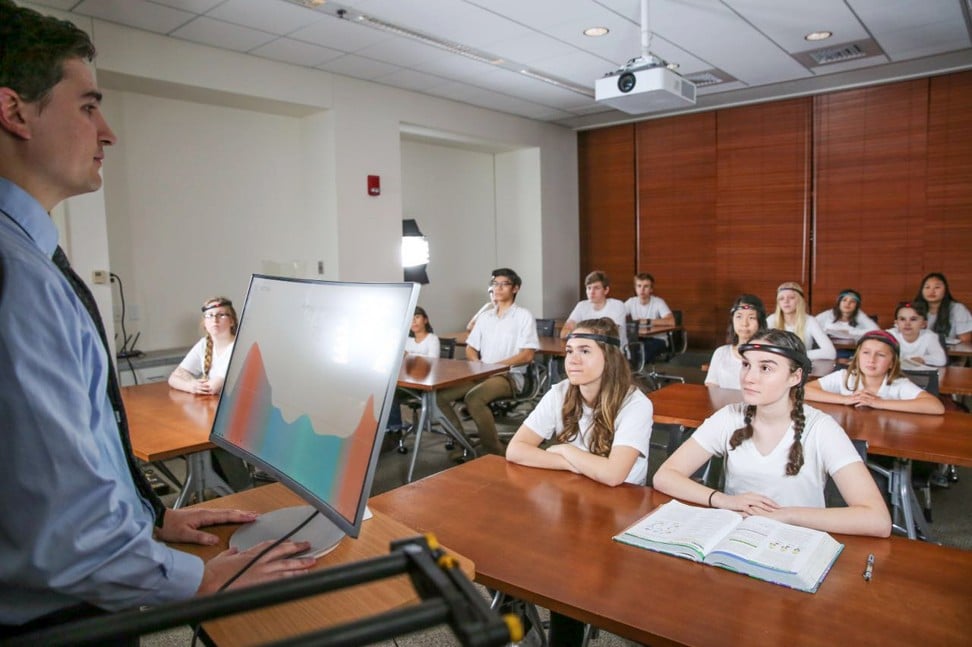 The headbands from BrainCo use so-called electroencephalography (EEG) sensors to detect brain signals and use an AI algorithm to translate the signals into focus levels in real time. EEG, which records the electrical activity of the brain, has long been used in the medical field as a non-invasive method to diagnose epilepsy, sleep disorders and encephalopathies, or disease of the brain.
Data gathered from the headbands can be used to design focus-training games to help students prime their brain for optimal performance before they start class, according to the BrainCo website.
On April 5, BrainCo issued a statement on Weibo in response to the online criticism. The company reiterated that the headbands were used in a number of school trials in China to help children improve learning efficiency. It said the headbands have not been sold to any public school.
BrainCo has partnered with an unnamed Chinese school to test its Focus 1 flagship device on 10,000 schoolchildren aged between 10 and 17, according to a report by the UK's Daily Mail in January this year.
Email and phone inquiries sent to the company and its founder went unanswered.
The criticism levelled against BrainCo has come amid Beijing's efforts in pushing artificial intelligence (AI) technologies, such as facial recognition, into many corners of peoples' lives. China's State Council in July 2017 unveiled its "Next Generation Artificial Intelligence Development Plan" for the country – a three-step road map for AI dominance by 2030.
With high-definition video surveillance cameras, facial recognition and remote sensors feeding tonnes of data into AI algorithms to analyse in real time, technology has advanced to help authorities in a range of initiatives, from access control at border checkpoints and exposing jaywalkers to enabling password-free payments and taking attendance at schools.
Still, there is a growing debate in China about the limits of surveillance and the trade-offs between security and privacy.
Despite the recent controversy, BrainCo already secured a two-year contract to get its Focus 1 device manufactured and targeted shipments of 600,000 units, company chief executive Han told the MIT Technology Review in 2017, without providing any details about its customers.
The company was also working with schools in Mexico, Spain, Brazil and the US, including a pilot study at a Boston-based high school, for deploying Focus headbands.
Based in Somerville, a city located to the northwest of Boston in the state of Massachusetts, BrainCo was founded by Han, 32, in 2014 while pursuing his PhD on multiple sensory integration research at the Centre of Brain Science in Harvard University. He obtained his PhD last year.
He also founded another start-up, BrainRobotics, in the same period. BrainRobotics is currently developing what it describes as the world's most affordable AI-powered prosthetic hand.
"By adopting artificial intelligence techniques and advances in brain-sensing technology, the futuristic scenes in sci-fi movies can soon become a reality," Han said in an interview with online publishing platform Medium in November last year.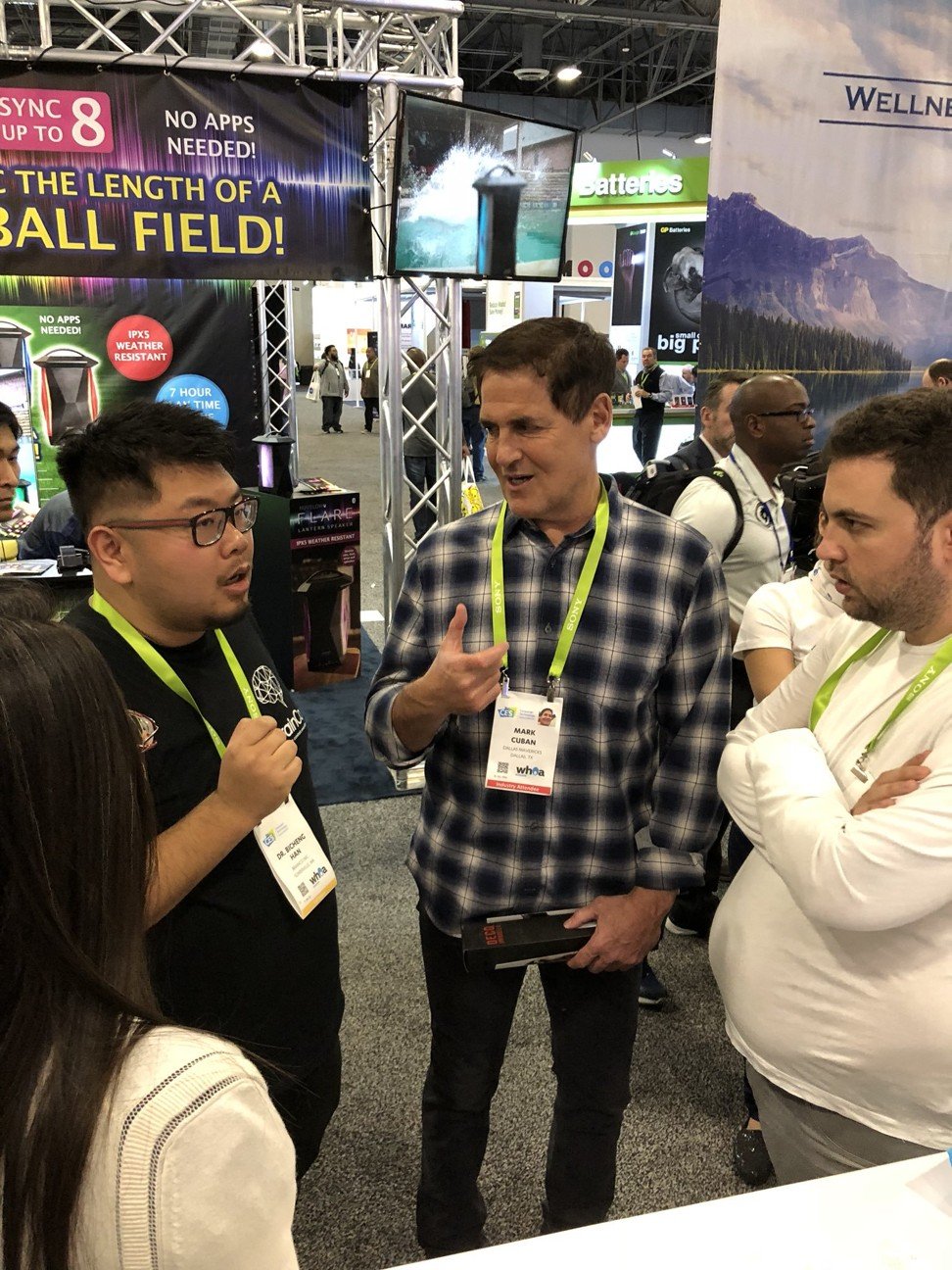 He said the use of BrainCo's BMI products "will not only train their cognitive skills, but also control electronics like switching on smart home devices or controlling the movements of robots".
That "synergistic relationship between brain and machine" will help "uncover deep insights into human intelligence and capability", said Han, who was listed by the MIT Technology Review as one of the "Innovators under 35" in 2017.
BrainCo, which spent US$30 million over a five-year period on research and development for the Focus headband, currently has 76 employees, consisting mainly of scientists and engineers from Harvard and the Massachusetts Institute of Technology. About 60 of its staff are Chinese, according to the company's LinkedIn account.
Apart from education, BrainCo has targeted its BMI products to help fitness enthusiasts and elite athletes recover faster through so-called neurofeedback, combined with guided meditation.
Back in Las Vegas in January at CES, BrainCo's mind-over-remote-control-car experiment had its hiccups. There were times the toy cars on the track zipped around quickly, but there were also times the demonstration failed. Still, employees at the booth smiled and urged people to try their experiment, as they adjusted the headbands worn by visitors or the cars on the track.
For the schoolchildren in BrainCo's trial in China, a photo of them wearing the headbands and focused on reading went viral earlier this month. They were not smiling.