5G
Get more with myNEWS
A personalised news feed of stories that matter to you
Learn more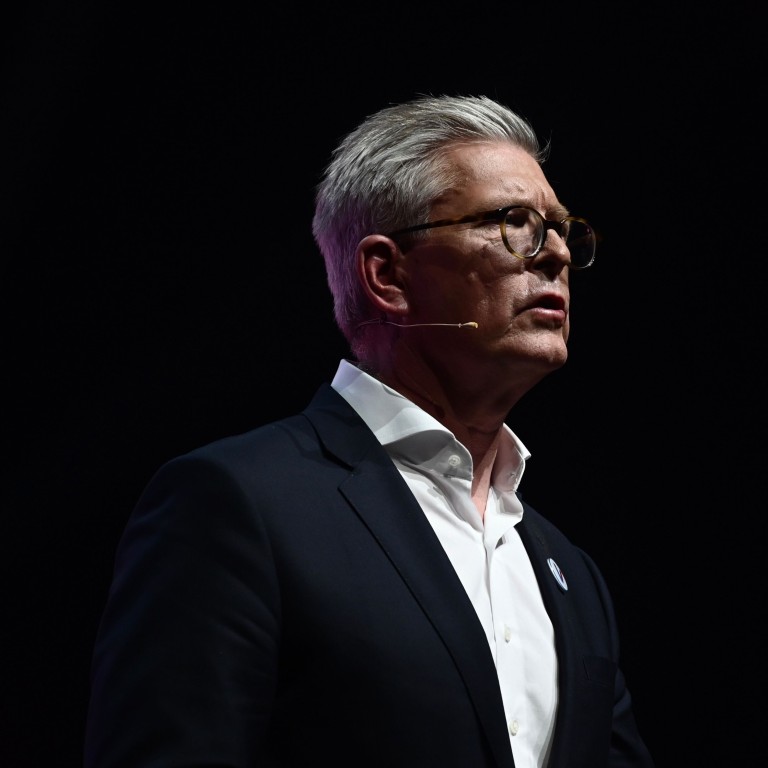 Profile: CEO Borje Ekholm wants to put the record straight on Ericsson's 5G efforts amid Huawei woes
Ekholm says it is a 'myth' that Ericsson has fallen behind in 5G - says Europe needs to speed up deployment of new technology, allocate more spectrum
Ericsson might be in the top 3 when it comes to market share for telecommunications equipment, but recently its chief executive Borje Ekholm has not been happy.
The source of Ekholm's unhappiness is the "myth" that Ericsson has fallen behind in next-generation 5G networks – whether this be infrastructure roll-outs or the technology itself.
Such a myth is "puzzling", wrote Ekholm in a blog post last week titled "Europe and 5G: Address the reality – not the myths".
"We're live with multiple operators in the US and Korea, and in Europe we're live with Swisscom, the first to launch in the region," Ekholm wrote.
"These are quite simply indisputable facts. It's impossible to be behind in 5G when there is no-one in front of us."
As such, Ekholm joins Nokia chief executive Rajeev Suri in a recent round of chest-beating over whose 5G technology is the best, at a time when Chinese rival Huawei has received the body blow of being added to a US trade blacklist, cutting it off from US technology suppliers.
Nokia's Suri said at its recent annual shareholder meeting that Nokia is leading in 5G, and is "rolling out some of the world's first 5G networks" with a wide portfolio of technology and services that its competitors cannot match.
Meanwhile Chinese giant Huawei, which has claimed it is 12 to 18 months ahead of competitors in 5G, has now fallen under a cloud of suspicion after the US said its equipment is susceptible to hacks by China's intelligence agencies and poses a national security threat.
Huawei's regulatory headwinds offer companies like Ericsson and Nokia a rare opportunity – the chance to get ahead in a cutting edge technological field. Nokia, Ericsson and Huawei make up the top three telecom gear suppliers globally, serving major telco operators around the world. If more countries side with the US, that means these markets will essentially turn to the only competitors left – Nokia and Ericsson.
Ekholm, who took over the helm of the Swedish telecommunications firm two years ago, says Ericsson is ready to roll out 5G technology to customers who want it. But its home continent, Europe, is lagging markets like the US and South Korea when it comes to commercial roll-out of 5G technology, primarily because regulatory policies have not kept pace with technology developments.
"5G must be seen as a critical national infrastructure," said Ekholm earlier this month at the VivaTech conference in Paris.
"It's time to speed up 5G in Europe. We can't afford to have our European entrepreneurs and enterprises innovate on an old and ageing infrastructure," he said, pointing out that the US and China already see 5G as the backbone of digitalising society.
Ekholm, who spent 10 years as chief executive of an investment company before taking over the reins at Ericsson, has recently dismissed Huawei's calls for its rivals to lay out their source code for security inspection. At the moment, Huawei is the only telecoms gear supplier to do that, at cybersecurity centres in the UK and Brussels.
Such post-development testing is not the solution, as it creates a "false sense of security" and will delay the introduction of new features, Ekholm said.
"Ultimately, we believe operators will make choices for what kind of customers they will serve and what kind of network and operations they are going to have, and that will drive how the security looks," he said.
He also indicated that making more spectrum available, at reasonable prices, was necessary in order to speed up Europe's 5G development.
"Today a spectrum auction is deemed successful if it generates the maximum amount of … tax income for the government, but the reality is we need to factor in the other benefits you will get from rapidly building out telecoms infrastructure," Ekholm said.
Ekholm sits on the board of Alibaba Group Holding, the parent company of the South China Morning Post, as well as on Trimble, a US developer of satellite navigation system receivers, and his alma mater, Sweden's Royal Institute of Technology.
Ericsson did not immediately respond to a request for comment on this article.
This article appeared in the South China Morning Post print edition as: Ericsson already rolling with 5G