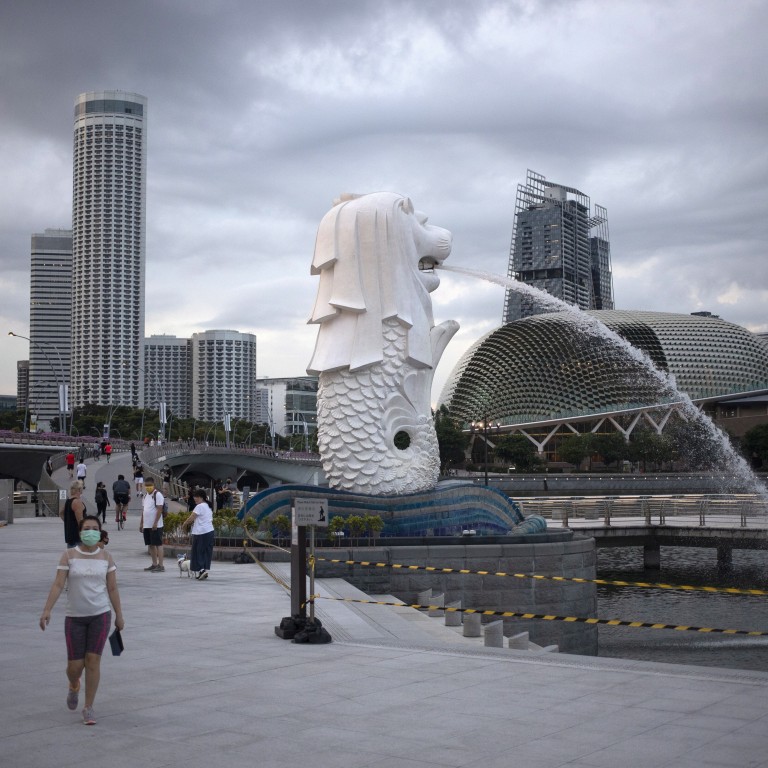 Coronavirus: Singapore to reopen shops, parks and pools from Friday
Eating out in restaurants and working out in gyms are back on the menu as reopening enters phase 2, but religious services and nightclubs remain shut
All incoming travellers will be tested for the virus from Friday
Singapore
will allow social gatherings of up to five people and eating out at restaurants from Friday, as the city state moves into the second phase of its economic reopening on the back of falling
coronavirus
infections.
Health Minister Gan Kim Yong said the second phase would begin at 11.59pm on Thursday, and that apart from a "small list of exceptions" most activities would resume.
"Safe management principles will become even more crucial," said Gan, who co-heads a multi-ministry task force dealing with the virus, adding that community cases were now under control.
National Development Minister Lawrence Wong said shopping malls and retail shops, as well as sports and public facilities including parks, sports halls, swimming pools and gyms, would be allowed to reopen. More details are to be announced by the authorities soon.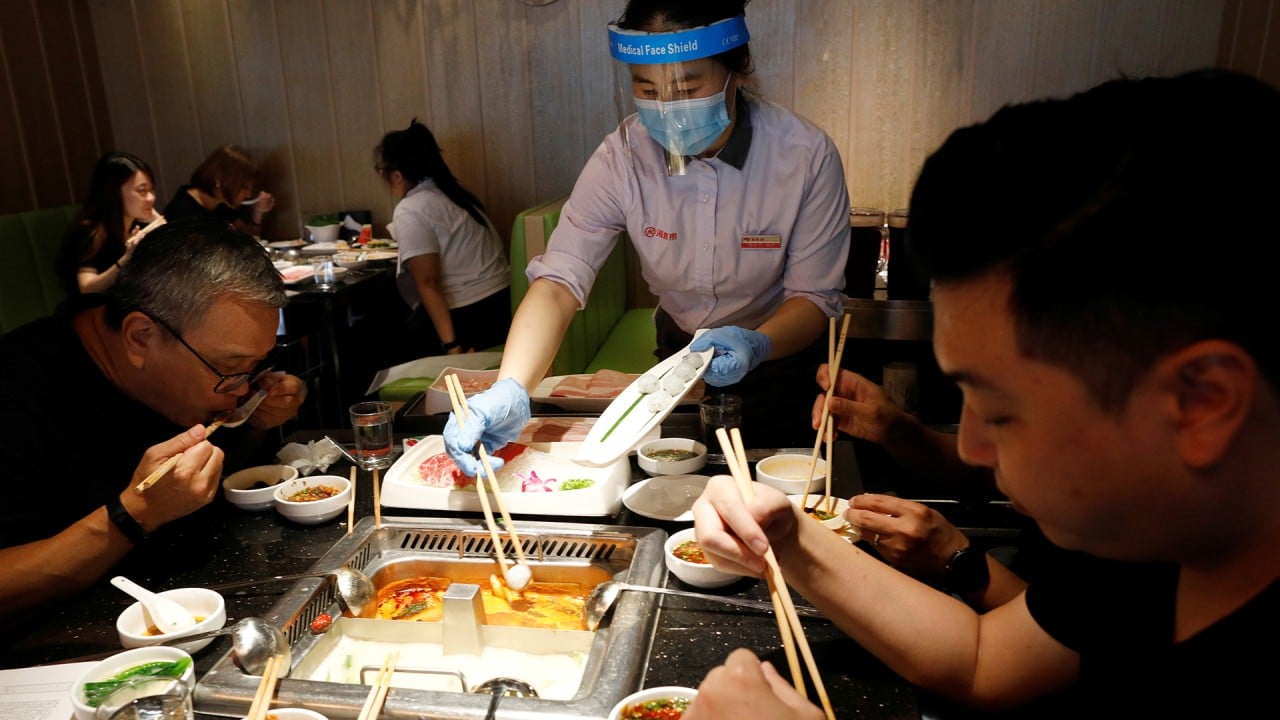 01:40
Singaporeans eat out and shop as coronavirus restrictions relaxed
Singaporeans eat out and shop as coronavirus restrictions relaxed
However, Wong said live music and video screenings would not be allowed in businesses that sold food.
"We do not want the noise around that environment, causing people to speak more loudly than they need to, spreading droplets while they eat or to linger around for longer than necessary," he said.
Other businesses that involved people gathering in crowds for prolonged periods of time would not be allowed to reopen yet, said Wong. These included religious services and congregations; entertainment venues such as nightclubs, cinemas and karaoke bars; cultural venues such as libraries and museums; and events such as conferences, exhibitions, concerts and trade fairs. Such businesses would be reopened in stages, he said.
Wong said the authorities were considering ways to reopen travel, adding that all incoming travellers would need to be tested for the virus from Friday, but they would have to pay for the tests, which were previously borne by the government.
The authorities are also adjusting border measures, with people returning from Australia, Brunei, Hong Kong, Japan, Macau, mainland China, New Zealand,
South Korea
, Taiwan and
Vietnam
to serve their compulsory two-week stay home notice at their homes rather than designated hotels.
People returning from other destinations will still have to stay at designated facilities.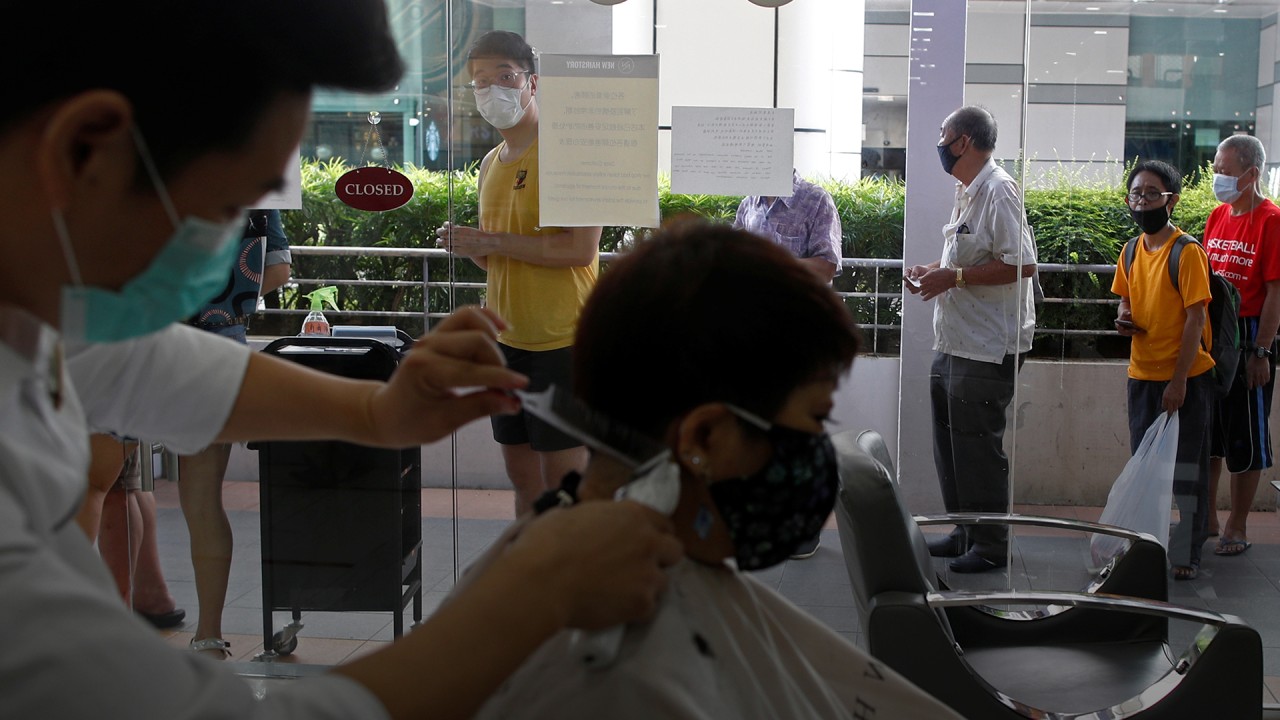 02:36
Singaporeans head to hair salons as some coronavirus measures slightly eased
Singaporeans head to hair salons as some coronavirus measures slightly eased
"We do expect to have the ability now to also allow more long-term pass holders overseas to return to Singapore," Wong said.
The task force said that the second phase of reopening was a "process" that could take "a few months" before the third and final phase of the city state's reopening.
Meanwhile, all students are to return to school from June 29. Currently, only graduating cohorts have fully returned, with all other students alternating between one week of lessons in school and one at home.
The announcement on Monday came amid speculation that Prime Minister
Lee Hsien Loong
would call an election in the coming weeks as the number of infections stabilised. The deadline for a vote is April 2021.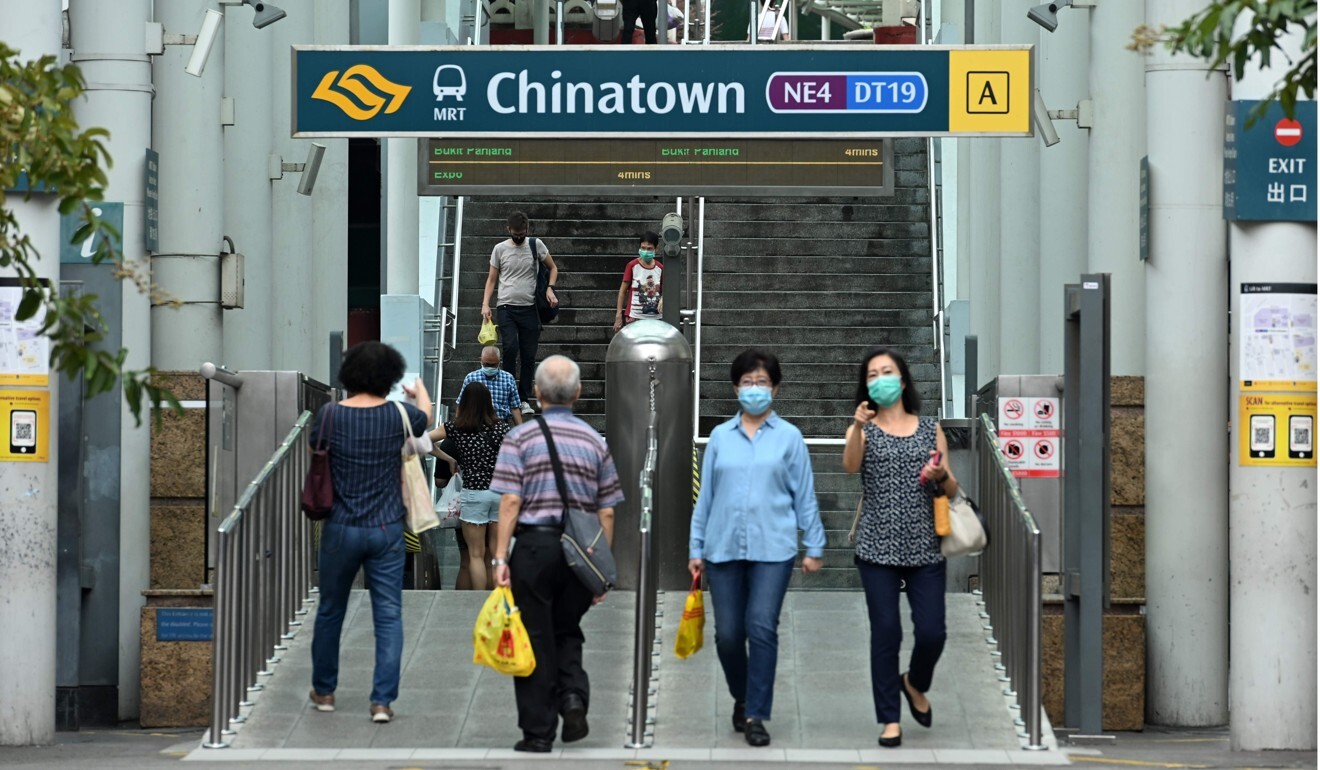 'A DELICATE BALANCE'
The city state reported just 214 new coronavirus cases on Monday – the lowest daily count in more than two months – bringing the total number of infections to 40,818.
Most of the country's cases involve low-wage migrant workers living in cramped dormitories. Infections within the local community have stabilised over recent weeks.
Authorities lifted the 'circuit-breaker' partial lockdown on June 2, with workers returning to offices and some students going back to school. However, under the first phase of reopening social activities and dining in at restaurants had remained barred.
Gan said a "delicate balance" had to be struck to allow economic and community activities to resume, while making sure that the coronavirus was kept under control. He called for Singaporeans to make a collective effort to be socially responsible and said safe distancing measures would continue to be strictly enforced.
Wong said Singaporeans should not take the second-phase reopening as a signal to let their guards down or it was likely restrictions would have to be reintroduced.
The easing of Singapore's measures comes amid similar moves by countries around the world.
Across the border, Malaysia, which has lifted most of its movement control measures, is to reopen schools this month, after three months of strict curbs.
Meanwhile,
Hong Kong
plans to relax its limit on public gatherings to allow groups of up to 12 people from Sunday.
There have been concerns over the effect the partial lockdown, which began on April 7, has been having on Singapore's economy.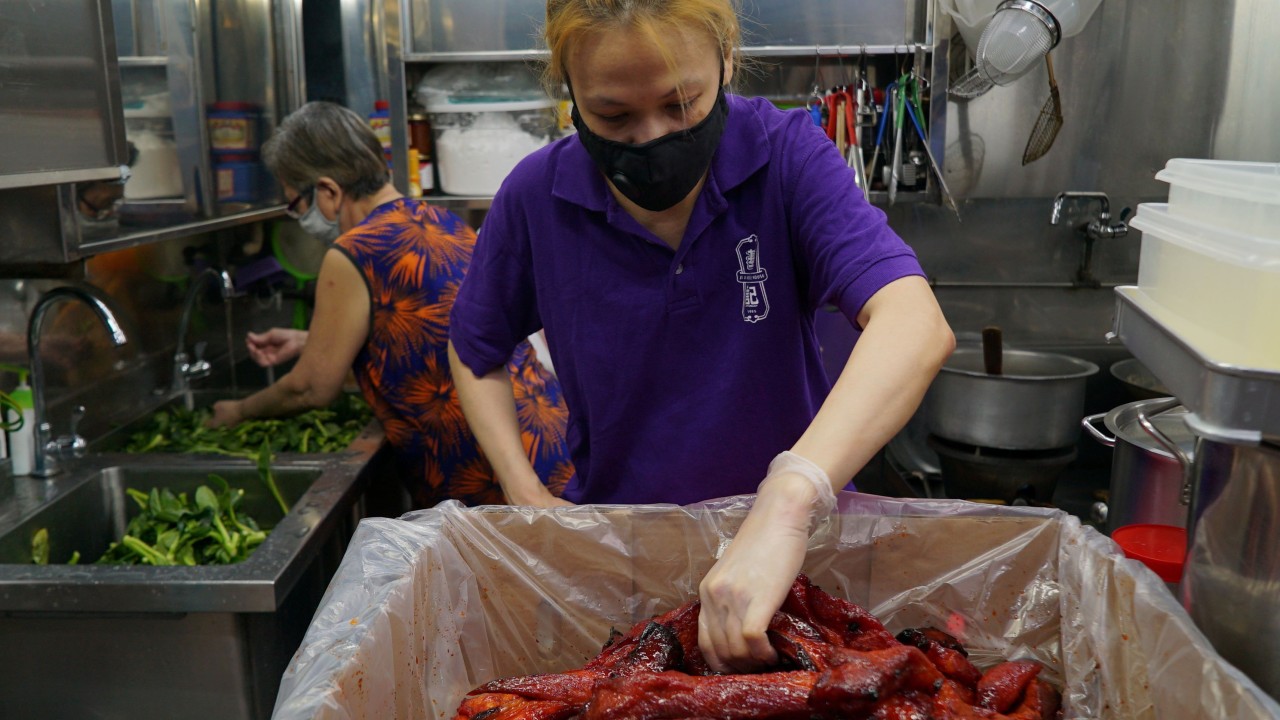 02:13
'Last-generation' Singapore hawker fights to weather pandemic
'Last-generation' Singapore hawker fights to weather pandemic
The trade ministry has downgraded its full-year growth forecast to a range of -4 to -7 per cent, which would be the worst contraction since independence if it comes about.
HL Bank senior treasury strategist Jeff Ng said the second phase of the reopening would have "some positive impact" on the economy. He said the economy was likely to rebound sharply in the second half of 2020 after a "large collapse" in the second quarter.
He added that there were some positives. The biomedical industry remained resilient and the government's enormous fiscal injections – it has committed almost S$100 billion or 20 per cent of its GDP – would help business and residents weather the economic fallout.
But Song Seng Wun, an economist at CIMB Private Banking, said even though the phase two reopening had positive measures, such as allowing restaurants to accept dine-in customers, much would depend on how Singaporeans reacted.
Some Singaporeans might remain uneasy about eating out, fearing infection, he said.
"Risk aversion may persist, especially among those with young families," said Song, who projected a full-year contraction of between 5 and 8 per cent.
Ng, who projected full-year contraction of 4.8 per cent, cautioned there were external risks to the economy such as a deterioration in
US-China relations
. "We acknowledge the situation remains fluid," he said.