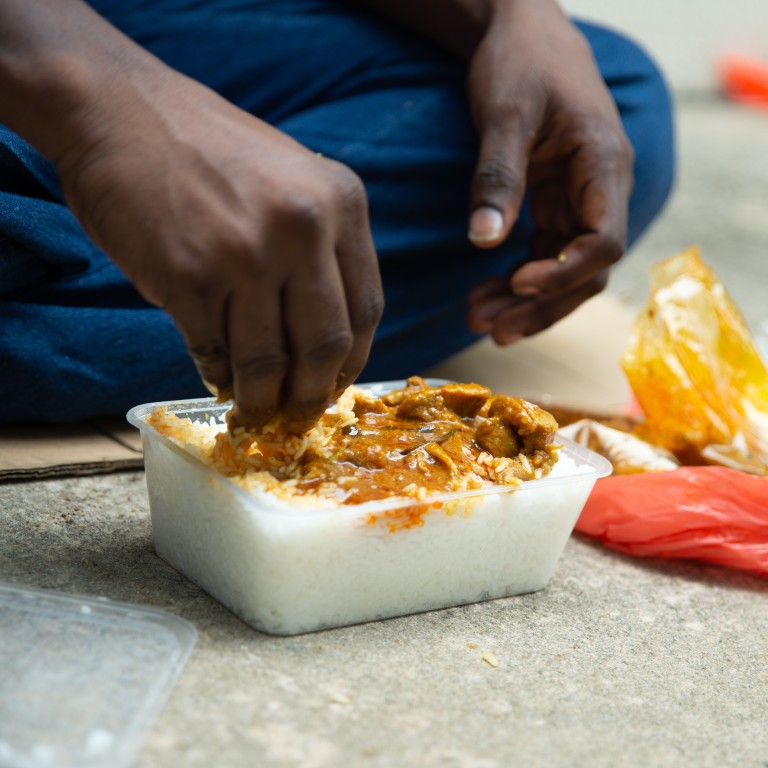 Rancid US$1 curry: should Singapore swallow cost of migrant workers' meals?
With salaries for Bangladeshi and Indian migrant workers hovering around US$500 a month, most go for the cheapest – not the healthiest – food option
If workers can't afford to eat properly, do caterers, employers or the government have the ability – and appetite – to help?
A sour smell rises as Ibrahim Khalil, 31, opens his lunch, undoing the knots on two plastic bags.
The fish curry, exposed to the morning heat for half a day, has turned rancid again. Still, the curtain installation worker from
Bangladesh
 pours it over his pile of cold rice as he sits cross-legged on the floor and begins to tuck in.
He has never complained about the stomach pain he often feels afterwards. His attitude to his meals in
Singapore
 is simple: "My food here, I eat to live. To survive."
His lunch, purchased from a catering company that provides him with three meals a day in return for S$110 (US$80) a month, is always the same. A single, thin slice of fish in a plastic bag of curry gravy. There is also a portion of watery dal, which ought to be fragrant and thick with lentils, tomatoes and onions. The centrepiece of his meal is the heap of long-grain ponni rice – nearly a whole kilogram of it – all of which he finishes to refuel after hours of hard work.
At S$1.20 (90 US cents) a meal, this is all that most migrant workers like Ibrahim want – a lunch that is cheap and filling.
When
Covid-19
struck Singapore, its migrant workers bore the brunt. The virus spread through their crowded dormitories prompting the government to quarantine some 300,000 in their rooms for months. Migrant workers now account for around 95 per cent of the nearly 58,000 cases recorded in the country. The experience has shone a spotlight on their living conditions and prompted authorities to outline plans for
improved dorms
that will offer more space and better access to amenities and medical care.
Yet as these men return to the workforce they are once again left to source their own food, and many are returning to their usual arrangement of skimping on meals.
"This food issue is nobody's problem and it lives in a no man's land," said entrepreneur Jack Sim.
In 2016, he co-founded social enterprise 45RICE, which lobbied 100 employers to sponsor vitamin-fortified rice for their workers at 3 cents a meal.
Only around 15 companies agreed, and 45RICE folded in 2019.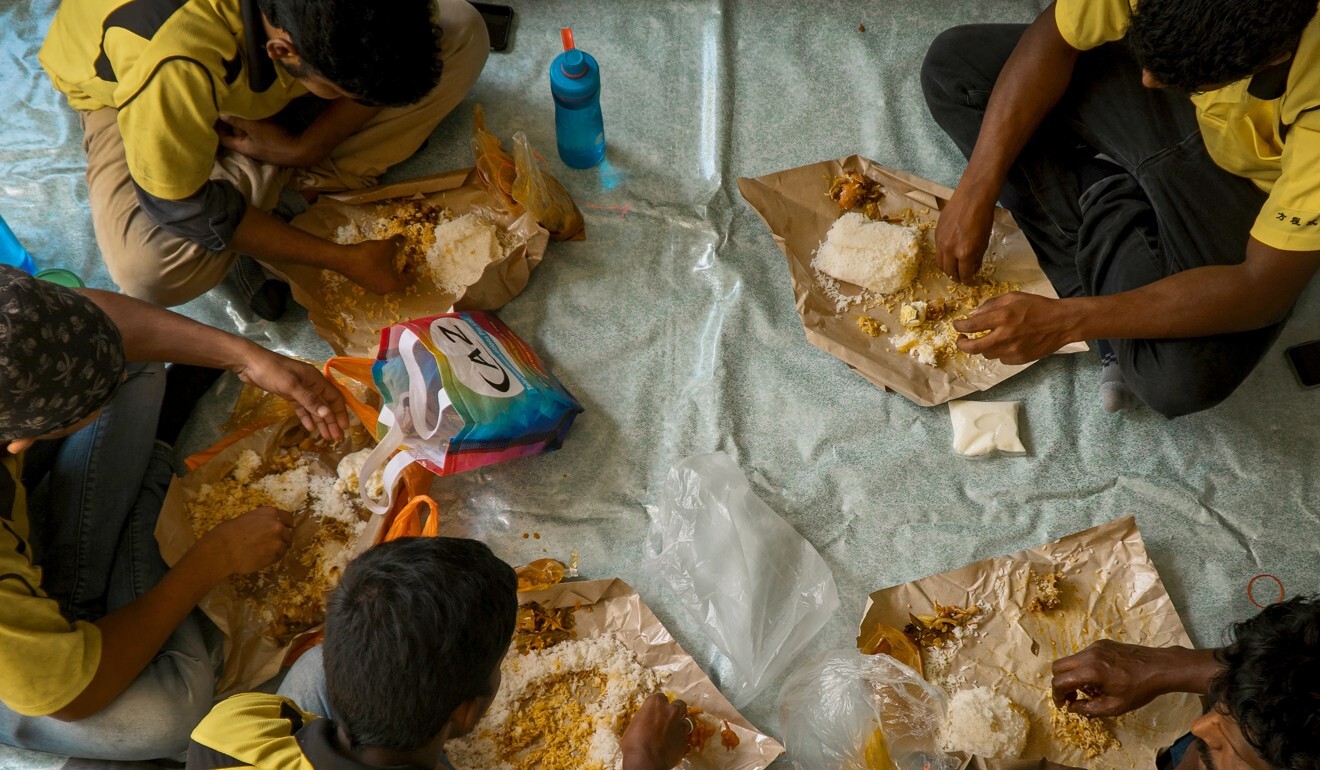 Sim said most companies expressed fears that the government would suspect they were unfairly deducting salaries from workers.
"They told me they don't want to be involved in the nutrition of the workers," said Sim.
He tried to gather support from the Singapore Contractor's Association Limited (Scal) and government agencies such as the Building Construction Authority (BCA), but was unsuccessful.
"They are only interested in the skills training and technological improvement of the work," he said.
In response to queries on the state of workers' food, the BCA said its definition of productivity did not take health and nutrition into account, although it did consider personal well-being.
Scal said it was unable to assist with queries when asked if it was aware of the conditions of workers' meals.
GET WHAT YOU PAY FOR?
The workers themselves choose cheap, catered meals for the price. Every extra dollar Ibrahim saves from his food can be sent home to his wife, daughter and parents in Chandpur, a town two hours by car from Bangladesh's capital, Dhaka.
With his S$1,100 salary, he is loath to part with anything more than he already does.
Many other workers earn far less. The monthly pay of an average Bangladeshi or
Indian
worker ranges from S$480 to S$800, according to a report in
The Straits Times
.
Catered meals, available for as little as S$90 to S$150 a month, can take up nearly a third of a worker's wages.
Kassler Peh, business development manager for catering firm ISO Delight, said caterers struggled to provide workers with quality meals given their shrinking margins.
"The price of food has gone up for the last eight, 10 years, but what the workers are paying has stayed the same. So we have to learn to do more with less," he said.
Before the pandemic, ISO Delight, which specialises in Bangladeshi and Indian catered food, delivered 7,000 daily meals priced at around S$1.35 each to 100 dorms.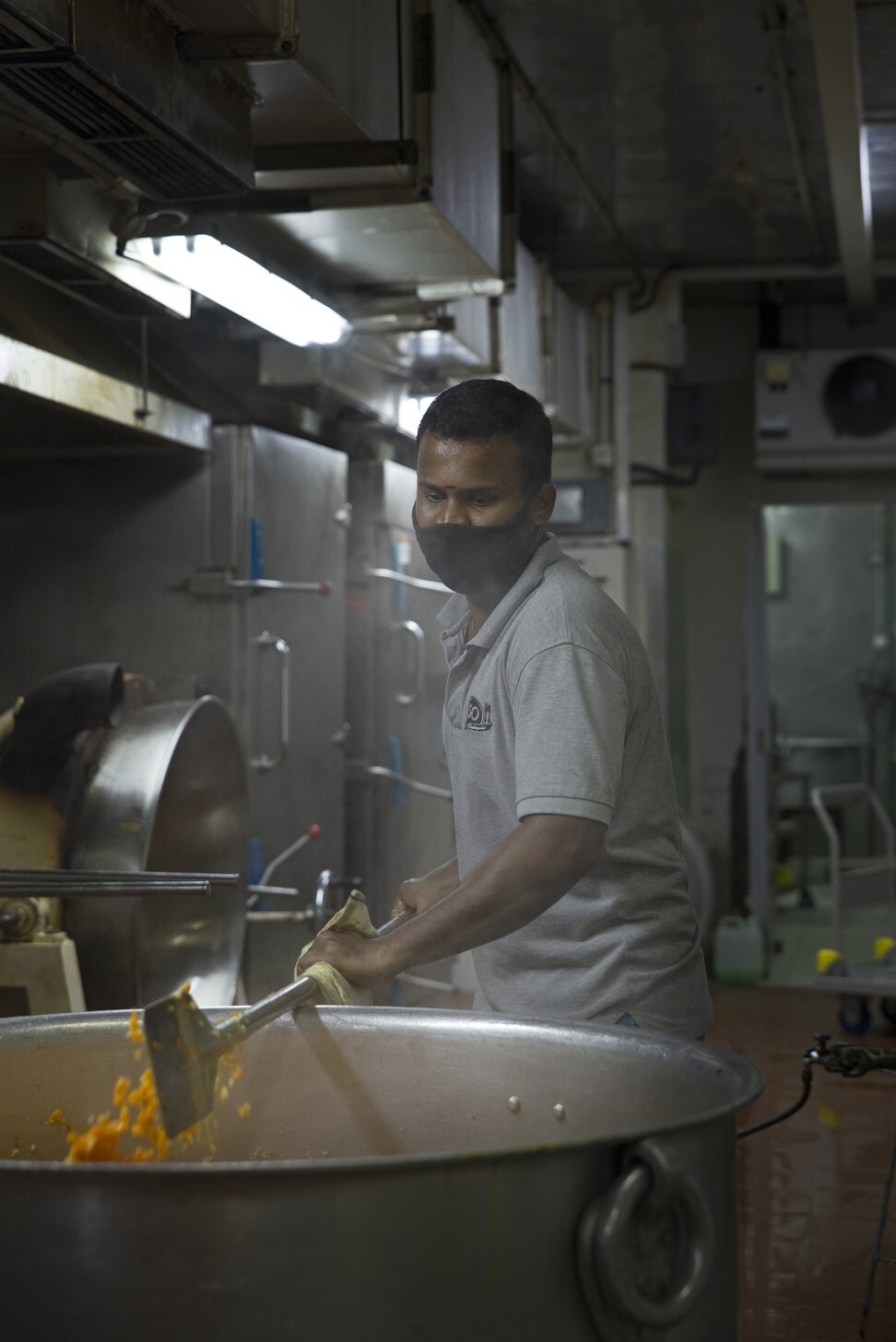 Charging an extra 15 cents gave Peh some breathing room to vary his menu.
A typical breakfast from his kitchens could be chapatti with vegetables one day, prata with dal the next.
The curries in the lunch packages include a range of fish, from smooth, tender rohu carp to the flaky, earthy tilapia. Dinner may include fried chicken, beef or mutton curry and, on alternate Saturdays, biryani rice.
The caterer's head Bangladeshi chef, Mohd Shahin, said charging a little extra also allowed him to use more spices for added flavour.
"Others give two pieces of meat, I give three," he said.
Higher-end catering options exist, but are beyond the reach of typical work-permit holders earning below S$800 a month.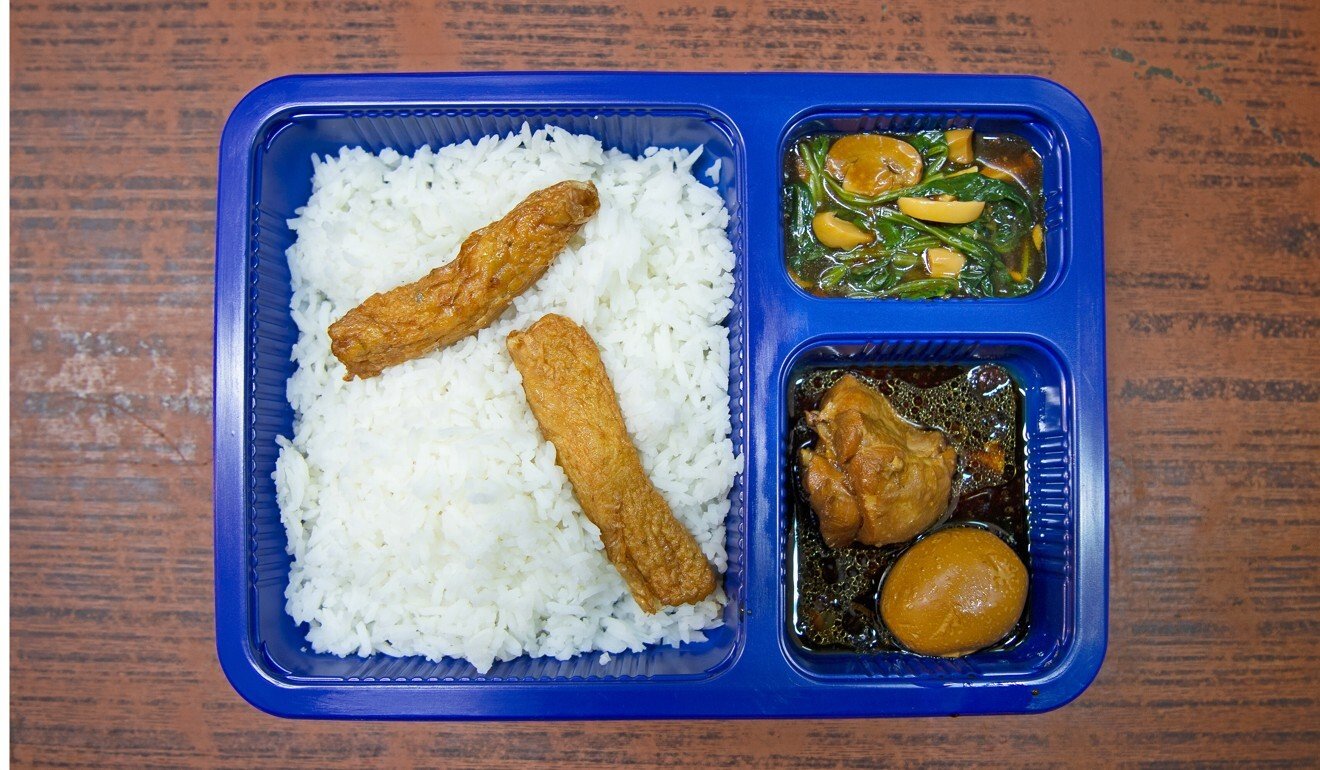 Catering Solutions prices its meals for migrant workers at around S$2.70 each, or S$240 a month. The men pay around S$120, while their employers – large construction and shipyard companies that are willing to sponsor meals – pay the rest.
The catering company's director, S. Mahenthiran, said the buffer allowed him to supply meals with at least 250g of protein and 100g of vegetables.
His 16,000 square foot kitchen rolls out 7,000 Indian, Bangladeshi, Chinese, Punjabi and vegetarian meals every day. The variety is wide, including fried fish steaks soaked in amber curry sauce; chicken thighs doused with sweet sauce and winter melon stew on the side; masala chicken and biryani rice garnished with chilli and onions.
Instead of being bundled into plastic bags and brown wrapping paper, Mahenthiran's food is delivered in airtight bento boxes, which prevent contamination.
The additional cost also means Catering Solutions can make three separate deliveries to work sites and dormitories, an arrangement that is out of the question for most other caterers.
ISO Delight's Peh admits that sending delivery vans to individual work sites would be too problematic logistically for most caterers.
"The guys you deliver to at one dorm could disperse to so many different work sites, and they don't work at the same place every day," he said.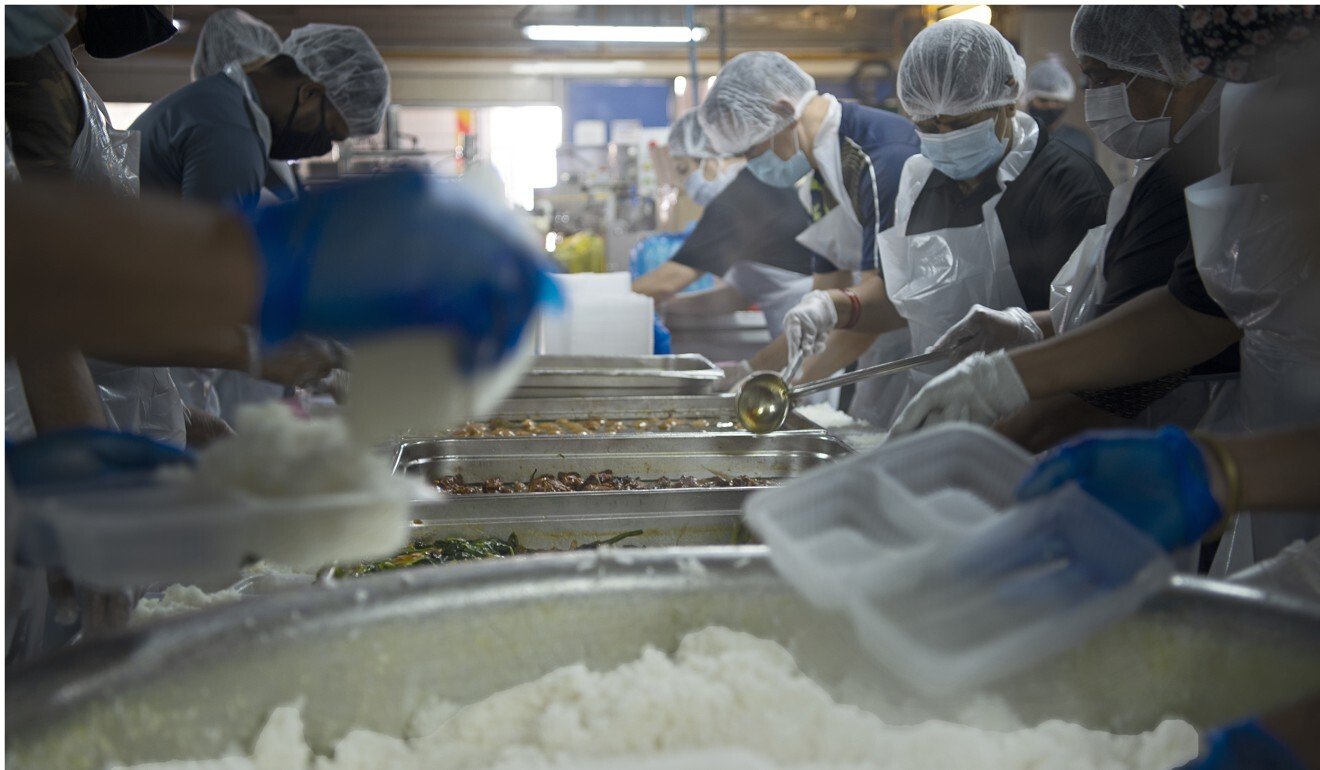 Instead, most caterers typically deliver the men's packed lunches around dawn, before they leave for work. Dinner arrives at the dormitory in the late afternoon, long before the men return.
To ensure meals are delivered on time, some caterers begin preparing the workers' lunch from as early as 10pm the day before. Others, including ISO Delight, cook early in the morning.
According to Singapore Food Agency guidelines, all catered food must be stamped to display the time of preparation and state a recommended 'consume-by' limit.
Although food safety officers regularly check the morning deliveries, most caterers mark lunch packets with time-stamps meant for breakfast since both meals are prepared at the same time, said Peh.
He is aware of the health risks, but said the industry was yet to find a working solution.
"If you want three deliveries a day, the price will need to go way up … If you look at the workers' salaries, there is no way they can afford more than what they're paying now," he said.
SUBSIDIES THE ANSWER?
Mahenthiran said the way forward was to subsidise workers' meals.
He recalled the fierce resistance of workers when he charged S$140 a month as part of his first contract with a shipyard in 2013.
Several of the men threw their food back at his serving staff in protest. Some planted centipedes in their food or buried shipyard nuts and bolts in their rice before complaining to their employer.
"Later, I found out what the real issue was," said Mahenthiran. "It had nothing to do with the food, it was about the money. They were kicking and fighting just for that extra S$10 that we charged them."
Realising this, he began negotiating subsidised rates with multinational corporations that were willing to pay towards their workers' meals.
ISO Delight tried to do the same with smaller companies this year, but Peh said most employers did not even want the hassle of being involved in feeding their workers, let alone dealing with any extra cost.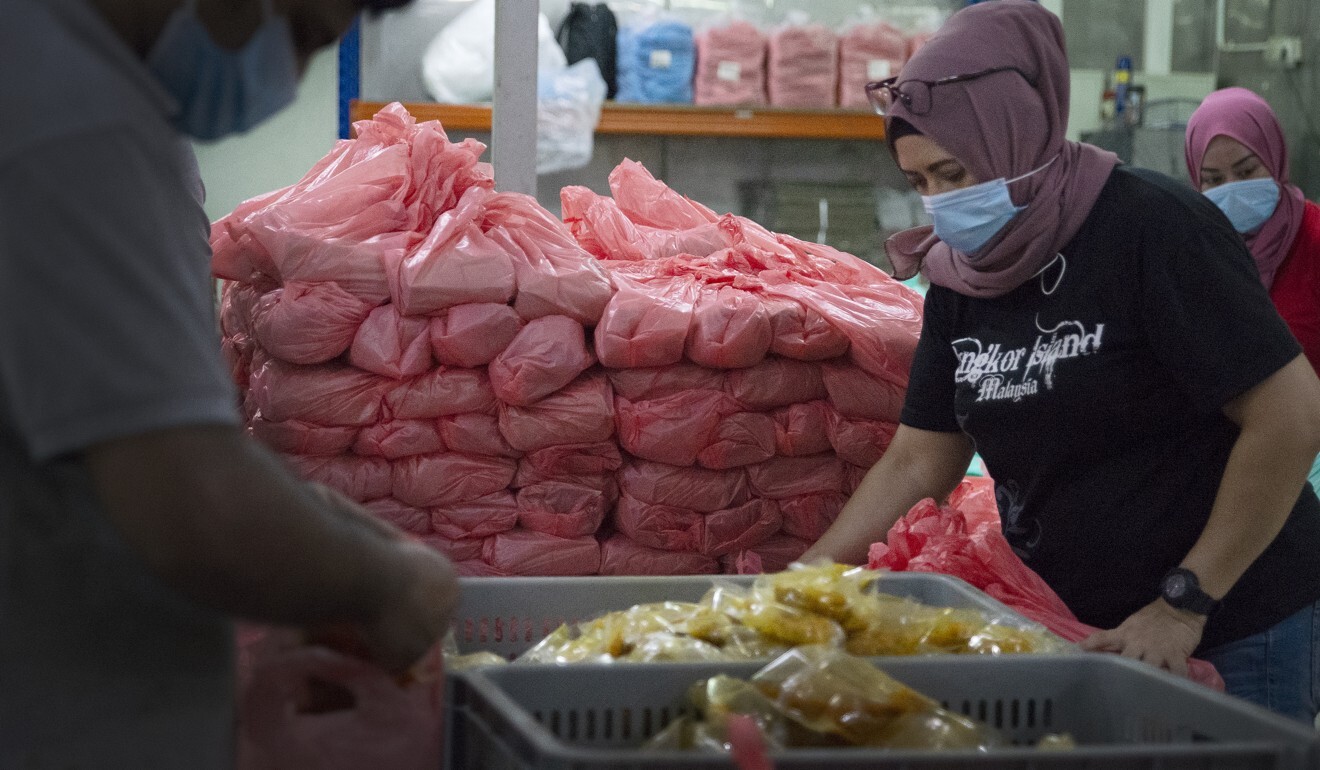 Both Mahenthiran and Peh suggested that part of the foreign worker levy collected by the government could go to sponsoring better meals for workers so that employers would not have to foot the additional cost.
"With Covid-19, the economy is not going to be so good. Everybody is going to be thinking about how their business can stay alive. You're not going to have employers jumping to pay for workers' meals," said Mahenthiran.
Peh said: "We really need the kind of change that is across-the-board. What can you do as just one person in the system? You're just a pawn.
'IT'S AWFUL. BUT IT'S SOMETHING THEY TOLERATE'
Cost aside, many workers simply do not have the time or access to facilities to explore other options, such as cooking for themselves in their dormitories.
At Ibrahim's dormitory, where he stays with 7,000 other men, there is only one kitchen with 50 stoves. He rarely has the time to wait for his turn to cook, as he leaves for work at 8am and returns between 7pm and 8pm.
Professor Mohan J. Dutta, who in 2015 published an academic report on food for migrant workers in Singapore, said most workers wanted cooking facilities where they lived.
Dutta, the director of the Center for Culture-Centered Approach to Research and Evaluation at Massey University in New Zealand, found in a survey of 500 migrant workers that food hygiene was their greatest health concern.
Yet, they resorted to buying cheap catered meals because they felt they had no choice, Dutta said.
Migrant worker activist Debbie Fordyce, president of the non-profit organisation Transient Workers Count Too (TWC2), said that workers accepting cheap meals was symptomatic of the low wages they received and the heavy recruitment fees they paid to secure jobs in Singapore.
"If you paid them double their salaries, they would probably send double the money home to their families … With the food situation, they know it's bad. It's awful. But it's something they tolerate," she said.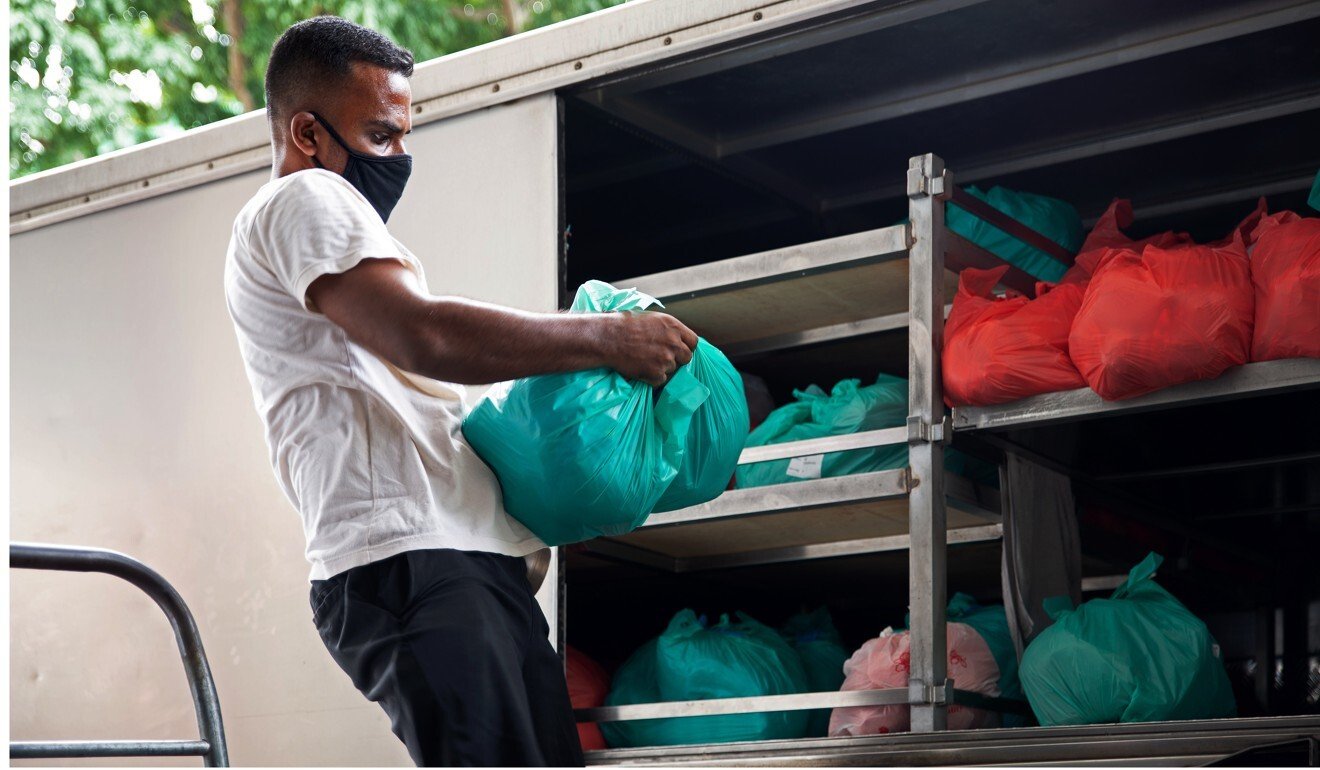 Non-profit groups sponsoring meals for the one million migrant workers in Singapore in the long-term was not practical, said Fordyce.
"Where would we start?" she said.
Fordyce said it was better for TWC2 to focus on the underlying issues of increasing pay for workers and eliminating recruitment fees.
Member of Parliament for Nee Soon Group Representation Constituency Louis Ng said it was important for Singapore to provide migrant workers with fair living standards, including improvements to their meals.
"We've looked into improving the hardware – their physical living conditions and their dorms. Now it's time to look into the software – their rest days and the food they eat.
"Ultimately, these workers are here to help Singapore. Without the workers, we won't have our HDBs and our roads," said Ng.
"Nobody is calling for them to be looked after better than Singaporeans, but simply that they are looked after," he added.
Until change happens, workers like Ibrahim will have to continue relying on cheap catered meals.
While Ibrahim never complains, he knows the food he eats leaves much to be desired.
Before the pandemic, he would head to Little India on Sundays and treat himself to a slap-up meal of chicken or mutton biryani, or a prawn or fish dish that costs S$6.
When he thinks of home in Chandpur, Bangladesh, his mouth waters at thoughts of the meals his mother and wife would prepare. They would take fresh fish caught by his father from the river beside their home, and stir-fry it with onion and chilli, tossing it with cumin, garlic, ginger and masala.
It would be served over a plate of steaming ponni rice, with a side dish of aloo posto, diced potatoes basted in a poppy seed chutney and seasoned with fiery green peppers.
Most of all, he misses his family's Friday dinners of pulao, fragrant basmati rice infused with aromatic herbs and spices, served with chunks of curried beef or mutton.
But for now, his S$1.20 lunch today is just like yesterday's. There is a heap of cold rice, thin soupy dal and a sliver of fish bobbing in a plastic bag of gravy.
Matthew Loh is from the Wee Kim Wee School of Communication and Information at the Nanyang Technological University in Singapore. He worked on this article as part of a journalism module called Going Overseas For Advanced Reporting, that focused on stories in Singapore this year because of the Covid-19 pandemic