A 'golden era' in China-UK relations. Really, Auntie May?
Trade with China looks like the top prize to a Britain heading for the Brexit. But issues from Tibet to Trump and Hong Kong have taken some of the shine off the relationship
Politics is politics, art is art. But politicians often like to play the role of an artist, trying to glorify whatever they are doing. That is how Chinese and British politicians have defined their bilateral ties – Chinese President Xi Jinping's visit to the United Kingdom in October 2015 ushered in a "a golden era" for a "special relationship", we were told.
The gloss on that, much vaunted, "golden era" appeared to have faded by the following year, when some Chinese state media outlets declared it over following the 11th-hour decision by the UK's new prime minister, Theresa May, to delay the nuclear power project at Hinkley Point due to security concerns over its financial backing from China. Last week, as May wrapped up her first official visit to the country, the "golden era" mantra was wheeled out once more, presumably in an effort to revive the relationship's momentum. Some state media obligingly dubbed the prime minister "Auntie May". But looking beyond the kind words in the media, observers could be forgiven for questioning whether the relationship really is "golden".
Economically, the world's second and fifth largest economies share a desire to cooperate "to new heights, on a wider scale and in a deeper manner". Diplomatically, May's "go global"strategy may well dovetail with Xi's signature
Belt and Road Initiative
and his wider aim of a Chinese rejuvenation.
WATCH: Brexit won't damage China-UK ties, Beijing tells Theresa May
Politically, as two of the five permanent members at the UN Security Council, both powers aspire to a bigger say on world affairs.
For the British, as they prepare to leave the European Union, China matters more than ever. As the country leaves its traditional market – turning its back on the 27 nations that will remain in the EU – it will be hungry for new partners and markets to offset the loss. China is the best solution. For Beijing, receiving the nod on its rising role in global affairs from a Western power is significant. With its soft power, Britain can help China on the world stage. Beijing also sees Britain as a springboard to Europe. For instance, with the EU refusing to recognise China as a market economy, and talks on a China-EU investment agreement stumbling, Britain could become the first European nation to sign a free-trade deal with China as London will have a free hand to make its own decisions.
However, Sino-British relations have long been a roller-coaster ride. There are many thorny issues, including human rights, Tibet, the freedoms of Hong Kong, and regional and global security. May also faces pressure from Washington, with whom London also has a "special relationship". President Donald Trump has labelled China a "strategic competitor". Xi's crackdown on civil society since he took office in 2012 also has not helped the relationship. So the question is whether May can shift the "golden era" into a higher gear purely by pushing economic cooperation. Or is her vision about more than just imports and exports?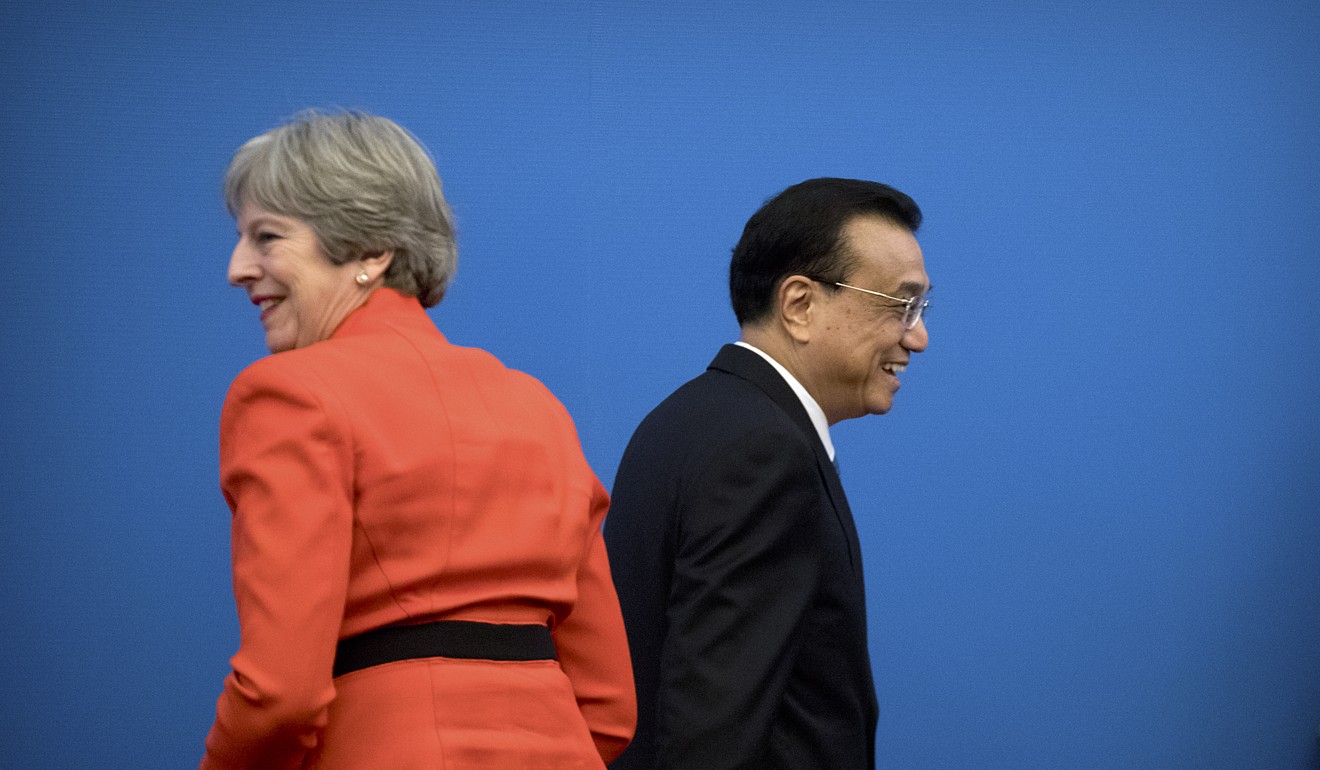 Downing Street candidly revealed that May and Xi have had frank conversations in areas where they do not see eye-to-eye. May stopped short of giving her full backing to Xi's pet project, saying the Belt and Road Initiative needed to be transparent and adhere to international standards.
Diplomacy is a political art, but it is not an art of exaggeration and flattery. Hard-won faith is as important as the hard-earned warmth when two nations come together. While we should welcome the improvement of Sino-British ties, we should also acknowledge the two nations have as many differences as common areas. Perhaps such a complex relationship is more reliably said to be in a "bronze" era – or "silver", at best. ■
Cary Huang, a senior writer with the South China Morning Post, has been a China affairs columnist since the 1990s