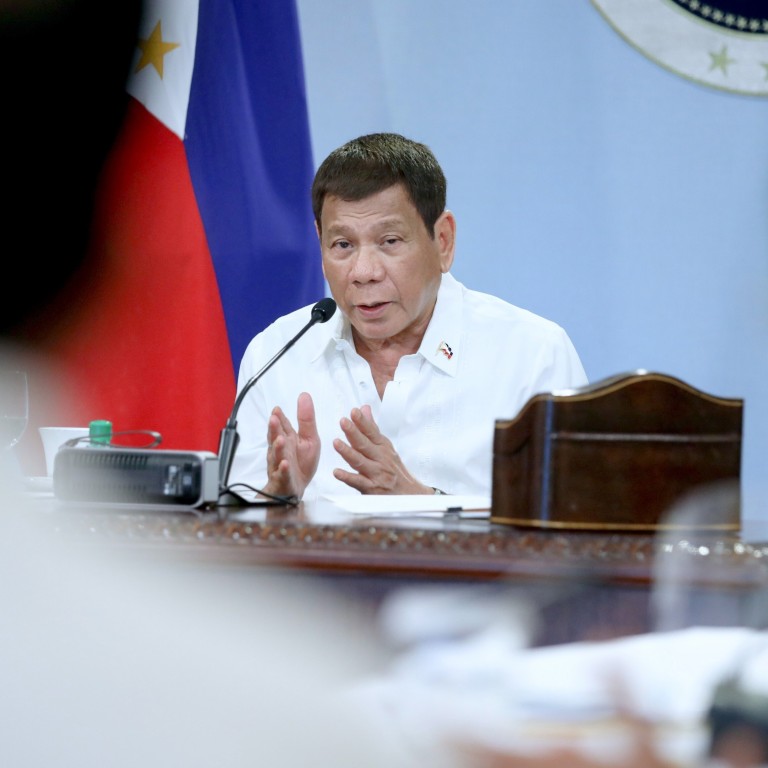 Can Philippine political coalition 1Sambayan best Duterte's allies at next year's presidential election?
The coalition of prominent Duterte critics who think the current administration is too cosy with Beijing has its work cut out to win
But if it does, its China strategy could have big implications for regional stability – with Duterte's legacy on the line, says Lucio Blanco Pitlo III
A new political coalition in
the Philippines
seeking to challenge the ruling party ahead of next year's presidential election foreshadows how foreign policy and security issues could loom large on the campaign trail.
The 1Sambayan coalition was convened in March by, among others, three prominent critics of Philippine President
Rodrigo Duterte
– retired Senior Associate Justice Antonio Carpio, former Secretary of Foreign Affairs Albert del Rosario and former Ombudswoman Conchita Carpio-Morales. The coalition has criticised Duterte for being too cosy with Beijing, and insisted he enforce
an arbitration ruling from 2016
that essentially invalidated China's maritime claims in most of the disputed
South China Sea
in favour of the Philippines. Carpio and del Rosario have also advocated for Manila to join US-led
freedom of navigation patrols
as a way of asserting the arbitration award.
In 2019, del Rosario and Morales – with Carpio as their legal counsel – filed a complaint before the
International Criminal Court
accusing China's President
Xi Jinping
and other ranking Chinese officials of "
crimes against humanity
" for marine environment destruction in the Philippines' exclusive economic zone. The
petition was rejected
as Beijing is not a state party to the Rome Statute by which the court was established.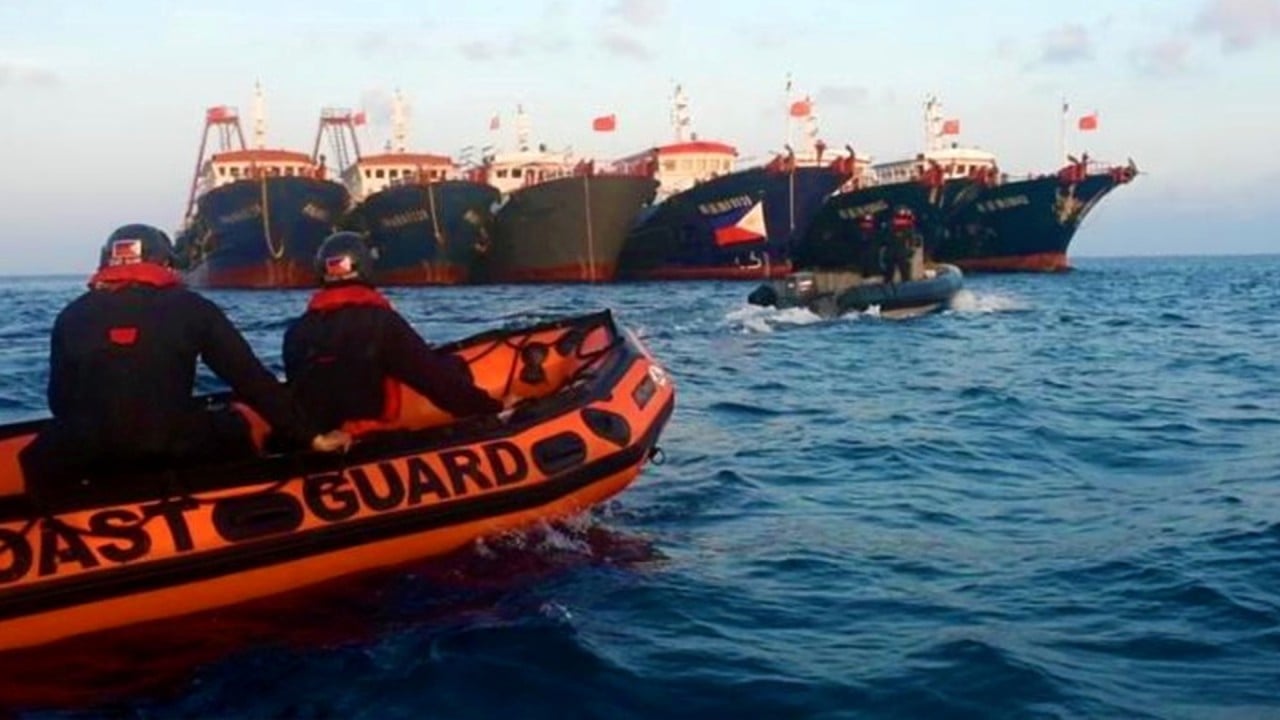 01:05
Philippine coastguard sends strong warning to Chinese vessels during South China Sea patrol
Philippine coastguard sends strong warning to Chinese vessels during South China Sea patrol
With 1Sambayan positioning itself as diametrically opposed to the present government on everything from the territorial and maritime row to wider relations with China, other legacies of the Duterte administration are now on the line. These include
its controversial war on drugs
and contentious approach to counter-insurgency which saw
a new anti-terrorism law
passed last year, as well as Beijing's involvement in the administration's flagship "
Build, Build, Build
" infrastructure programme.
Yet uniting the opposition under a single umbrella is no easy feat. While bilateral ties between Manila and Beijing have been marred by
the recent massing of Chinese vessels
in the Philippines' waters, it will take more than a maritime flashpoint to galvanise the opposition. Bringing together several big names and political parties to form a united front against Duterte's anointed slate is a tall order given the fractious nature of domestic politics. Despite the country's long democratic tradition, even the institution of political parties remains weak, with switching parties before or immediately after elections being fairly common. Elections are also infamously reduced to clashes of personalities rather than that of political parties and platforms. Next year's national and local elections require 1Sambayan to field a line-up with the broadest backing to stand a chance.
To win, the coalition will need to go beyond security and foreign policy, which remain abstract to most of the electorate.
Mounting frustration
over the state's pandemic response and
the recession
the unprecedented global health crisis left in its wake has more across-the-board appeal.
The government, for its part, can cite the coronavirus' unpredictability to soften the blow, as even former pandemic success stories such as
South Korea
,
Taiwan
,
Singapore
and
Vietnam
– and affluent places with advanced health care systems such as
Japan
– have faced fresh waves of infection as new variants emerge.
The coalition may also have to temper its China policy given the economic stakes. Covid-19 battered the Philippines' economy, triggering the worst slump since World War II and halting three decades of continued growth. China – the country's largest trade partner since 2016, second largest investor in 2019 and fastest-growing
tourism
market pre-pandemic – could aid with the recovery. Chinese investments have already flowed into the country's gaming, mining, power, energy, telecoms, logistics and infrastructure sectors, and this could expand to other areas if foreign equity restrictions can be eased – an issue fiercely tackled in Congress.
China has been a critical partner in the Philippines' pandemic response – donating millions of face masks and pieces of personal protective equipment, as well as dispatching teams of medical experts. It was also the first country to donate
Covid-19 vaccines
to the Philippines and supply government-procured jabs. The Duterte administration can justly claim that its foreign policy created these openings.
As China represents both a challenge and an opportunity for many countries in the region, crafting a strategy that combines resistance and engagement is essential. Adopting an attitude towards China that is too confrontational may backfire, and alienate support from the business community who desire stability and have benefited from the positive spillover of improved bilateral ties in the last five years.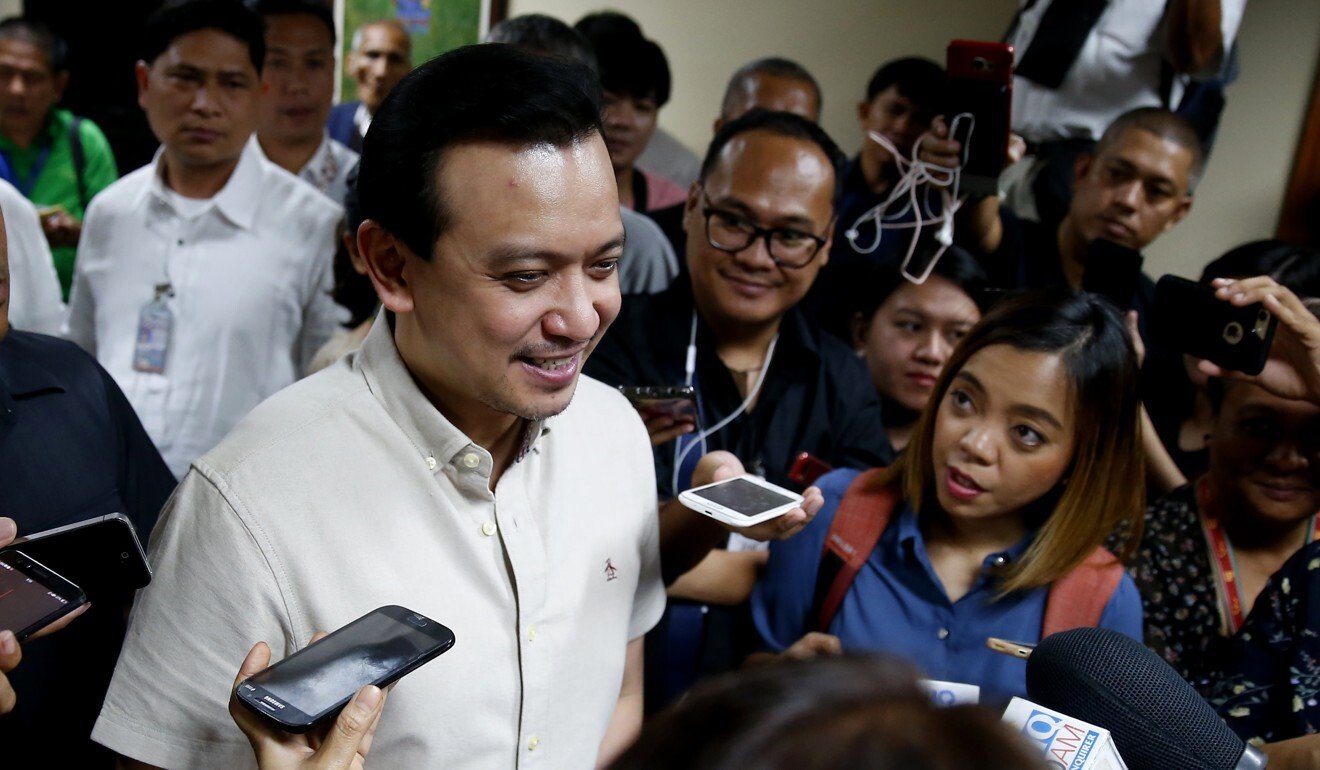 Lastly, besides fostering unity within its ranks and rallying the opposition around a single ticket, 1Sambayan will need to up its "winnability" factor. This could mean attracting younger politicians who have national prominence into the fold, given the advanced age of the coalition's stalwarts. The youngest prominent politician to have been identified with the coalition so far is 49-year-old ex-Senator Antonio Trillanes IV, who feuded with then-Foreign Affairs Secretary Albert del Rosario, one of the coalition's conveners, over the handling of
the Scarborough Shoal stand-off
in 2012. Trillanes, appointed as the backchannel negotiator by former President Benigno Aquino III, claimed he could have done more to defuse the crisis if he had not been undercut by del Rosario, who felt bypassed by the junior solon. Another name that has cropped up is current Vice-President Leni Robredo, 56, although she was rumoured to be leaning more in favour of a provincial – rather than national – post.
At the moment, the coalition has to contend with the current favourite to win, Davao City mayor and president's daughter Sara Duterte-Carpio, as well as Duterte's other allies such as former Senator Ferdinand Marcos Jnr, Senator Emmanuel "Manny" Pacquiao and Senator Christopher Lawrence Go, who all put in a good showing in early surveys. Several other aspirants are also eager to court the blessing of the president, who remains popular even after everything that has been said and done. Duterte's name even figured among
possible vice-presidential candidates
.
Against such a popular incumbent who wields considerable endorsement power, 1Sambayan needs to stick together to have a fighting chance. Fragmentation will deal it a huge blow. The complete rout of the opposition
in the 2019 midterm elections
– widely considered a referendum for the ruling government – spoke volumes of the huge clout enjoyed by the current administration. In that election, none of the eight senatorial candidates from the opposition "Otso Diretso" alliance made it.
Duterte will fight to preserve his legacy while 1Sambayan will run to overturn it. This makes next year's elections worth watching not only for local pundits, but also foreign observers keen to know how any swing would affect regional stability.
Lucio Blanco Pitlo III is a research fellow at the Asia-Pacific Pathways to Progress Foundation