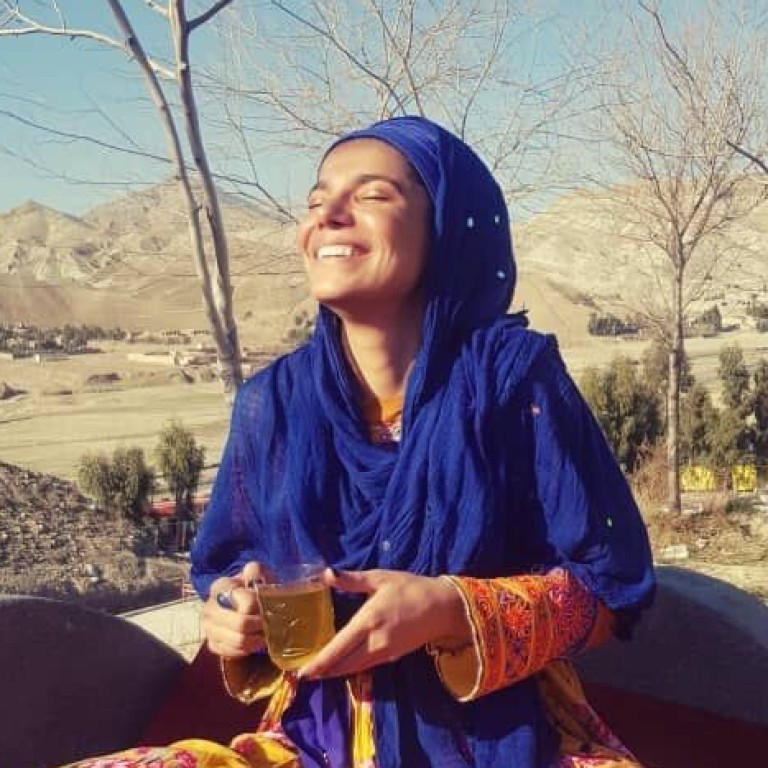 Flee Afghanistan? No way – this comedian is as determined to stay as she is to keep laughing
To Nadima, 'running away is not the solution' – she wants to show the world a new beginning is possible under Taliban rule
She says women 'must take this opportunity to raise their voice and lead their liberation', and will work with the group if they are 'here for solutions'
The
United States
has left
Afghanistan
after 20 years of war, and thousands of Afghans are desperate to follow suit, as they fear for their lives under Taliban rule. But Nadima, a Kabul-based Canadian-Afghan comedian and social influencer, is urging them to stay and take part in the "new beginning".
"It's time for people to reflect upon themselves and rise together, from being dependent on the international community to starting afresh with an independent mindset," the 38-year-old, who uses only her first name, told This Week In Asia. "Running away is not the solution. We must participate in the new beginning and show the world that it's possible."
Since the Taliban retook the country last month, women in Afghanistan have feared the resumption of violence against them as well as restrictions upon their education and appearance, as seen during the Islamist group's previous rule between 1996 and 2001.
Soon after the takeover, the Taliban vowed to respect
women's rights
, but fighters from the group last month shot and killed a woman for not wearing a burka, while a spokesman last week told working women to stay home for their own safety until Taliban security forces were trained to deal with them.
Nadima – who said she felt safe because she had not been threatened by anyone – has built a sizeable following on social media in Afghanistan, where there are some 8.64 million internet users among a population of more than 38 million. More than 267,000 people on Facebook, over 33,500 on Snapchat and over 17,600 on Instagram follow her platform called Tesha De Waday, or "What is it, mother?" in Pashto.
Through it, she looks to awaken "an awareness of basic human rights by challenging practices and beliefs that are deemed taboo and forbidden", as narrated by her alter ego of Patinggala Kakai.
While she is insistent on remaining in Afghanistan, Nadima also wants the Taliban to outline how they plan to reassure people, particularly women, to do the same, as many female journalists, activists and politicians have fled over the past fortnight.
She offered to "collaborate" with the Taliban or any leadership as long as they were working towards a common goal: solutions with peace and unconditional love. "Taliban must know that a woman is like a tree. If you destroy the tree, you will destroy the fruit, and when you destroy the fruit, you destroy society."
Citing her maternal aunt – who suffered permanent knee injuries in 1999 when she was beaten by Taliban for running a school in Herat, but continued to teach until she died a few years ago – Nadima said the fear among the Afghan people, to a certain extent, was conditioned by the "trauma of the past".
"But women must take this opportunity to raise their voice and lead their liberation and not run away," she said.
Hundreds of thousands of Afghans have left the country for the US, Britain, Germany and other destinations in recent weeks, with more expected to leave in the next four months. Photos and videos of people desperately trying to board a departing plane and toddlers being handed over to US forces have gone viral on social media, underlining the chaos at the airport.
Nadima felt the situation had been largely "orchestrated" by the international community, which she said could have prevented it by pausing the evacuation process and reassuring people they had time to fly out if they had a valid reason to leave.
More than 180 Afghans have died in the past fortnight in and around Kabul's Hamid Karzai International airport, in a stampede and an Islamic State suicide bombing at the facility, while a retaliatory US air strike also killed civilians.
"Who will take accountability for these deaths?" Nadima asked.
Referring to reports that hundreds of Afghans were made to stay in inhumane conditions at a US airbase in Qatar, Nadima – who fled to Pakistan with her parents in 1984, when she was a year old, during the Soviet-Afghan war – said the "illusion of the American dream" created in the minds of Afghans was pushing people out of the country.
"People believe that they are leaving hell and reaching heaven," said Nadima, who lived in Canada for 20 years. "The truth is, they have to fight for basic human rights and they are treated as second-class citizens there."
When she returned to Kabul in 2019, she planned to leave in three months, but ended up staying after discovering her Patinggala Kakai character had become widely popular. Through her, with a disarming dash of humour, Nadima has since 2016 been calling out social ills including restrictions on and violence against women, child marriages, sex trafficking, discrimination against members of ethnic minority groups, and corruption.
These days, Nadima – dressed in the traditional Afghan partug, or trousers; a colourful embroidered kameez (long shirt); and her trademark multicoloured turban – also cracks lighthearted jokes on social media, encouraging people to "cook and eat together", stand with each other, and be themselves.
"I have been my colourful self. Yes, I am taking videos, mostly indoors, for now," she said. "But I have not stopped laughing – no Afghan should."
When asked if it would be easy to entertain people under Taliban rule, with the group having killed a folk artist and a comedian in recent times, her response is typically forthright.
"Nobody knows the future. But despite having the option of going back to Canada, I am trying to stay back. I don't want to go back and regret later that I didn't try enough," Nadima said. "But what about those who fled – will they only talk about the chaos from faraway lands?"
This article appeared in the South China Morning Post print edition as: Comedian calls on Afghans to stay for a 'new beginning'