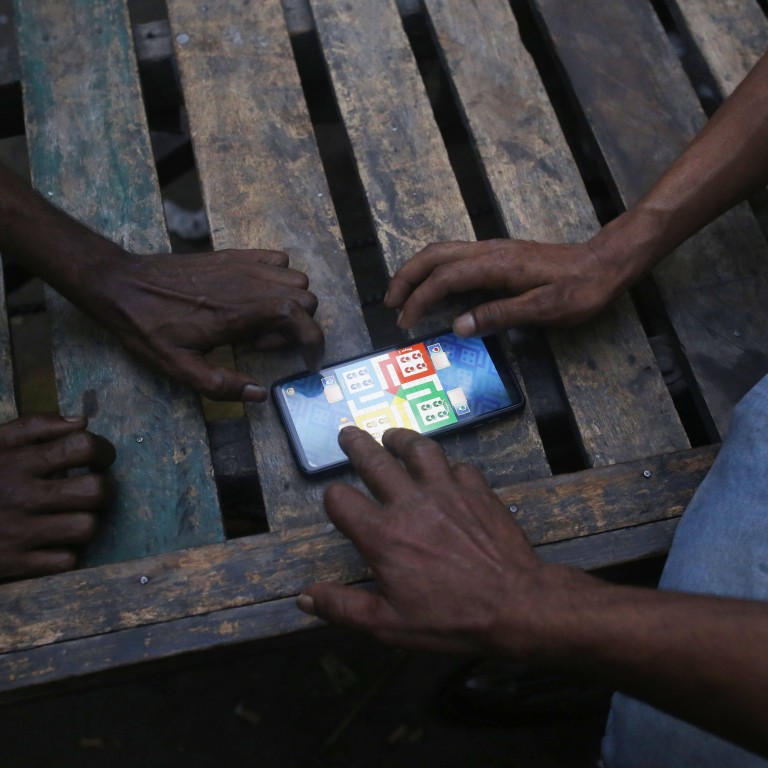 Dhaka's poor bet their bottom dollars on Ludo as cost of living surges amid Ukraine war
Ludo has become the gambling app of choice for Dhaka's construction workers, rickshaw pullers, cleaners, day labourers and security guards
Gambling, though, is illegal in the predominantly Muslim country and violators can be sentenced to up to three months in jail
It is nearly the end of another exhausting day darting through Dhaka's seething roads, but rickshaw puller Monu Mia has one final stop to make before evening prayers.
"If I don't reach there by Maghrib, I will miss at least three rounds of the game," the 37-year-old Bangladeshi said.
The rounds in question belong to Ludo, an ancient Indian game patented in its modern form in 1896 by a British entrepreneur, which is now the gambling app of choice for Dhaka's construction workers, rickshaw pullers, cleaners, day labourers and security guards who keep the megacity of 23 million people moving.
Mia is determined to make back 2,000 taka (US$20) – twice his day's earnings – he lost the previous day gambling on the mobile board game.
Played via Indian-made apps and on affordable Chinese smartphones, breakout Ludo sessions appear across Dhaka each day as low-income men – like Mia – cluster around for the two- to four-player game, ready to risk their hard-earned wages on a flutter as inflation shreds the value of their money.
Ninety per cent of
Bangladesh
's 168 million people are Muslims, who are forbidden by religion and law to gamble.
Yet in the South Asian nation, people who bet have created their own loophole definitions of gambling to beat the ethical and legal restrictions.
"I'm not hurting anyone or drinking alcohol, am I?" Kutub Uddin, 35, a day labourer, said as his friend Mia arrived to play. "I'm just playing an innocent board game with friends where the losers fairly pay some cash. That's all."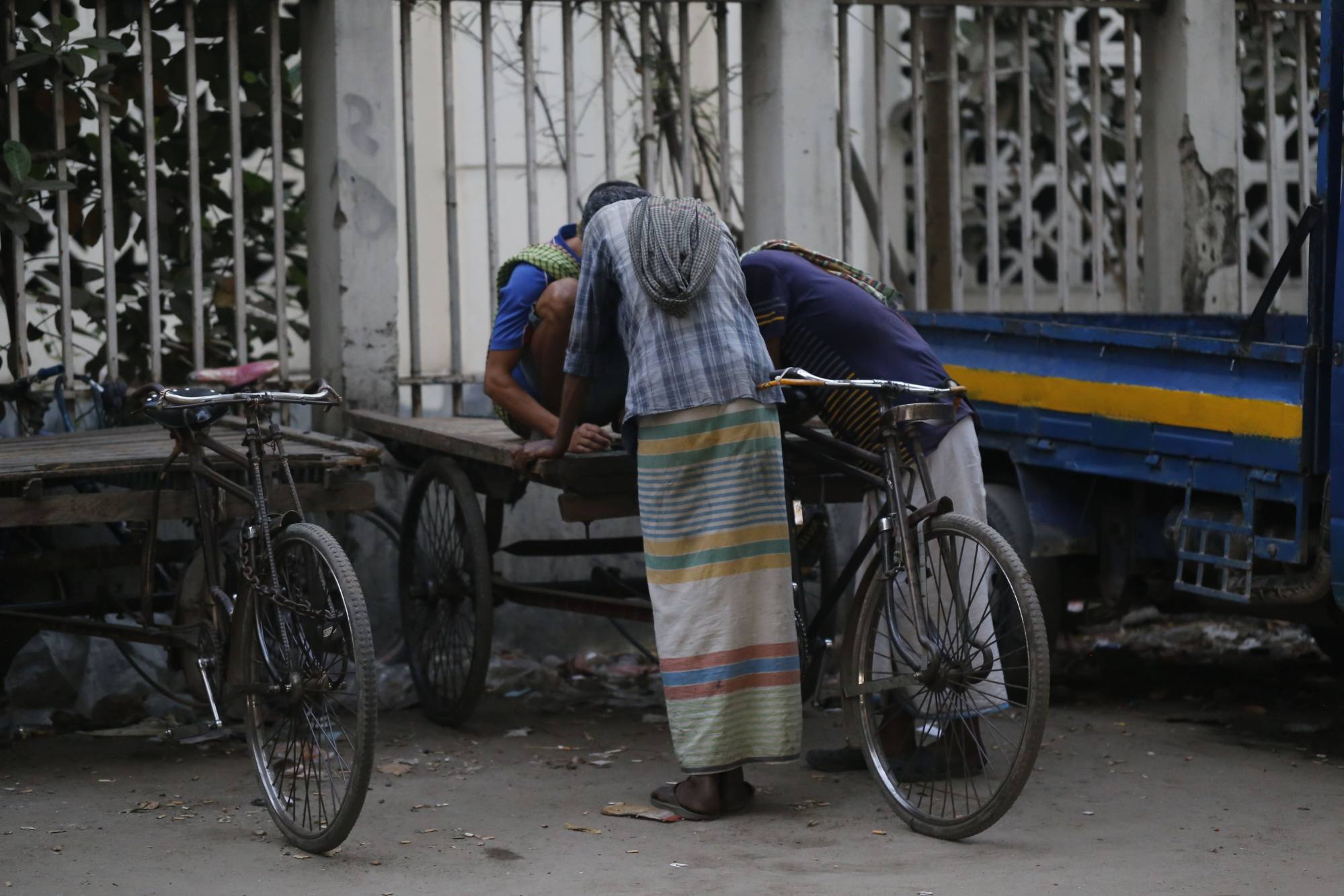 'Dimensional differences'
According to an 1867 colonial law, gambling is prohibited and violators can be sentenced to up to three months in jail.
But gambling has always found a way to thrive; from card and board games it shifted over recent decades to cricket and football matches.
"We used to bet ball-by-ball," labourer Uddin said.
As the Indian Premier League and Bangladesh Premier League T20 cricket surged in popularity, betting rings at roadside tea stalls started to get closed down. Ever-resourceful gamblers found the millennial solution – Ludo on their smartphones.
Each participant buys in with a minimum of 100 taka (just under US$1) with the aim of rolling the digital dice to move their four tokens from a start point to a finish zone.
The winner, whose four tokens outrun others' tokens from start to end, makes at least a three-fold return.
"It is very convenient. The matches finish quite quickly and it is easier to hide the handset from the patrolling officers," rickshaw puller Mia said, smiling.
According to Google Play Store, Ludo Star, Ludo King and Ludo Master have additional global downloads in the billion.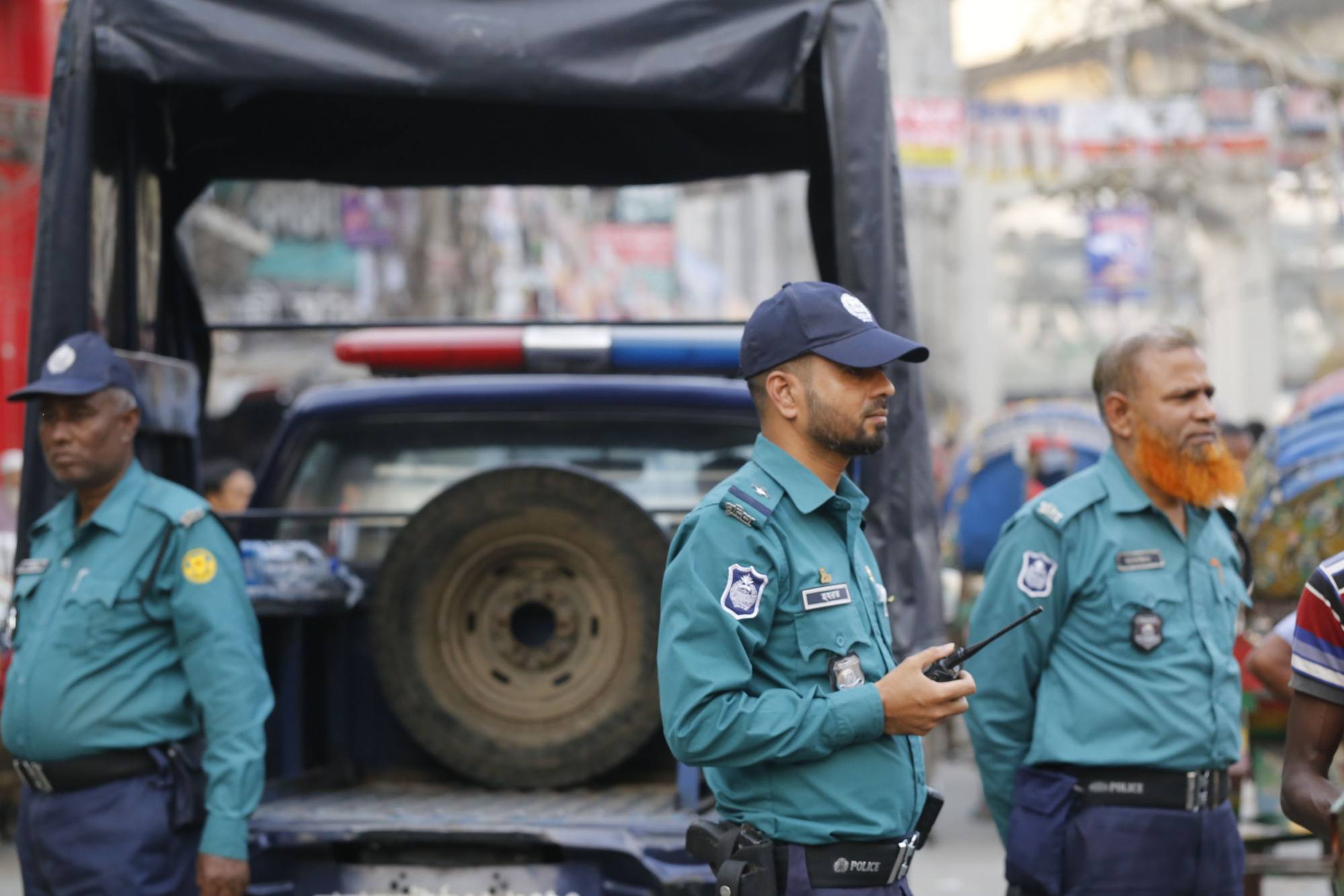 Nehal Karim, a prominent sociology professor at Dhaka University, said it would be "impossible to stop gambling in the country".
"Most countries have casinos and betting shops. So do we, but in dimensional differences," he said.
Among those is the complicated role of law enforcers, who are frequently accused of taking a cut to allow betting rings to operate.
"We pay 200 taka (US$2) to the [police] patrol men every day to turn their heads away," Uddin said at the dimly lit rickshaw garage in central Dhaka where they play their daily games. "It's a fixed expense that we all share."
Police vehemently refute bribery allegations.
"Any sort of gambling is a crime under Bangladeshi law. There is no exception," said Tarek bin Rashid, chief of the cybercrime unit of Bangladesh Police.
Detectives in mid-February arrested a top YouTuber, Prottoy Heron, and his two colleagues for promoting international gambling sites on their 4.65-million-strong channel, Ajaira Ltd.
"Anyone playing or even promoting gambling will be arrested," the official added.
In 2019, a police bust of a Dhaka casino – possibly the lone publicly-run gambling space with roulette tables – made headlines for its ownership by an influential pro- government party leader.
Ismail Hossain Chowdhury was arrested and later expelled from Jubo League, the youth wing of the incumbent Awami League party. Cases were filed against him for possessing billions of taka of unknown source.
One rule for the rich?
Though all gambling is prohibited, elites in the developing country often enjoy Housie – a number-based genre of gambling – with big cash or expensive prizes such as fully-paid five-star holidays in Thailand or the Maldives.
"This is completely different. It is as innocent as raffle draws," said Shehrin, an organiser of Housie in Dhaka's high-society enclave, who gave only her first name due to the sensitivity of the issue.
Dhaka reflects Bangladesh's extremes of inequality, with businessmen including billion-dollar ready-made garment factory owners, top bureaucrats and government employees, bankers and private CEOs living in lavish condos and flats.
The New York-based Mercer list labels Dhaka the "most expensive city for expatriates" in South Asia, ahead of New Delhi, Mumbai and Islamabad.
The gap between the haves and the have-nots is mirrored in the approach to gambling, critics say.
In mid-2022, Bangladesh star cricketer Shakib Al Hasan signed an endorsement deal with a Curacao-based betting site.
He received an ultimatum from the country's cricket board to "non-negotiably" drop the deal or be dropped from the national team.
After YouTuber Heron's arrest last month, social-media users furiously resurfaced Hasan's gambling incident, reprimanding the decision.
"Shakib only gets a letter and Prottoy is arrested. What a double standard!" wrote Facebook user Kazi Musfiqur Rahman.
However, the view from the unplanned, overcrowded streets of Dhaka is different, with survival for millions of its residents the daily preoccupation.
Many of the lowest-income people – climate refugees, unemployed farmers, and youth from starving, rural families – arrive in the city penniless, in search of a better life.
Since the Russia-Ukraine war started, inflation and financial crisis have held back the country's booming economy,
with prices of essentials
– rice, flour, oil and milk powder – skyrocketing.
"Two months ago, I bought a kilogram of powdered milk for 600 taka (US$5.50). It is now over 800," Ludo gambler Mia said angrily. "What can I do with an infant at home?"
The country's annual economic growth rate was 7.1 per cent in 2022, up from 6.9 per cent in 2021. However, the top-line figure means little to low-income people struggling to survive.
Inflation has taken on a political dimension, with an election coming into view in early 2024 as Prime Minister Sheikh Hasina completes three terms, 15 years back-to-back, having survived two previous controversial polls.
The opposition Bangladesh Nationalist Party (BNP) has staged
large anti-government rallies
to protest against alleged government inaction over inflation, demanding that Hasina step down for her apparent failure to rein in the market mafia cashing in as prices surged.
In December, police opened fire on one such rally, killing at least one and leaving dozens injured, and later arrested dozens of opposition figures, including the acting chief of BNP.
For Dhaka's poor, gambling can offer a small respite from the pressure of forces bigger than themselves, a chance to go home a winner in an economy where their money is worth less than before.
"First the blow of the pandemic, and now [the war in Ukraine] which has nothing to do with us has ruined our lives," laments rickshaw puller Shahi Noor, 40, a father of three, between Ludo games.
He wearily described being unable to afford a rare treat of beef for dinner requested by his children, one of the daily indignities carried by the poor.
"If I get lucky, God willing, I'm out of here today and straight to the butcher," he said.