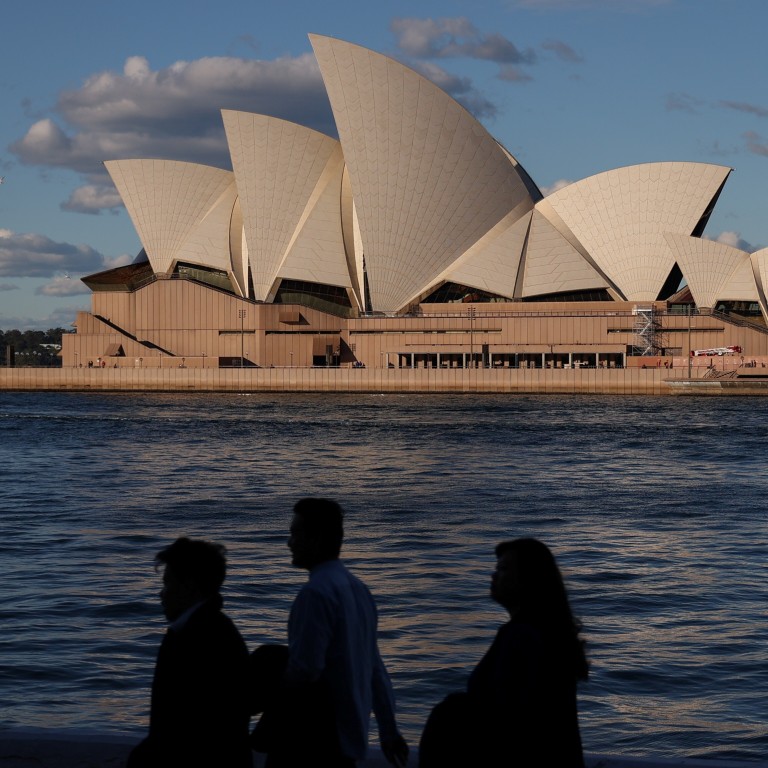 Most Chinese-Australians feel they belong, but discrimination remains a factor: survey
The Lowy Institute study, the largest ever undertaken of the community, found that 71 per cent of respondents felt they belonged 'to a great or moderate extent' to Australia
But close to four in 10 say they have been treated 'differently or less favourably' due to their heritage, while some in the community have criticised the survey's approach
The study by Australia's Lowy Institute found that 71 per cent of respondents felt like they belonged "to a great or moderate extent" to Australia, while 65 per cent felt the same way about China.
Meanwhile, those who experienced discrimination were called offensive names and physically threatened or attacked. Most respondents in this group cited the
Covid-19 pandemic
and deteriorating
China-Australia relations
as contributing factors, with about 28 per cent saying racism played a role, according to "Being Chinese in Australia: Public Opinion in Chinese Communities", for which 1,040 Australian residents who self-identified as having Chinese heritage were interviewed last November.
There are about 1.2 million people who have a Chinese background among Australia's population of nearly 26 million. Some have families that have been in the country for multiple generations, with migration to Australia from mainland China, Hong Kong, Taiwan and some parts of Southeast Asia ongoing since the 1800s.
But tensions between Canberra and Beijing in the past two years, fuelled initially by allegations of Chinese government interference in Australian politics, have heightened suspicions on both sides and exposed the Chinese-Australian community to greater scrutiny as well as racist behaviour.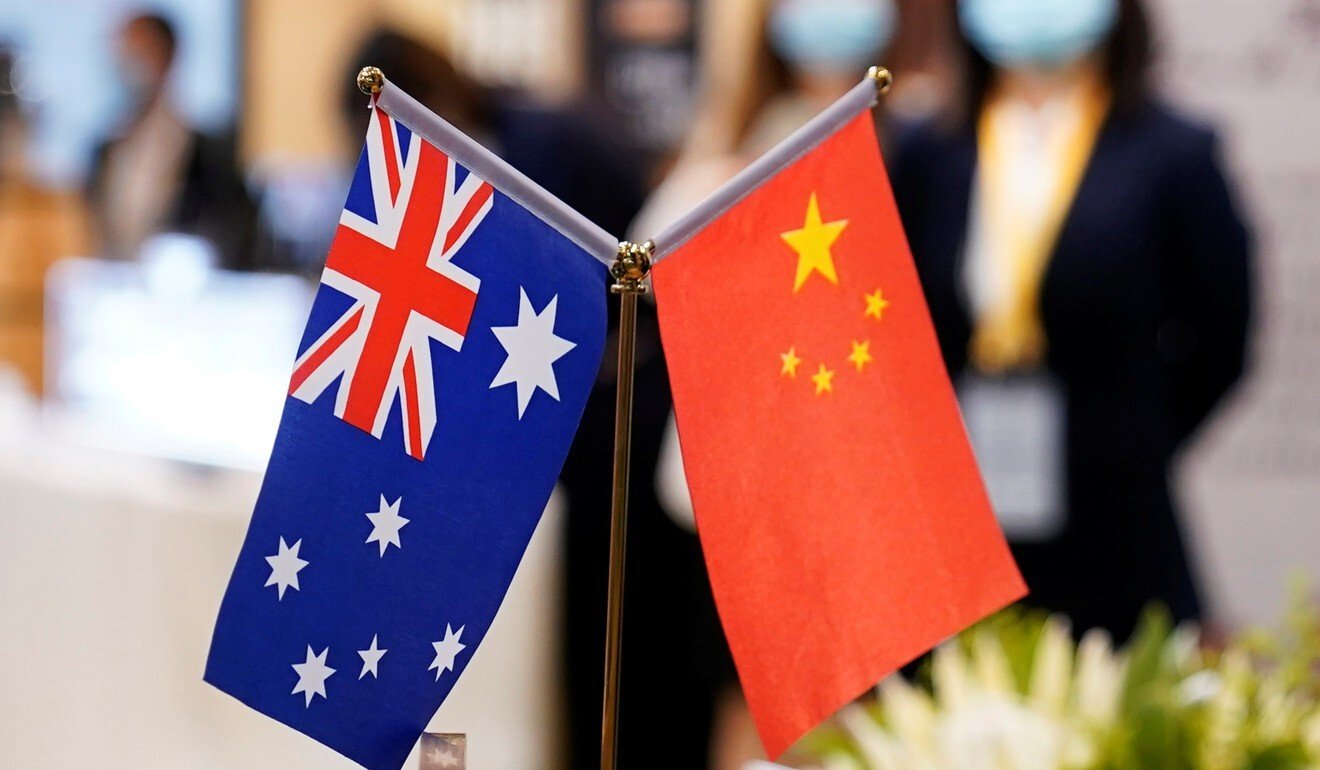 Australia's Department of Home Affairs, which is responsible for migration and border security, paid more than A$1.8 million (US$1.4 million) for the survey of Chinese-Australians under the Lowy Institute's "Multiculturalism, Identity and Influence Project" programme over three years, awarding the funding through a limited tender.
The institute also conducted a simultaneous national survey of 3,000 non-Chinese-Australian adults to compare their views with those of Chinese-Australians.
When asked what the data in the survey of Chinese-Australians would be used for, the Home Affairs department said the purpose of the project was to "analyse the sentiments of key cohorts in the Australian population in order to enable the development of effective public policies that promote social cohesion". It also said it had complied with its tender processes in awarding the job to the Lowy Institute.
But some Chinese-Australians, including those who gave their input to the survey's authors, said the findings could be interpreted in a way that might further exacerbate suspicions of the community. They pointed to how the study was published just a few months after Australian senator Eric Abetz
publicly questioned the loyalty of three Chinese-Australians
at a parliamentary inquiry in October last year and demanded that they denounce the Communist Party of China. The three Australians to whom Abetz directed his widely criticised comments were also interviewed broadly by the Lowy Institute, but were not included in the poll.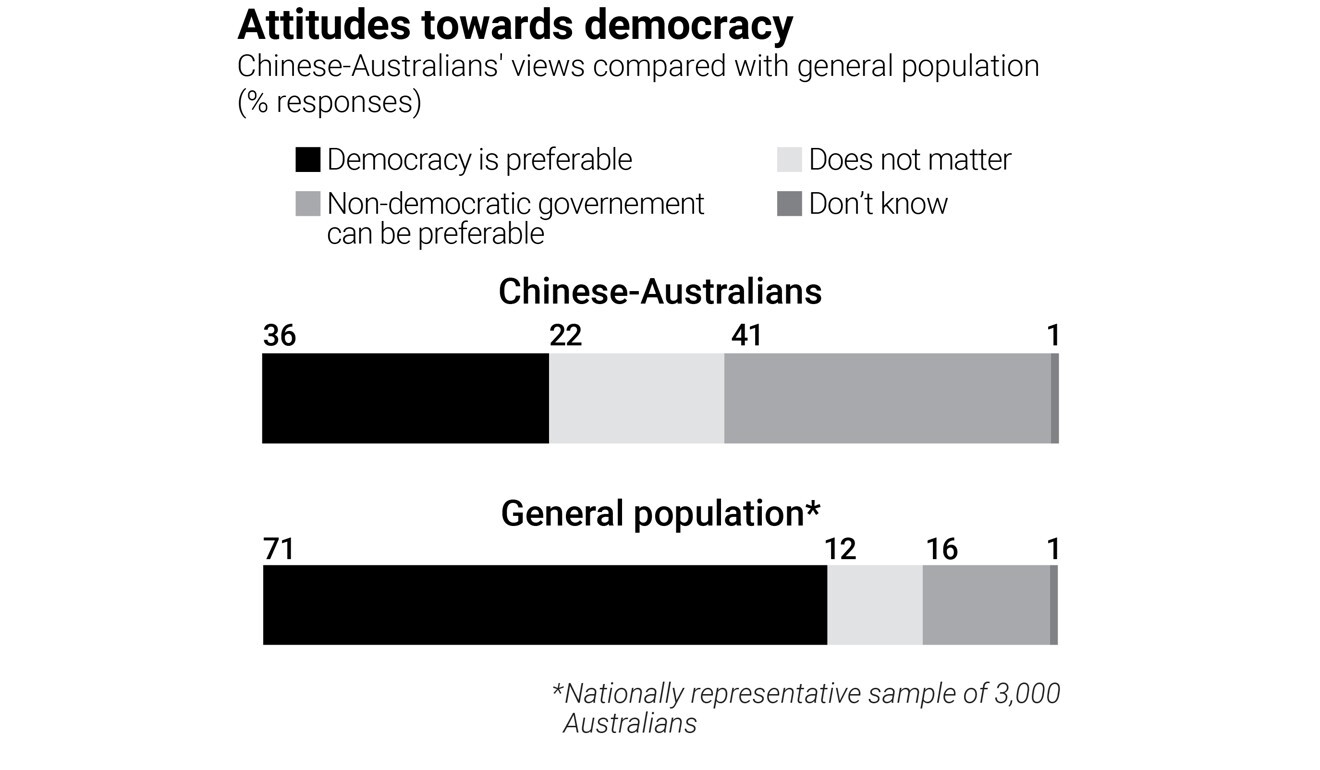 Respondents to the survey were shown three statements and asked to pick the one that came closest to their own personal views about democracy. While 71 per cent of the non-Chinese-Australian respondents chose "Democracy is preferable to any kind of government", only 36 per cent of Chinese-Australians said the same. About 41 per cent of the latter group picked "In some circumstances, a non-democratic government can be preferable".
Similarly, respondents were asked to think about how China had handled the Covid-19 outbreak and whether this made them feel favourably towards its system of government. While 43 per cent of Chinese-Australians said they felt "more favourable", only 5 per cent of those representing the rest of the Australian population picked that option.
"I feel it is irresponsible for the government to commission a report which could be skewed negatively towards Chinese-Australians," said Asian Australian Alliance co-founder Erin Chew, who was also interviewed for the broader survey and not included in the poll.
"With the rise of anti-Asian/Chinese racism in Australia, a report which aligns Chinese-Australians as somewhat being supportive of China or the Communist Party will make the situation worse," she said. "The government has not adequately addressed this anti-Asian/Chinese racism and this is concerning depending on how this report will be interpreted. One must remember this report is not reflective of all Chinese-Australians."
Chew said she agreed to be interviewed by the Lowy Institute in the hope that the survey's results would help defuse suspicions of Chinese-Australians, but she feared its limited scope might instead have created bias in the data.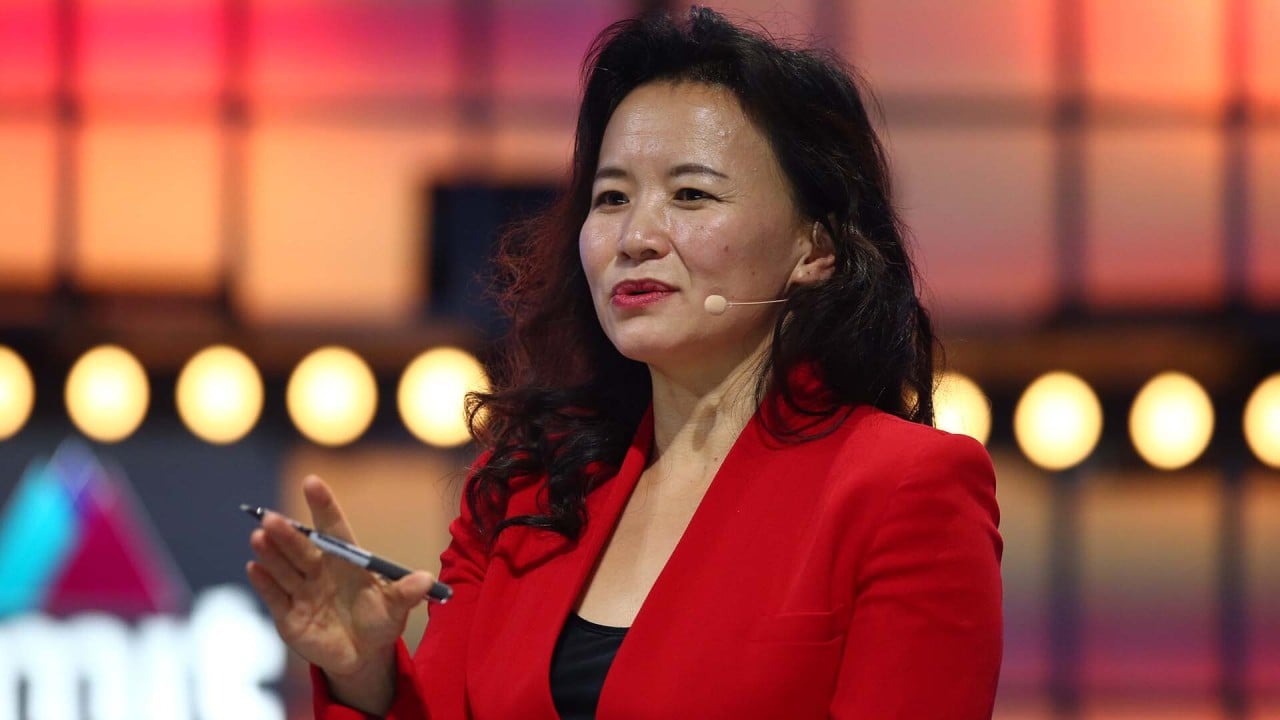 01:51
Australian journalist Cheng Lei formally arrested in China for 'illegally supplying state secrets'
Australian journalist Cheng Lei formally arrested in China for 'illegally supplying state secrets'
When asked why questions on democracy and attitudes towards the Chinese government were asked, Jennifer Hsu, one of the report's authors, said it was necessary to understand this cohort of Australians given the increased scrutiny of Chinese-Australians by the Communist Party of China at the same time the party's influence in Australian politics was being questioned.
"In addition, some politicians have sought to blame China for Covid-19, and this has had a terrible impact on the Chinese communities in Australia and elsewhere. The Australia-China debate and other related issues appear to be taking place at the political level without any voice or input from the affected communities," she said.
The poll also found that while two-thirds of Chinese-Australians saw China as an economic partner, a similar proportion agreed Australia should impose "travel and financial sanctions on Chinese officials associated with human rights abuses".
It also found that only 16 per cent of Chinese-Australians had regular or occasional contact with the Chinese embassy or consulate in their community, while 25 per cent had interactions with overseas Chinese community and cultural organisations between once a week and once a month. Most Chinese-Australians chose to use WeChat to get both Chinese- and English-language news, and about half said Australian media reporting on China was "too negative".
"The results of this poll show that the views and experiences of Chinese communities in Australia are diverse and varied. The survey reaffirms that the debates on foreign interference and trade tensions are just a part of the political events and narratives shaping the lives of Chinese-Australians," Hsu said.
Wesa Chau, chief executive of diversity consultancy Cultural Intelligence and one of the three targeted by Abetz, said the survey did not provide a complete view of Chinese-Australians as there were no baseline comparisons to other migrant groups.
"It is unclear if other migrant communities also have similar identification to their country of origin," she said. "The title of the project is 'multiculturalism, identity and influence', but why are Chinese-Australians being singled out?"
Given that the survey respondents comprised recent migrants and those whose families had been in Australia for a long time, there was not enough nuance in the questions about democracy and appetite for news, Chau said, adding that it was "natural" for those migrating from China to have a better understanding of a non-democratic government than a democratic one.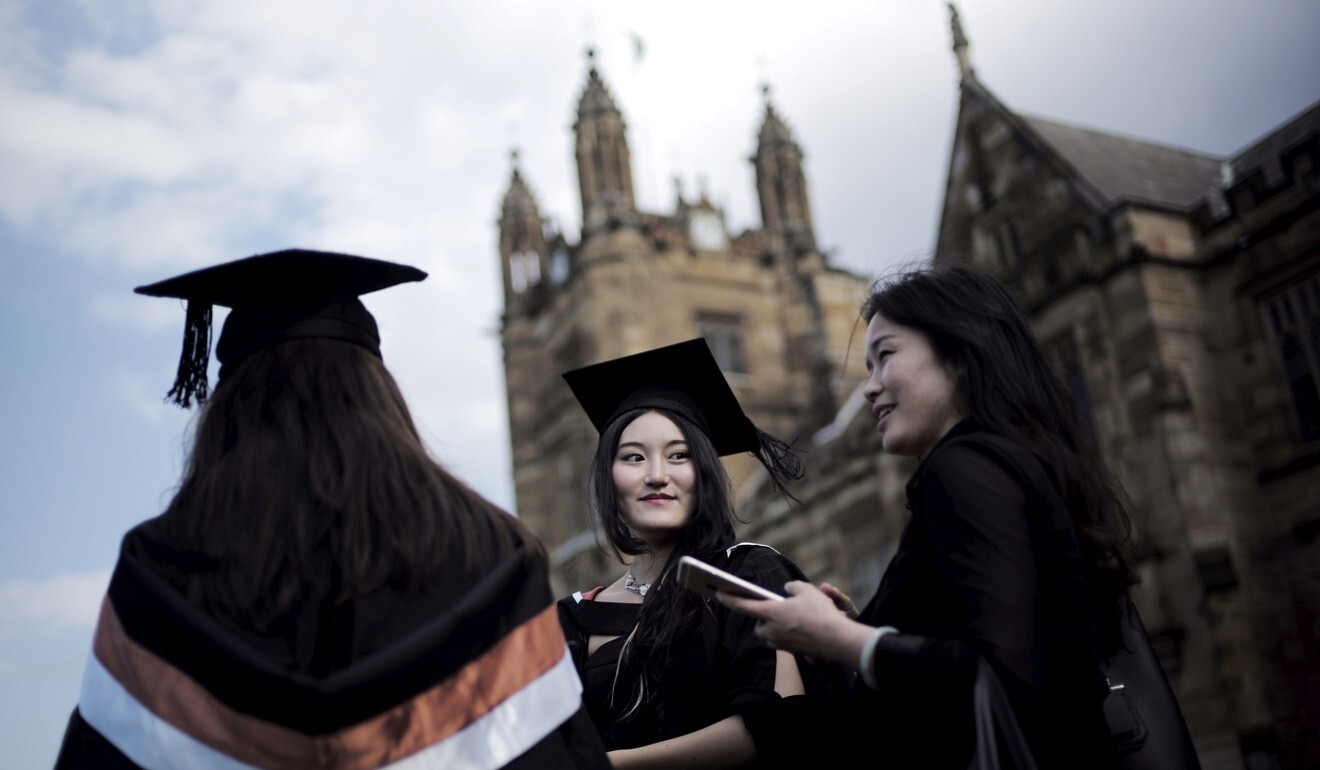 But she said the survey should be seen as an opportunity for Australia to invest in civic education to encourage new migrants to "fully participate" in the Australian democracy. Another positive finding was that about 50 per cent of long-term visa holders with Chinese heritage said they personally felt accepted as a part of Australian society.
"This is important as Chinese students or other visa holders return back to China, they are Australia's greatest ambassadors," Chau said.
Academic Yun Jiang, another of those who were questioned by senator Abetz, welcomed the survey's diverse views but warned "we should not caricature individuals or the Chinese-Australian communities".
Tony Kevin, a former Australian ambassador, told This Week in Asia there were some positives from the survey, even though the political climate surrounding Chinese-Australians remained poor.
"It shows a surprising and commendable resilience and common sense among all strands of the Chinese- Australian community," he said.
Kevin was concerned, however, that "politicians such as Abetz" would prevent Chinese-Australians from fully participating in Australian public life, instead preferring to "keep their heads down".
"I think whatever racism there is in Australia reflects a learned insecurity about China as a great power, which Australians have been taught by bad teachers – such as US-funded think tanks like the Australian Strategic Policy Institute, and the Murdoch press – to incorrectly regard as hostile to Australia."
This article has been updated to include a response from Australia's Home Affairs Department.