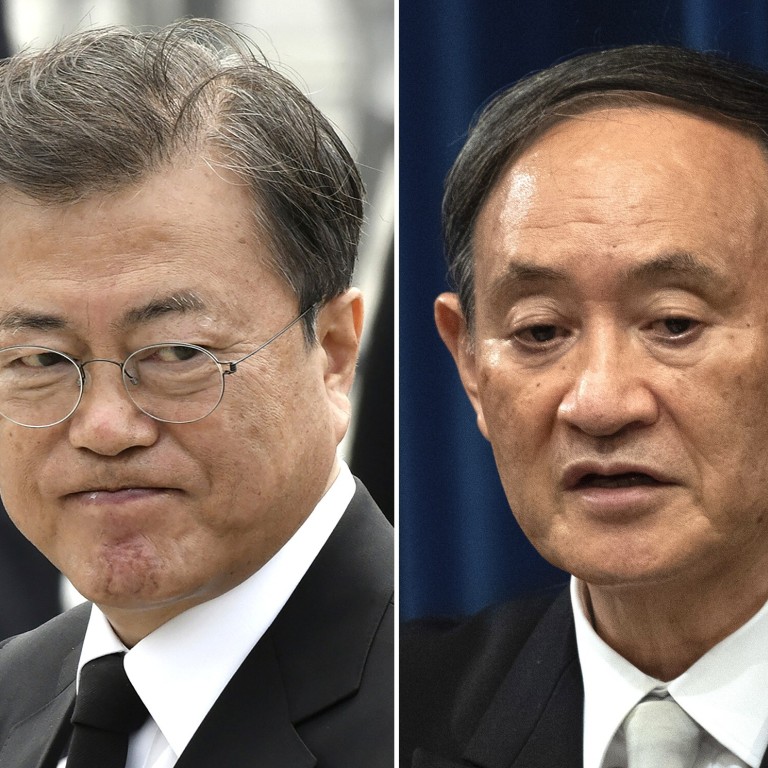 Speculation of Moon, Suga summit in Tokyo mounts, as South Korea warns against leaks
Japanese media reported that Seoul had sought a summit between President Moon Jae-in and PM Yoshihide Suga at the Tokyo 2020 Olympic Games
Moon is said to be willing to meet Suga, but aides say he will not travel to Tokyo unless there are good chances of mending bilateral tensions
The
South Korean
government on Sunday warned against continued reports from media outlets in
Japan
about President
Moon Jae-in
's possible visit to Tokyo during the 2020 Olympic Games later this month, which could include a summit with Prime Minister
Yoshihide Suga
.
The Ministry of Foreign Affairs expressed "strong regrets over leaks of the two sides' consultations through media reports describing Japan's unilateral perspective citing Japanese government officials".
The statement added that "it may be difficult for the two governments to continue consultations over a summit. We urge Tokyo's prudent responses".
The warning came hours after a Nikkei report that the Japanese government had informed Seoul that it would agree to hold a Moon-Suga summit, adding that the Blue House had been calling for a meeting of the two leaders if Moon attends the Olympics opening ceremony on July 23.
A number of Japanese news outlets reported that Moon had sought a summit with Suga to improve bilateral relations, but both governments denied the reports.
A presidential Blue House official on Sunday said Moon is willing to meet Suga if he travels to Tokyo.
"And if a summit takes place, there must be some achievements," the official told This Week in Asia on condition of anonymity.
"Therefore, Japan's attitude is very important now."
The foreign affairs ministry said Seoul has maintained its stance that Japan should lift its export restrictions against South Korea and that they should resolve historic issues through talks.
"Through diplomatic channels, the two countries have been in consultation about using the Tokyo Games as a vehicle to address pending bilateral issues, and it is true that we have studied the feasibility of a summit in case there is any momentum for resolving those issues and proper formality is provided."
The ministry is said to have expressed its concerns amid reports implying that Seoul is more desperate for the summit, while the consultation process is believed to be deadlocked.
South Korea is reportedly seeking a formal meeting lasting an hour, while Japanese media reported that Suga may only meet leaders attending the opening ceremony for about 15 minutes each.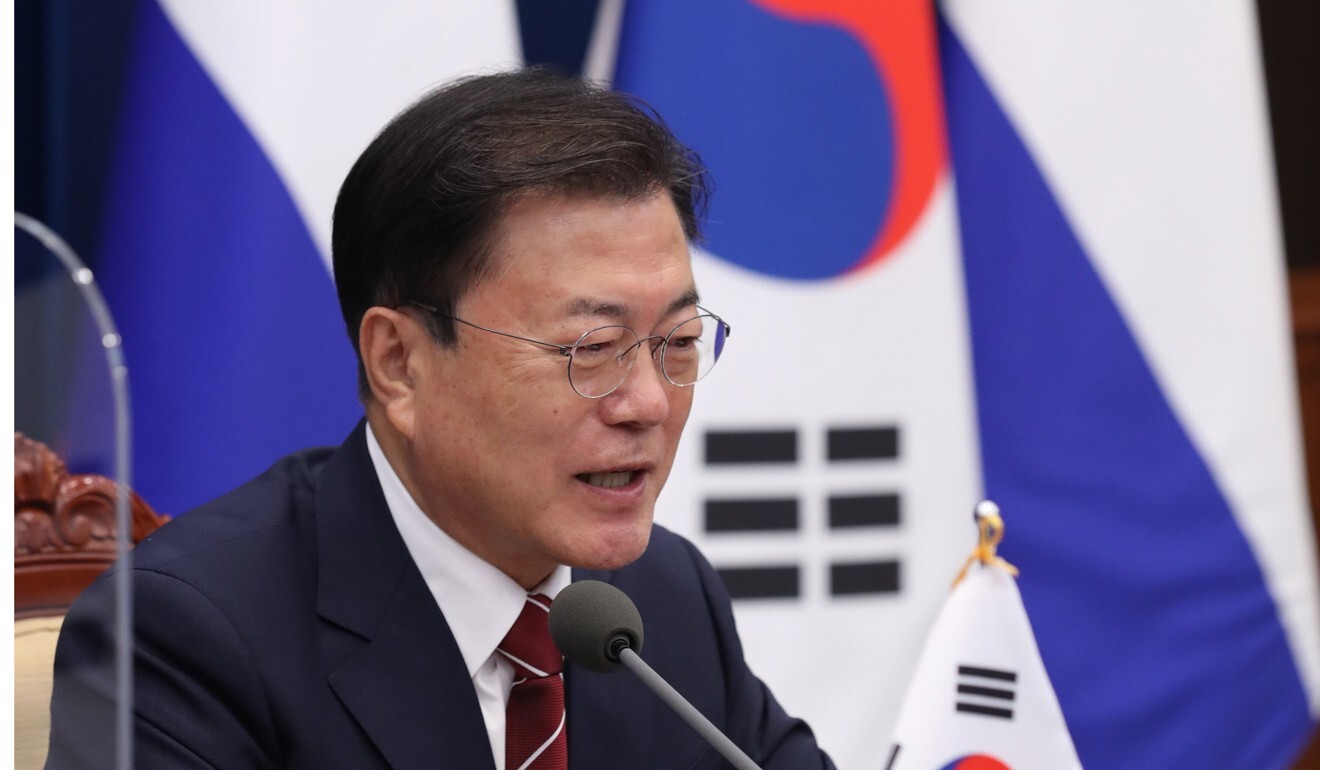 Two top aides also made it clear last week that Moon will not visit Tokyo unless there are good chances of mending fences through a fully-fledged summit.
"[President Moon] can't go without [any prospect of] achievements," Senior Presidential Secretary for Political Affairs Lee Cheol-hee told a BBS radio news talk show programme on Thursday.
"Diplomacy means some kind of activity that comes to the surface through sufficient consultations behind closed doors. And we are checking whether that is possible."
Japan-South Korea spat at G7 highlights Biden's challenge in building united front against China
Senior Presidential Secretary for Public Affairs Park Soo-hyun also said last week that Seoul is approaching the issue with an open attitude and the ball is in Tokyo's court.
"It is proper for Japan, as a host country of the Olympics, to give an answer first concerning the summit," he said on MBC radio news.
"If we are going to go, we'd like to see a South Korea-Japan summit, we'd like to make progress in resolving the conflicts that have surfaced as issues – that's not only what we want, that's what Japan and everyone else also want," he said.
"The right thing now would be for the Japanese government to give an answer in terms of 'let's have a summit now' and 'let's have this be the agenda'."
Ties between the two countries have been frayed over territorial disputes, history textbooks which Seoul and Beijing say gloss over Japan's wartime atrocities, how to handle nuclear-armed North Korea, as well as compensation for victims of wartime forced labour and Korean women who were forced into prostitution.
Anti-Japanese sentiments recently flared in South Korea as Tokyo refused to amend an Olympic torch relay map marking a cluster of disputed islets – known as Dokdo in South Korea and Takeshima in Japan – as being Japanese territory.
This article appeared in the South China Morning Post print edition as: Tokyo warned over summit leaks