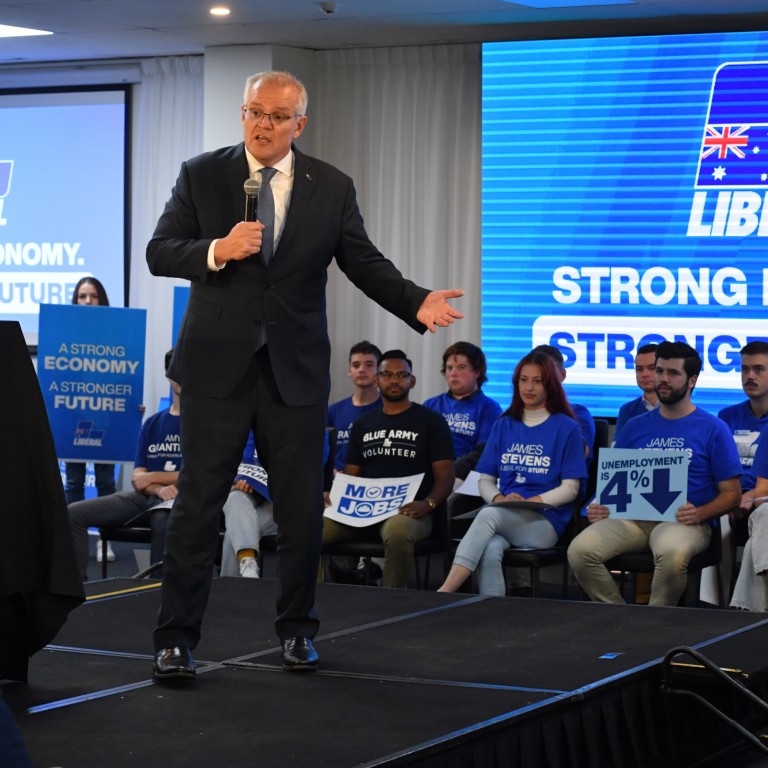 Australia-China relations: PM Morrison's coalition draws flak again after senator thanks Chinese community for 'putting up' with racism
Liberal Party senator Andrew Bragg made the comment in a public discussion, referring to the ruling coalition's 'intemperate rhetoric' about China
Chinese-Australian observers said the senator's remarks showed how 'out of touch' the Liberal-National coalition was about racism
With two weeks to go before Australia's May 21 federal election, the issue of anti-Chinese racism has remained a major talking point amid a campaign that has seen Prime Minister Scott Morrison's coalition face criticism for using China as a bogeyman to woo voters.
In the latest development, some Chinese-Australians have slammed a senator from the ruling coalition after he thanked the community for "putting up with racism".
Some Chinese-Australians told This Week in Asia that Liberal Party senator Andrew Bragg's remarks at a public discussion on Friday put on display just how out of touch and condescending the ruling coalition was on racism.
In a public discussion on Friday evening in Sydney, Bragg acknowledged there had been serious cases of racism toward Chinese-Australians during the Covid-19 pandemic and amid the continuing deterioration in Canberra's ties with China.
The ruling coalition has previously denied Australia was unsafe due to racism, which rose when the pandemic started. Beijing, on the other hand, has since 2020 warned students about studying in Australia following multiple instances of overt racism in the country towards Chinese nationals.
"Thank you for your steadfastness, thank you for putting up with some intemperate rhetoric at times, thank you for putting up with racism at times … it's not good enough," Bragg said at the event on Friday evening.
Also taking part in the debate were Mark Dreyfus, a former attorney general and member of the main opposition Labor Party, and Adam Bandt of the Greens. Independent candidate Kylea Tink was expected to attend but had to isolate because of Covid-19.
"Australia's bilateral relations with China have nothing to do with the Chinese people and certainly nothing to do with the Chinese-Australian diaspora," Bragg said.
Bragg reiterated the Morrison government's commitment to protect minority groups and regretted the administration's "at times unsophisticated" rhetoric about China.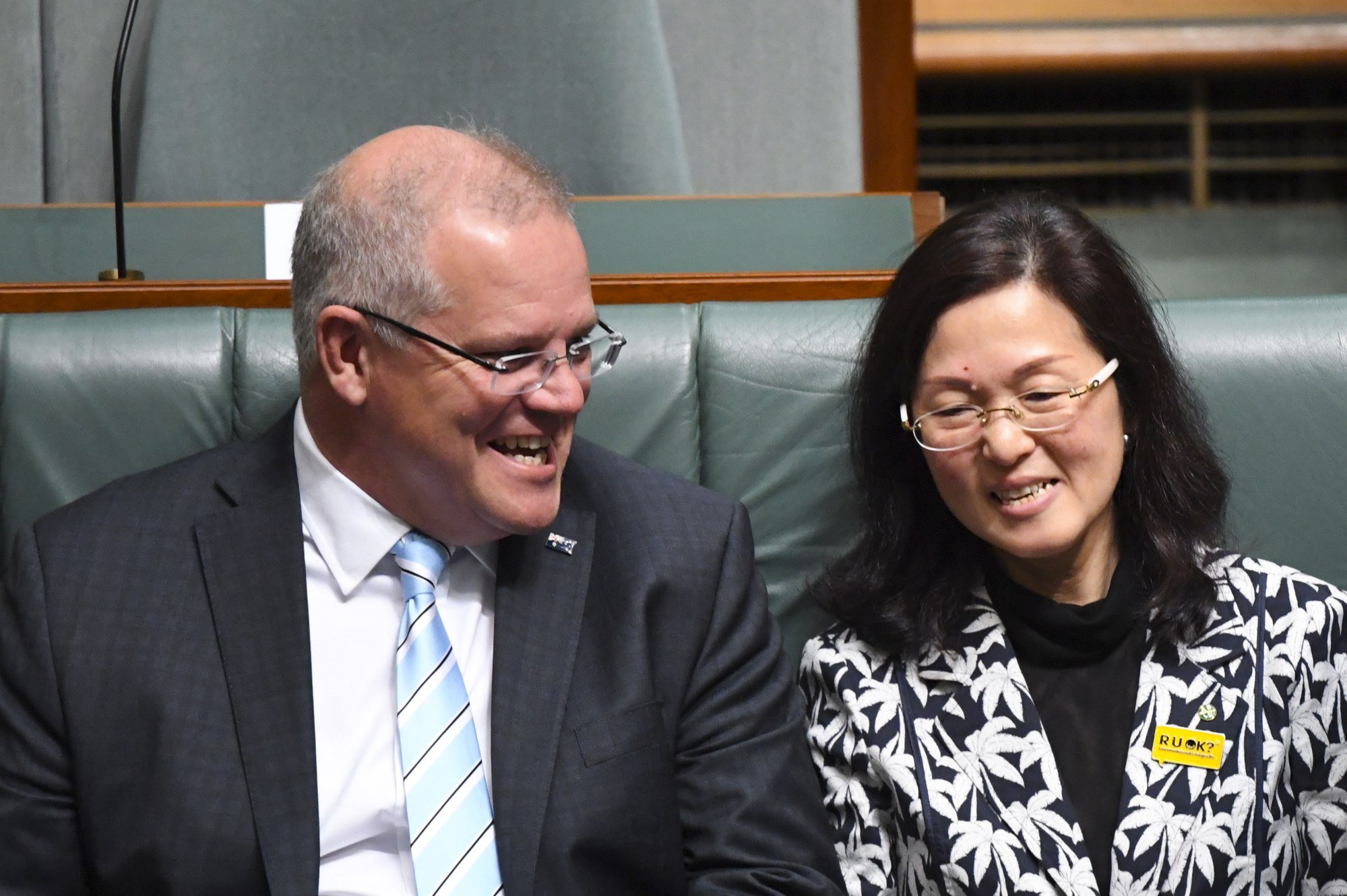 The Morrison government has been drumming up talk of "war" with China since bilateral relations soured in 2020 following its push for an independent investigation into coronavirus without consulting Beijing.
That year, another government senator, Eric Abetz, led a McCarthyist-style campaign against three Chinese-Australians after demanding they condemn the Chinese Communist Party at a parliamentary inquiry.
Teik Hock Lim, a Chinese-Australian, said he was startled by Bragg's comments which were tokenistic towards a serious matter like racism. "My immediate reaction was how could a minister say that?," the Malaysian-born Lim told This Week in Asia.
Another attendee of the debate said she was bewildered by the comment and that Bragg was "out of touch" with the issue of racism. At no time should racism be "put up with", she said.
New South Wales state member of parliament Jenny Leong, who also attended the panel, agreed, saying the whole Liberal government was out of touch with racism.
"To hear Senator Bragg attempting to distance himself from the racist comments and the actions of his colleagues, while at the same time seeming to present racism as something inevitable that he thanks us for putting up with, was insulting and offensive," Leong said.
"It is high time we exposed the Liberal tactics of trying to woo local Chinese communities for electoral advantage, while at the same time whipping up anti-Chinese sentiment to serve their broader political agenda."
Dreyfus, who is now shadow attorney general, said in contrast to the incumbents the Labor Party had always fought against racism. He underscored his party's efforts in pushing back against the ruling coalition's attempts to roll back protectionism against racism.
He also called out the Morrison government for using racism for politics after criticising public challenges to Liberal MP Gladys Liu's links to the Chinese government as "racist".
Bandt, the Greens leader, said he and his party rejected "in the strongest possible terms" political rhetoric by the government "to beat the drums of war". These were tactics used by the Morrison administration to distract Australia from more important issues such as climate change, he said.
"With the government desperate to win votes, they resort to racism and hysteria … the impact of that is felt predominately by the Chinese community," Bandt said.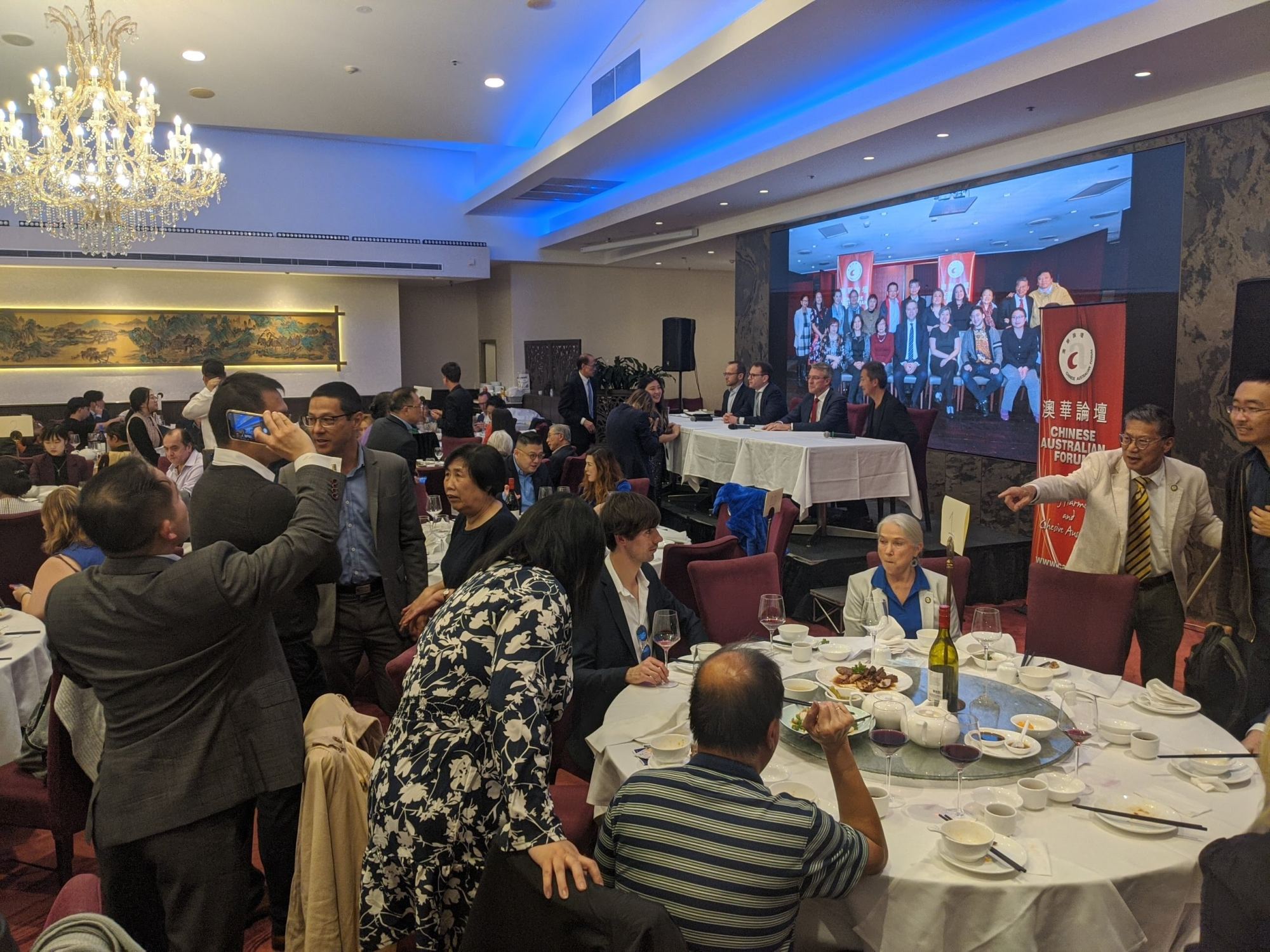 Tense relations with China – which had in part sparked racism and suspicion of the Chinese community – climate change, and the poor representation of Chinese Australians in Australian politics, dominated the discussion on Friday. The Chinese and Asian-Australian diaspora represents about 14 per cent of Australia's population.
The current ruling coalition, comprising the Liberal Party and the National Party of Australia, in recent weeks stepped up hawkish comments about China.
Among the key talking points among candidates from the coalition have been concerns about Beijing's assertiveness in the region and its recent security pact with the Solomon Islands.
Senior US officials have refused to rule out military action against the Solomon Islands if it allowed China to establish a military base there.
When questioned how the opposition party would go about "normalising relations with China" if it was elected, Dreyfus called for better diplomacy and said there were avenues for China and Australia to improve ties, particularly through common issues such as climate change.
He suggested repeated statements about China made by the likes of Prime Minister Morrison and Defence Minister Dutton were aimed at wooing domestic support and that in contrast he was "more interested in diplomacy, a bit more strategy and a bit less domestic politics".
The comments by the ruling coalition officials were "the last thing you want to be saying if you were behaving as an adult in the international world of diplomacy," Dreyfus said.
Recalling "excellent" relations with China 10 years ago when there were regular exchanges on climate change, Dreyfus said these were key opportunities for China and Australia to strike a reset.
Emissions reduction is a major policy for the Chinese government, which has pledged to peak carbon dioxide emissions before 2030 and achieve carbon neutrality before 2060. "The reason I mentioned that is it is an example of a non-defence, but nevertheless very international, national matter that we can find ground to talk to China about," he said.
Diplomacy could also help restore the two nations' major trading relationship after an attendee asked how Australia could emulate New Zealand and the US, which were "laughing all the way to the bank".
"It is work that can be done through diplomatic effort that does not surrender Australia's position at all," he said.
Others also queried how the government would be able to achieve its goal of "fighting a war with China" while continuing to sell it iron ore that could be used for the manufacture of weapons and arms.
Bragg said he agreed talk of war had been unsophisticated but added that Australia should not stop exporting iron ore as the lucrative trade was part of Australia's economic security. Iron ore makes up 60 per cent of Australia's total exports to China.