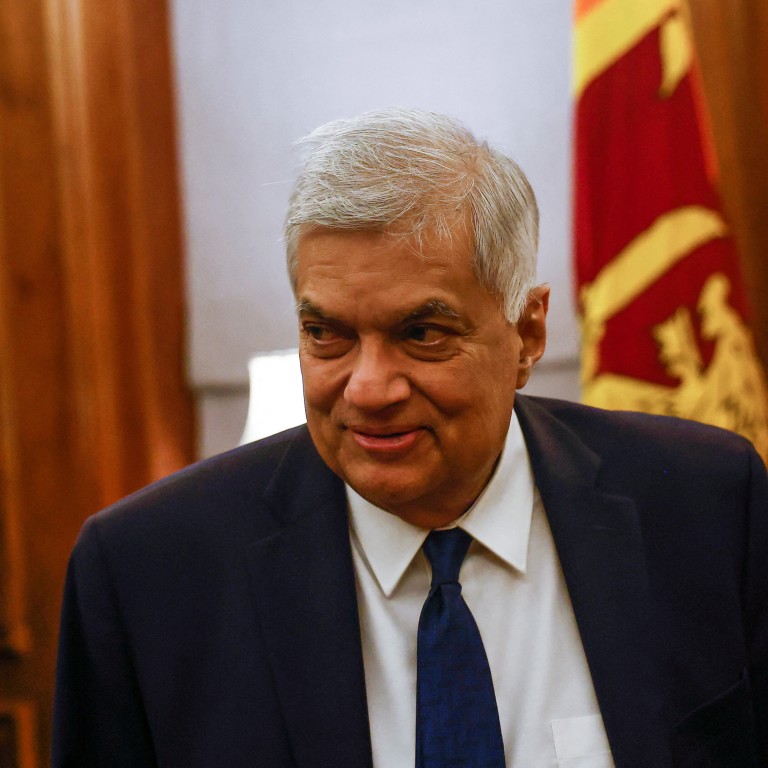 Sri Lanka's Ranil Wickremesinghe is president. But who's in charge: him, or the Rajapaksas?
It's been six months since President Gotabaya Rajapaksa escaped his beleaguered country for a few weeks of calm and PM Wickremesinghe became its leader
But with the powerful Rajapaksa clan still on the scene, despite this year's mass protests, experts wonder how much power Wickremesinghe really has
Almost six months after
Sri Lanka
's ex-leader Gotabaya Rajapaksa
fled overseas
after mass anti-government protests demanding his resignation, critics say reforms have yet to materialise amid concerns the powerful and wealthy family still controls the nation through someone many say is their proxy, President Ranil Wickremesinghe.
Amid huge demonstrations, which erupted over
economic mismanagement
that drove the island to
bankruptcy
and left its citizens grappling with out-of-control living costs and
shortages
, protesters, also furious at endemic corruption, were clear this year that at least someone from the Rajapaksa family should step down.
Gotabaya, the nation's first president with a military background – and the first elected president who had never held an elected office before – duly asked his brother Mahinda, the prime minister, to step aside in May. Ranil Wickremesinghe, a former lawyer, was then appointed in his place, a position he had held several times before.
He became acting president, according to constitutional procedures, when Gotabaya fled for the Maldives, then Singapore – he returned to Sri Lanka a few weeks later, although he has headed in recent days to the US.
With Gotabaya apparently, or at least temporarily, gone, parliament formally appointed Wickremasinghe, 73,
to lead the nation through some of its darkest days
on the back of the votes of the SLPP – led by Mahinda Rajapaksa – a party commanding two thirds of lawmakers.
It has split since the May-July uprising and Mahinda's brother Basil is now believed to control a major component of it. Among the family, he is the most tainted with corruption allegations.
Ironically, the SLPP had won a landslide victory at the August 2020 polls campaigning against Wickremasinghe, painting him as a national security risk.
Now, though, he is seemingly in charge, but despite this year's uprising and political shenanigans, many reforms the public wanted are not in sight, including an interim government (not an SLPP-controlled one), a new constitution and a reduction in the president's executive powers.
"The system change … has not happened," said Harsha de Silva, an economist and senior member of the opposition Samagi Jana Balavegaya (SJB).
"In fact, it is ironic that
the people who ran away are back
now … the president, the prime minister and [his brother Basil] the finance minister." None of the family hold ministerial portfolios, but because they largely control the SLPP since its split, they are believed to be pulling the strings.
"They [the family] are saying that they still have the votes of 6.9 million who voted for them (in 2019) … [that] only maybe 200 to 300 of them [SLPP voters, involved in the protest] at most were associated with the
Aragalaya
[struggle]," he said.
The SLPP claimed back in 2020 that Wickremasinghe was negotiating secretly with Washington to provide base facilities for US marines in Sri Lanka and sign a deal with the US-controlled Millennium Challenge Corporation (MCC) to pave the way for easier acquisition of state land – especially farming land – by foreign corporations. Wickremasinghe denied the allegations.
However, he not only lost his seat but his UNP party – Sri Lanka's oldest political party – lost all its seats in parliament. He was only able to 'sneak' into parliament through a token seat available for the UNP through the proportional voting system, meaning he is dependent on the SLPP to keep his job.
In other words, like de Silva and others say, there has been no real change of government in Sri Lanka. He says Wickremasinghe "has to ensure that he keeps these guys [the Rajapaksas] afloat" to keep his job.
Meanwhile, none of the family or their allies have been charged with any wrongdoing, and they have often said the nation's financial difficulties stemmed from the pandemic.
But leaders of the uprising have been charged with damaging and stealing public property during the occupation of government institutions, and police are investigating whether they can be charged under the Prevention of Terrorism Act, enacted in 1979, which rights activists have claimed is "draconian". The UN wants it repealed but Sri Lanka has refused to do so.
De Silva says Sri Lanka's political situation is now "utterly confusing because [the Rajapaksas] have found a simple way to be in power by creating a facade. No one has been charged … even though the [UN's] Human Rights Commission talked about economic crimes against the people of Sri Lanka," he added.
Many Sri Lankans believe the country has become a pawn in the regional geopolitical contest, with media messaging often about a Chinese "debt-trap" narrative.
In reality, though, Chinese loans only account for about 10 per cent of Sri Lanka's debts, while those relating to Japan and the Asian Development Bank together constitute over 20 per cent, and international bond markets around 47 per cent, according to Colombo's Department of External Resources.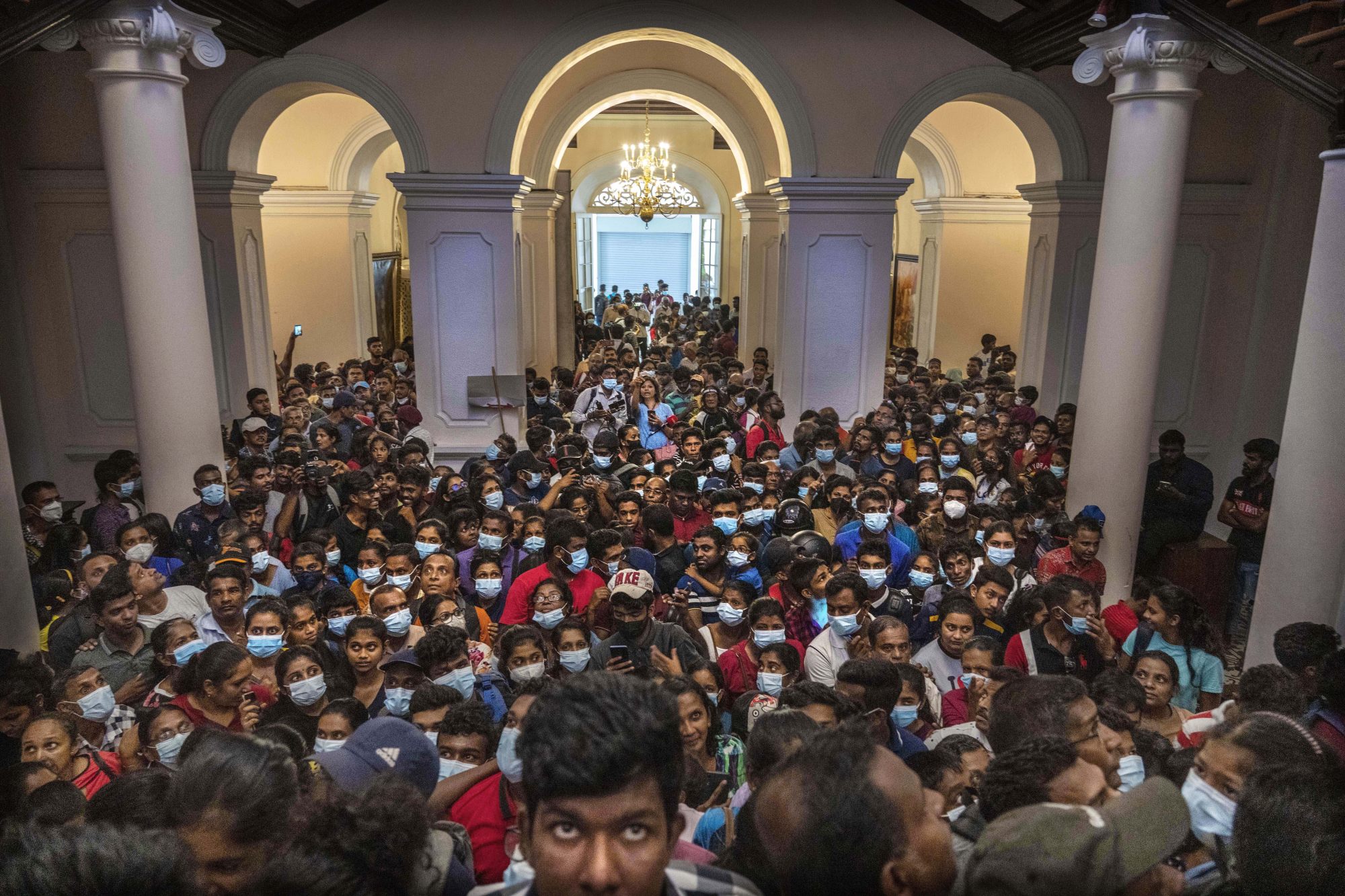 A route out of the economic nightmare in the form of a US$2.9 billion International Monetary Fund (IMF) loan has been provisionally agreed, but not signed, delayed due to tricky debt restructuring negotiations with the nation's creditors, said Shehan Semasinghe, junior finance minister.
Wickremasinghe has not presented any IMF agreement to parliament, as required by democratic norms, said De Silva. "There has been no information … on any specifics of what they have agreed upon even though it has been requested by many in the opposition for a long period of time."
However, the budget presented to parliament in November by Wickremasinghe, who is also finance minister, includes various things detailed in September's so-called "staff-level" agreement between the IMF and the nation's Central Bank.
In a recent commentary published by the Daily Mirror, Jaffna University's political economist Ahilan Kadirgamar argued that Sri Lankan policymakers are following an IMF prescription of an austerity route that suits Western interests, with the aim of facilitating Sri Lanka to pay off debts to international bond markets.
"Sri Lanka's debt restructuring is caught in a geopolitical game with global consequences … egged on by neoliberal think tanks and advisers," he said.
Not everyone thinks the Rajapaksas are pulling a lot of strings behind the scenes. Colombo University's political sociology and history professor Nirmal Dewasiri agrees there is political confusion. But, he added, even though people say the Rajapaksas are still in power, "the question is, what do you mean by power?"
He said the family "is a massively powerful entity that dominated the entire political landscape in Sri Lanka, since 2005 … but now I don't think they have the same capacity to dominate [the landscape], it is completely destroyed. You observe that they are still in control simply because of a very technical issue [where the] majority of members in parliament [elected in 2020] are their party [SLPP] people".
The Rajapaksas were major players in Sri Lankan politics for two decades, subscribing to a Sinhala-Buddhist nationalist ideology that feels Buddhism is under threat by a rising wave of Christian and Islamist forces. Following the 2019 Easter Sunday attacks by alleged Islamic terrorists, there was a huge and successful Sinhala-Buddhist mobilisation to bring the Rajapaksas back to power.
Omalphe Sobitha Mahathera was a leading light of this movement, but later turned against the family and became an outspoken advocate for their removal. He said many Buddhists lost their enthusiasm for Gotabaya because he did not keep his promises.
People also think he had corrupt people around him and damaged the farming sector, the main base of the Sinhala Buddhist vote, through a badly implemented organic farming policy.
Sobitha also said, though, that Aragala was not a religious-based uprising, with citizens across the board, not just Buddhists, understanding "that they need to be saved from these corrupt, lying and manipulative politicians".
De Silva said that, in the final analysis, Wickremasinghe could dissolve parliament by March next year and call for new elections. But many think he is unlikely to do so and will aim to serve out the rest of his (in fact, Gotabaya's) term, until November 2024.
Meanwhile, Gotabaya left with his family for the US on December 26; he was a US citizen until 2019 when he relinquished his citizenship to contest the presidency and his son still lives there.
Many young protesters are now threatening to take to the streets again, if the way forward for elections, soon, is not clear. While it cannot be known just how much clout the Rajapaksa clan actually has behind the scenes, what is clear is that they still have the ability to make a lot of people's blood boil.