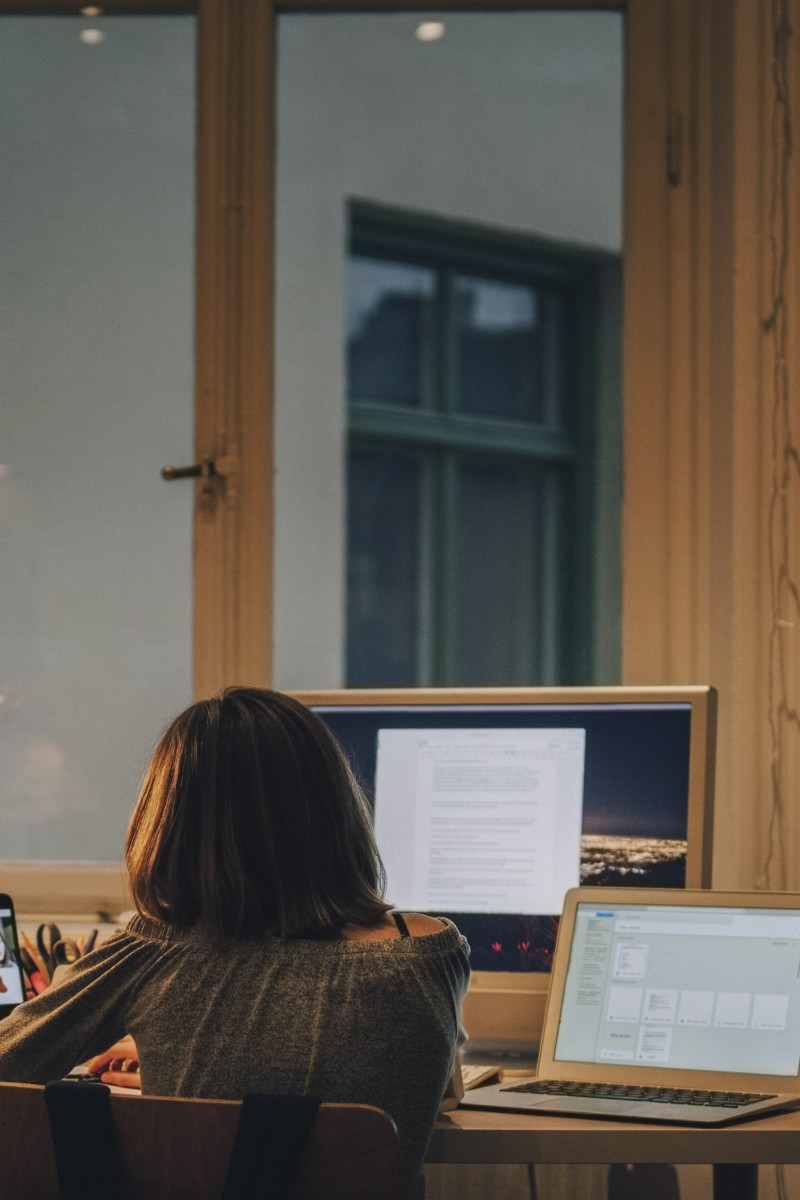 Hong Kong's class disruptions during Covid-19 negatively impact mental health
Students say the hours of online lessons during coronavirus take a toll on their physical and emotional well-being

Many feel overwhelmed by their workload and feel they aren't making as much progress learning as they did in the classroom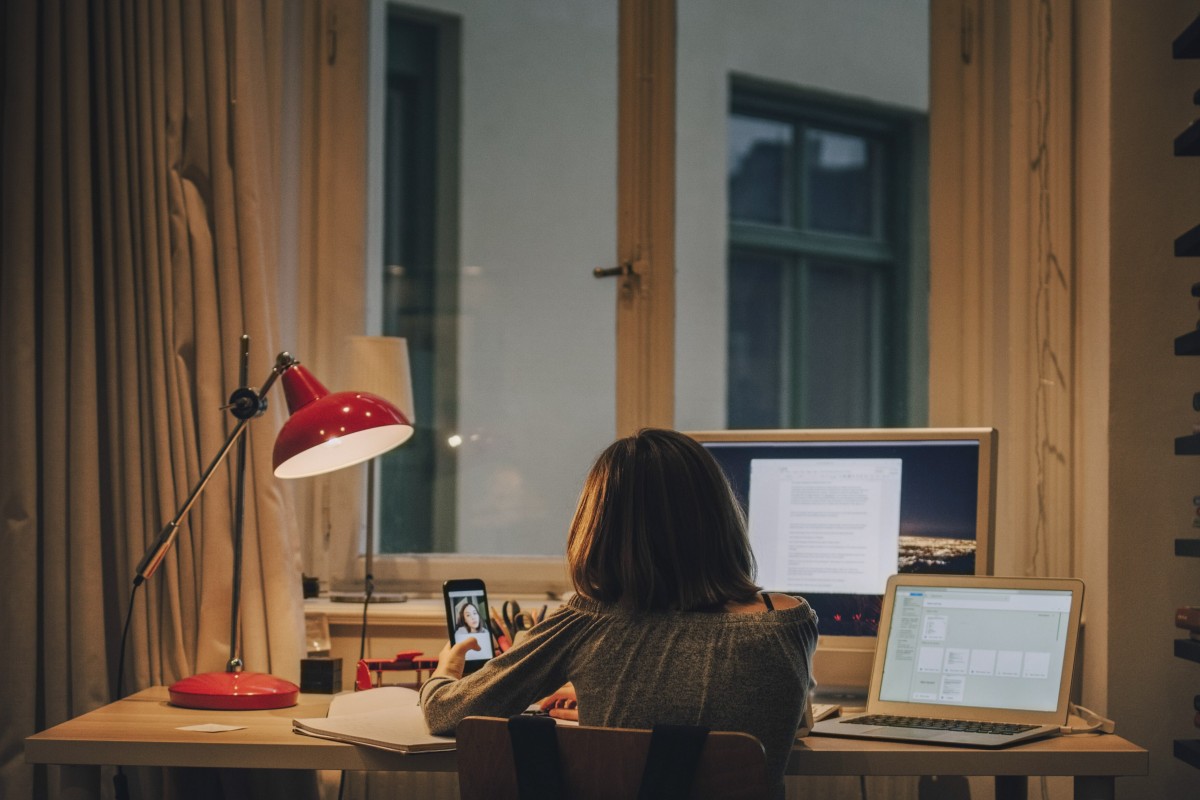 Two years of online learning have taken their toll on many students. Photo: Getty Images
Hongkonger Hugo He was expecting a fruitful, smooth final year of secondary school, but then came the Covid-19 disruptions.
The 17-year-old Form Six student at an international school says classes have been disrupted three times since the outbreak began in January last year, and he has spent most of the past year at home, studying online from 8.30am to 4.30pm every day.
The long-time exposure to screens makes his eyes tired, while a lack of interaction with teachers and classmates makes studying less efficient. To keep up, He, a top student in his class, has to spend more time figuring out the lessons after his virtual classes, including flooding his teachers' emails with questions.
School kids Ben and May (full name withheld) from a low-income family study via online class at home in Tsuen Wan. Photo: SCMP/K.Y. Cheng
He says the pandemic has delayed his learning progress and students are overwhelmed by the heavy workload and preparations for graduation exams. Many of his classmates have asked for an extension of various deadlines.
What has added to his stress is that universities have raised their requirements for admission, he says.
He has so far received five conditional offers from universities in Hong Kong and Britain, with some requiring a higher exam score than those in previous years. He suspects it is because universities are doubtful of the estimated grades given to students by teachers amid cancellation of many exams during the pandemic.
He is also monitoring the pandemic situation overseas before making his decision on where to pursue a university major in physics.
"The pandemic has disrupted my plans. I feel directionless and uncertain about the future," he says.
Hong Kong students have vented their frustration over the year-long disruption that the pandemic has brought to their studies, which they say adversely impacted their academic performance, physical and mental well-being, and future higher education and job prospects.
Face-to-face lessons were suspended for most of the year. Photo: SCMP/Nora Tam
According to official statistics, Hong Kong has 164,900 kindergarten pupils, 364,300 primary school pupils and 326,700 secondary school students during the 2020-21 academic year.
Aside from being subject to infection risks and pandemic control measures, they have struggled with on-and-off school closures for more than a year. The Education Bureau allowed all kindergartens, primary and secondary schools to arrange up to one-third of their students to return to campuses on a half-day basis after the Lunar New Year holiday.
But a new surge in infections, which started earlier this month via an outbreak at a gym in Sai Ying Pun involving the expatriate community, forced more than 10 schools to suspend classes again.
Meanwhile, the city's examination board has postponed this year's university entrance tests, the Diploma of Secondary Education (DSE), to between April and May to give students about one more month to prepare. The exams were postponed by a month last year.
'Pandemic affects my perspective for university and work'
Form Six student Veronica*, 17, goes to a school in Tiu Keng Leng. She laments that the year-long class disruptions have impacted her physical and mental health, and hurt her academic performance so much that her prospects of entering a top university have been shattered.
Originally from Pakistan and growing up in Hong Kong, she says the school closure has affected her daily routine, and deprived her of exercise from physical education classes, as well as a 25-minute walk to and from school every day. Apart from constantly feeling tired and gaining weight, she has become ill more often, and started having migraines.
Meanwhile, the switch to online learning has not only worsened her eyesight because of the increasing screen time, but also made it difficult for her to keep up academically. She finds online learning, in which her teachers use PowerPoint slides or pre-recorded lessons, hard to grasp, while she has to deal with distraction at home. Being the second-oldest child in the family, she attends to her younger siblings who also study from home.
Students often face many distractions when they study at home, such as younger siblings.
The student, who was previously among the top three in her class of about 40, says her grades have dropped significantly over the past year, especially in biology, business and English. Preparing to sit for this year's DSE exams, she says she no longer looks forward to entering the University of Hong Kong to pursue a degree in English language, and has to look for other options.
She says her parents – her mother who is a housewife and her father who lost his delivery job last year – blame her for her worsening grades. With no place to vent her frustrations, she feels depressed and cries alone.
"I'm so worried about my studies that I can't sleep at night," she says. "I know I have the ability to do better, if it hadn't been for the pandemic."
Having struggled with the impact of the pandemic for more than a year, student Selina*, 17, feels her well-being has been overlooked by her school. Along with her worsening grades, she is losing both her self-confidence and the hopes for the future.
The Form Six student, who moved from the United States to Hong Kong at a young age, says her school should do more than just giving out a PowerPoint presentation once a month with mental health instructions for students to read through.
She says she has missed out on character development opportunities at this crucial stage of her life, including interacting with friends, attending extracurricular activities, travelling abroad and doing internships, all of which will impact her future prospects.
Feeling overwhelmed and frustrated, she has decided to take a gap year after graduating to take a break and focus on her physical and mental well-being.
"Because of the lack of support, I have been forced to mentally mature a lot faster than I should be," she says. "It's affected my perspective for when I go into university and work."
'Evolve and adapt to changes'
Although official assessment results are yet to come out, teachers say the pandemic has negatively impacted students' academic performance.
Tin Fong-chak, vice-president of the Hong Kong Professional Teachers' Union, says in general, students have performed worse during the pandemic than in previous years.
"The school closure has caused changes in the learning environment. The learning effectiveness is undesirable," he says.
It's hard to predict the long term effects online learning will have on students.
Hsu Siu-man, services coordinator of the Hong Kong Federation of Youth Groups, the city's largest youth service organisation, says the class disruptions have impacted students' physical and mental health. Going to school, students have a regular daily schedule, including waking up and going to sleep early, having meals on time, and doing exercises, but all these have been disrupted now. Some students are demoralised and have gained weight, she says.
Although some felt excited at first about the suspension of classes and the introduction of home learning, the long-term unstable learning environment, with on-and-off school closures and a lack of social interaction, has made many anxious and depressed, and drained them of their motivation to study, she says. Some have developed behavioural problems such as screen addiction, and others had suicidal thoughts.
Hsu says that while many students seem to have grown accustomed to the changes over the past year, she warns the adaptation may be superficial or just a passive response from ones who feel helpless.
"Students may be able to catch up academically later, but a delay in their development, such as the formation of learning habits and social wellness, can have a lasting impact on them," she says. She adds students should try to resume a balanced, healthy lifestyle.
Educator Tai Hay-lap, a former Education Commission member, says the pandemic has forced schools and students to speed up their adaptation to online learning – a significant change to the learning model. But without equal access to equipment and support, this change can widen the disparities among students.
"The Covid-19 pandemic has created an unequal educational environment and widened disparities between underprivileged students and those with advantages," he says.
He says a healthy learning environment should involve both face-to-face and online teaching, and calls for programmes to help students catch up on what they have missed out during the pandemic.
The Education Bureau says it will monitor the pandemic situation, and review class arrangements and related measures. The bureau announced last month that if a school could arrange all of its teachers and staff to take regular virus tests, it would consider allowing the institution to arrange half-day face-to-face classes for all students. More than 1,000 schools have applied for this arrangement – mostly kindergartens and tutorial schools.
These days, student He goes to school for only half a day, and spends the rest of the day studying online at home. Compared to the whole-day online learning, he says this arrangement is better for his studies.
Now studying for the International Baccalaureate exam in May, he says: "I have been studying harder than usual. I can't change the environment, so I have to evolve and adapt to it."
*Name changed at interviewee's request.
Fruitful 有成果的
Producing many useful results
Adversely 不利地
In a way that is negative and unpleasant and not likely to produce a good result
Pandemic 大流行病
A disease that spreads over a whole country or the whole world
Lament 感到傷心
To express sad feelings about something or somebody.
Overwhelmed 被淹沒
If something overwhelms someone, it is too much for them to manage
Undesirable 不受歡迎,令人討論的
Not wanted or approved of
Superficial 表面的
Appearing to be true, real or important until you look at it more carefully
Sign up for the YP Teachers Newsletter
Get updates for teachers sent directly to your inbox
Sign up for YP Weekly
Get updates sent directly to your inbox