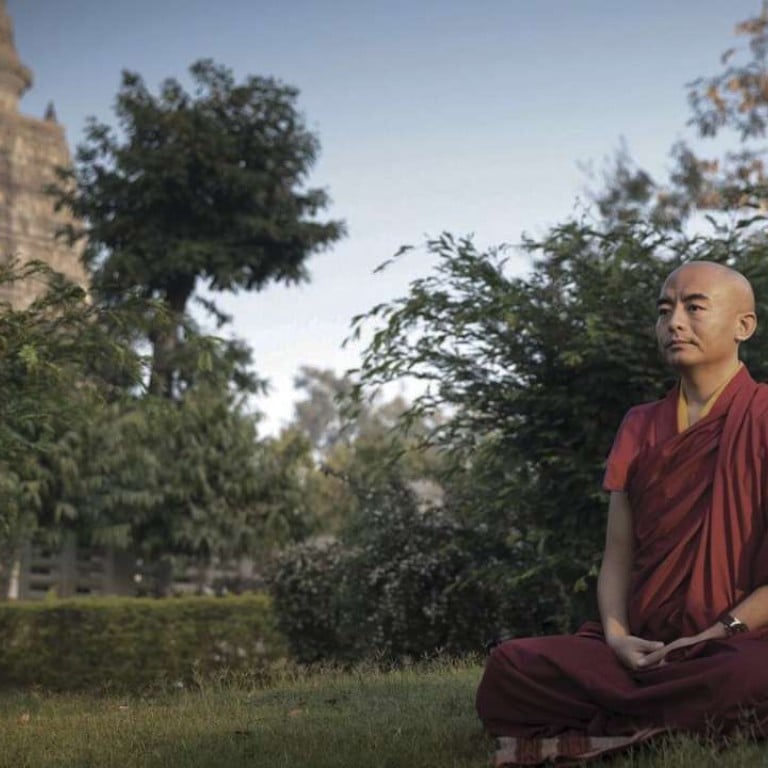 'Happiest man in the world' has a tip for Hongkongers on how to be less stressed out
Yongey Mingyur Rinpoche, Tibetan monk and bestselling author, explains how a near-death experience made him appreciate life more, and how meditation can ease all our problems
He has been described as "the happiest man in the world" since neuroscientists rigged his head with electrodes and thought their machine was broken, but Tibetan lama, meditation teacher and bestselling author Yongey Mingyur Rinpoche modestly shrugs off the epithet. "It's not only me, but other long-term meditators, too," he says.
Richard Davidson, who runs the Laboratory for Affective Neuroscience at the University of Wisconsin in the United States, ran tests on Mingyur Rinpoche and other long-term meditators and found higher levels of activation in the amygdala and right prefrontal area of their brains. The pattern is associated with people who claim to feel "positively engaged, goal-directed, enthusiastic and energetic", he concluded.
Mingyur Rinpoche, who was born in a small Nepalese village close to the border with Tibet, is in Hong Kong for three weeks for a variety of events. He is holding a 10-day retreat for more than 800 followers in Yuen Long, after which he will conduct a workshop for 600 and give two talks at Queen Elizabeth Stadium in Wan Chai for a combined audience of 7,000. All places at the events were booked up before he arrived in the city.
The title of one talk, "Joy in an Age of Anxiety", may strike a chord with Hongkongers.
"I came to Hong Kong for many reasons; one is to share my experience about meditation. I also know that now there's a lot of stress in Hong Kong, a lot of problems with the emotions. My main message is that when I was young, I had panic attacks, so it was really difficult. I made friends with my panic through meditation," he says, referring to a solitary retreat he began at the age of 13 to tackle the demons that had haunted him since he was eight. His late father, Tulku Urgyen Rinpoche, also a respected Buddhist master, had advised him to look for an answer within.
"Meditation has really helped me change and save my life, and I have this passion to share this message with others," he says.
The practice helps by bringing balance to the emotions, easing stress and anxiety, he says. He sees problems as a tool that help strengthen meditation; they are our friends. "Problems are great opportunities to really grow. They are free," he says with a laugh.
Mingyur Rinpoche could have remained in the relative comfort of monastic life at Tergar Monastery in Bodhgaya, northeastern India. His first book, The Joy of Living: Unlocking the Secret and Science of Happiness, was published in 2008 and became an instant bestseller. All income gleaned from the book, and others published since, goes to his foundation, he says, which funds monastic communities worldwide.
"I don't need it. I have food, I have a place to stay in the monastery," he says.
Instead, in June 2011, the lama alarmed followers by vanishing from his room, leaving behind a letter explaining he had embarked on a wandering retreat and would not return for several years. He had purposefully not told them of his plan lest they try to dissuade him, and urged them not to go looking for him.
"There were two benefits for me doing a wandering retreat," he says. "One, to develop my meditation. Two, to understand the world better from what I saw and experienced. There were many challenges: no money, nowhere to stay, no plan, no friends." It was like a suicide mission, he jokes.
"At the beginning I had about 2,000 Indian rupees [HK$230]. So I went from my monastery to a train station, took a train for six or seven hours. I stayed at one train station in India for three days, and I was thinking, 'what am I going to do, because I don't have any plans?'"
He made his way to a Buddhist holy site, he says, where he rented a simple room for US$1.50 a night, but after three weeks his money was gone. "Then I truly became like a beggar."
Mingyur Rinpoche slept on the street and begged for food, but within days got food poisoning and chronic diarrhoea. On the fourth day, he thought he was going to die.
"If I'd wanted to go back, I could have made just one phone call and people would come for me. Or I could just let it be and learn from this. It's what we call learn until the last breath. Explore until the last breath. Dying is also adventure."
The following morning at about 1am, he says, his vision and hearing failed him, and his body became paralysed.
"I was having what they call dissolution of elements in the body – energy falling, floating. I almost became unconscious. Then suddenly my mind became so open, so vast, and there was no thought. The knowing was there without thinking, and I was so happy, but the happiness didn't have physical sensation. I was beyond location – no inside, no outside. I stayed there for five or six hours and tried to move my finger, but couldn't move. I don't know if my breath stopped or not. I felt like there was no breath."
Eventually, he sensed that he was not yet ready to die, and as the feeling became stronger, he began to regain the feeling in his body. Looking back, he describes the episode as "one of the best experiences of my life that really benefitted my meditation".
"I learned two things from that. One is letting go, acceptance; and the second is appreciation. After I came back, everything became so nice. Before, when I planned to go on a wandering retreat, I knew I would stay on the street. I didn't mind that there was no proper mattress, no proper house, but it felt embarrassing. I'd never stayed like that in my life. I came back and I felt my embarrassment was gone. Being alive was so wonderful."
In the remaining years of his wandering retreat, Mingyur Rinpoche spent the winters meditating in ashrams, and summers in caves in the Himalayas. He would sometimes go without food for three days, he says.
In November 2015, after an absence of more than four years, he returned to his monastery in Bodhgaya, a holy site where the original wandering ascetic, Gautama Buddha, is said to have attained enlightenment. He had lost his chubby cheeks but gained long hair and a beard. He had also strengthened his knowledge and experience of meditation, and has since embarked on a worldwide tour, bringing him to Hong Kong this month. 
Meditation has gained widespread acceptance with the trend towards mindfulness in health and well-being circles, in large part because of the large volume of research that show a link between meditation and emotional balance. Mingyur Rinpoche's books examine the 2,000-year-old practice in light of the latest scientific findings . However, he says many people still harbour misunderstandings about meditation.
"People think two things about meditation. One is [that you should] think of nothing. Concentration. Second thing is blissing out. Peace. 'I'm meditating so I need peace'.
"But our mind, when you say 'don't', will do the opposite. For example, if one was told to not think about hamburgers, they'll think only about hamburgers. Or you say, 'I need peace, no stress'. You will become stressed.
"So the main meaning of meditation is to let your mind be as it is. Be with it completely with awareness. That means a sense of being, a sense of continuity, not getting lost. But when you let your mind rest, you will see so many thoughts; your mind is very busy. That's a very good sign. When the river becomes clear you can see the fish. When the river becomes muddy, you cannot see fish."
Mingyur Rinpoche teaches students to gently focus on the breath, without too much concentration. "Then in the background so many thoughts come. They can come and go, as long as you do not forget your breath. If you do that continuously, your mind becomes more centred and more free."
Another point many people miss is that it's possible to meditate anywhere, any time, he says. "One breath, two breaths, while you're walking on the subway or bus or car, you can meditate … because you have breath all the time."
Another key is getting into the habit, he says. "Meditation is new in our life, and for anything new it is quite difficult. So you have to meditate a little bit every day. It's very helpful. Just three breaths in the morning can change your whole day."
This article appeared in the South China Morning Post print edition as: head start for happiness