A few years ago, gai bo ("chicken pot") was all the rage at Hong Kong hotpot restaurants. It starts life as one dish – chopped up, bone-in chicken pieces with a thick, complex sauce seasoned with lots of spices that you might not normally associate with Chinese food, but it ends up as something else. After most of the meat has been eaten, hot broth is stirred into the sauce that's left in the pot, which is then used to poach raw ingredients. The dish is often attributed to areas of Sichuan province, usually Chengdu and Chongqing.
Sichuan chicken pot
My favourite version of this was served at Sen Hotpot, in Jordan, which closed years ago. This is an attempt to recreate that dish.
Buy a fresh chicken and have the butcher cut it up Chinese-style.
Don't let the long list of ingredients intimidate you: this dish is easy to cook and doesn't require any special techniques. If you are feeding just a few diners and planning to have hotpot afterwards, halve the recipe.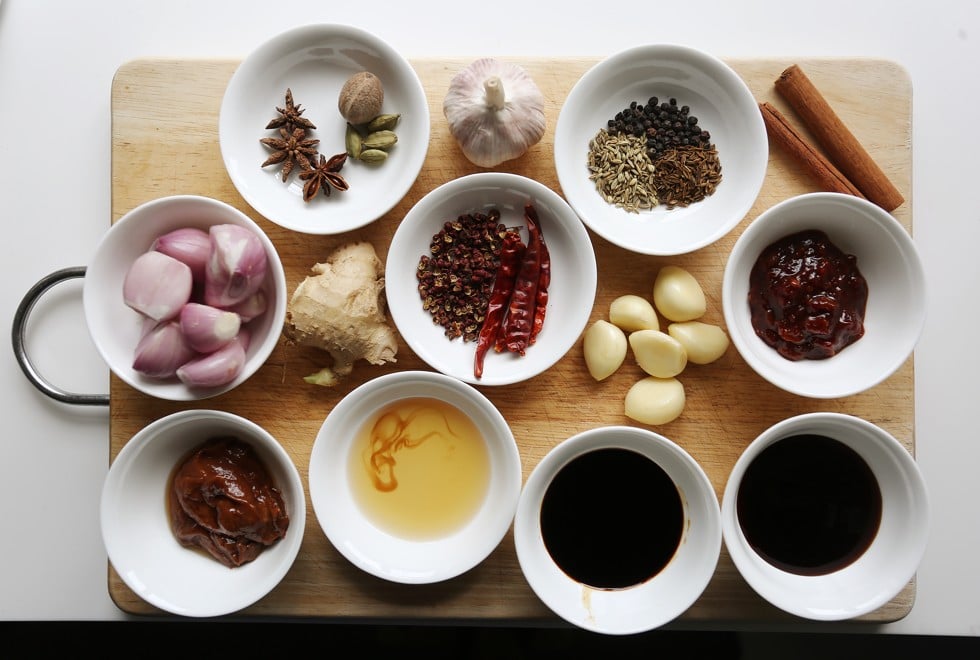 1 fresh chicken, about 1.2kg, cut into pieces
30 grams chilli sauce (I use the Yuan's brand), or more to taste
60 grams doubanjiang (Sichuan chilli soybean paste)
60 grams oyster sauce
60 grams chu hou paste
30ml soy sauce
20ml rice wine
15 grams granulated sugar
5 grams fine sea salt
1 tbsp cornstarch
8-12 dried bird's-eye chillies (or more, if you like very spicy food)
1 tbsp Sichuan peppercorns
1-2 cinnamon sticks, depending on size
1 whole nutmeg
3 star anise
4 green cardamom pods
½ tsp whole black peppercorns
½ tsp whole fennel seeds
½ tsp whole cumin seeds
8 garlic cloves
8 shallots
A 30-gram piece of peeled fresh ginger
4-6 fresh red bird's-eye chillies
3 stalks Chinese celery
4-6 spring onions
A few stalks of fresh coriander
Cooking oil, as needed
Make the chilli paste mixture. In a bowl, mix together the chilli sauce, doubanjiang, oyster sauce, chu hou paste, soy sauce, rice wine, sugar and salt. Put the cut-up chicken in a bowl and pour about half of the chilli-paste mixture over the meat. Mix well so the chicken pieces are evenly coated. Set aside the chicken and remaining chilli-paste mix­ture while preparing the other ingredients.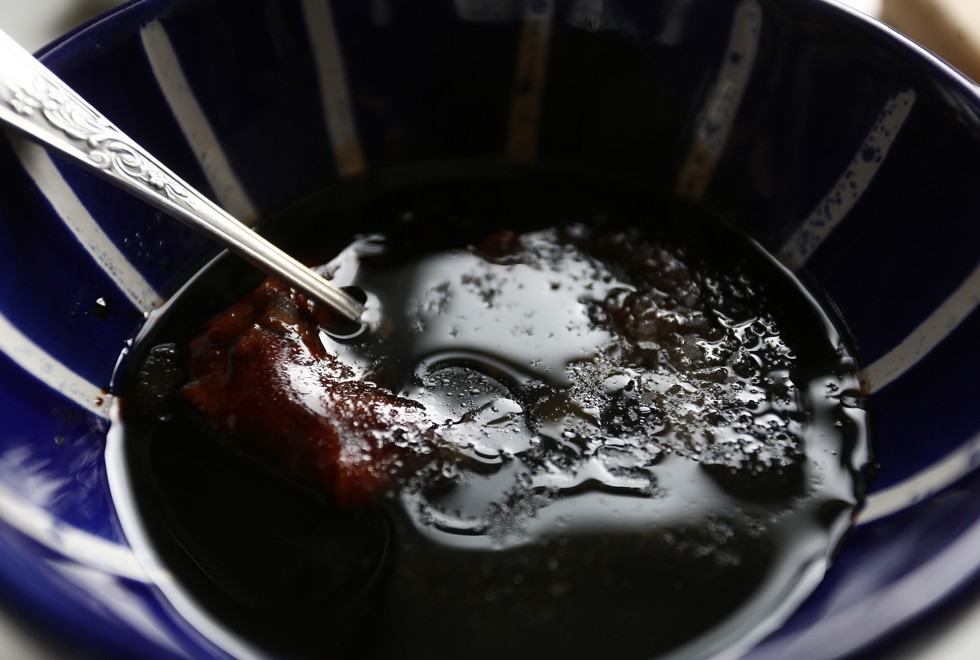 Pull the stem ends from the dried chillies and shake out and discard as many seeds as possible. Put the chillies in a bowl, cover with hot water and leave for about 15 minutes, then drain before blotting with paper towels. Remove and discard as many black seeds as possible from the Sichuan peppercorns, leaving behind the husks. Loosely wrap the nutmeg in a paper towel and put it on a cutting board. Hit the nutmeg with a meat mallet to break it into two or three pieces. Break each star anise into two pieces. Peel the garlic cloves and shallots, then slice the garlic cloves in half. Place the chunk of ginger on the cutting board and hit it with the meat mallet to lightly crush it.
Sprinkle the cornstarch over the marinated chicken and mix well. Pour cooking oil to a depth of about 8cm in a wok and heat to 180 degrees Celsius. Fry the chicken pieces in batches, just long enough to set the exterior but not to cook the meat. Drain the chicken on paper towels.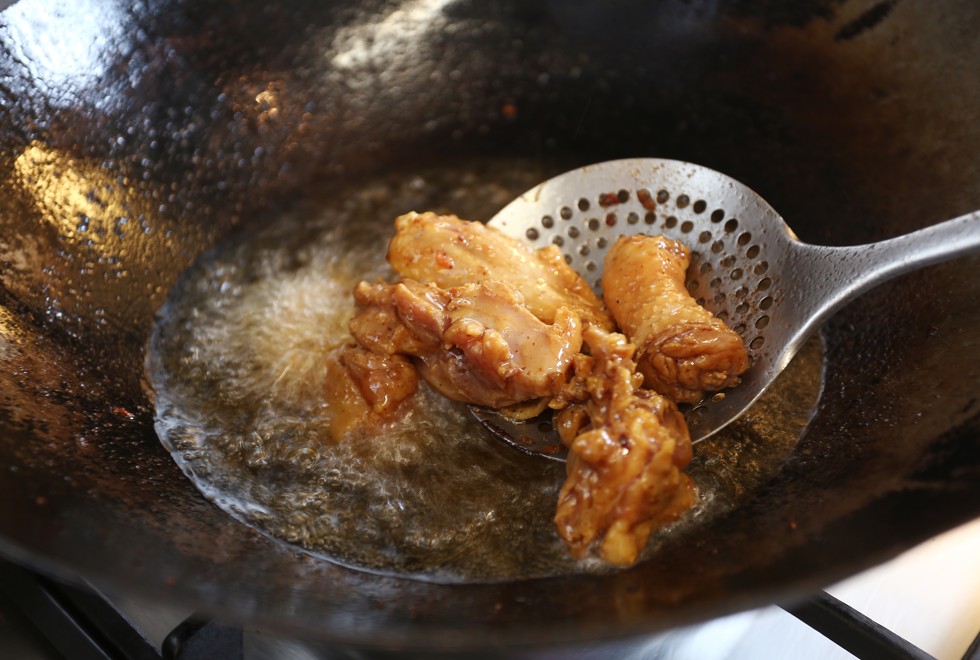 Heat about 30ml of cooking oil in a large Chinese clay pot that holds about two litres. When the oil is hot, add the dried chillies, Sichuan peppercorns, cinnamon stick, nutmeg, star anise, cardamom pods, whole black peppercorns, fennel seeds, cumin seeds, garlic, shallots, ginger and fresh chillies. Cook, stirring frequently, until the spices are toasted and fragrant. Mix in the remaining chilli-paste mixture and stir constantly for about 30 seconds. Add the chicken pieces and about 60ml of water. Bring to the boil and stir well to combine. Lower the heat then cover the pot with the lid. Simmer for about 45 minutes, stirring occasionally, or until the chicken is cooked through. The sauce should lightly coat the chicken, but shouldn't be entirely dry; if the meat is in danger of sticking to the bottom and sides of the pot, add a little more water. Taste the sauce and correct the seasonings if needed.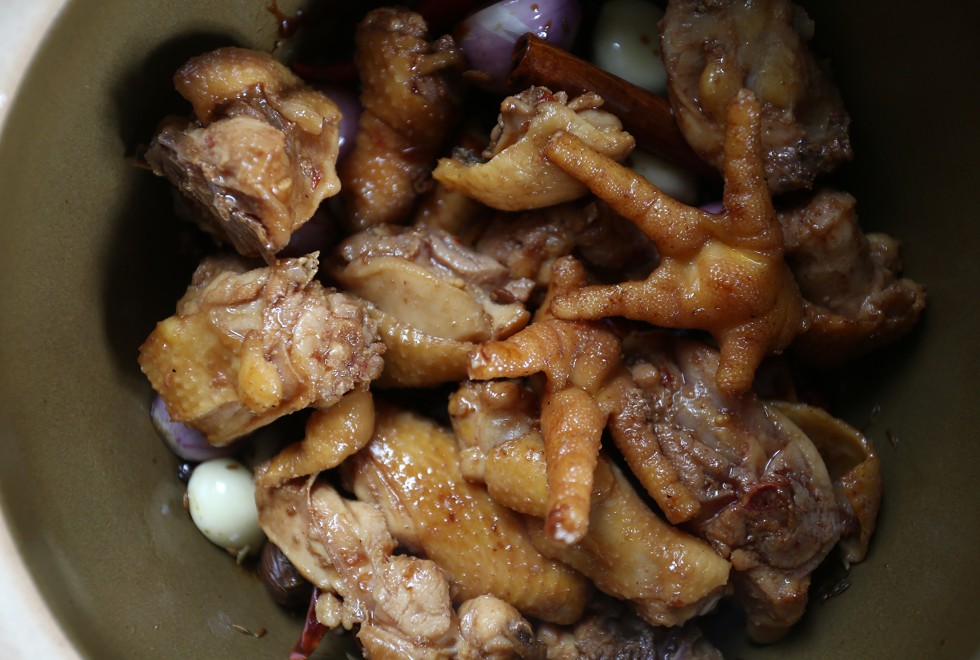 Cut the Chinese celery and spring onions into 3cm lengths and roughly pull apart the stalks of fresh coriander into smaller pieces. Stir these ingredients into the pot and simmer until wilted. Serve the chicken pot with hot steamed rice and a dish of stir-fried vegetables.
If you like, after eating most of the chicken, add about 1.5 litres of water (or light, home-made, unsalted chicken stock) to the pot and place it over a portable burner. Bring to the boil, then serve with an array of raw meats, seafood, vegetables, noodles and other hotpot ingredients. Let your guests mix their own dipping sauce from ingredi­ents that include soy sauce, sesame oil, sesame paste, chilli oil, crushed peanuts and fresh chopped chillies, garlic, spring onions and fresh coriander.