Top Korean designers will be unveiling their 2018 autumn and winter collections at the Dongdaemun Design Plaza (DDP) in Seoul from March 19 to 24, beginning with a hanbok show to herald the overall concept – Korean beauty.
The HERA Seoul Fashion Week will feature 37 designer brands, and two companies are expected to participate, and the Generation Next Seoul, a trade show started two years ago, will present 13 shows and 90 rising designer brands, according to organiser Seoul Design Foundation.
Hanbok designer Kim Hye-soon will grace the stage with her authentic collection in the opening ceremony on the first day. This will be the first time for the Korean costume designer to open the trade show.
"I hope this will be an opportunity to introduce our traditional costumes to the world out there," says Jung Ku-ho, executive director of Seoul Fashion Week.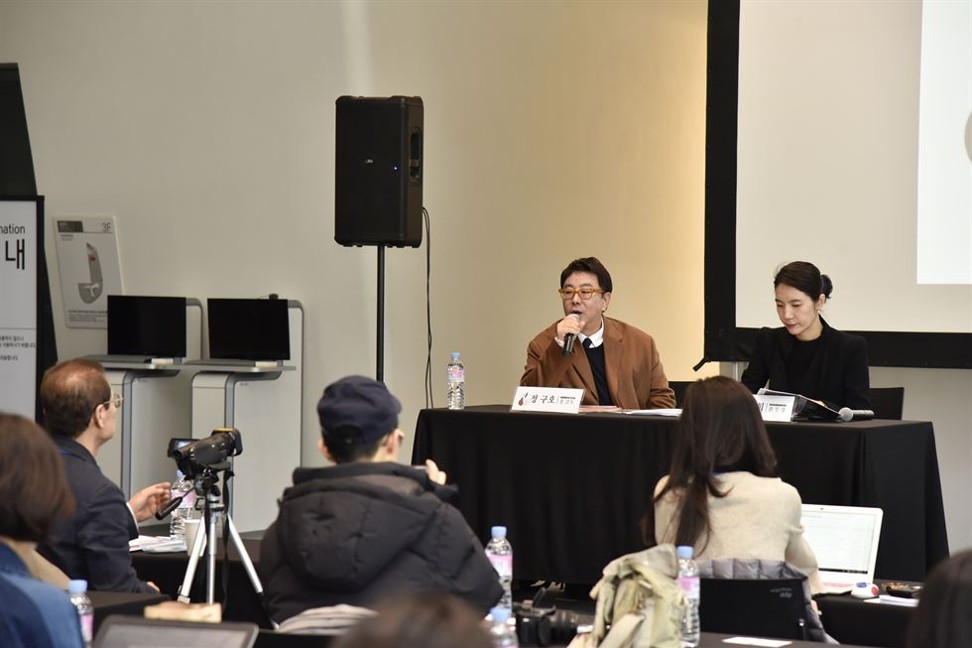 The show will be a reinterpretation of hanbok in a "modern" way, adding fun elements, Jung says.
He says he has always been interested in and has appreciated traditional values and beauty, shown by participating in historical film productions and showcasing traditional furniture collections.
Fashion Week is not just a festival where people enjoy pretty clothes on runways. After all, it is a business.
Top 10 Korean designers pop up in Hong Kong
Along with such initiatives, the organiser has been discussing ways to support rising designers and collaborate with established organisations, including the British Fashion Council, during the event, Jung says.
"In addition to [Seoul Fashion Week], we are planning on supporting designers to enter overseas markets such as London shows."
Last month, the Korea Creative Content Agency showcased eight Korean fashion brands at the British Fashion Council's show space at 180 The Strand. The artists included Anne and The Crwd, Beauton, Bmuete (TE), Gayeon Lee, Kimmy.J and Moon Lee.

"This season, 50 buyers from high-end shops and online multibrand shops in America and Europe, 130 buyers from Asia, and Middle East buyers will participate in the event. We're expecting to see good results from our talented designers."
Collaborative seminars will be held during the fashion week, the organiser says. Haagen-Dazs, designer Lee Moo-yeol, patisserie Yoo Min-joo and photographer Nam Hyun-bum will hold the first one under the topics "Haagen-Dazs Collaboration and Fashion Trend", "Desserts and Fashion/ Desserts and Life" and "Artisan Spirit of Twenties" on March 21.
On the next day, fashion experts Sara Maino, Anders Madsen and Isabella Burley will hold an in-depth discussion about "sustainability" and "new luxury."
Another attraction of Seoul Fashion Week is Fashion Film Festival, which the organiser says will allow visitors to enjoy fashion movies free from March 22 to 24.
Dazed Korea is co-hosting the film event with an aim to "bring pleasure with stylish and fashionable movies to all the visitors".
Korean fashion designer Park Hwan-sung of D-Antidote gains international traction
MINI Retro blue edition, a collaboration of MINI and Ordinary People, will be displayed at Oullim Square, and "Life Plus Moment", a photo exhibition of objects that inspired Generation Next designers, will be held at DDP CREA.
Designer Sample Market, which sells samples of trade show designers, and HERA Seoul Fashion Week photo zone for citizens, will be set up at Oullim Square to provide visitors an opportunity to experience various fashion cultures.
"Big names like Steve J & Yoni P and Moon J will be on display throughout Seoul to create the atmosphere of fashion festivals all over the city," the organiser says.
All the SFW runway shows will be broadcast live through online and mobile channels, including the official Seoul Fashion Week website.
Seoul Fashion Week began in 2001 under the auspices of the Seoul Metropolitan Government which identified fashion as an emerging growth industry, earmarked for support.
For more information, visit www.seoulfashionweek.org.
Want more stories like this? Sign up here. Follow STYLE on Facebook, Instagram and Twitter
This article originally appeared in Korea Times.