Hong Kong's first tea sommelier Kelvin Ng has worked at two Michelin-star Yan Toh Heen for seven years and as tea sommelier for four. "When I was young, I always liked to drink tea, and it became my hobby and interest to discover more about tea," Ng says. He was able to discern a great tea from a good tea, so when he started working at Yan Toh Heen, he realised that the tea they were serving was not at the required standard for a luxury restaurant.
"Every fine-dining restaurant in Hong Kong is sourcing from one or two suppliers, so the tea leaves and their quality are the same," he says. "I mentioned it to the management and suggested Yan Toh Heen source from smaller tea shops that make better-quality tea leaves - and so we began to change the tea menu and provide premium options for the guests."
Master sommeliers bring perfect pairings to Restaurant Petrus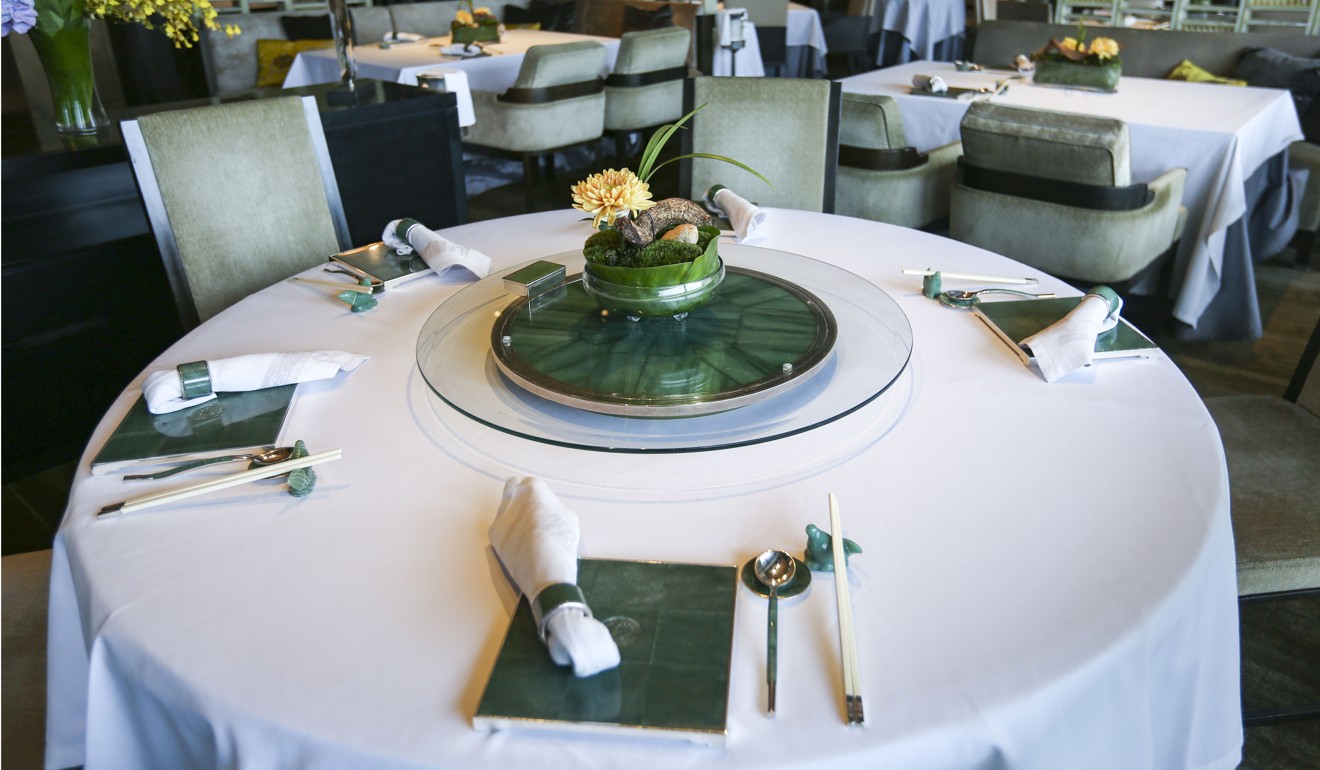 Some of the tea Ng sources from China is so rare that he can only do a pairing menu for a few days, or a week at most.
"Some of the tea trees we use can only supply one to two kilograms of tea leaves," says Ng, who goes to China several times a year in search of premium teas. During a recent tea pairing menu at Yan Toh Heen, he served 30-year pure dry, warehouse-aged pu'er tea and Bing Dao raw pu'er tea, the latter from a 1,000-year-old tree. "It's hard to find a tea tree over 1,000 years old, and one tree can only produce a maximum of two kilograms of leaves a year," he says. "This tea, from Yunnan province, is known as the first tea picked from the new spring crop - the very best time of year to pick tea is between March and early April. This particular tea resembles green tea with a light refreshing taste."
I suggested Yan Toh Heen source from smaller tea shops that make better quality tea leaves - and so we began to change the tea menu and provide premium options for the guests
Ng's favourite tea though, is the 30-year-old pure dry, warehouse-aged pu'er tea. "You can drink it at the beginning and end of a meal and it still has the same flavour. It's hard to find a pu'er that's like that - the flavour doesn't weaken," he says. "This is from a 100-year-old tree. After picking, the leaves are dried and stored in Hong Kong for over 30 years.
Tea masters view this tea as very good, so they buy and bring it to Hong Kong and store in a warehouse in 20-28 degrees Celsius for 30 years. It can keep on fermenting - sometimes the tea master puts it in a wet place in the summer to let it ferment faster, but the quality and character will change as it's not natural."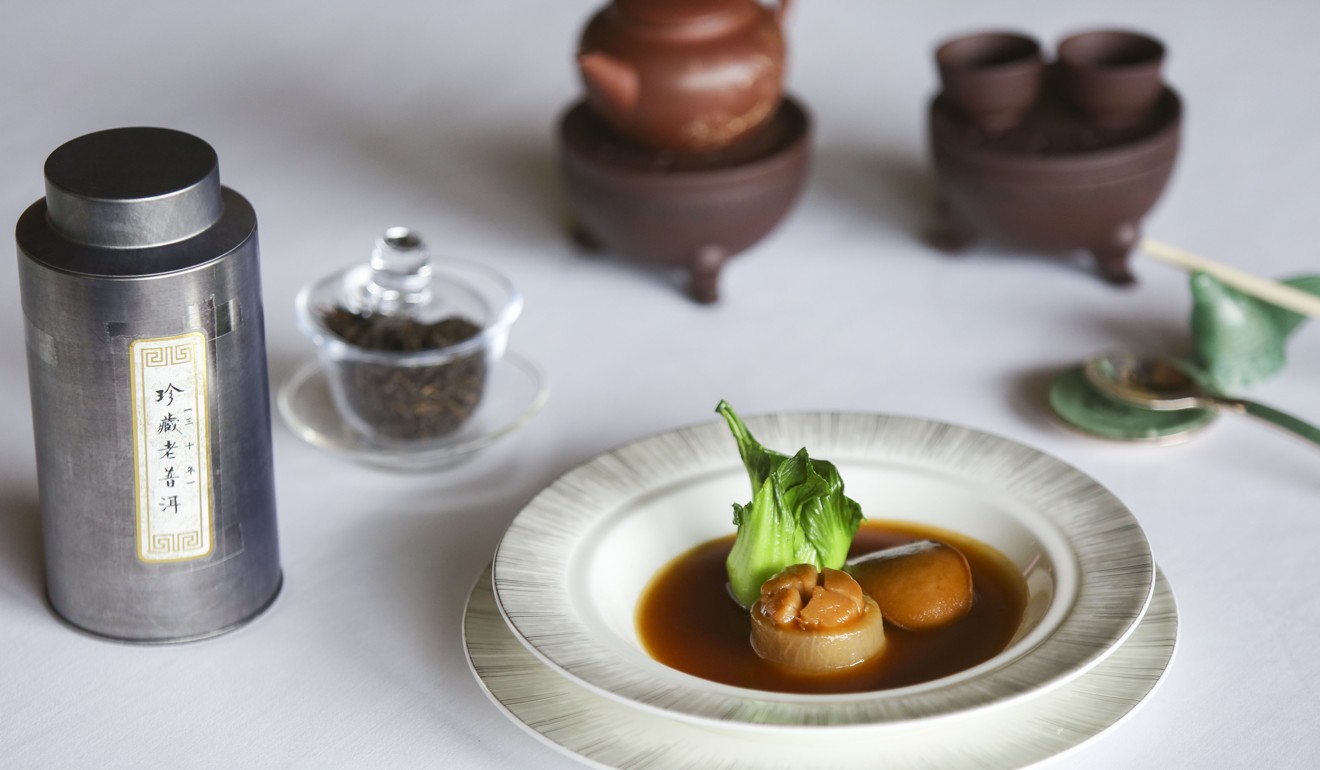 The 30-year-old dry, warehouse-aged pu'er tea matched seafood best, according to Ng and chef Lau Yui-fai, who paired it with chilled shredded chicken with jelly fish and asparagus, steamed scallops with black truffle, and vegetable dumpling and steamed lobster and bird's nest dumpling with gold leaf.
Where to eat in Hong Kong and Macau: 9 places to savour in June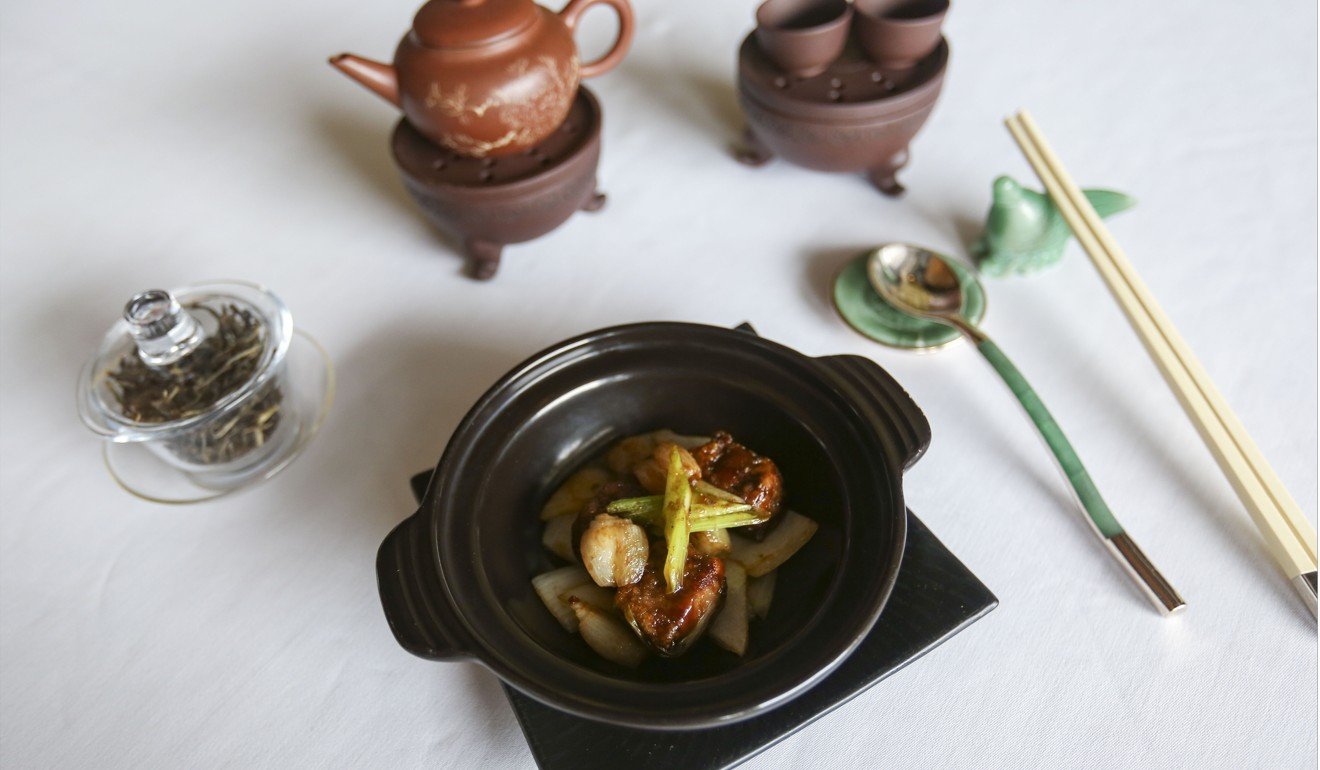 The Bing Dao raw pu'er tea went better with wok-fried wagyu beef with cumin, scallions and spring onions, fried rice and dessert of taro pudding.
Ng is getting ready for the next precious tea pairing menu on Father's Day where he will pair a rare 1970s Lu Boa Guanxi tea in a gala dinner menu. He will offer another tea pairing menu in September.
He says he can't do these menus too often because of the rarity of the teas. Yan Toh Heen is the only restaurant in Hong Kong that offers precious teas, and the first to do such tea pairings, so they have attracted local diners who are tea aficionados
"We like to do something special for our regular guests - tea pairing is more for regular guests and the tea lovers know that Yan Toh Heen has been promoting tea pairing menus for a few years," Ng says.
"Before we did more mass promotions, but after that we thought tea lovers are not a big community, we would rather do something nice to educate and communicate better.
So the scale is smaller with better quality - high-end but niche," he concludes.
Five of the best spicy hotpot spots in Hong Kong
Kelvin's Tips
Collecting teas
For beginners, pu'er tea from a 40- to 50-year-old tree is a good way to start, then age the tea for 10-15 years. But if you want to drink some during this time, you can. It appreciates 10 per cent a year after five years and then after 20 years, it appreciates 20 to 30 per cent. The value does depend on how it has been stored.
How to store tea
A dry, clean environment is important. It cannot be near mould or smells, so it cannot be in the kitchen or near the washroom. Natural ventilation is important, so near a window is fine but it cannot be in the sunshine. In China, the leaves are put in bamboo containers. In Hong Kong, a box or dry paper is used to cover the leaves.
Clay pot or ceramic pot?
For teas with a higher boiling point, such as 100 degrees Celsius, a clay pot is better, but for the white or flower teas, ceramic pots are fine as they don't need such high temperatures.
HOW TO CHOOSE A RARE TEA
Feel the smoothness of the tea when it is tightly packed in the box, and look at the colours of the leaves. A good tea has distinctive white and dark leaves.
Want more stories like this? Sign up here. Follow STYLE on Facebook, Instagram and Twitter