"We have played around with spices and herbs in drinks for years, especially in Asia, as these are main ingredients in food," says Austen Lendrum, bar manager at Mrs Pound, a speakeasy in Sheung Wan. "The cocktail scene and kitchen scene have merged, as bartenders really like to use cooking flavours in their cocktails."
While working at Foxglove in Central, Lendrum experimented with fat washing in traditional drinks such as the Old Fashioned. "You take the fat from the bone, or meat and infuse it in the spirit, so I have a beef bone marrow fat wash into bourbon," he says.
Art Basel Hong Kong 2018 inspires menus and cocktails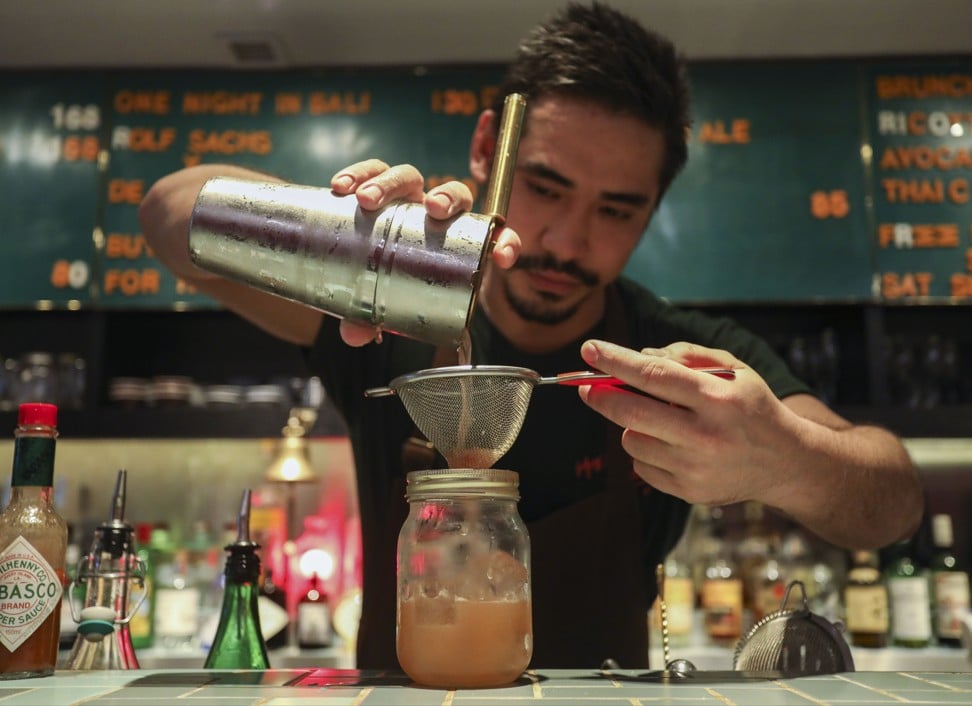 Now experimenting with hotter notes, Lendrum has created his latest spicy cocktail, Plum's Plum. "It's a twist on a classic margarita, it's slightly on the fruitier side as we add raspberries into it with flavours of dried and Chinese salted plums," he adds, "so you taste the salt at the beginning and you have those beautiful sweet flavours of plums and raspberry, and we finish with a dash of tabasco."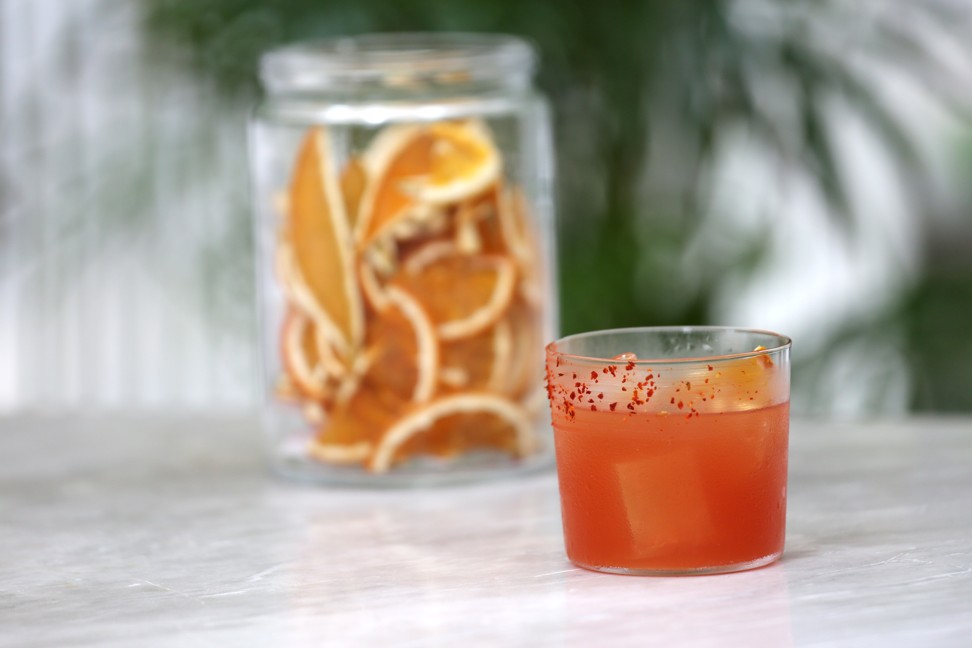 For a different kind of spice, Cobo House has the Orange Moon, a kimchi-inspired cocktail that uses Korean chilli-infused rum, blood orange, salted cacao honey and lime soda. "The riff of the cocktail is the combination of chilli and chocolate flavour," says Charles Chiang, bar team leader at the restaurant that features western-Korean cuisine. "The Korean chilli has a unique flavour that gives a kick to the drink and pairs well with the dark rum. There is a hint of mellow sweetness from the honey and it is brightened up by lime and blood orange. A pinch of salt to bring out all flavours and round up the whole drink. It's meant to be a summer cocktail that is packed with flavours."
5 Instagrammable cocktails to try this summer in Hong Kong
Joe Khan, proprietor of artisanal mezcal bar COA, has several tongue-numbing cocktails on his menu, including the Spicy Grasshopper, which really does include grasshoppers. His drinks and bar were inspired by frequent visits to the Oaxaca in southern Mexico, known for its agave plants used in making tequila and mezcal.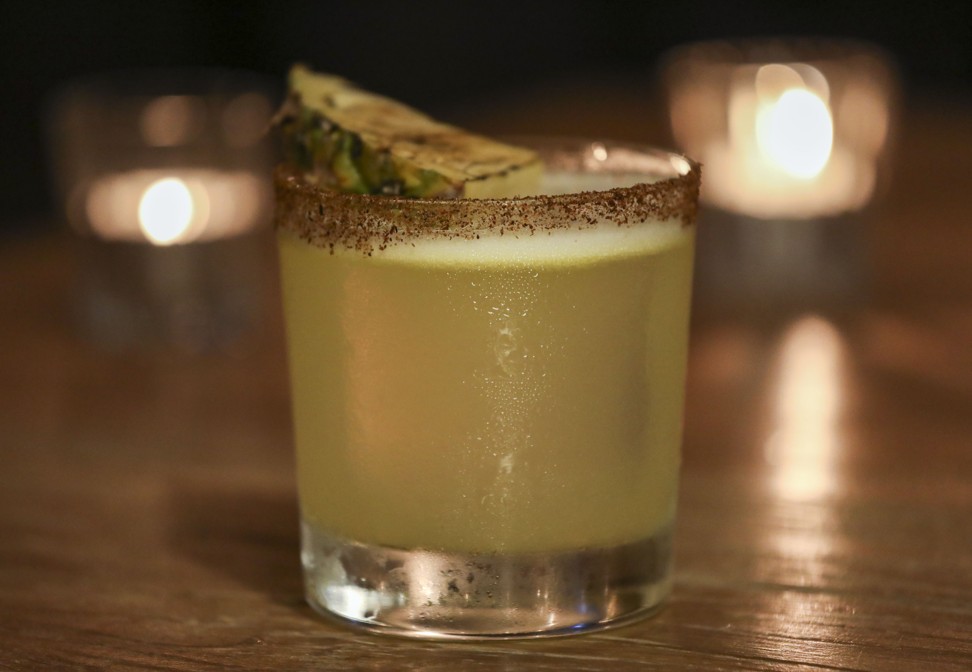 He uses food ingredients in his drinks from that area, including a local favourite, insects. "[The Spicy Grasshopper] gives you a nice umami flavour. Chapulines are really tiny grasshoppers that are used, they are smoked dry and crushed into powder. Then salt and chilli pepper is added. You wouldn't even know it was grasshopper if I didn't tell you. It just tastes like chilli powder."
The powder is put around the rim of the glass but the cocktail itself is made with Los Danzantes Joven Mezcal, Ocho blanco tequila, home-made ginger syrup, pineapple, lime juice, bird's eye chilli tincture, grilled pineapple and grasshopper salt. "We wanted to combine Mexican flavour fusion with Southeast Asia's bird's eye chilli for this spicy cocktail. The fresh pineapple provides a nice sweet and creamy texture to add a little contrast to the spicy cocktail," he says.
"In Oaxaca, eating bugs is a delicacy. A lot of the famous restaurants in Mexico City too, use insects in their dishes," says Khan who worked as a bartender at Foxglove, Mrs Pound and Dr Ferns before opening his own bar. "It is a household staple." Several of his popular cocktails are rimmed with sal de gusano, or worm salt, another delicacy from Mexico.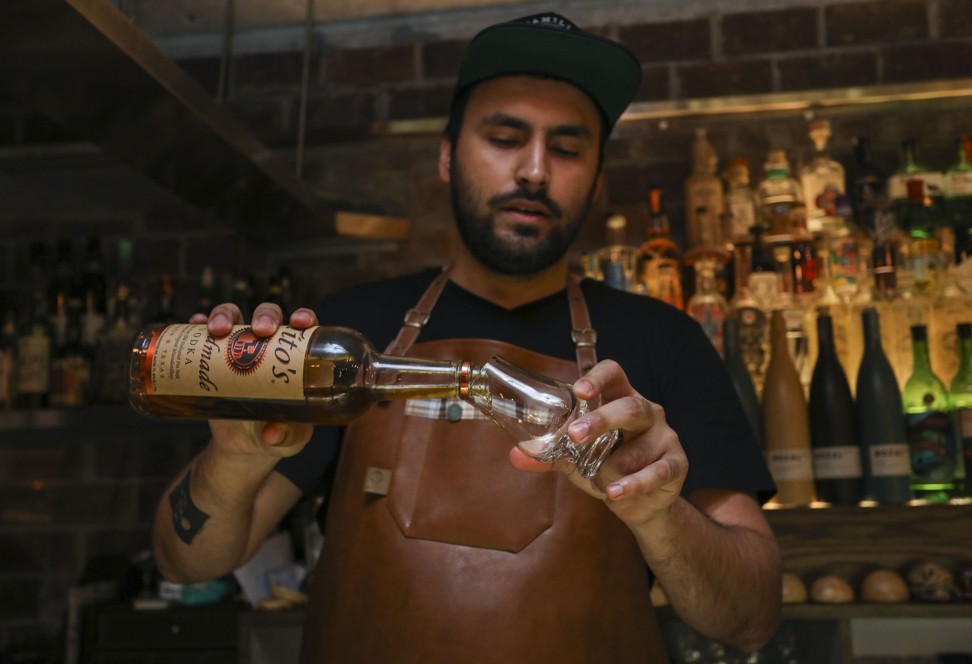 The name COA comes from a tool that is used to harvest the agave plant. "We have one on the wall – the leaves on the agave plant are very thick and sharp, so you need something heavy and sharp to cut through the leaves," says Khan who has also worked as a brand ambassador for the Rémy Cointreau Group. "In the tequila industry, this is an iconic tool. If you go to agave plantations today, there are no machines developed to harvest the agave plant, only this tool, it's labour-intensive as it's done by hand."
Hidetsugu Ueno fans get rare chance to try his cocktails at Bar De Luxe
One of the latest bars to open in the SoHo area is The Wise King, a Spanish-inspired cocktail bar helmed by two industry old-timers, Joe Villanueva, previously with the Island Shangri-La, and Sandeep Kumar, previously with the Kowloon Shangri-La. The new bar on Staunton Street offers a spicy take on the popular Spanish tipple, sangria.
"Our spicy cocktail is a twist on sangria, but we've flavoured it. It's a wine reduction and we spice with cinnamon, cardamom, cloves and star anise, peach and pineapple. After the reduction that takes about four hours, we add honey and Cava, a Spanish sparkling wine," says Villanueva. "The spicy drink is called El Sabio, meaning 'the wise', and we garnish it with gold flakes.
"It is not so hot spicy, but when you drink it, you can taste the spicy flavours," Villanueva adds. "Since we have opened, this has been our most popular cocktail."
Want more stories like this? Sign up here. Follow STYLE on Facebook, Instagram and Twitter