We all love a boozy dessert, whether a whisky sauce poured over bread and butter pudding or a Bailey's chocolate mousse. But if that steak dinner has you full to the brim with no place for a substantial pudding, then a dessert-inspired cocktail could be the answer.
The dessert drink has been trending in major cities across the world over the past few years, from the apple pie cocktail and the Guinness red velvet to the crème brûlée white Russian. In Hong Kong, they are fast becoming a mainstay of many bars, so we went out to find some.
4 apps to help you make the right wine choices and mix the best cocktails
We tried our first at VEA Lounge. Called the Homecoming, the cocktail is based on the Manchester tart and it really encompasses the famous dessert from the north of England. If you've never tried one, it is a pastry-based dessert with raspberry jam, custard, flaked coconut and Maraschino cherries. The Homecoming was created by a former bar manager who hailed from Manchester, and the drink includes custard distillate, coconut fat-washed gin, lemon, apple cider vinegar, fermented raspberry and egg white. It tasted like a boozy version of the dessert, and we weren't complaining. It was good.
"Dessert drinks are trending now. However, most people's first impression of these cocktails tends to be creamy and sweet, since they usually are spin-offs of classic desserts," says Heidi "Cat" Hou, head bartender at Hunter & The Chase.
We found some really good creamy drinks at Beefbar and The Dispensary.
Beefbar's bar manager Jonny Amir has made a cocktail inspired by the classic Italian favourite, the tiramisu. "Desserts are always something that make you happy, and I want to create a drink that makes everyone happy," says Amir.
"The essence of this dessert is the coffee flavour and creamy texture, that's why I added espresso and coffee liqueur to create the bitter aroma from the coffee, with the sweetness of rum balancing the strong coffee flavour. The sweetness is not too much as I wanted to put more emphasis on the taste of coffee."
Over at Aqua Group's newest bar, The Dispensary at Tai Kwun, we had quite a few of the Dan Tat cocktail, that's how moreish it is. The Dan Tat is based on a Hong Kong favourite, the egg tart, and the drink version is equally creamy and custardy, but boozy and not too sweet, with an aftertaste of nutmeg.
"The cocktail is inspired by one of Hong Kong's favourite desserts, as part of the Chinese Collection of cocktails at The Dispensary, and is a nod to The Chinese Library [the Chinese restaurant next door, also by Aqua Group]. Dan Tat is a must-have on a dim sum menu so I wanted to create a dessert cocktail option for guests," says The Dispensary's bar manager Isabella Vannoni.
Desserts are always something that make you happy, and I want to create a drink that makes everyone happy
"The custard tart is reimagined in a creamy cocktail with a base of plantation pineapple rum, shaken with a milk-infused egg tart and cream soda cordial, and finished with lemon and nutmeg."
Calling gin-lovers – the liquor is making a comeback in cocktails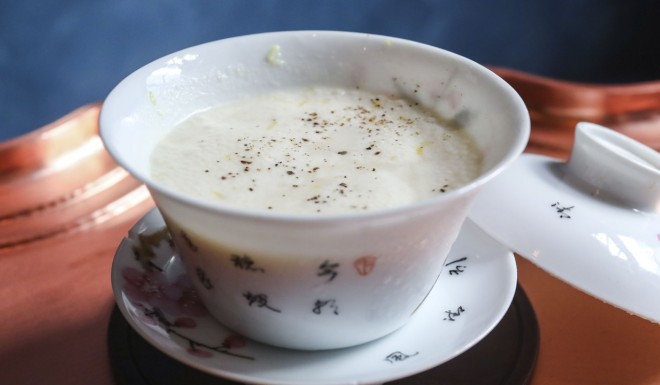 "You should find a good balance between the ingredients," explains Vannoni. "This cocktail doesn't use sugar or sugar syrup but cream soda cordial. As rum is the alcohol used, this also adds an element of sweetness as it's a sugar-cane spirit."
At Hunter and The Chase, Hou has steered away from the idea of a creamy cocktail towards something more earthy. "I like to focus on natural flavour with an earthy combination to create a well-balanced cocktail," says Hou, pointing out that palates have become more refined these days.
Her dessert cocktail is based on another famous British/American dessert – the cobbler, which features fruit baked with a biscuit topping. The bar menu features a raspberry cobbler, a marriage of Pinot Noir, raspberry, crème de framboise and mixed citrus, with a lot of fruit.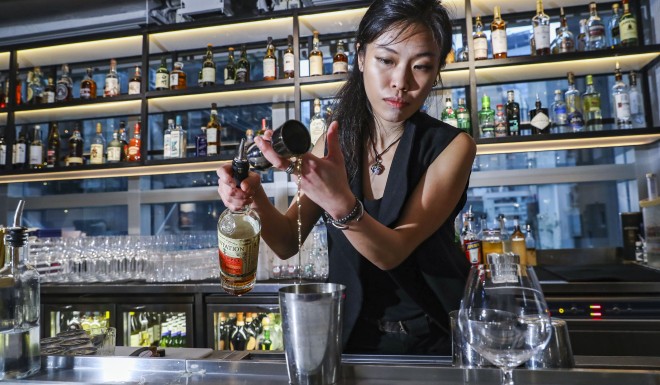 "At The Chase we call it the 'liquid fruit salad'," Hou says. "The raspberry cobbler is refreshing and is a low ABV [alcohol by volume] cocktail. I wanted to do a drink inspired by fruit desserts that will sate your sweet tooth without sending you into a full-on dessert coma."
How spicy cocktails are heating up Hong Kong's drinking scene
"The sweetness comes from the fresh fruit. We wanted to enhance the natural sweetness to make sure the cocktail is refreshing," she says.
With Thanksgiving and Christmas just around the corner, how about a pumpkin martini or a gingerbread cocktail?
"Chef Felipe at Hunter & The Chase has created an amazing cheddar-crust apple pie with whisky caramel," says Hou. "I would like to create a cocktail inspired by it; it could be a great festive drink. I also ate this amazing spicy brownie, and feel chocolate with a spice kick would be a great flavour profile for a cocktail."
Want more stories like this? Sign up here. Follow STYLE on Facebook, Instagram and Twitter