Roast goose, char siu and suckling pig are some of Hong Kong's most famous and favourite dishes, and the new advanced oven at Maxim's flagship Jade Garden at Star House, helps make these offerings even tastier.
Jade Garden at Star House, which opened in 1971, was the first Chinese restaurant in Hong Kong to offer Western service, so it became a popular choice for expats living in the territory, especially during its early years. The restaurant was recently refurbished, and reopened in summer to the delight of loyal diners.
One new feature – a first in Hong Kong – is the floor-to-ceiling glass-fronted oven. It looks more like a roasting room, with two sections where large birds hang while slowly rotating as they roast inside. This delights diners, who find it very Instagrammable.
Chefs at Sands Resorts Macao give dim sum a creative twist
"The technology is quite advanced," says Wu Yuk-ming, deputy chef (barbecue), Cantonese restaurant, at Maxim's.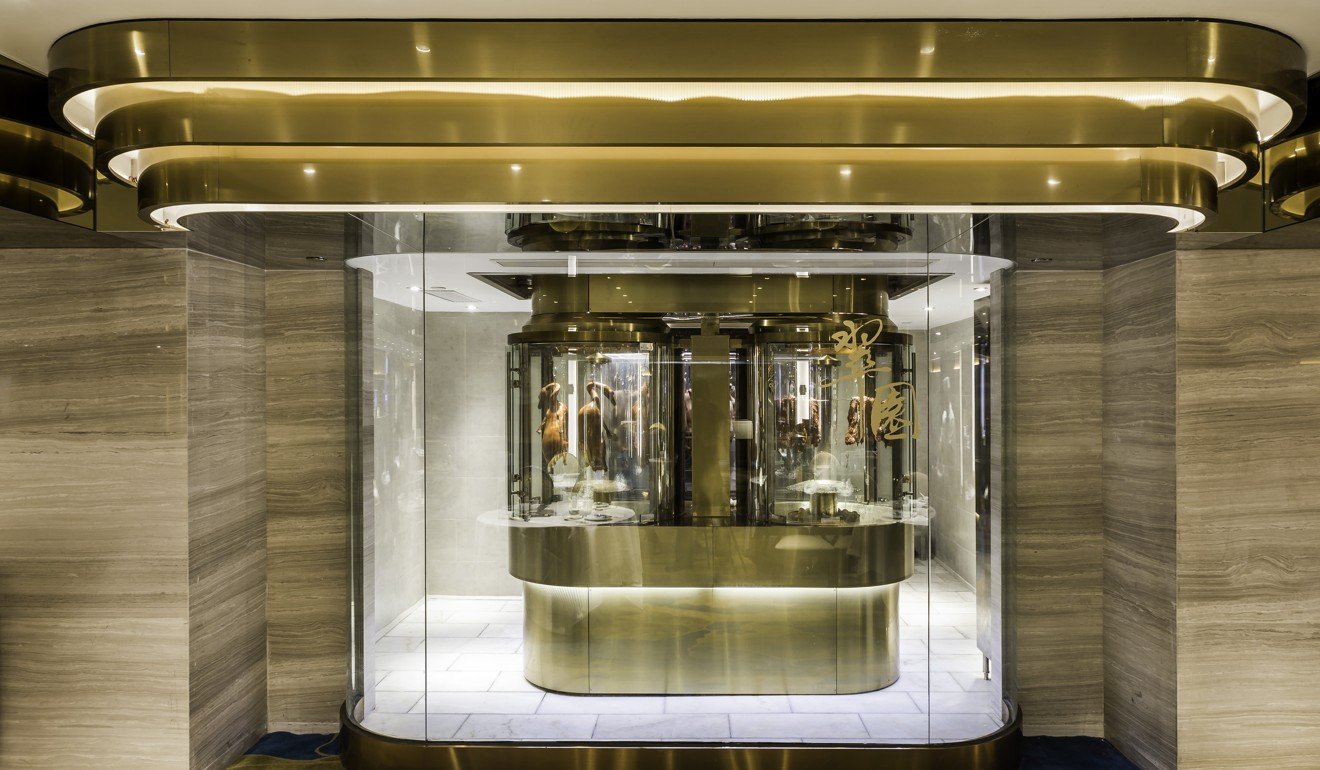 "They can control the temperature for different kinds of meat, which automatically changes after a certain amount of time," he says. "It's computer programmed."
Roast meats are signature dishes at Jade Garden, and they are the most popular items on the menu. The new oven can roast goose, chicken, char siu and suckling pig. But does the meat actually taste better?
"The meat is tastier because the oven automatically rotates the meat," the chef explains. "It will keep rotating, making sure that every part of the meat is cooked evenly. One of the keys to making it tastier is the even heat."
What are the Michelin Guide's best restaurants in Thailand?
The correct temperature and timing create the tender, juicy meat and the right crispness of the skin, Wu explains.
It's also important to make a good marinade.
"We use simple ingredients like sugar, salt, garlic, soy sauce and hoisin sauce. It's basically traditional Chinese ingredients," he says. "The goose is marinated longer than the char siu, which is sweeter.
"The next step for making roast goose is to spread a syrup of maltose and vinegar on the skin. Then the bird is hung up to dry, and this is what creates the crispy skin. The bird needs to hang for around 10 hours. After that, it's ready for the oven.
The meat is tastier because the oven automatically rotates the meat. It will keep rotating, making sure that every part of the meat is cooked evenly
"In a traditional oven, the chef needs to keep checking the process and turn the bird every 10 to 15 minutes. They also need a torch to check on the skin, as a traditional oven is dark," Wu says. With the new oven, that is something Wu does not have to worry about any more.
Wu became a roast chef 26 years ago because he loves roast meat, and he's been with Maxim's for 13 of those years. "Roast meat is quite different from other food, even other Chinese food," he says.
He believes the restaurant's focus on roast meats yields benefits. "We can develop our expertise, as we have more time to improve our skills. It's easy to serve roast meat, but difficult to make it flavourful and delicious," he says.
We review Artisan de la Truffe, a new truffle restaurant and store
One new dish that has been going down a storm at Jade Garden is Wu's honey-glazed barbecue Angus beef. It's basically char siu beef, and it's delicious.
"The team here focuses on traditional meats," says Wu. "We want to keep the original flavour but explore the possibility of using new ingredients. The honey-glazed Angus beef is a good example. We wanted to make a char siu, but we also wanted to astound people. We thought, you never find beef char siu, so why not try it? It's one of the bestselling items here on the menu," Wu says proudly.
Chef Wu's tips for making roast goose at home
Firstly, you need a good marinade.
Roast meat is the same whether it's made in a hotel or a street stall, as you need to marinate the meat before doing any roasting. It's important for the flavour to get into the meat, so marinate for about six hours.
Timing is important for the perfect goose. If it's a small goose, it takes 45 to 50 minutes in a hot oven at around 200 degrees Celsius. For a larger one, it takes 50 to 60 minutes.
After you put the maltose and vinegar on the skin, use a fan to help it dry. This takes about 10 hours.
Make sure the bird is evenly cooked by turning it over in the oven every 10 minutes.
The best time to serve it is 15 minutes after it has cooled, and certainly within an hour. That way, you get juicy meat and crispy skin.
Want more stories like this? Sign up here. Follow STYLE on Facebook, Instagram and Twitter