With another year almost over, we revisit some of those culinary "wow" moments that became conversation stoppers.
We've all had them. That moment when taste consumes all the senses so that you just need to focus and enjoy every morsel to the full.
These dishes range from simple flavours to old favourites and fine-dining genius.
Amber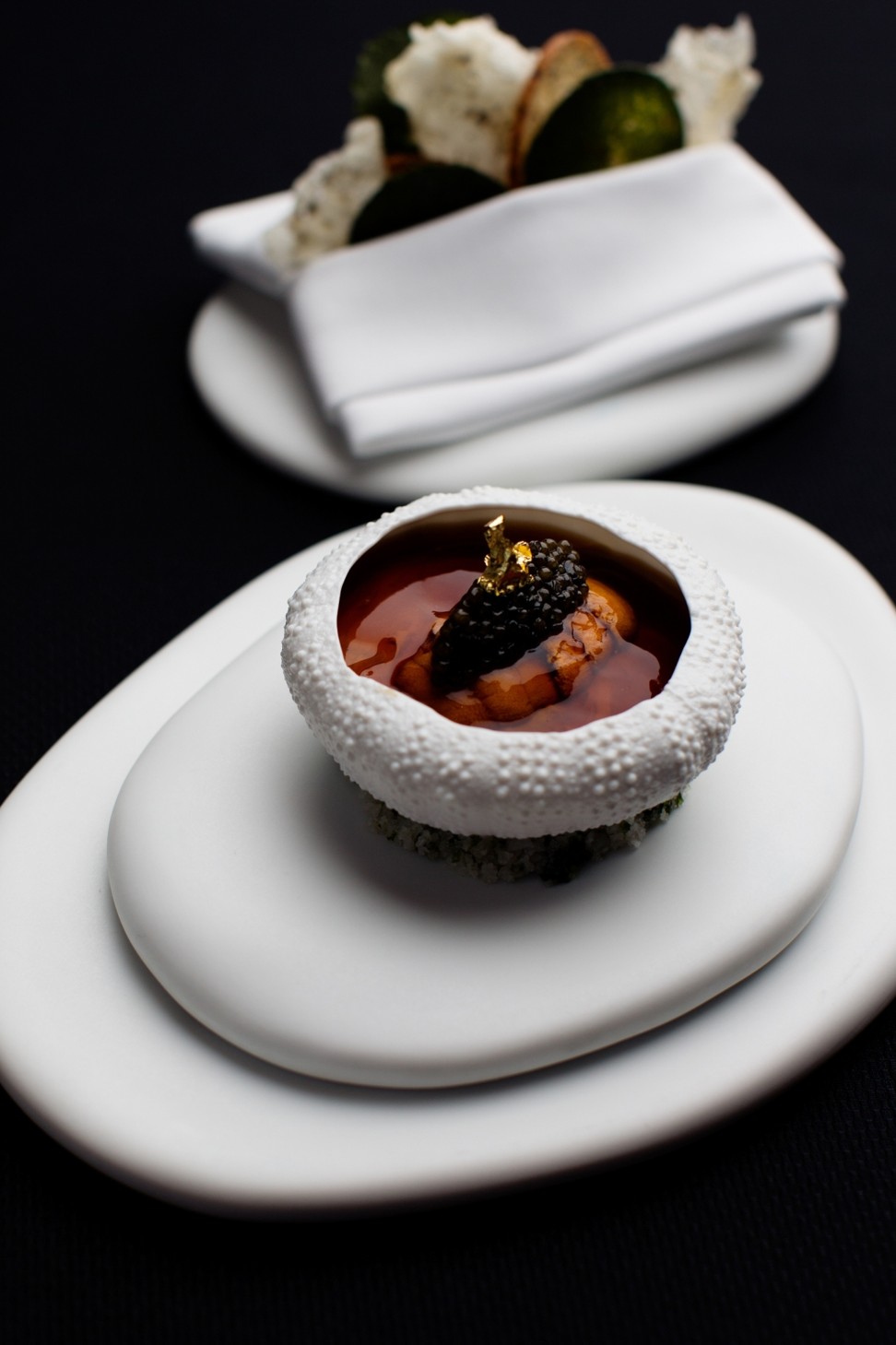 Where: Landmark Mandarin
The dish: Hokkaido sea urchin in lobster Jell-O with cauliflower, schrenkii-dauricus caviar and crispy waffles
Why: This popular dish created in 2006 by Richard Ekkebus – the executive chef at the hotel – put sea urchin on the Hong Kong culinary map.
Instagram this: roast goose, char siu and suckling pig at Maxim's Jade Garden, Star House
Ekkebus tried taking the dish off his menu, but a collective outcry had him put it back on.
However, with Amber closing this month for an extensive refurbishment – which also includes a new menu in 2019 – will this be the dish's final farewell?
We will have to wait and see.
BEDU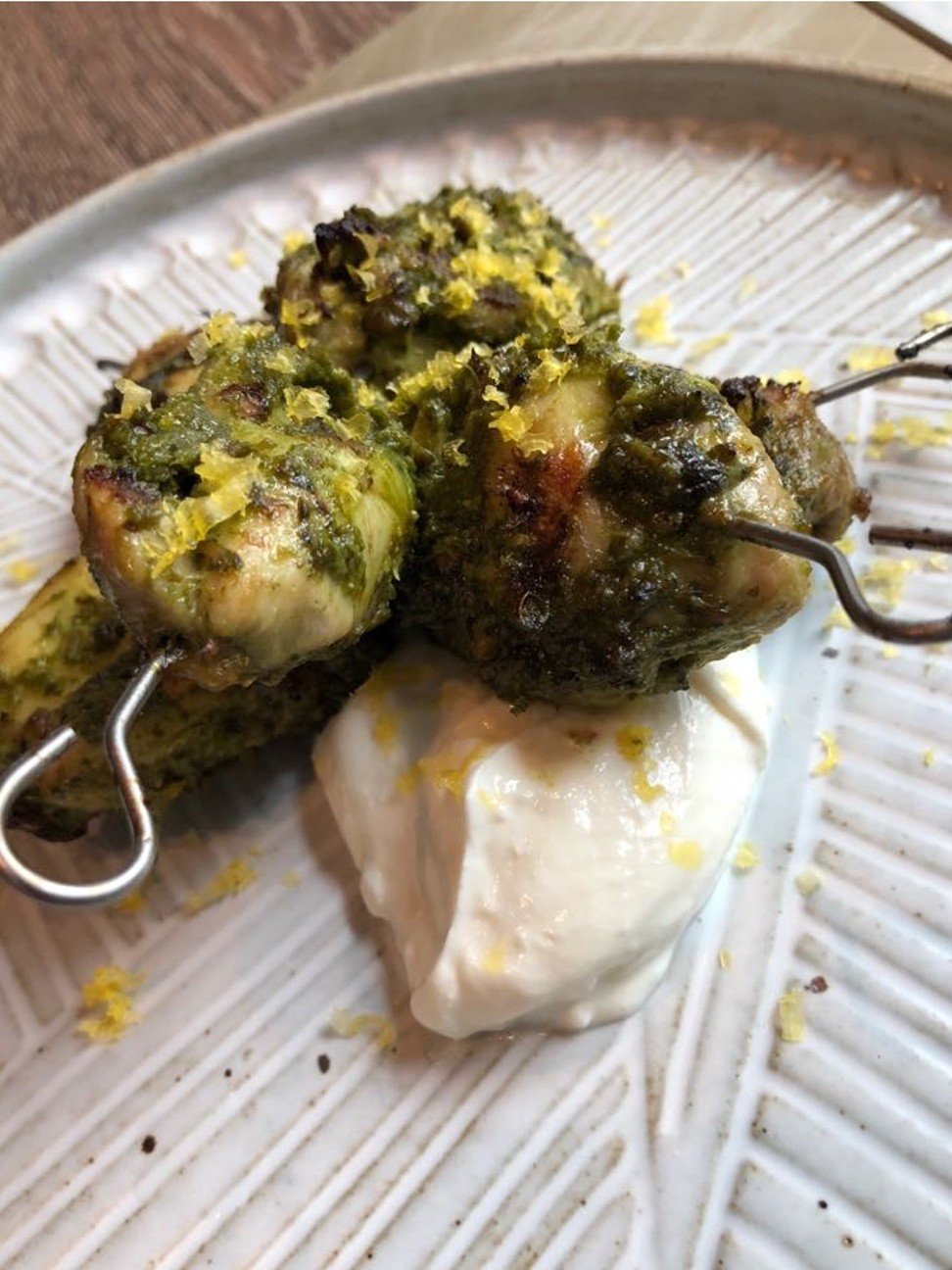 Where: Gough Street, Central
The dish: Chermoula glazed chicken sprinkled with cured egg yolk
Why: The restaurant serves modern Middle Eastern street food, inspired by Bedouins from North Africa. Australian chef Corey Riches put his twist on dishes here such as pairing a Hong Kong favourite, cured egg yolk, with a Moroccan chicken dish, which uses a chermoula glaze – a sauce usually used with beef. And it works perfectly.
Cafe Malacca
Where: Hotel Jen, Queen's Road West, Sai Wan
The dish: Black pepper crab
Why: It is a delicious take on the Singaporean-Malaysian black-pepper prawn dish.
As Cafe Malacca's menu features hawker street food, which this dish is not, the black pepper crab needs to be pre-ordered.
Ecriture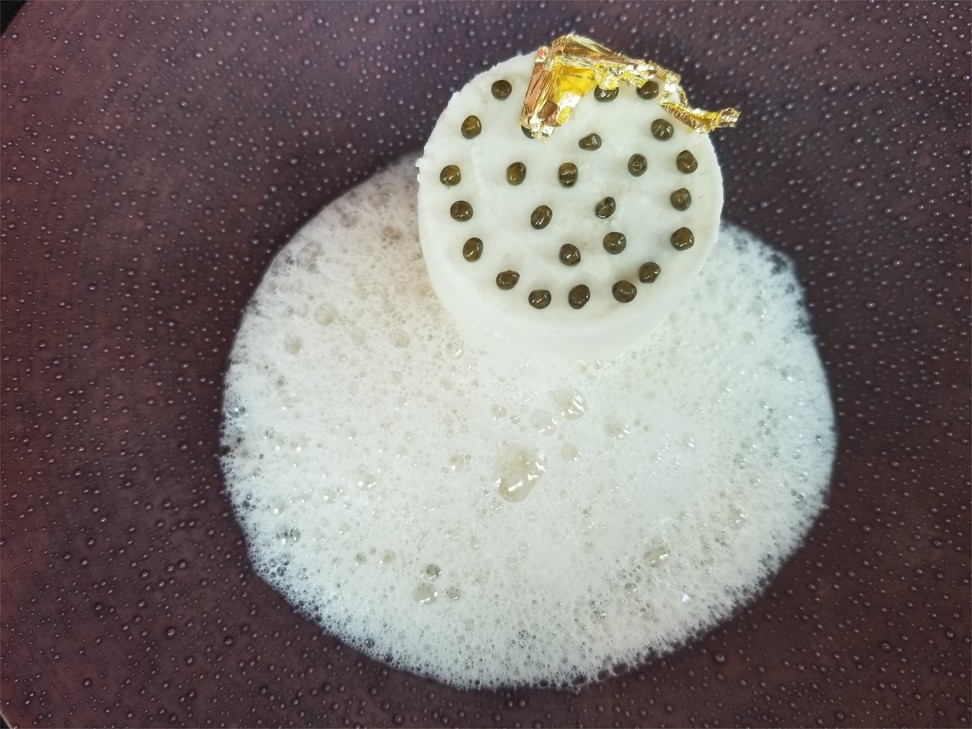 Where: H Queen's, Queen's Road Central, Central
The dish: Cauliflower and white chocolate mousse with Schrencki caviar
Why This dessert really surprised me.
What are honey truffles? We review the precious Hungarian fungus at Island Shangri-La
Who would have thought cauliflower would make a tasty dessert?
The dish looked as good as it tasted, with the right amount of sweet from the white chocolate and a touch of salt from the caviar. The cauliflower gives the mousse a light and fluffy texture.
Definitely a must-try.
Francis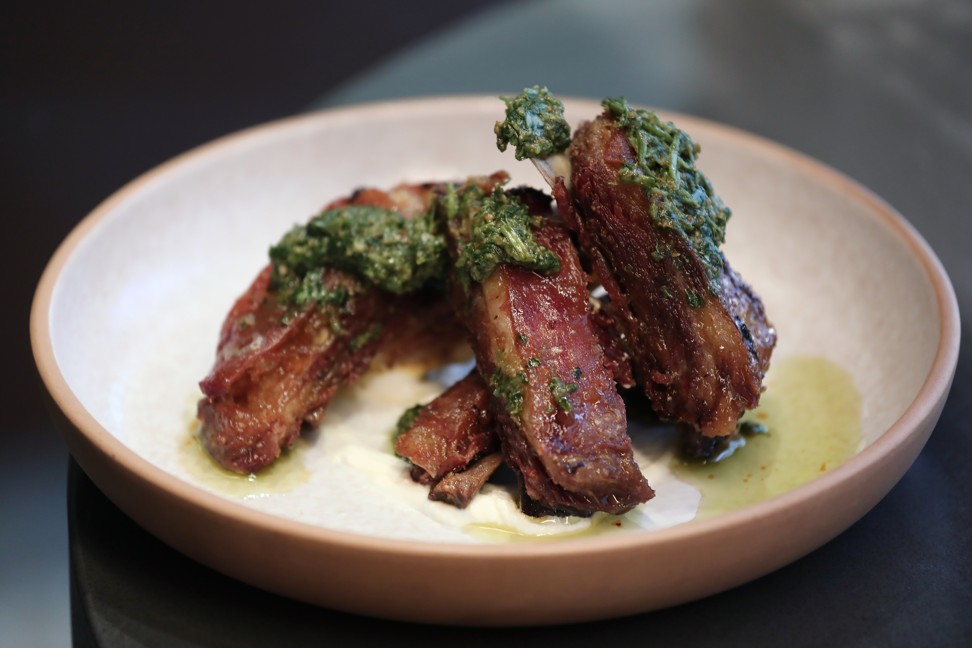 Where: St Francis Street, Wan Chai
The dishes: Lamb ribs with orange, yogurt and coriander, smoked carrots with yogurt and spiced honey
Why: Serving Tel Aviv street fare, we enjoyed several "wow" moments here – the hummus is also good. The dishes may not sound too sexy, but there is a reason diners wait an hour or more for a table in this small venue.
Fukuro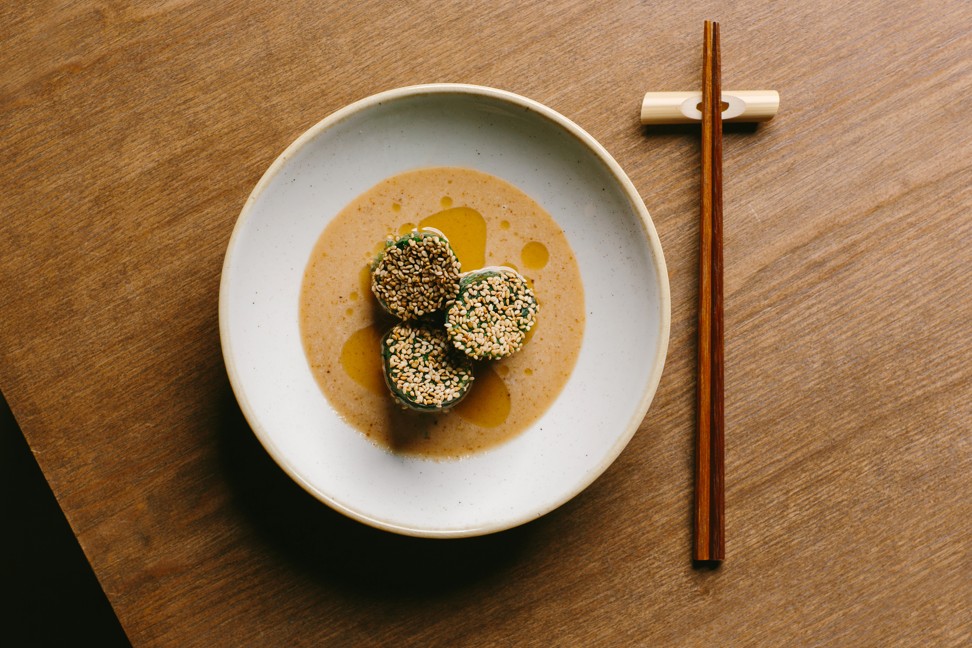 Where: Elgin Street, Central
The dishes: Spinach in white-sesame purée, crispy caramel butter corn
Why: This modern izakaya has a stripped-down menu to match its decor and music.
We loved everything we tried, but the ones you will be addicted to are the crispy caramel butter corn and the spinach in white-sesame purée – both are great with a beer.
Critics dish out on the Hong Kong and Macau Michelin Guide's 2019 picks
Hunter & The Chase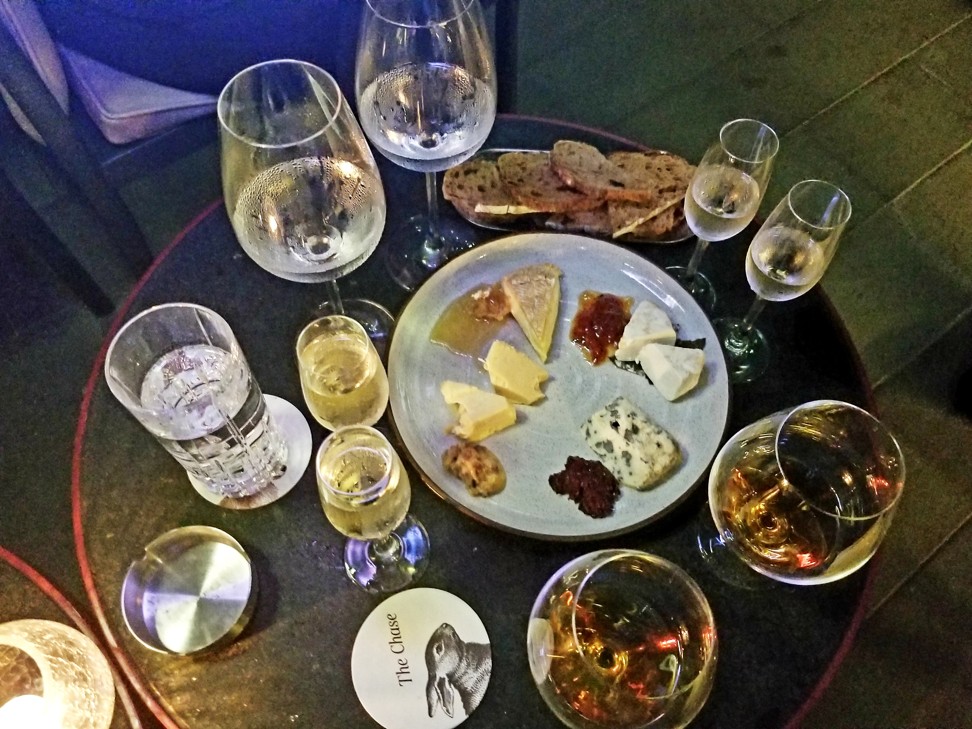 Where: 3/F and 4/F, The L Place, 139 Queen's Road Central
The dish: Cheese-pairing menu
Why: This dual-concept venue offers American cheese at Ralphie's Cheese Bar at The Chase (on the third floor) – it's the only eatery in town to serve American cheese.
We loved the home-made jams and pairings, not just with wine, but vermouth, moscato and even Armagnac.
We review Lumi, where fine fare is served with a light Japanese touch
American cheeses here are mild and creamy.
We loved sitting on the terrace and tucking into the soft oma cheese with honeycomb paired with white wine, O'Banon goat's cheese with spicy tomato jam and dry vermouth, and Bayley Hazen blue cheese with sour cherry and Armagnac.
Jade Garden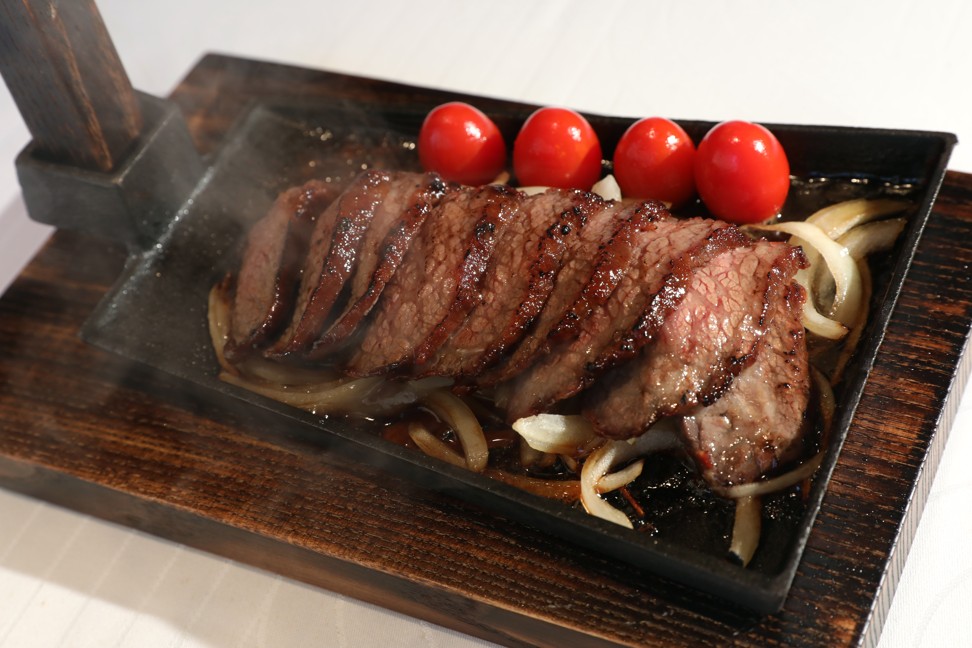 Where: Star House, Salisbury Road, Tsim Sha Tsui
The dish: Char sui beef
Why: This is the flagship Jade Garden, which opened in the early 1970s.
Still a popular eatery, the recent refurbishment has included modern menu items, such as a twist to char sui.
Traditionally made with pork, chef Wu Yuk-ming discovered that beef sirloin works just as well, and diners agree that the buttery soft texture goes well with the marinade, and it is a popular dish on its menu.
La Petite Maison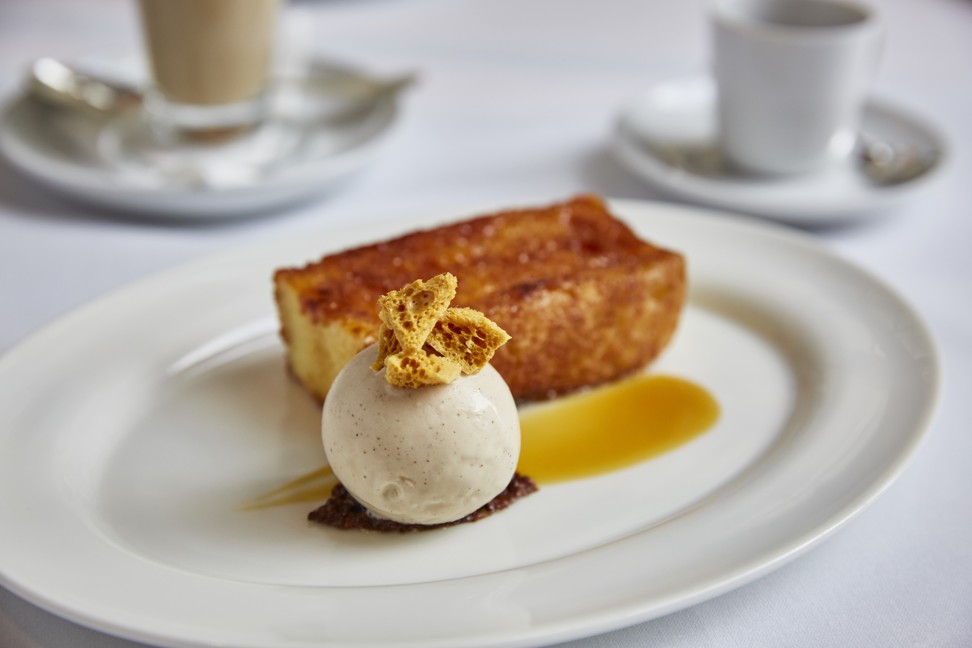 Where: H Queen's, 23-29, 1/F Stanley Street, Central
The dish: French toast
Why: The bread has been thoroughly soaked in an egg-and-milk mixture so that it's almost runny inside, while a crisp and slightly charred outer layer hold it all together. It is served with a side of ice cream.
We never thought a breakfast item could be such a decadent dessert.
We now know why many celebs love this restaurant in France and London: there are so many notable dishes on the menu.
5 great Japanese omakase restaurants in Hong Kong you need to try
Man Wah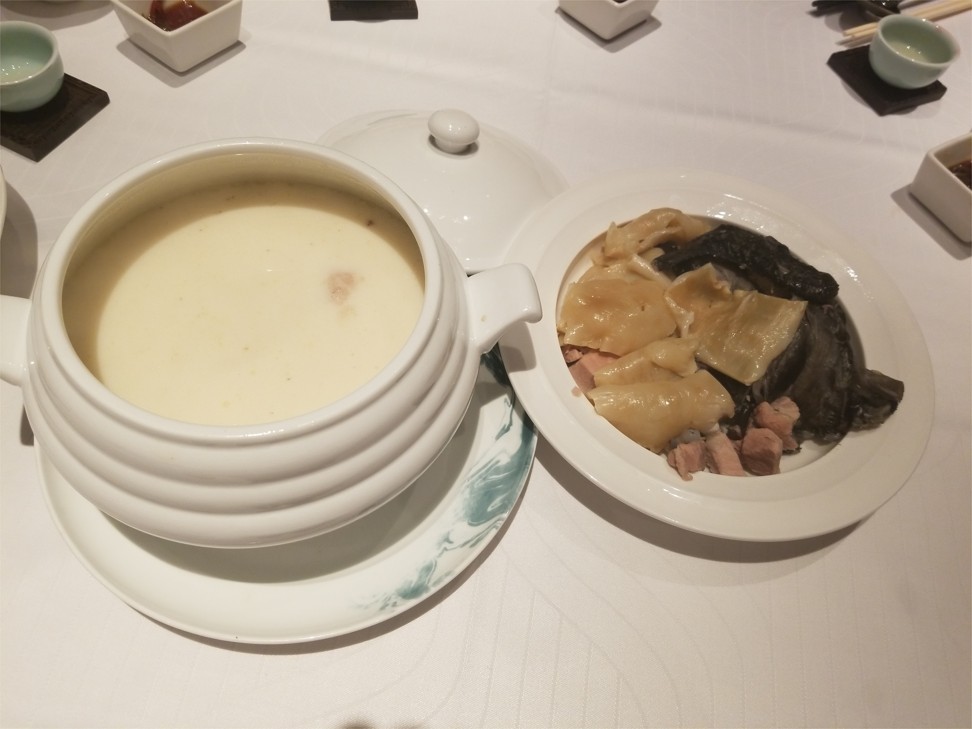 Where: Mandarin Oriental Hong Kong
The dish: Almond cream, egg white with sesame dumpling
Why: We all stopped talking to enjoy every mouthful of this traditional Chinese dessert.
The sesame dumpling added umami and texture to the sweet soup.
Originally taken as tea with China's imperial families, as it was said to be good for the skin, the "almond tea" evolved into the sweet dessert we now know well.
NOBU
Where: 2/F InterContinental Hong Kong, 18 Salisbury Road, Tsim Sha Tsui
The dish: Black cod saikyo yaki
Why: We never tire of the signature dish of chef Nobu Masuhisa, who says it is one of 10 dishes that put him on the worldwide culinary map.
Saikyo means "west city" in Japanese, and is the former name of Kyoto, and the dish features sweet white miso that comes from the Kyoto area.
5 places where you can eat wild game in Hong Kong this autumn
Miso black cod has been around for centuries in Japan, but Nobu adds his special touch, making it sweeter than the original.
We love the tender cod with the crispy skin and sweet and salty flavours. This Nobu classic will never get old.
PEKING GARDEN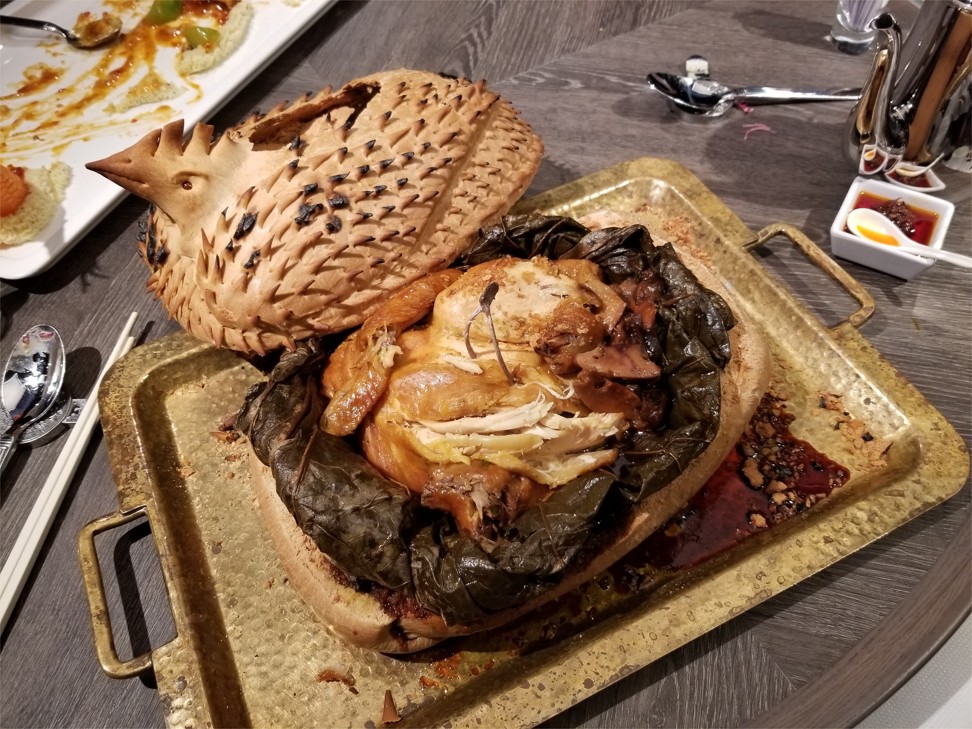 Where: Star House
The dish: Beggar's chicken
Why: The dramatic entrance of the encased chicken, which is doused in rose liqueur and then set alight is not to be missed.
Then diners can have a go at hammering the hard shell until it breaks, revealing the chicken inside which has a deliciously rich flavour of whelk, abalone and mushroom.
SEVVA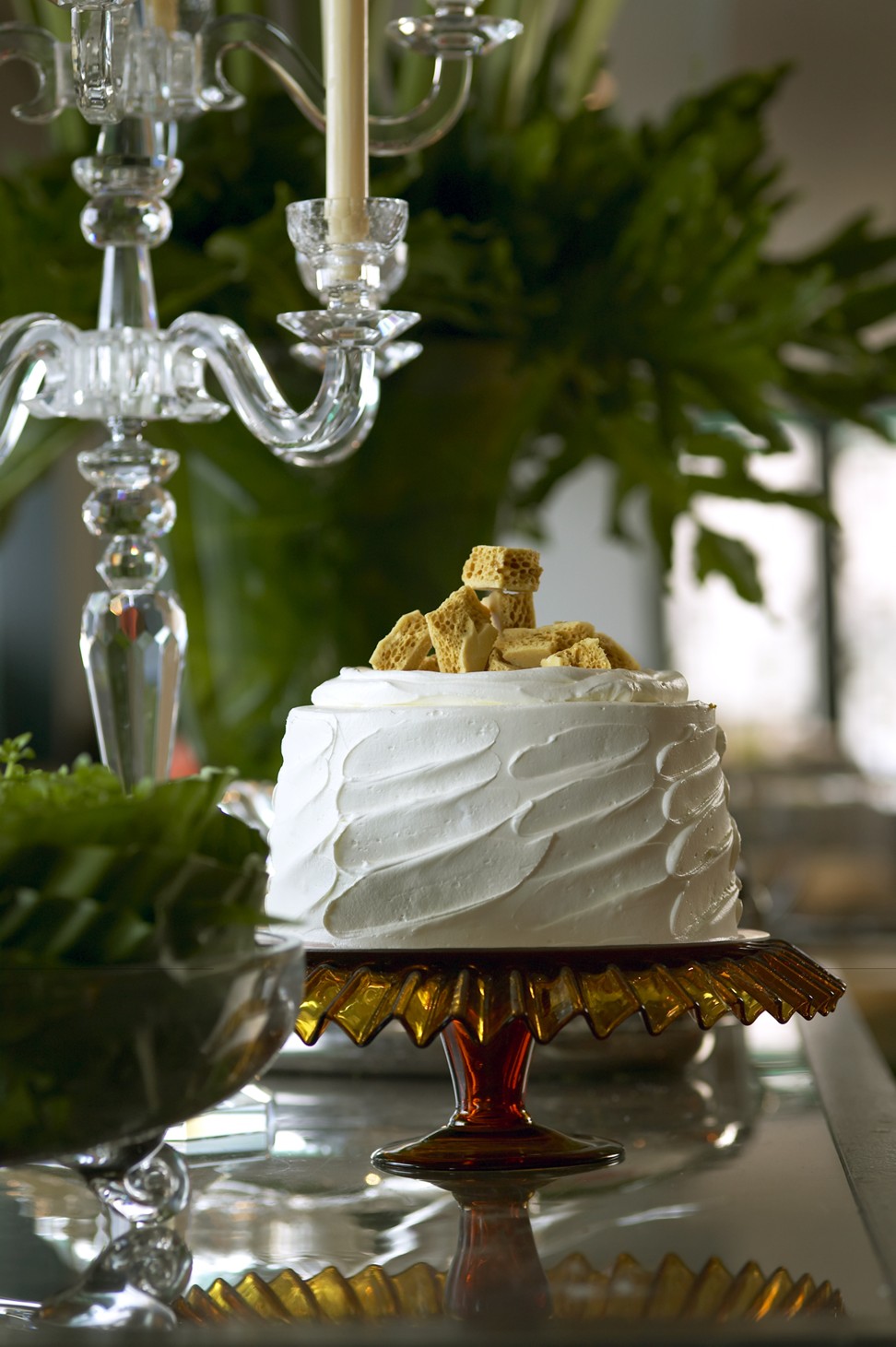 Where: Landmark Prince's, 25/F, 10 Chater Road, Central
The dish: SEVVA's original caramel crunch cake
Why: It's light and indulgent – made with soft vanilla chiffon-sponge cake with layers of home-made caramel toffee crunch.
It goes best with a mid-afternoon tea or coffee.
Once you have tried the crunch cake, you will be drawn back for more. It is one of the reasons Bonnae Gokson is known as the Queen of Cakes.
What are the Michelin Guide's best restaurants in Thailand?
The Chinese Library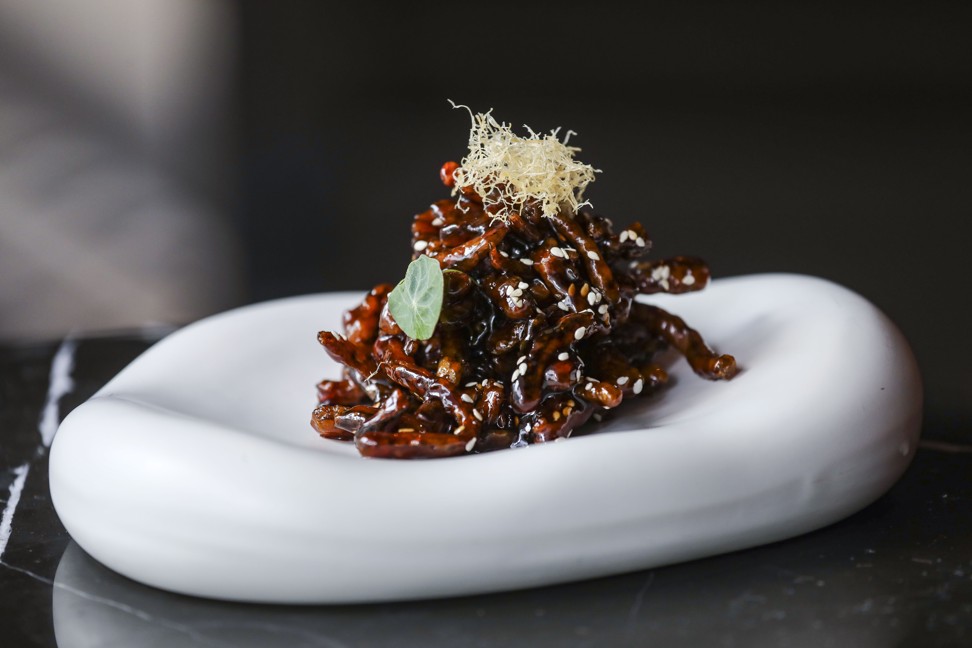 Where: Police Headquarters, Tai Kwun, 10 Hollywood Road, Central
The dishes: Crispy Wuxi eel, laksa xiao long bao
Why: The eel goes really well with 15-year-old aged vinegar and is perfect with a cocktail: the crispy sticky sweet sour eel dish is really moreish.
On the dim sum lunch menu, the laksa xiao long bao is genius, fusing two favourite flavours, one from Singapore and the other Shanghai. Dim sum in this colonial setting is a must-do.
TOWN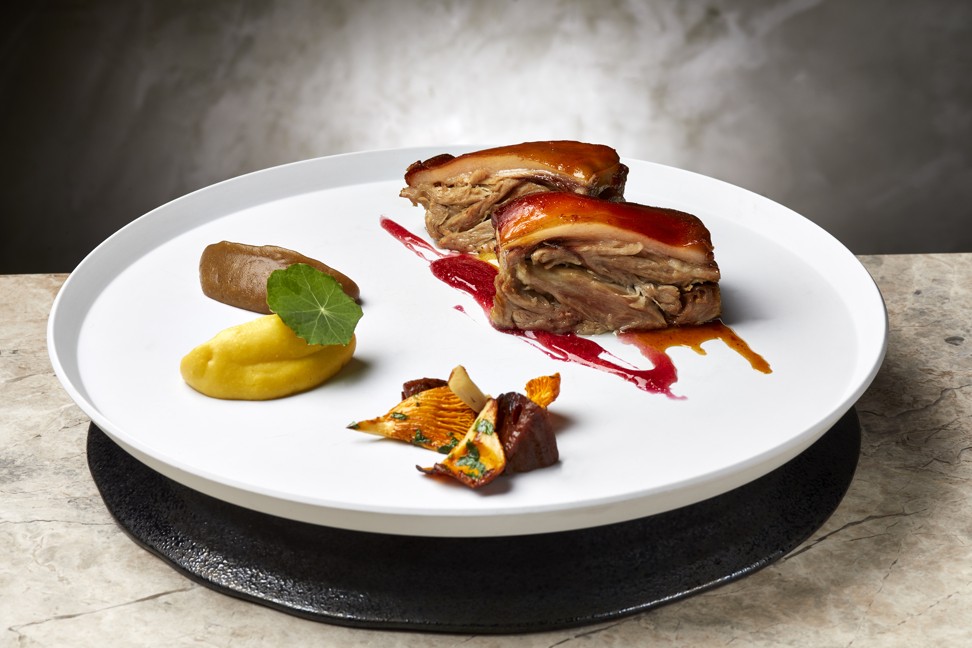 Where: 10/F Cubus, 1 Hoi Ping Road, Causeway Bay
The dishes: Mayura Wagyu short rib, miso-mole, egg yolk, edamame, rice, matsutake, and gobo and suckling pig "kalua" with smoked aubergine, corn, lotus root and pomegranate ponzu.
Why: Both dishes are amazing.
It is like choosing which is your favourite child: you can't do it.
Oh, and for dessert, the yuzu soufflé is a show-stopper.
We review Artisan de la Truffe, a new truffle restaurant and store
Yan Toh Heen
Where: Lower level, InterContinental Hong Kong
The dish: Wok-fried Kagoshima Wagyu with white fungus and sansho pepper
Why: This year Yan Toh Heen moved to a different spot in the hotel, and with the new decor and location, new inspired dishes were added to signature favourites.
This dish was inspired by chef Lau Yiu-fai's trip to Kagoshima, where he sourced some of the best seasonal ingredients.
The dish is simple, and proof that the best dishes do not need to be complicated – just contain the best seasonal ingredients.
Want more stories like this? Sign up here. Follow STYLE on Facebook, Instagram and Twitter