Afternoon tea is a tradition that started in mid-19th century England, when Victorian royals requested finger sandwiches, desserts and tea in the late afternoon to avoid feeling hungry before dinner.
Wealthy women would also invite their friends and these social events became quite fashionable.
Most luxury hotels still honour this British tradition in Hong Kong, but finding vegan versions of this afternoon ritual has been challenging in the past.
Why Hongkongers find a vegan lifestyle difficult to embrace
It has not always been easy for chefs to create plant-only alternatives to favourites such as scones with clotted cream, dairy-heavy desserts and finger sandwiches.
However, there are a few places in the city that now provide a delectable vegan afternoon tea that does not compromise on taste, presentation, or quality.
Everyone, including vegans, can indulge in afternoon tea; so gather some friends and sample the delicious delights Hong Kong has to offer.
What vegan Lewis Hamilton ate to fuel his fifth F1 world title
The Ritz-Carlton, Hong Kong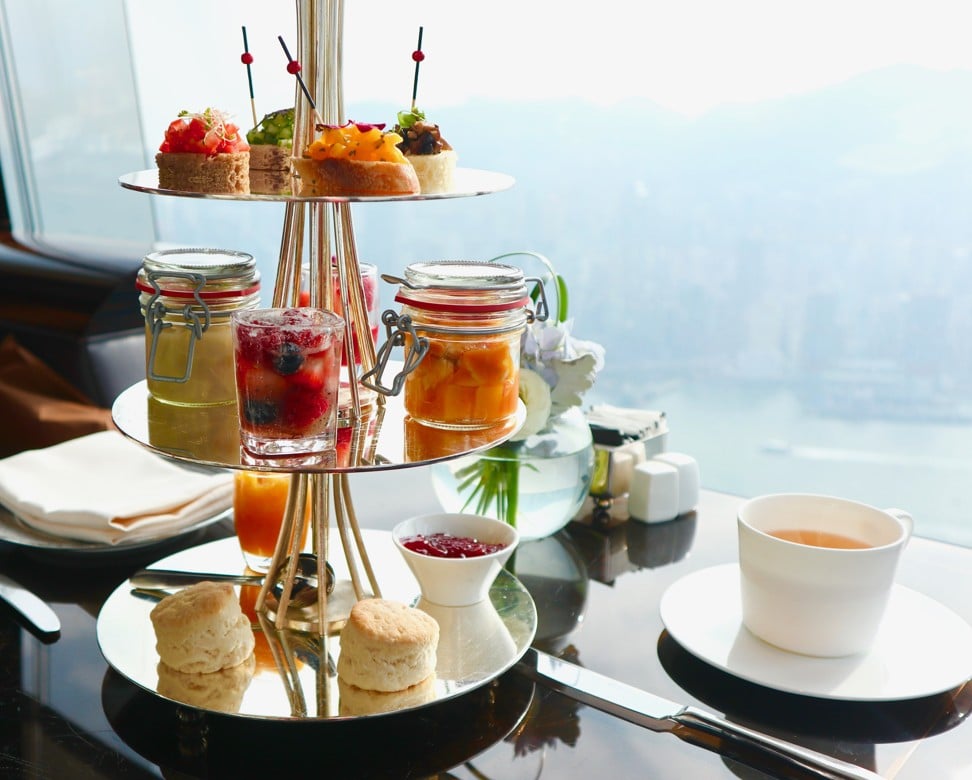 If you're looking for views that will impress, The Ritz-Carlton, Hong Kong is the place to visit.
At both the Lounge & Bar and Café 103, you can enjoy breathtaking views across Victoria Harbour from more than 100 floors up.
The vegan afternoon tea set comes with four open sandwiches, five fruit puddings and two small scones.
Where are the best places for a vegan holiday?
Soya milk can be provided for the tea.
The vegan set is very fruit-based, so if you are looking for a light and healthy option, The Ritz-Carlton is the best choice.
The vegan afternoon set must be booked at last 48 hours in advance.
HK$418 (US$55) for one, HK$688 for two
International Commerce Centre, 1 Austin Road West, Tsim Sha Tsui
Four Seasons Hotel Hong Kong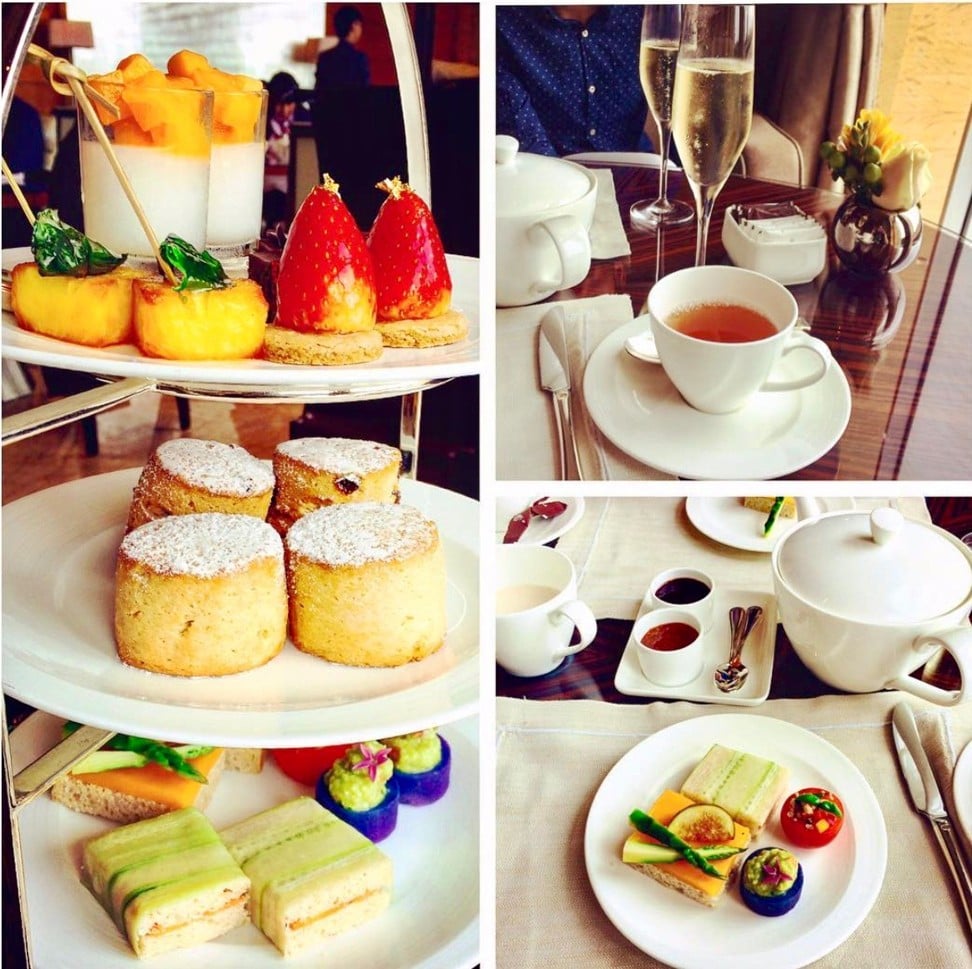 The Lounge at the Four Seasons Hotel Hong Kong is a comfortable, lavish setting for afternoon tea, with live jazz music in the afternoon and beautiful decorations during the festive season.
Its vegan tea set has the best vegan scones in the city, which are fluffy and delicious, in both plain and raisin varieties.
The savoury items are colourful and dainty and soya milk is available.
This place is quite popular, so it is best to make a reservation at least two weeks in advance.
HK$285 for one. HK$540 for two (weekdays)
HK$305 for one, HK$585 for two (weekends)
8 Finance Street, Central
How to make the Chinese dish of vegan sweet and sour pork with Ming Court
Tea Saloon by Anotherfineday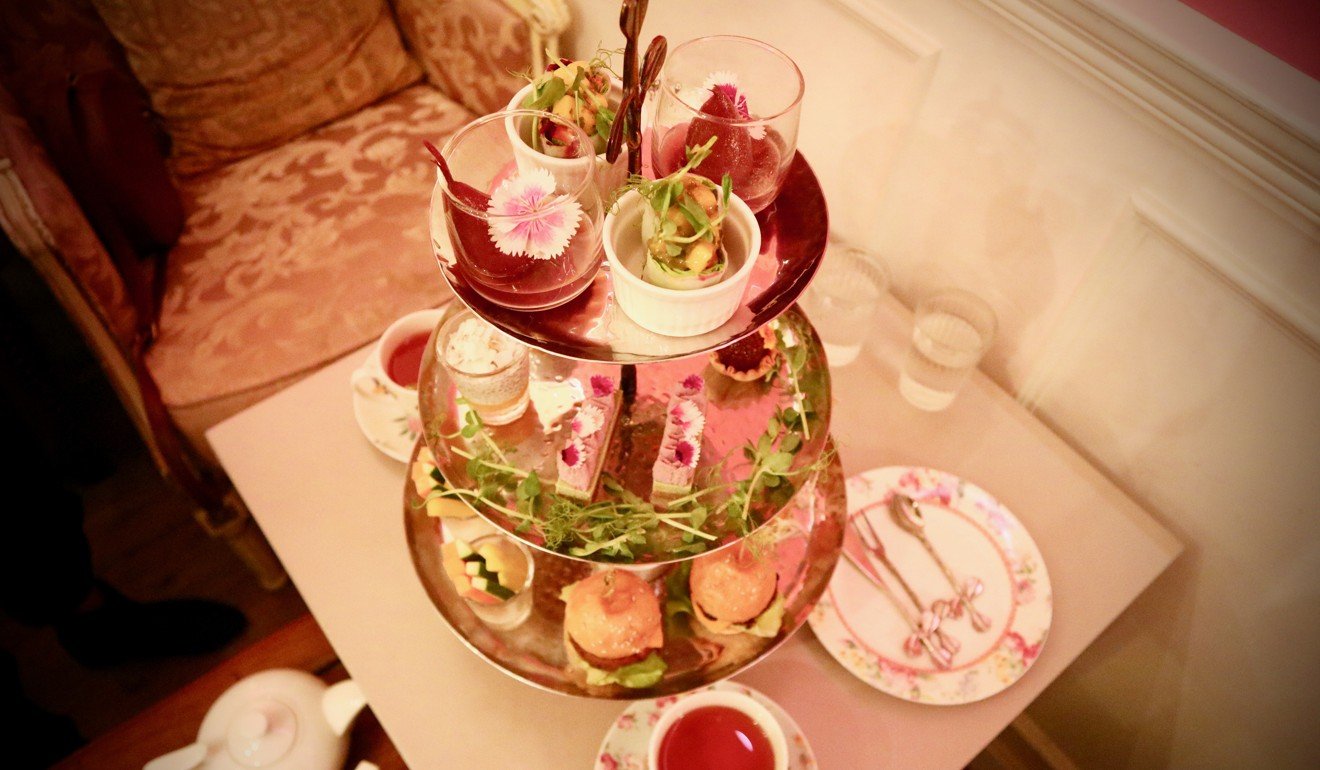 This hidden gem in Mid-Levels is a must-visit place.
Offering vegan, vegetarian and gluten-free afternoon tea sets, this is the best choice if you want a truly vintage experience.
You'll feel as if you've stepped right into the novel Alice in Wonderland here because the vegan afternoon tea set is extravagant, with each item delicately prepared.
Presentation is key here and the food is scrumptious.
Enjoy Beyond burger sliders, vegan crab cakes and an array of carefully crafted desserts, including ice cream.
The most exciting part is the tea is specifically chosen for you based on your personality traits.
HK$298 for one, HK$538 for two
Mid-Levels, G/F 80-82 Peel Street
The Mandarin Oriental, Hong Kong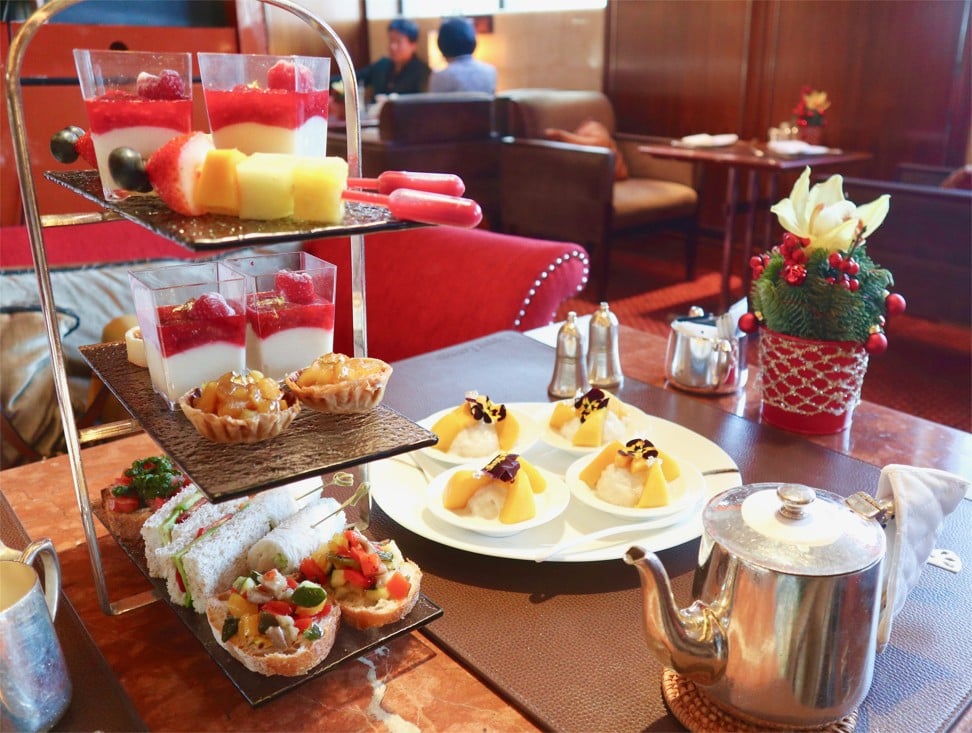 The most impressive out of all of the luxury hotels' offerings in the city, you can enjoy impeccable service, attention to detail and a variety of flavours with its vegan tea set in either the Clipper Lounge or Café Causette.
The hotel has a preset vegan menu, including a festive one, and during December a portion of the proceeds from the festive tea set will be donated to the Hong Kong Adventist Hospital Foundation.
Enjoy mini baguettes, sandwiches, tarts, fresh fruit and puddings – all of which taste delicious and are beautifully presented.
HK$368 for one (weekdays)
HK$398 for one (weekends)
5 Connaught Road, Central
Vegan 'pork bun' marks start of Green Monday's 'global movement'
The Peninsula Hong Kong Hotel
Quite possibly the most famous venue for afternoon tea, The Lobby at the Peninsula provides scones, artistic finger sandwiches and a variety of desserts including frozen and chocolate varieties.
Soya milk is also provided for tea.
Note that the vegan set must be ordered in advance.
The hotel does not take reservations, which means it is first come, first served.
So, you may have to wait in line for more than an hour with hordes of tourists before getting seated.
HK$388 for one, HK$688 for two
Salisbury Road, Tsim Sha Tsui
LN Fortunate Coffee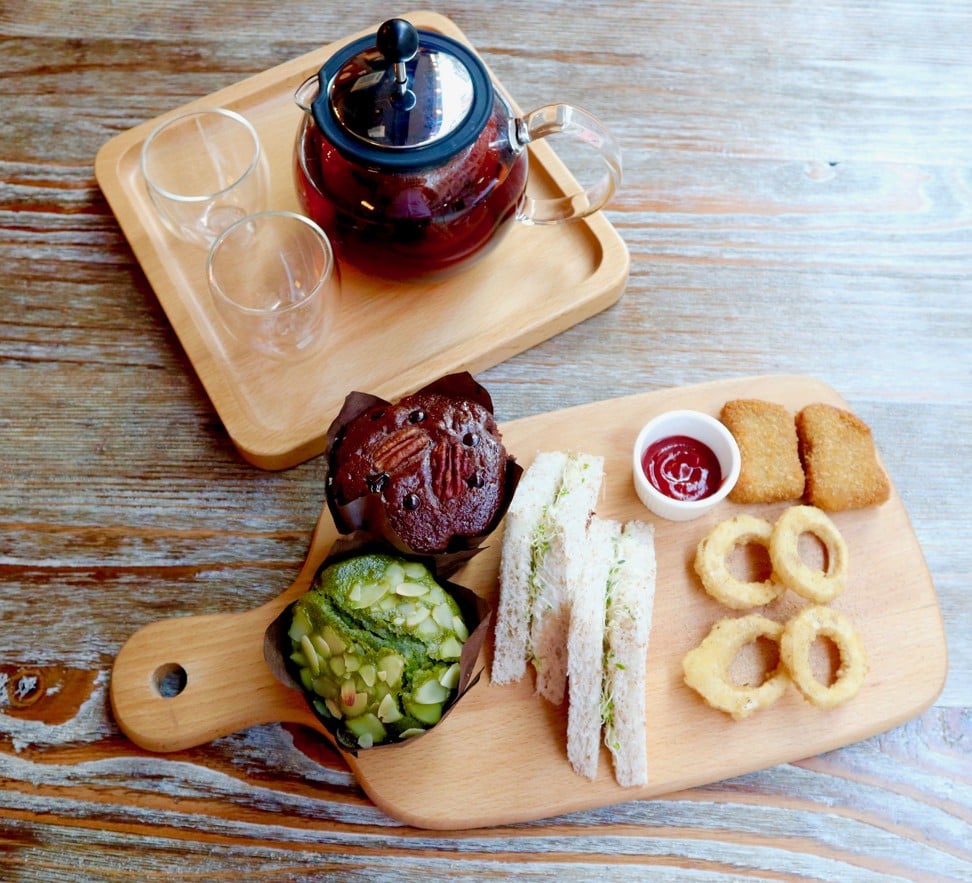 This all-vegan coffee shop and restaurant hailing from Malaysia provides fresh-baked pastries, lunch and impressive coffees.
Its Fortunate Tea Set for two is less formal than the others, but tasty and hearty nonetheless.
Enjoy vegan "chicken" nuggets, calamari (made from konjac), tofu salad sandwiches, home-made muffins and hot tea in a relaxing, friendly environment.
Note that this set is available only on Sundays and holidays.
HK$168 for two
G/F, Altro, 116-118 Second St, Sai Ying Pun
What does it really mean to eat like a vegan?
Want more stories like this? Sign up here. Follow STYLE on Facebook, Instagram and Twitter