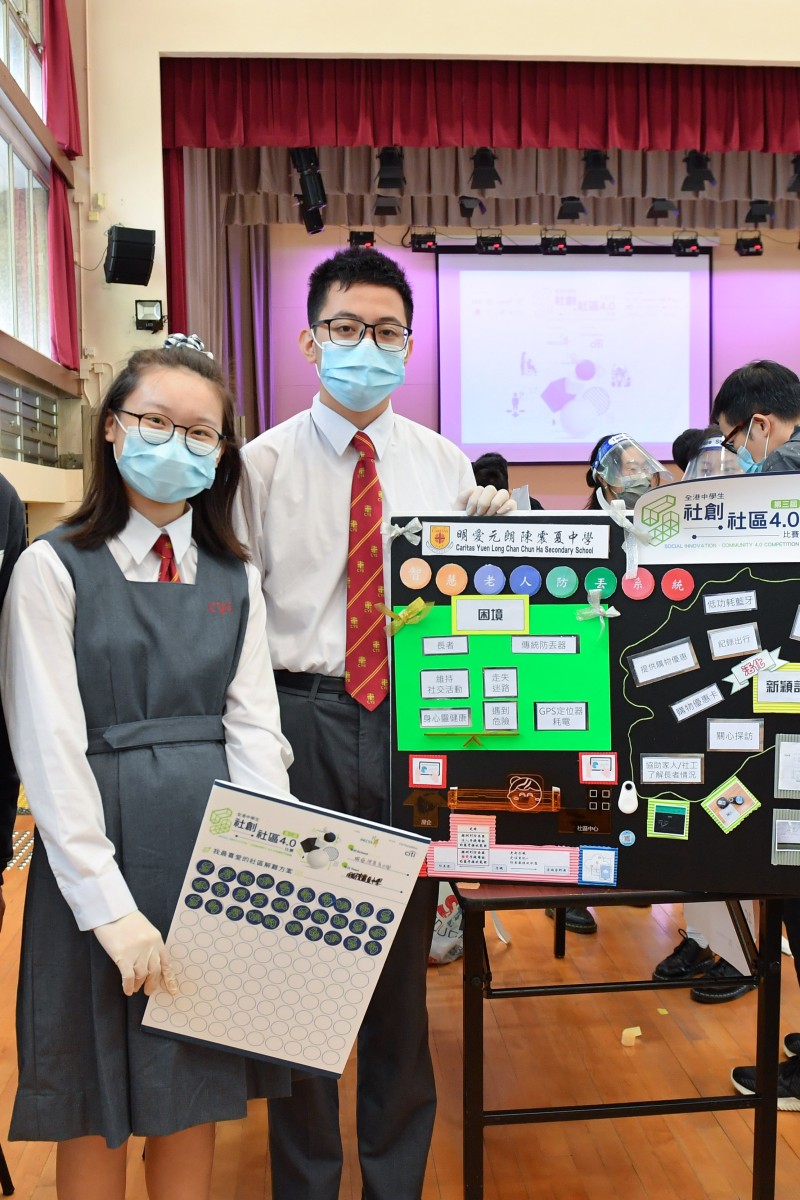 The Hong Kong Council of Social Service, in cooperation with the North District Office and Education Bureau, gives students the chance to solve real-world problems with "Social Innovation Community 4.0"

Ho Tsz-sing, a teacher from Caritas Yuen Long Chan Chun Ha Secondary School, discusses his reasons for taking part in the competition
The Hong Kong Council of Social Service
|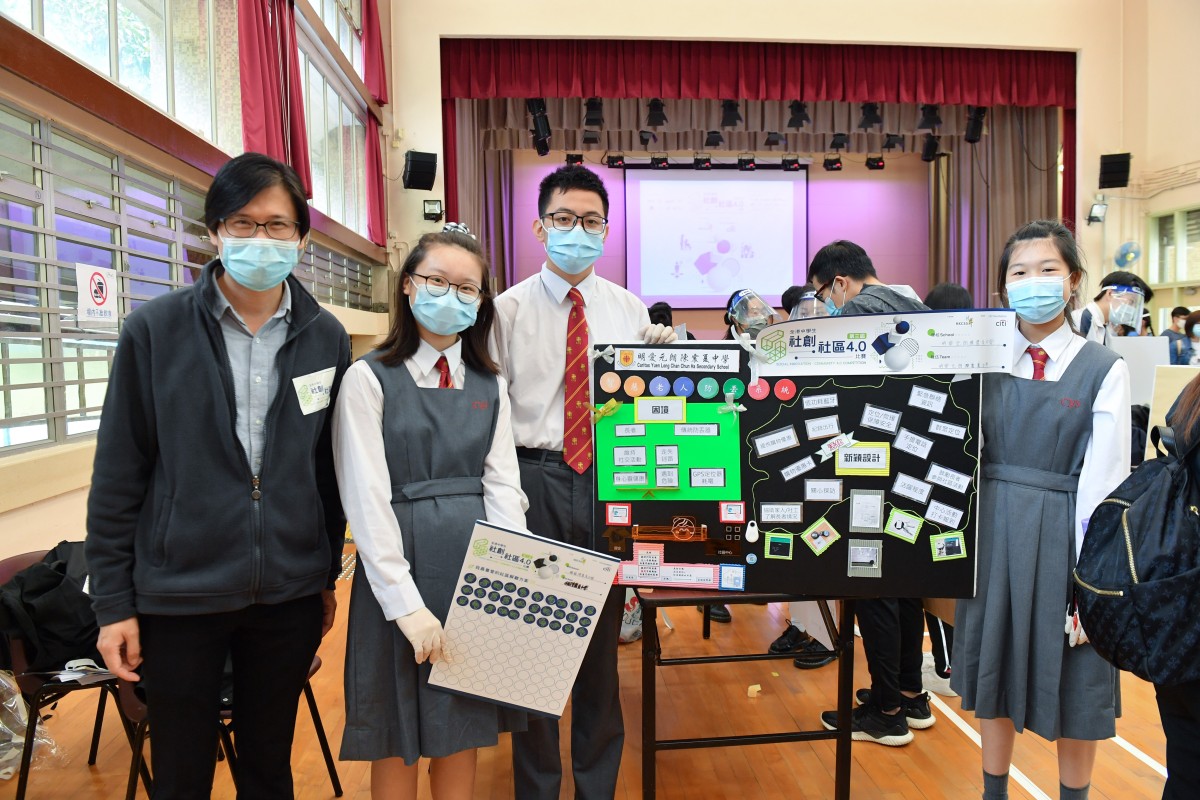 Mr. Ho Tsz-sing and his student team at the Community Pitching Day, where they presented their proposal to North District residents.
With easy access to the internet, today's students can access a great deal of information, from a variety of sources, with a quick and simple online search. But applying that knowledge to real-life situations often requires a different kind of skills, which can't be picked up from watching a video online. 
Ho Tsz-sing, a teacher at Caritas Yuen Long Chan Chun Ha Secondary School, is helping to bridge the gap and, most recently, has done that by guiding student teams taking part in the "Social Innovation. Community 4.0" Competition where they can put the skills he teaches to good use. 
The annual competition, organised by the The Hong Kong Council of Social Service in cooperation with the North District Office and Education Bureau, offers teams the opportunity to resolve a real-life social issue. The students first receive some training and necessary background information about North district in Hong Kong. Then they learn technical skills related to app development, what it takes to engage with members of the community through non-profit organisations, and how to interview residents to understand their concerns. 
Learning to 'think, try and improve' local communities
The competition gives students a platform to use their STEM skills, as well as to develop valuable interpersonal, leadership and critical thinking skills. They can also expect to gain a better understanding of government policies and initiatives and how they affect local communities.
For Ho, who currently teaches IT to lower secondary students, fostering a positive learning attitude and making STEM fun and interesting has always been a priority. He first heard about the competition from a social worker friend and decided it would offer the kind of experience he wanted to share with his students. 
"I have always worked to build good relationships with my students and, after hearing about the competition, was able to put together a team of six," Ho says. "By attending the training sessions and participating in the competition, they gained a great deal of real-life experience because they had to develop a workable solution to a pressing problem. My students spoke to local residents in the community through the competition and learned that everyone has different perspectives, which breaks the limitations of classroom learning." 
The journey to make robots more human
Reasons behind supporting the competition
Ho added that students had to learn independently, use problem-solving skills, and apply their STEM knowledge to define the problem they were given and come up with a viable solution. That's why he's supervised two teams in the last two years. 
Taking part in the competition shows students how different people can view a situation from contrasting perspectives, and how they will have different opinions about how to best identify the main issues.  
In the classroom, Ho says he introduces a range of skills and techniques, including 3D design. However, if students can apply these skills in a real-life situation, it helps to reinforce the lessons. He firmly believes that theory and worksheets are important, but giving students the chance to collaborate and bounce ideas off each other is a great way for them to develop teamwork, communication and problem-solving skills. 
Bringing together education and design
For Ho, one of the rewards of teaching has been to see students he supervised find new interests in their school work, especially in science subjects. He also notes that working on solutions that help the elderly in North District have presented a meaningful opportunity for students to interact with Hong Kong's older generation and people from organisations that assist them. Having learned more about different needs in different parts of the community, students who took part in the competition are keen to find other ways to build on the experience. 
"Learning to work with others, compromise and cooperate has helped my students develop a better EQ (emotional quotient) and become involved members of society; this competition has made me reflect on my role as a teacher in enhancing students' practice of lifelong learning." Ho says.
Sign up for the YP Teachers Newsletter
Get updates for teachers sent directly to your inbox
Sign up for YP Weekly
Get updates sent directly to your inbox