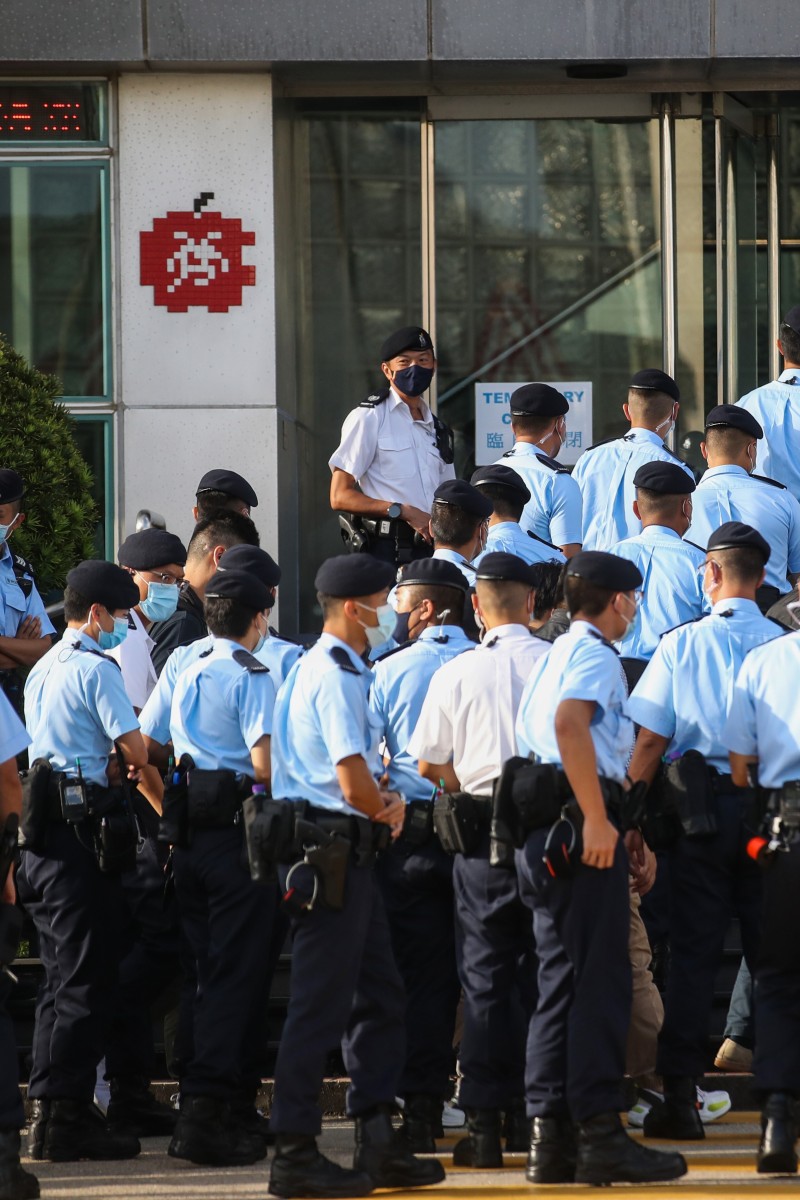 What next after Hong Kong national security police's raid of Apple Daily newsroom?
Journalists and legal scholars weigh in on how the arrests yesterday will continue affecting the future of news reporting in the city

Meanwhile, government officials say that people should not worry as long as they stick to the facts and 'don't have a criminal intention'
Police officers set up cordon line outside Next Digital Limited building in Tseung Kwan O. (Photo: SCMP / Winson Wong)
The arrests of the editor-in-chief, publisher and three other executives of Apple Daily have dealt a severe blow to Hong Kong's media scene and could encourage self-censorship among reporters, who will fear breaking the national security law, journalists and legal scholars have warned.
What happened: National security police arrest editor-in-chief and four directors at Apple Daily
But some legal experts called for calm, insisting the media should not fear the Beijing-decreed national security law as long as they stuck to reporting facts and did not practise advocacy journalism in breach of the legislation.
On Thursday, police raided the homes of the tabloid's editor-in-chief, Ryan Law Wai-kwong, and four others, including publisher and CEO of parent company Next Digital Cheung Kim-hung, arresting them for their roles in the publication of more than 30 articles that broke the law.
Apple Daily editor-in-chief Ryan Law Wai-kwongwas taken away by police from his residence in Quarry Bay on Thursday morning. (Photo: SCMP / Robert Ng)
Senior Superintendent Steve Li Kwai-wah of the National Security Department said the offending articles amounted to calls for foreign sanctions against Hong Kong and the country, and were in breach of Article 29 of the legislation banning collusion with foreign forces.
More than 200 police officers arrived at the tabloid's headquarters in Tseung Kwan O with a court warrant, cordoning off the complex, as they combed through the newsroom and seized journalists' laptops.
RTHK free to criticise government 'as long as it is objective'
Thomas Kellogg, executive director of Georgetown Centre for Asian Law, a branch of Georgetown University in the United States, said the crackdown was not in keeping with Hong Kong's mini-constitution, the Basic Law, as it provided for sufficient human rights protection and made any criminalisation of mere speech difficult.
He saw it as a warning shot that media reports about sanctions could be deemed unacceptable.
"It is a dark day for press freedom in Hong Kong when Apple Daily can be attacked based solely on the content of its news articles," he said.
5 ways the national security law has affected Hong Kong
However, Secretary for Security John Lee Ka-chiu sought to explain the difference between other media outlets and the tabloid, which he accused of using news coverage as a pretext to call for sanctions.
"We need to differentiate what the suspects have done from normal journalistic work," he said. "All journalists in the city should keep a distance [from their approach]."
Ronny Tong Ka-wah, a barrister by profession and a government adviser in the Executive Council, brushed off reactions that the crackdown had created a chilling effect on the city's media. He argued that fact-based news articles – even if they involved reporting on calls for sanctions by activists or politicians – would not fall foul of the security law.
"That's because you don't have a criminal intention, when you are just reporting facts," he said. "[The law] just says no one should collude with foreign forces to endanger national security."
HK government releases national security guidelines for schools
Hong Kong Journalists Association chairman Chris Yeung Kin-hing expressed fear that the police operation signalled a severely chilling effect on media freedom and would worsen self-censorship among news outlets.
"Members of the public will refrain from sending tips to journalists on issues of public interest, as media outlets may not be able to guarantee the security of journalistic materials," he said.
Francis Lee Lap-fung, director of the Chinese University of Hong Kong's school of journalism and communication, was concerned about the uncertainties. Fears over the potential for trouble have been hanging over media professionals' shoulders since the national security law was passed in June last year, he noted.
"On Thursday, it was confirmed that they could be arrested … But what articles got them arrested or what specific points in those reports got them arrested have not been clarified," Lee said.
Sign up for the YP Teachers Newsletter
Get updates for teachers sent directly to your inbox
Sign up for YP Weekly
Get updates sent directly to your inbox