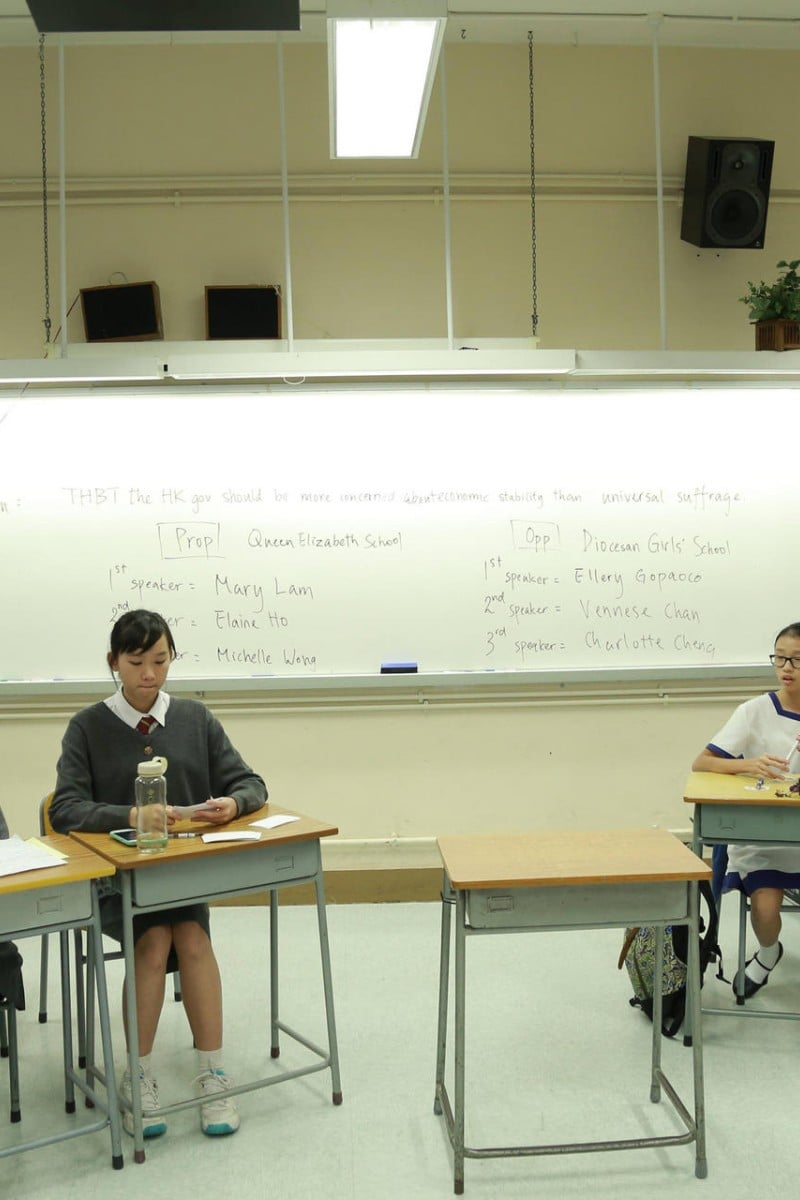 Debaters from DGS wins arguing why universal suffrage is most important
By junior reporter Joy Pamnani
Winning team showed universal suffrage deserves more attention from the government than economic stability
By junior reporter Joy Pamnani
|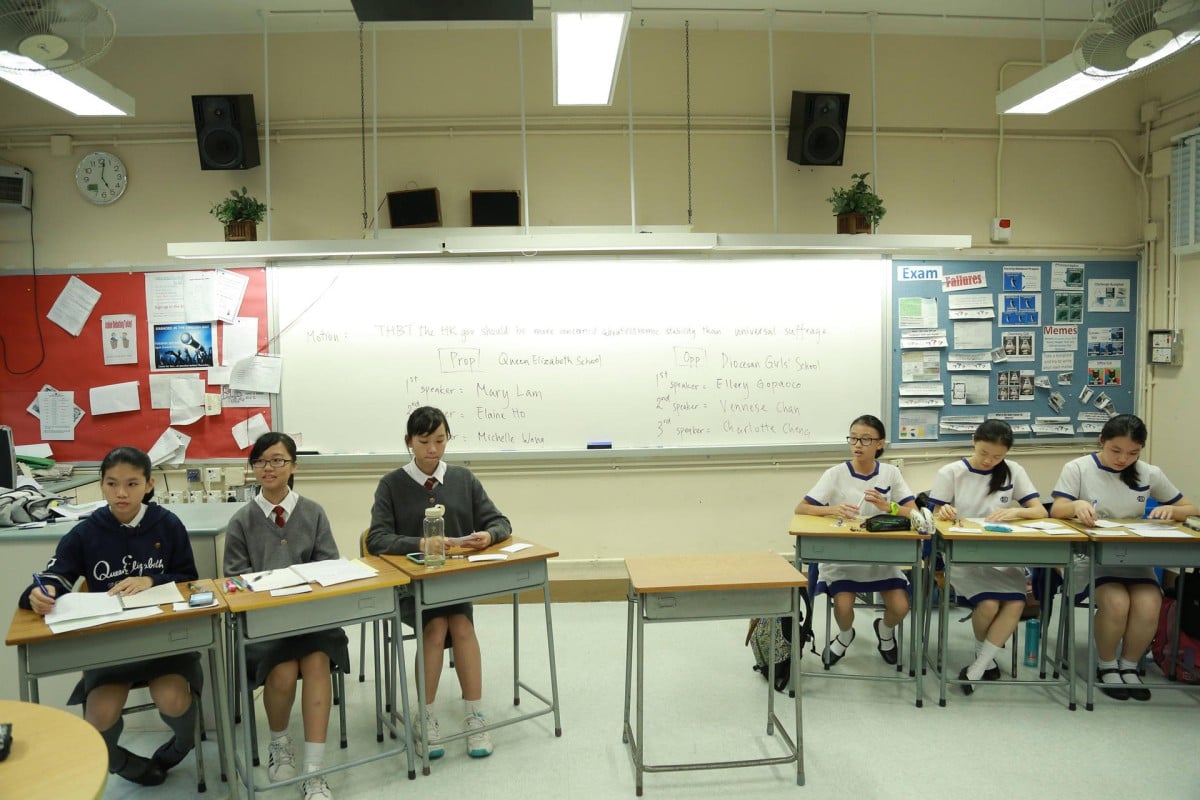 (L-R) Michelle Wong, Elaine Ho, and Mary Lam of Queen Elizabeth School, and Ellery Gopaoco, Vennese Chan, and Charlotte Cheng of Diocesan Girls' School.
Diocesan Girls' School (DGS) defeated Queen Elizabeth School in the second round of the Hong Kong Secondary Schools Debating Competition on November 26. DGS opposed the motion: "The government should be more concerned about economic stability than universal suffrage."
Queen Elizabeth School supported the motion with three main arguments: the fight for universal suffrage has negatively affected people's quality of life; it has failed to solve any social problems in Hong Kong; and it has harmed the city's reputation worldwide. DGS built their arguments around the fact that Hong Kong already has a stable economy and the feeling that the time has come for the city to look into gaining universal suffrage and the benefits it brings.
Queen Elizabeth's first speaker, Mary Lam, began the debate by defining economic stability and the factors tied to it. She also explained how changes in the economy could greatly affect people's lives. Second speaker Elaine Ho spoke about how universal suffrage can't solve social problems such as income inequality, and it will harm Hong Kong's global reputation. "Countries like India have universal suffrage, but living conditions are so poor that most residents don't even have a toilet for themselves. Is this something we want in Hong Kong?" she said.
Third speaker Michelle Wong concluded their team's case by stressing the importance of economic stability over the freedom to vote.
DGS' first speaker, Ellery Gopaoco, pointed out that stressing economic stability was pointless. "Hong Kong has the eighth largest trading economy worldwide, clearly showing we have maintained a stable economy. Freedom is one of the most important elements of a democratic society, and without universal suffrage, the international community may begin to lose confidence in Hong Kong," she said.
Second speaker Vennese Chan argued that the lack of universal suffrage is a major reason behind some of our social problems today. "With universal suffrage, we will be able to choose a better chief executive," she said. "[With universal suffrage], the government and the citizens will be better able to work together to solve problems like income inequality."
The last DGS speaker, Charlotte Cheng, said universal suffrage deserves more attention than economic stability.
"The fact that people are willing to sacrifice economic development on such a large scale shows the sense of urgency for universal suffrage and the attention it needs in our society," she said. "What's more, a lot of young people are fighting for universal suffrage, and we simply cannot afford to lose our young talent if the government is not willing to pay attention to the issue."
Veteran adjudicator Brian MacLean said that, even after 10 years in the role, this debate served as a learning experience for him, and was one that he thoroughly enjoyed. DGS won, he said, because they adopted a clever approach to the motion that was new to him.
"I was very impressed ... They didn't just speak about universal suffrage being more important because the people of Hong Kong want it. They explained the effect of such a desire on the economy, thereby clearly showing it deserves more attention from the government when compared to economic stability," he said.
He also praised the debaters for the right balance of rebuttals and arguments. Vennese received the best speaker award for her well-balanced speech involving both arguments and rebuttals. Still, MacLean recommended that debaters try out a few techniques to better identify with the audience, such as adding more signs of interaction between their speakers, for future competitions.
"In debate, I understand that you've got to rush to finish all your points," he said, "but it would help if you could slow down for key points and, if possible, try to add more references among your speakers."
Sign up for the YP Teachers Newsletter
Get updates for teachers sent directly to your inbox
Sign up for YP Weekly
Get updates sent directly to your inbox