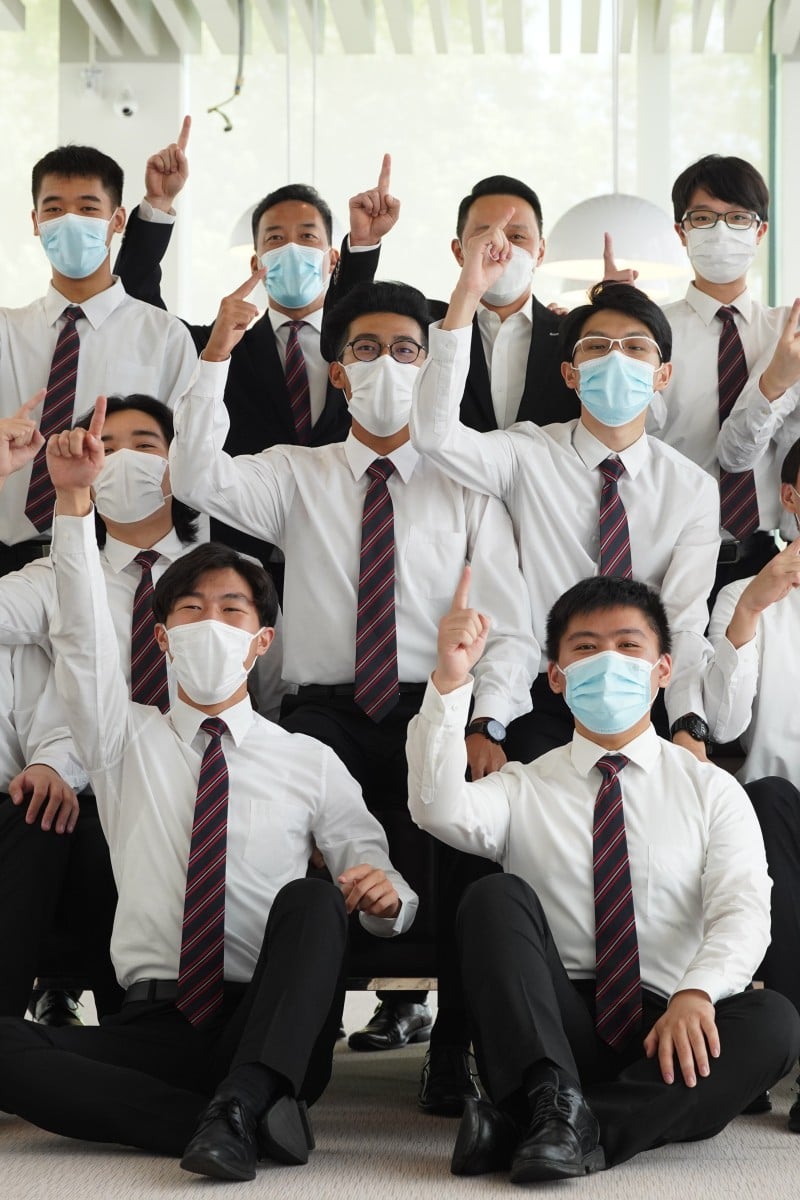 Best study tips from 2021's top-scoring IB students
9 Hong Kong students with perfect or near-perfect scores on this year's International Baccalaureate share some revision advice

Take breaks, and create a strong support network of family, friends, and teachers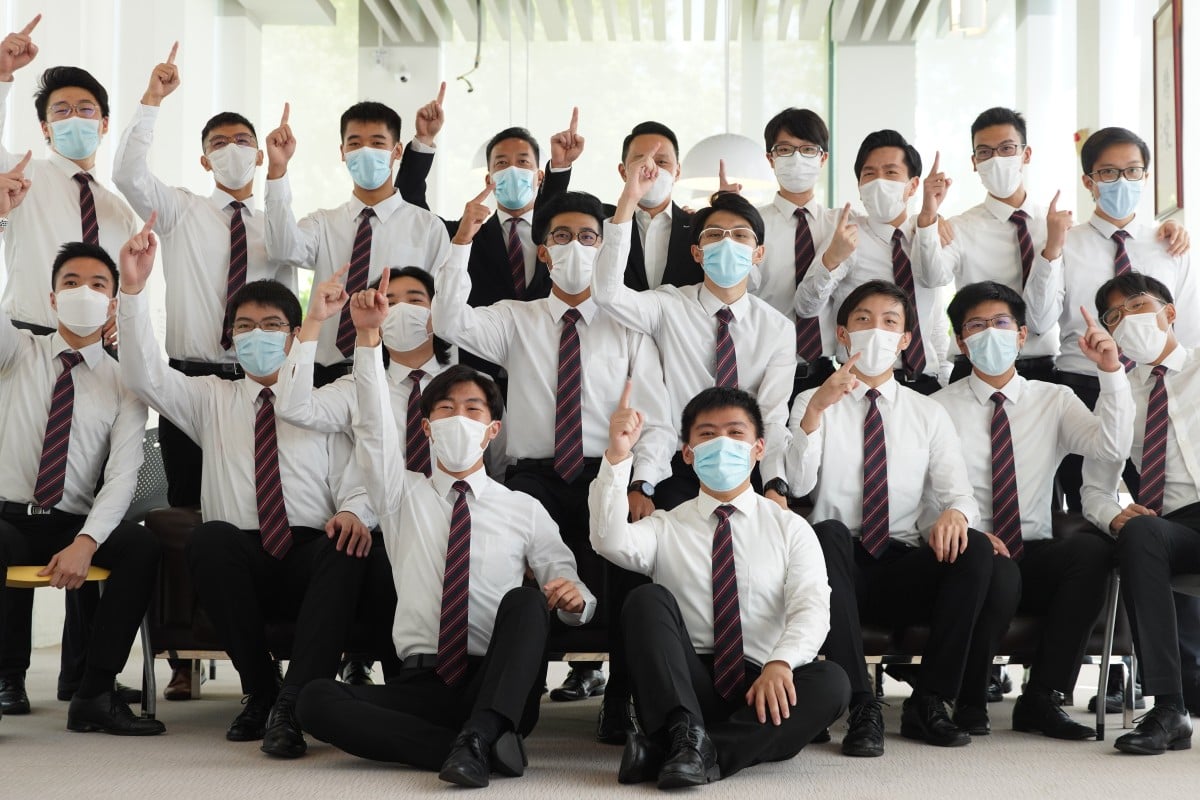 Students from Diocesan Boys' School who achieved the maximum score of 45 points on the International Baccalaureate (IB). Photo: SCMP / Winson Wong
This year, 130 Hong Kong students attained perfect scores in the International Baccalaureate (IB) exams – more than three times the number last year. You may be wondering: how did they do it? Young Post spoke to the top scorers on Tuesday for practical tips on securing the precious 45-point score.
This year's IB top scorers share about their future plans
Top scorer Erin Wong Yi-wing from St Paul's Co-educational College said one of her strategies to keep up her studies during in-person class suspension was forming a WhatsApp study group with her classmates.
"When we have lessons virtually, we feel some distance. With the study group, we ... discuss with our classmates, and then bring up questions that we have to our teacher," she said.
"Family was a big part of my IB life. It was a strenuous journey, so it was very important to have people around to provide physical and mental encouragement," said Gordon Lee, 18, of Po Leung Kuk (PLK) Choi Kai Yau School.
"I want to reiterate how important it is to ask for help when you need it," said Issac Mak Yip-kan, 18, from Victoria Shanghai Academy (VSA), adding that many students forget this. "Knowing who to ask, when to ask, and what to ask, can really go a long way. Your teachers are there to support you."
Top study tips from last year's top scorers
"I strongly believe you need to take breaks to do well," said Ryan Li Hok-yu of Diocesan Boys' School, who is planning to study law at the University of Hong Kong (HKU). He pointed out that many of his top scoring classmates participate in extracurricular activities they enjoy.
"I'm not the type of person who only studies eight, nine hours a day. For example, I like singing, so I joined the choir. And during the pandemic, I continued singing by myself at home."
Telia Mak, 19, from PLK Choi Kai Yau School aimed to score 45 points to study medicine at HKU, but that didn't stop her from maintaining a healthy lifestyle. "During study leave, I would use that time to swim. I'm not a sporty person, but ... it was actually very relaxing," she said.
Not sleeping late was what helped secure Karly Tang's 45 points. For the 17-year-old PLK Choi Kai Yau School student, she needed the rest to make sure her head was as clear as possible when sitting the exams.
"The latest time I ever slept was at 1am - otherwise, I couldn't think," she said.
Self-care tips to look after your physical and mental health
Isaac said, "Make a schedule, and stick to it."
"I had revision plans made two months in advance. I knew that I might be at home at this time … [and] how long I would have to spend on each subject," he said. "I set a timer for myself and wrote tasks on the whiteboard, so I knew my objective."
"With this mindset, I'm able to focus on the task at hand, get more things done, and at the end, wipe it off the whiteboard and give myself a sense of satisfaction," he said, adding that this motivated him through the final weeks before the IB exams.
Gordon said, "Always be ready to take on new challenges. There's a lot to do in the programme, so make sure you're mentally ready. Whenever you have a task, try to get it done immediately."
Relatable thoughts every IB student has
No rote-learning: break down your studying
Another VSA 44-pointer, Jane Chan Cheung-wai, 17, said it is most effective to "break down your studying", instead of tackling everything in one go.
"Especially if you're trying to understand and memorise data, it's best that you do it in different stages," she said, adding that this will help you have a better grasp of the knowledge you are trying to remember.
She added that this way of studying helps especially with the IB system, in which many questions require candidates to apply knowledge learned in class rather than answer with rote memorisation.
Sleeping with textbooks and other weird exam study rituals
Be self-aware and flexible
Top-scorer Christie Wong Chi-ling, 17, said: "Self awareness is important."
The VSA student added, "Know your own strengths and limitations, and prioritise which tasks to work on more - maybe a topic that you're struggling with."
Fellow VSA top-scorer Albrina Chan Oon-ting, 17, said, "Being flexible is very important."
Especially under the pandemic, she said there are things beyond your control that happen unexpectedly. So she added it is imperative to "keep an open mind to overcome obstacles".
Sign up for the YP Teachers Newsletter
Get updates for teachers sent directly to your inbox
Sign up for YP Weekly
Get updates sent directly to your inbox