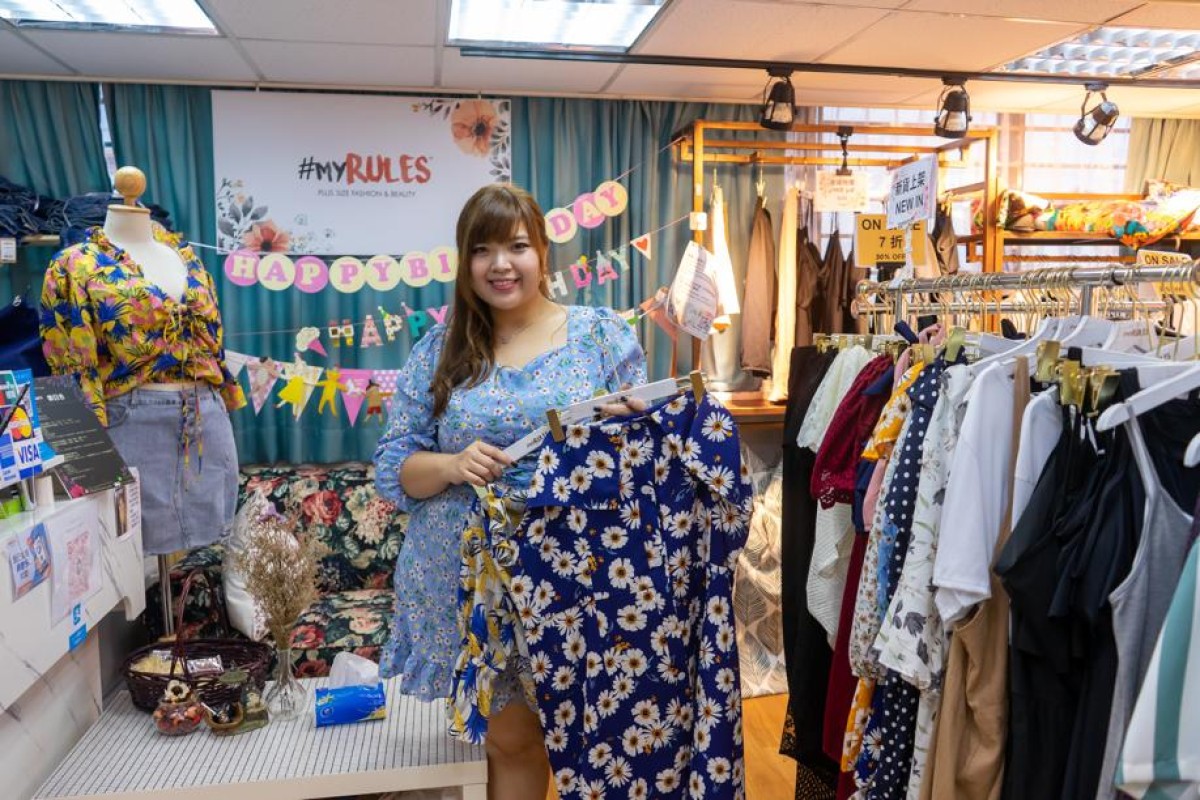 Gloria Tsui Hiu Ming founded My Rules, an online plus-size boutique in May 2018.
For plus-size girls in Hong Kong, shopping for clothes can be a difficult task. Most items that come in plus size are either too loose-fitting, or only come in dark colours, or both. That is how Gloria Tsui Hiu-ming felt, and why she decided to design her own clothing for curvier figures.
She opened a shop called My Rules Hong Kong in May last year, and set up an Instagram account – where she would promote the items in her store – which now has more than 10,000 followers. 
How social media can be a force for good
The 24-year-old says she wanted her store to encourage plus-size girls like herself to step out of their comfort zone and feel confident about dressing up. She explains that many "fei mui", a Cantonese term for plus-size girls, often shy away from bright-coloured clothes, fearing they would draw unwanted attention.
"A lot of the clothes I bought from stores, because there were not many options, looked like giant pieces of black cloth that are meant to [hide] my body. It was so difficult to find clothing that was fashionable and size-friendly," says Tsui.
"So then I thought, why not create a brand of my own and design clothes that I actually liked? That's why I opened this shop."
The name of her shop is a reminder to Tsui and her customers that they should define and follow their own rules when it comes to fashion.
Tsui told us about her struggles growing up plus-size and how people would constantly criticise her appearance. She would hear a lot of comments like, "You'd look great if you lost some weight," making her feel like she was not attractive.
These remarks pushed Tsui to take drastic measures to lose weight, including extreme workouts, not eating, and taking weight loss pills. She lost 45kg, but even after that, she found it was not still enough in other people's eyes. 
The 5 best makeup brands to look for at Sephora
"I thought I already looked much better after losing 45kg, but people still told me I wasn't slim enough," she says. 
"I didn't understand why people had to be so judgmental."
Tsui felt defeated and was eventually diagnosed with depression. She got professional help, and with the support of her friends and family, was able to get back on her feet after a year. 
Looking back, she said what helped her most during that dark time was accepting that she could never please every person in the world.
"It took me a long time to see that people will always be judgmental, regardless of my size. So why should I care so much about their standards? Why can't I follow my own rules?" 
After learning to embrace her own body, Tsui hopes she can help other girls to do the same. 
As well as selling stylish clothing, she also sits down with her customers once a week to do a live stream on either Facebook or Instagram, and discuss a wide range of topics from beauty, fashion, and romance.
What celebrity wardrobe would you love to raid?
Tsui's effort to promote body positivity is sometimes met with criticism, with people saying she should not be advocating being plus size because it is "unhealthy". Tsui clarifies all she wants to do is make plus-size girls know that they, too, have the right to feel beautiful.
"Ultimately, what you wear is not the most important thing," Tsui says. "As long as you have a kind heart,  I believe you will look beautiful." 
Sign up for the YP Teachers Newsletter
Get updates for teachers sent directly to your inbox
Sign up for YP Weekly
Get updates sent directly to your inbox