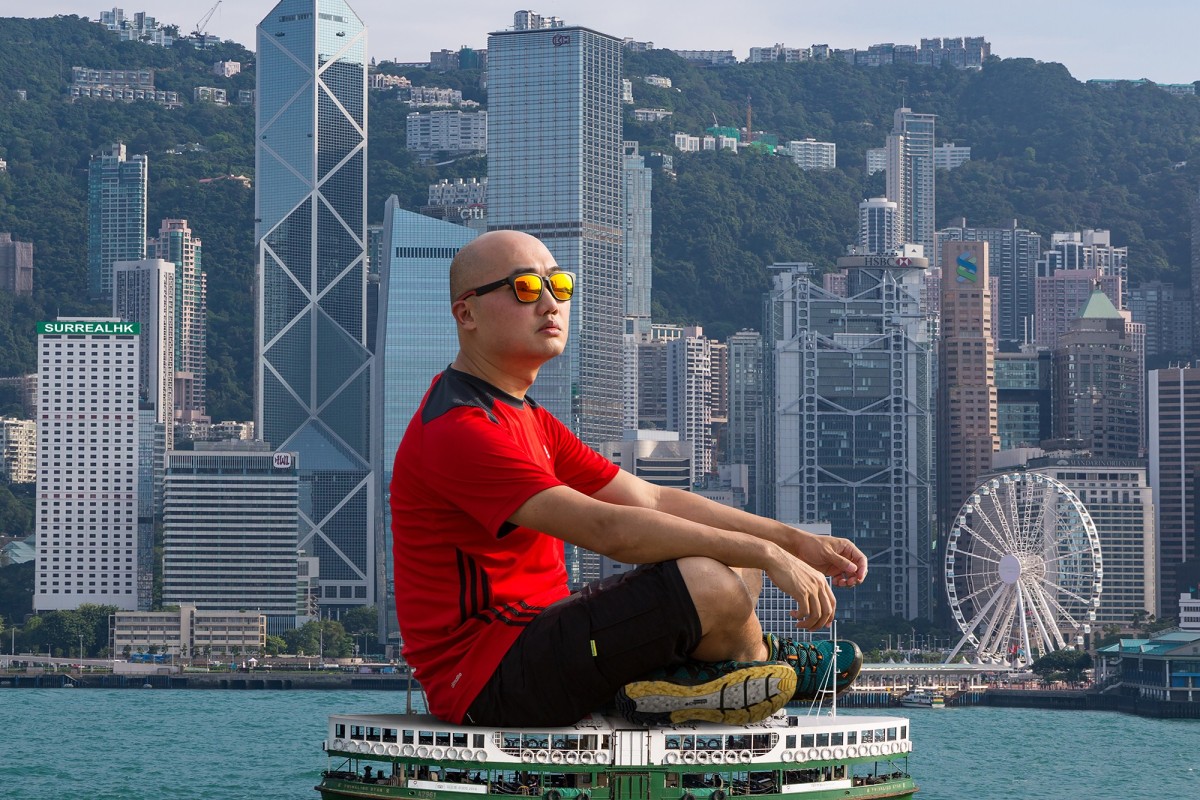 Star ferry is Tommy Fung's favourite type of public transportation in Hong Kong. That is why he decided to photoshop himself on a star ferry against the background of the city's iconic skyline.
Close your eyes and picture this: Hong Kong has fallen under the rampage of Godzilla-sized pandas, velociraptors are on the loose in Mong Kok, buses have evolved into triple-deckers, and taxis are flying in the air, Back to the Future-style.
As impossible as this scenario may seem, photographer Tommy Fung can make it happen. Just visit his Instagram page, @surrealhk, and see for yourself how he brings such bizarre scenarios to life.
The Hong Kong-born artist began the account two years ago, after moving back to the city from Venezuela in 2016.
The 10 best Instagram accounts for when you need to keep calm
All the photos on his account, which now has more than 48,000 followers, are cleverly altered using Adobe Photoshop. Most of them feature the Hong Kong's iconic urban landscape, allowing Fung to document what he calls his "surreal life" in the 852.
"When I first returned to the city, I had no idea what I could do. I wanted to keep working as a photographer, but I didn't have any connections to help me get into the industry, so I knew I had to find a way to stand out, " says Fung, who is now in his 40s.
After a year of wandering around the city, taking countless photos, inspiration struck: Fung saw a way of combining photography with comedy – with the help of Photoshop – to inject some positive energy into the stressful lives of Hongkongers.
"What I aim to do with my work is to give people a good laugh. I think Hongkongers are quite unhappy; their lives are all about work," Fung says.
Fung's quirky re-imaginings of the city weren't initially well-received; people dismissed his work as "fake photos", without paying attention to the messages behind.
"Photoshopped images seem to get a bad rap among Hong Kong people. They only cared about whether my photos were real or edited, and that's it," Fung recalls.
Best cameras for students 2019: Budget-friendly options for beginners, social media content creators, vloggers and more
"Luckily, after some time, more people began to understand and appreciate my creative outlet."
In addition to the painstaking attention to detail that makes Fung's work look so real, the key to his success is the unique perspective he has of Hong Kong.
Having left the city when he was nine, Fung's goals since moving back has been to rediscover his much-changed hometown. It means he's able to notice things about the city that others might overlook.
"I'm intrigued by so many things in Hong Kong, such as the double-decker buses and the skyscrapers, but most people are quite used to these things already, so they don't see what I see," he says.
To bring his vivid ideas to life, Fung spends around six to eight hours editing an image. More complicated projects can take more than 30 hours to complete.
While editing software can do a lot, Fung still believes that photo taking is the most crucial step in his work flow.
The 4 best free online programs for audio, video, and photo creation and editing
To prove his point, Fung refers to the most-like photo on his account. The image, from July 17, shows the Hong Kong government headquarters in Admiralty covered in Lennon Wall sticky notes, a symbol of the ongoing anti-government movement in Hong Kong.
Fung spent days scouring the city for a Lennon Wall that met his criteria – one that was not covered with plastic film, and had access to direct sunlight.
He eventually found what he was looking for in Fortress Hill, but even then, the process wasn't as simple as snapping one photo; Fung wanted every sticky note on the wall to be distinct.
"I took photos of almost every inch of the wall, instead of just copying and pasting one corner to cover the entire building," Fung explains. "Although it was a really difficult project, it is my favourite piece of work so far, because it really embodies people's demands."
The Photoshop master has worked hard to turn his hobby into a career. He encourages teenagers who share the same interest to start watching online tutorials and become self-taught pros, like he did.
"What I'm doing for a living is obviously not a conventional job, but this is my dream, and I pursued it," Fung says. "If you have a dream, go for it, you'll never know unless you give it a try. And even if you fail, that's OK, because you won't have any regrets."
Sign up for the YP Teachers Newsletter
Get updates for teachers sent directly to your inbox
Sign up for YP Weekly
Get updates sent directly to your inbox