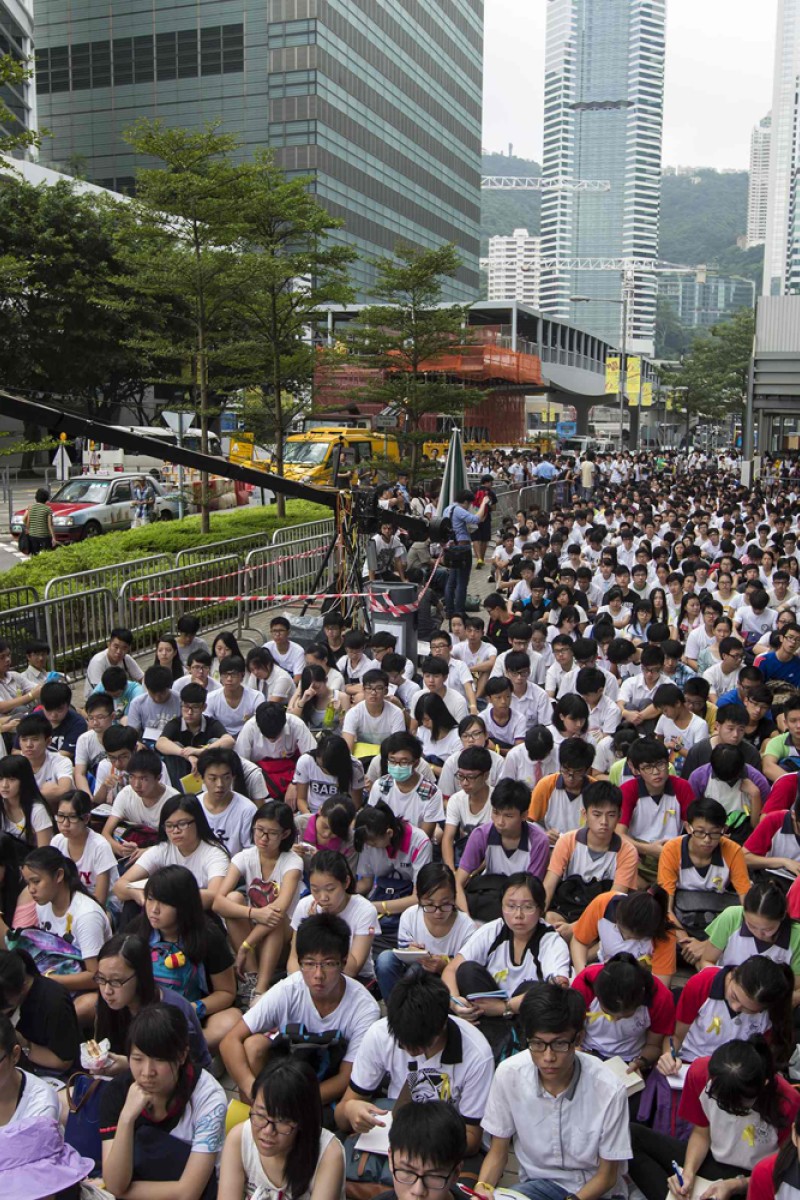 The one-day class boycott for secondary school students to fight for the city's rights to have a say in the 2017 chief executive has drawn bigger crowds than initially expected
Compiled by staff writers with reporting by Wong Yat-hei and Young Wang
|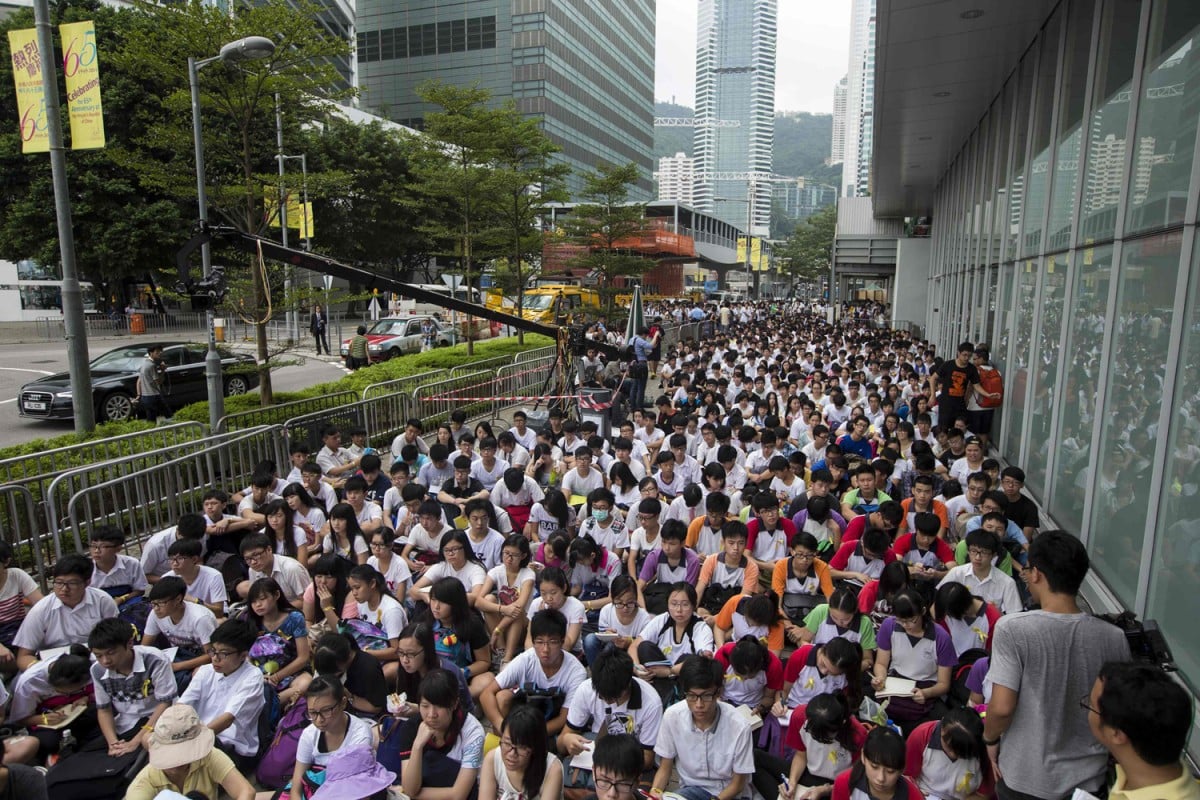 Thousands of students attend the boycott outside of the government headquarters
[UPDATE - 6.30pm, September 26]
Scholarism announced there were 3,000 people at Tamar Park by 6pm while 1,500 had been in the boycott earlier in the day.
Agnes Chow Ting, a core member of the student group, said the turnout was 15 times their expectation. "We're very happy that secondary students are willing to skip one day of precious class and come support democracy and civil nomination."
Further action has not been ruled out and the group has not decided on whether to extend the boycott next week. Chow believes more and more people will join the rally as the night goes on.
[UPDATE - 4.50pm, September 26]
After a two hour break, public lectures resumed again at 2pm at Tamar Park, with as many as four lectures going on at the same time. Previously, students who arrived after 11am were asked not to approach the stage as Tim Mei Avenue was already full of people. However, crowds are slowly filing in again, including more students. 
Cardinal Joseph Zen, head of Hong Kong's Catholic Church and a professor of theology and philosophy who had always been supportive of the class boycotts, arrived at Tamar Park at 4.25 to show his support and to thank the students for being there for the boycott.
"We need more voices ... and your voices really matter," Zen said to those gathered. "If Hong Kong is becoming more mature, then we must all mature together and we need to begin the maturing process early. The chief executive is supposed to protect us like a parent protects his or her children. If the chief executive is chosen by Beijing, will he look out for Hong Kong's interest and serve us for real? Of course not!"
Phoebe Fong Tsz-ching, a Form Five student from True Light Girls' College who went to school in the morning and joinred the boycott after lunch, said  that "some of my schoolmates are joining [the boycott] after school, but I think I'm the only one who skipped classes." According to Phoebe, most of her schoolmates are not boycotting classes because they are worried it might affect their studies. They also think it's too much trouble to get their parents' permission needed to leave school for the boycott. Phoebe's parents supported her decision to boycott, however, she admits she doesn't know much about universal suffrage, but she's hoping to learn more from the lectures. 
Ho Man-ki of St Francis Xavier College is on his fifth day of boycotting classes, and he hopes those who stayed in school will develope a curiosity for what's going on, and try to put in more of an effort towards the movement.
Art students from CUHK are asking people to leave their footprints on a roll of paper in an artistic expression of the boycott's support.
"Arts is closely related to politics," year three arts student Wan Wing-yu said. "By taking everyone's footprints, we hope to remind people that we will continue to fight for our democracy."
Secondary school students' one-day class boycott started today at 10am at Tamar Park, and at 11am student activist group Scholarism announced there were 1,200 people at the rally. Organised by Scholarism, secondary students are walking away from classes to take part in the boycott in an attempt to make Beijing rethink its restrictive framework for the 2017 chief executive poll.  
Today's boycott is the first large-scale secondary school strike, and the fifth day of a week-long class boycott for tertiary students. However, students who arrived after 11am were forced to stand far away from the stage as Tim Mei Avenue was already full.
Before the start of the rally, Scholarism convener Joshua Wong Chi-fung said the class boycotts are for a better future. And Dr Ben Au Yeung of Chinese University lectures today as a guest lecturer.
Esther Yue Hiu-ching, a Form Three student from St Mary Canassian College, said that she has boycotted class since Wednesday. "I joined the boycott because I believe in universal suffrage. My school supports my action."
Another student at the boycott, Christy Hung, does not have her school's support for the boycott. However, the Form Three student is at the rally with 16 other students from her Kwai Tsing district school. Christy and her peers have been told they will not be penalised for boycotting so long as they have a letter from their parents.  
Around 13,000 people gathered at the Chinese University on Monday to kick off the protest against Beijing's ruling on the 2017 chief executive election, followed by public lectures provided by scholars with different academic backgrounds.
On Tuesday morning, members from Hong Kong Federation of Students waited outside Chief Executive Leung Chun-ying's office in an attempt to hand him an open letter and invite him for a dialogue with the students. However, Leung walked past them and later said the members' decision to rush through the metal barriers set up that morning indicated they were not there to talk calmer, so he decided to return to his office.
Later that day, Dr David Lloyd Smith, senior lecturer of the history department at Lingnan University, gave a lecture on totalitarianism, Hong Kong, and George Orwell's Nineteen Eighty-Four and Animal Farm. By the following day, an "Expel David Lloyd Smith" Facebook page was created to condemn Hong Kong government for not expelling Smith from his position for beholding a political opinion.
Smith himself, and his daughter, has both liked the page in response. The page has a total of eight likes.
On Thursday night, around 4,000 people marched from Tamar Park to the rear gate of Government House, requesting to meet the chief executive. About 800 of them set up camp outside around 12.40am. Leung declined their request to meet.
Sign up for the YP Teachers Newsletter
Get updates for teachers sent directly to your inbox
Sign up for YP Weekly
Get updates sent directly to your inbox