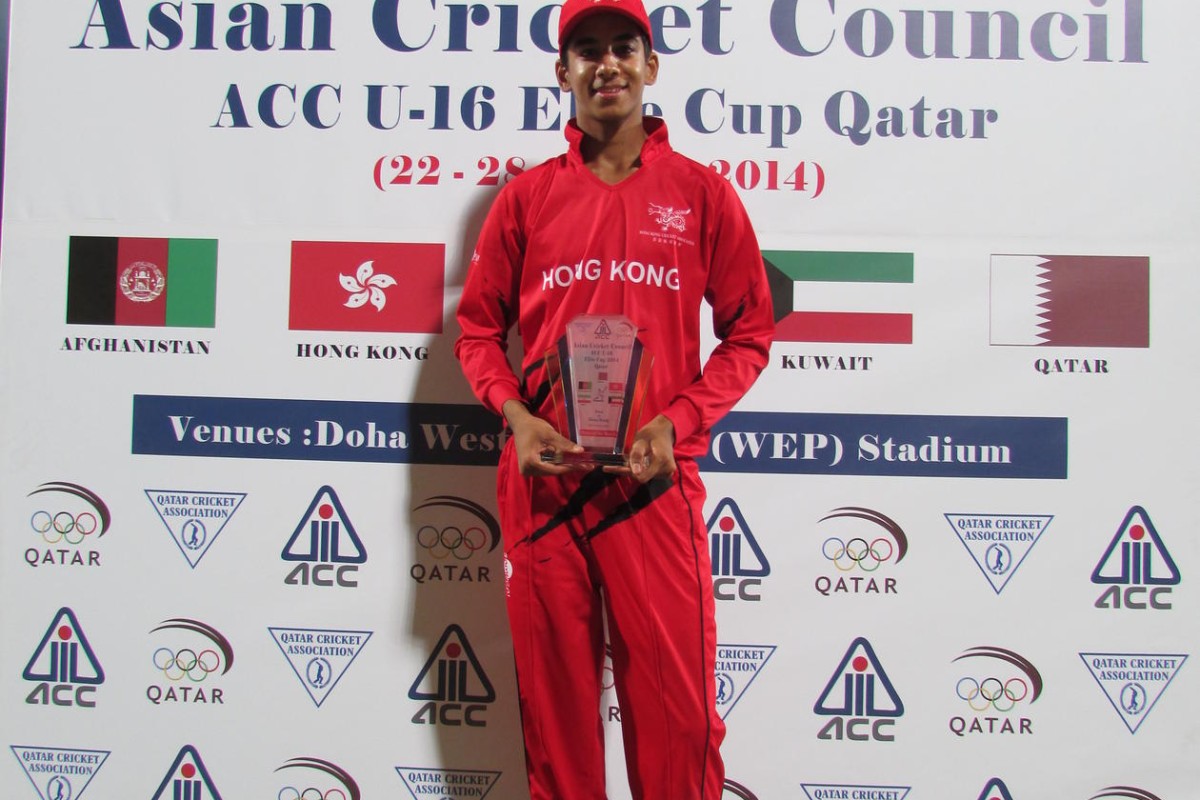 Raag Kapur was named the best batsman at the tournament.
To say the Hong Kong boys' cricket team merely beat Iran in the semi-finals of the ACC U16 Elite Cup in Doha, Qatar, would be an understatement.
The young cricketers won the match by 250 runs. If you aren't familiar with cricket scores, that's a giant margin. It's similar to a 5-0 thrashing in football, or a 20-point win in basketball.
But more importantly, it's also a sign that Hong Kong cricket is on the rise.
The star of the match was Raag Kapur, a Year 11 student at West Island School, who scored a century - he ended on a total of 112 runs - to put his team on the path to victory.
The team's coach, Asif Hussain, didn't hold back in his praise for the all-rounder, who both bats and bowls to a high standard.
"I am very proud of Raag's hundred," says Hussain. "What makes it more special is that he has worked very hard over the past four months to be a great opener."
Raag himself said his starring performance was down to greater focus.
"Before the third game I was told by my coach and my dad to mentally switch on and to really think big," Raag says. "So it was just all in the head, sort of just mental preparation before the game."
He also said the team's hard work was finally starting to pay off.
"We've been training for a year-and-a-half, and we train three times a week in three-hour sessions, focusing mainly on batting and bowling, but doing work in the field as well," he says.
"We've also been doing fitness work, which has been especially important. In the hot, dry conditions that we played in Doha, we needed to be extremely fit."
Raag is keen to stress the success has truly been a team effort. He picked out his captain, Jhatha Subramanyan, for providing encouragement and support throughout the match.
All in all, it was a successful tournament for the team who won three matches before losing to eventual champions, Afghanistan. Raag's performance against Iran won him the man of the match award, and he was also named batsman of the tournament. Now he's looking to the future.
While he admits Hong Kong isn't a powerhouse in the cricketing world, he says that may be starting to change. Earlier this year, Hong Kong's senior men's team gained one-day international (ODI) status, meaning they can now take on the world's best.
"I think it [the audience and support for cricket in Hong Kong] is growing. It's certainly grown over the past few years. Now that Hong Kong's got their ODI status, I think our next goal will be … to get a spot in the World Cup," Raag says.
It may be awhile until Hong Kong can challenge cricket's elite teams, including India, Australia and England. But the potential is there.
"The Hong Kong Cricket Association [HKCA] is aiming to highlight cricket to the local Chinese population," says Janice Sin from the HKCA. "Next year we are starting a new programme for local Chinese schools to get them into cricket. At the moment, some schools in Chai Wan and Kwai Chung districts have already started playing."
Until now, the problem has been access. There simply isn't a chance for many local youngsters to play cricket. But with the HKCA determined to bring the sport to more schools, that is beginning to change.
"The local Chinese population doesn't have the chance to participate in private cricket clubs, and looks to schools to provide for the children," says Sin.
Hong Kong's success on the international stage will only help the process, as more and more youngsters start to take an interest in cricket. If the city can unearth a few more players as talented as Raag Kapur, it might not be too long before the team does reach the World Cup.
Sign up for the YP Teachers Newsletter
Get updates for teachers sent directly to your inbox
Sign up for YP Weekly
Get updates sent directly to your inbox