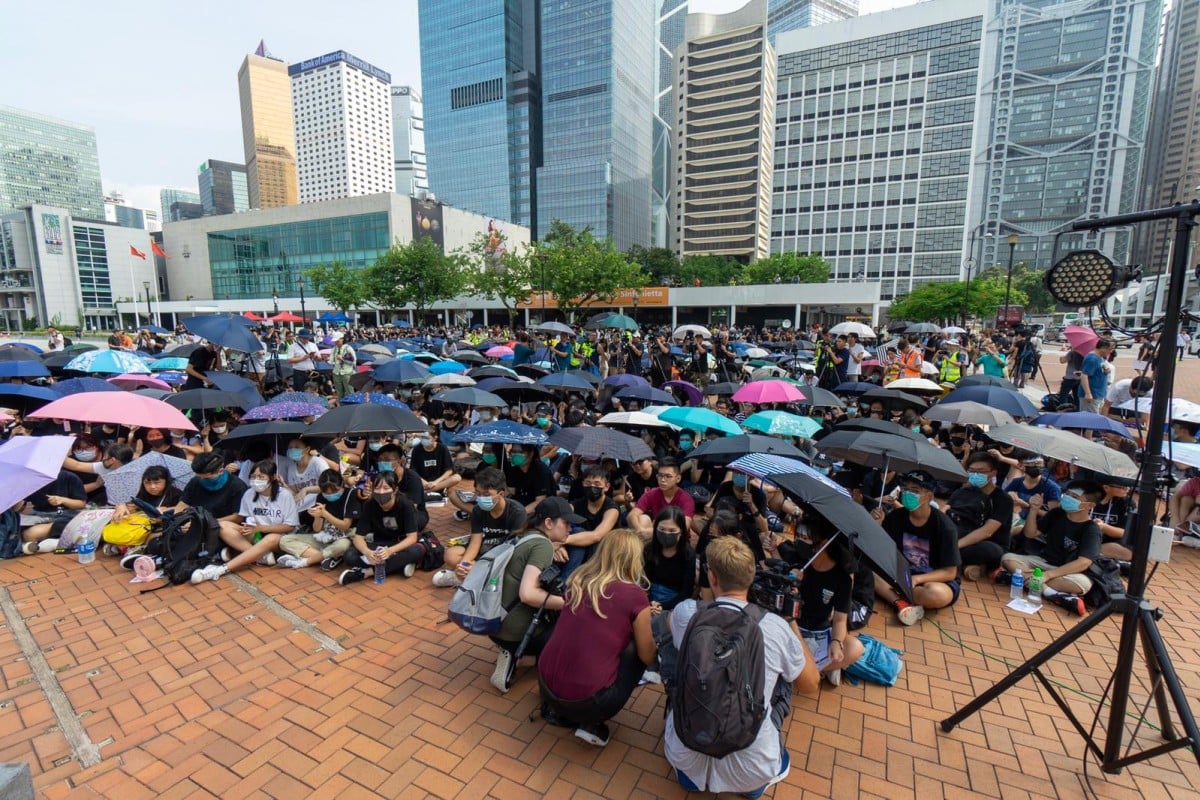 Hundreds of students are gathered in Edinburgh Place.
Hong Kong secondary school students are gathering in Central's Edinburgh Place today to protest the fugitive bill. 
The rally was granted a letter of no objection from the police, and student concern groups took to social media platforms to encourage teens to turn up.
[UPDATE - August 22, 7.57pm]
Students are continuing to take it in turns to take to the stage and give speeches, but we're ending our coverage of the event now. Thanks for tuning in!
[UPDATE - August 22, 7.34pm]
Organisers announce the end of the rally, before deciding to allow one more student to speak.
[UPDATE - August 22, 7.30pm]
Students raise their voices to chant September 2, class boycott!", referring to the proposed weekly school strikes due to begin on the first day of the new school term.
[UPDATE - August 22, 7.24pm]
Protesters break into a rousing rendition of movement anthem Do You Hear the People Sing, from Les Miserables, and then go on to sing it a couple more times.
[UPDATE - August 22, 7.21pm]
Protesters hold a minute's silence to remember the Yuen Long attacks, which took place on July 21 (7/21). Click here to read what local students felt about that day.
[UPDATE - August 22, 6.58pm]
The rally's official end time approaches.
[UPDATE - August 22, 6.49pm]
A human Lennon Wall!
[UPDATE - August 22, 6.41pm]
Three police officers appeared at the scene and protesters started shining laser pointers at them.
[UPDATE - August 22, 6.41pm]
There are still hundreds of students gathered peacefully at Edinburgh Place, as the sun starts to set.
[UPDATE - August 22, 5.52pm]
We spoke with some of the students gathered at Edinburgh Place, asking them why they were taking part in today's anti-Elab protest.
[UPDATE - August 22, 5.18pm]
Cho, 16, is one of the volunteers who helped organise the supplies booth for the rally. The Form Four student said the team started collecting supplies in Lok Fu and Kwun Tong two days ago; a lot of citizens donated water and other materials they needed.
"We are the next generation, it's really great to see more people of our age [at the rally] today. I know we're not alone."
[UPDATE - August 22, 5.08pm]
Cheng is among the first aiders at today's rally. The 15-year-old has qualifications in basic and adult first aid, and also knows how to perform a cardiopulmonary resuscitation.
Cheng said today is the sixth rally or protest she has volunteered at since the movement began in June.
"Too many people got hurt during the protests, I could not stand staying at home and doing nothing, so I decided to become a volunteer."
[UPDATE - August 22, 4.52pm]
A non-student participant in the rally holds a sign that reads "You use Snapchat, I use Facebook" to indicate the generation gap between him and the majority of the participants who are secondary school students.
He added the line "But we all love Hong Kong" as a reminder that people from different age groups all care about the city.
[UPDATE - August 22, 4.45pm]
A group of participants show off their protest signs which feature Pepe Frog, a popular face in the recent protests in Hong Kong. The signs read "School has taught me to be a person who would speak for justice".
[UPDATE - August 22, 3.43pm]
Cheung, 17, came to the rally right after his supplementary class in school ended. The Form Six student said he is not afraid of showing up in his school uniform, as he believes he can keep it hidden by placing his school bag in front of him. He added his school is against the school strike planned for September, and made it clear that participants could face penalties, but he has made up his mind to join the strike despite the school's warning.
"I will take the HKDSE next year, so I know how important it is for us to be in class. You can always take the exam again, but we may not have a second chance at the movement. If we don't stand up, the movement could fall apart."
[UPDATE - August 22, 3.37pm]
There are around 300 to 400 people gathered at Edinburgh Place. It's quite peaceful: some participants are sitting in front of the main stage listening to speeches by guests, while others are resting in the covered area outside City Hall.
Students have also brought signs and banners.
[UPDATE - August 22, 3.30pm]
This 15-year-old student is one of the coordinators of today's rally. The banner behind her reads "We have a say in Hong Kong". She said there have been a lot of conflicts since the anti-extradition bill movement began in June. The organisers hope the rally can serve as a platform for rational discussions to take place, which is why they welcome people of all ages to join.
[UPDATE - August 22, 3.18pm]
The Secondary School Student Anti-Extradition Law rally has begun at Edinburgh Place in Central.
Sign up for the YP Teachers Newsletter
Get updates for teachers sent directly to your inbox
Sign up for YP Weekly
Get updates sent directly to your inbox