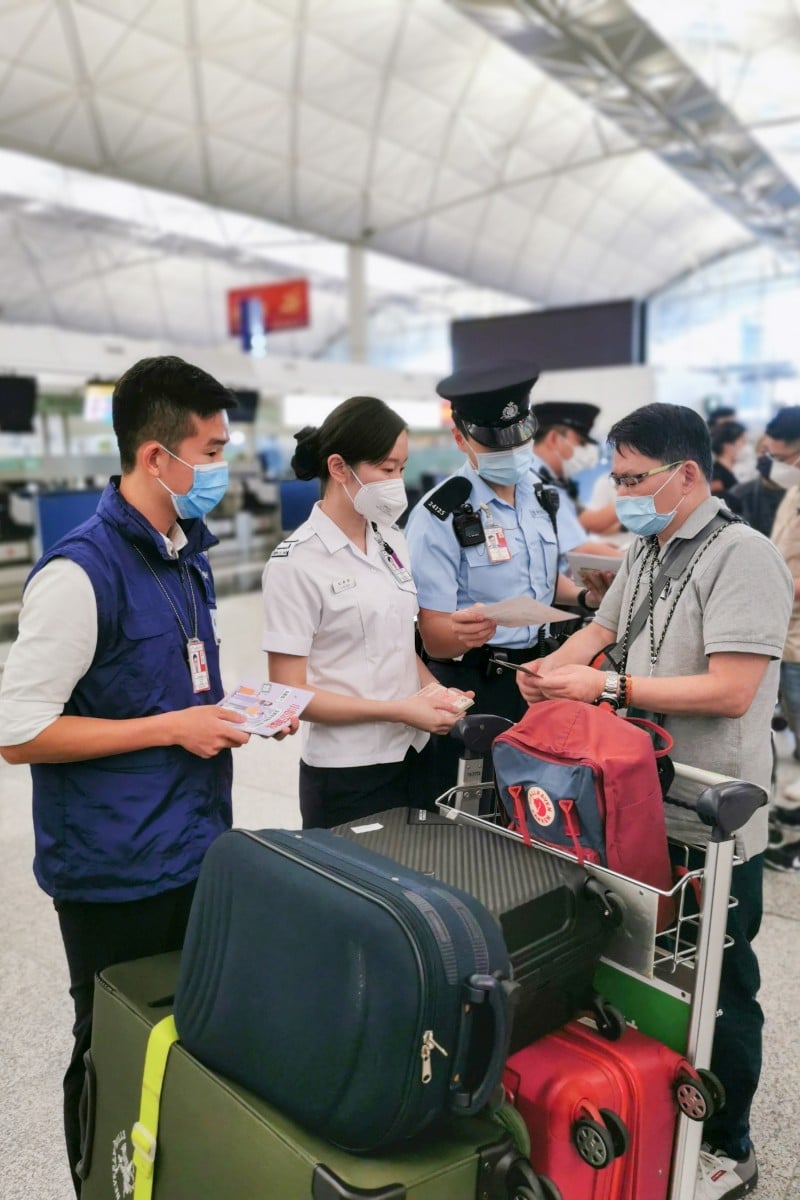 As of Monday, city's police said they had received 37 requests from people caught up in these scams, with 23 still trapped – 14 in Myanmar and nine in Cambodia

Scammers usually put adverts on social media, with promise of high salaries and few requirements for academic qualifications or experience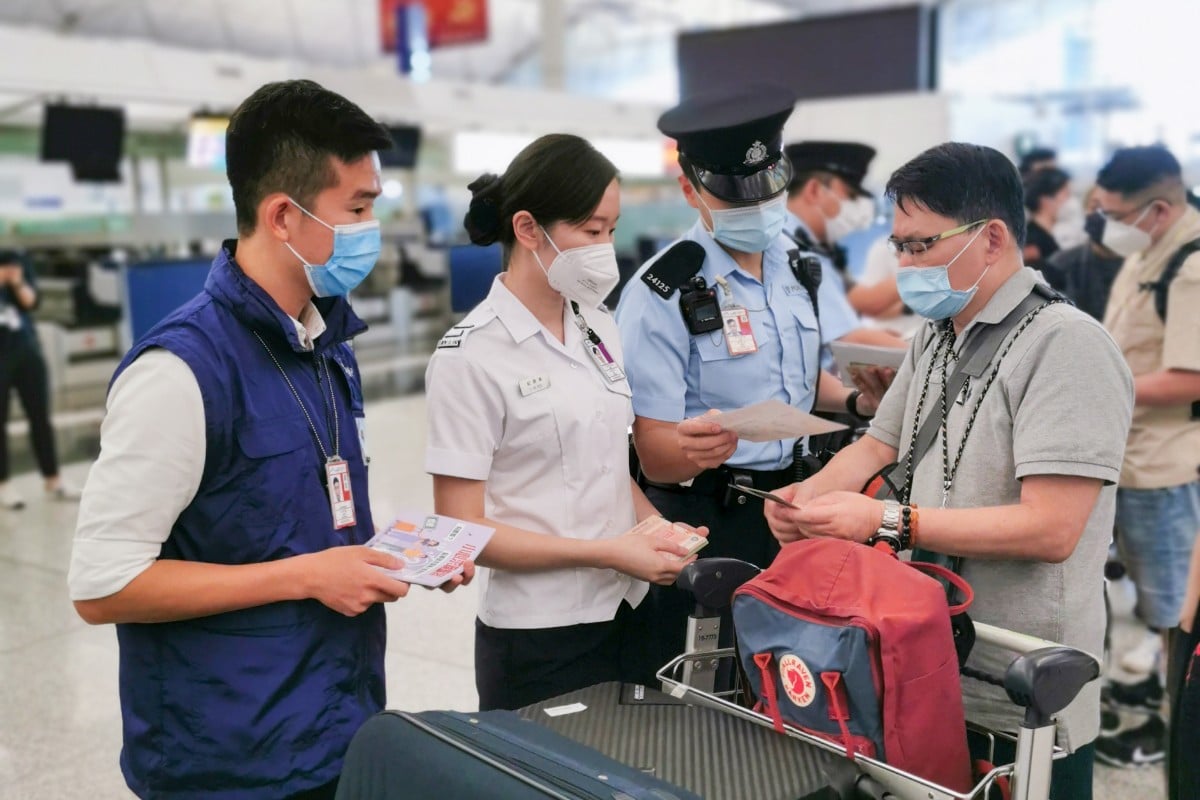 At the Hong Kong airport, police and immigration officers distribute leaflets reminding travellers to beware of employment fraud. Photo: Handout
In one of the worst crises involving Hongkongers' safety overseas in the past decade, dozens of residents were found to have been lured to Myanmar, Thailand and other Southeast Asian countries and held captive by armed criminals.
In response, the Security Bureau established a high-powered group to follow up on the cases, and six suspects, aged 17 to 51, were arrested locally on Sunday and Monday.
They included two alleged ringleaders, aged 23 and 30, who asked the other three to find victims by means such as posting bogus job adverts on social media. The 30-year-old was charged with conspiracy to defraud and appeared in court on Monday.
Here are the key points about the human-trafficking crisis and how authorities are dealing with it.
Scammers steal HK$2.2 million with fake Hongkong Post messaging scheme
1. How many residents are being held captive and how big is this problem?
As of Monday, Hong Kong police said they had received 37 requests from people caught up in these scams, with 23 still trapped – 14 in Myanmar and nine in Cambodia. Twelve have returned to Hong Kong while two preferred to stay in the region "of their own will". The 12th resident returned to Hong Kong from Thailand with the help of Beijing and Hong Kong authorities on Monday evening.
This was a jump from Saturday, when only 14 people were known to be held captive abroad. Police have yet to respond to a Post request for information on the whereabouts of the 22 residents.
What is phishing? How to protect yourself (and your money) online
2. Were people warned about such scams?
Local security officials only revealed they had received 17 requests for help from families of Hong Kong residents feared missing in Thailand, Myanmar, Cambodia and Laos last Wednesday.
That followed mounting reports by Taiwanese media suggesting thousands of residents from the self-ruled island could have been lured into travelling to Southeast Asia in employment scams.
Asked why the government had not seized the chance to warn the public earlier when it had received requests for help as early as January, Undersecretary for Security Michael Cheuk Hau-yip said police had stepped up their reminders through social media upon receiving the reports.
The scammers posted bogus job adverts on social media. Photo: Shutterstock
"Police produced videos warning people against overseas employment traps and broadcast them on Facebook," he said.
A police source said law enforcement agencies had from time to time received reports about Hong Kong people going missing while travelling abroad, with various reasons possible, such as to escape debtors or telecommunication failure.
"Various regional crime units have been investigating since earlier this year, there was just no media attention at all," he said.
3. How do these scams usually work?
Most of the 37 cases involved employment fraud – with the one exception being a romance scam. They usually start with scammers putting "dream job" adverts on social media, with the promises of high salaries and few requirements for academic qualifications or experience.
The police source said the victims were usually people who failed to find a job locally and believed in those "dream opportunities", adding some of them could also have a good impression of these countries as tourist destinations.
Victims are sent flight tickets, usually electronic versions. But once they arrive at the Southeast Asian airports, they have their passports confiscated and are taken to "scamming centres".
How to keep your money safe from scams when shopping online
Among them was a university graduate, who was lured to Cambodia after he noticed an advert on social media for a casino job with a monthly salary of HK$200,000 (US$25,000).
He landed in Cambodia with an arranged flight ticket, but soon realised he had been conned after he was ordered by a so-called casino employee to make phone calls and persuade people to bet on a website.
When he refused, he was asked to pay US$10,000 as ransom. He was later rescued by Cambodian police and returned to Hong Kong.
4. How were victims treated while being detained?
Senior Superintendent Tony Ho Chun-tung of Hong Kong police's organised crime and triad bureau said that to earn their release, detainees were told to take part in phone scams by calling people in their home country, or to contact their families for ransom.
Ho said if they refused or failed to meet monetary targets, they faced "inhumane treatment".
The US-based Global Anti-Scam Organisation was said to have rescued a Hong Kong resident from Cambodia last year. Speaking on condition of anonymity, a member of the group said some Hongkongers told the NGO they were given electric shocks or sexually assaulted while being held captive.
"Some were beaten with many wounds and put in a cold water tank, while others' families were told to pay a ransom or their loved ones' internal organs could be removed and sold for money," she said.
Government warnings about scams are displayed at Hong Kong International Airport. Photo: Handout
5. How will different authorities work together and how can victims seek help?
In Hong Kong, the Security Bureau has established a high-level action group with senior police and immigration officers. The police source said that while the force's liaison unit would contact Southeast Asian law enforcement agencies through Interpol, other officers would work with the internet crime unit to identify suspicious flight bookings, bank transactions or social media posts.
The government also introduced a new WhatsApp hotline, (852) 5190 8909, on top of another line to accept requests for help after the authorities were mocked online for urging the victims to fill in the form via the Immigration Department's smartphone app.
The Chinese foreign ministry and its embassies have also been helping to contact the Southeast Asian governments for help and cooperation.
Sign up for the YP Teachers Newsletter
Get updates for teachers sent directly to your inbox
Sign up for YP Weekly
Get updates sent directly to your inbox