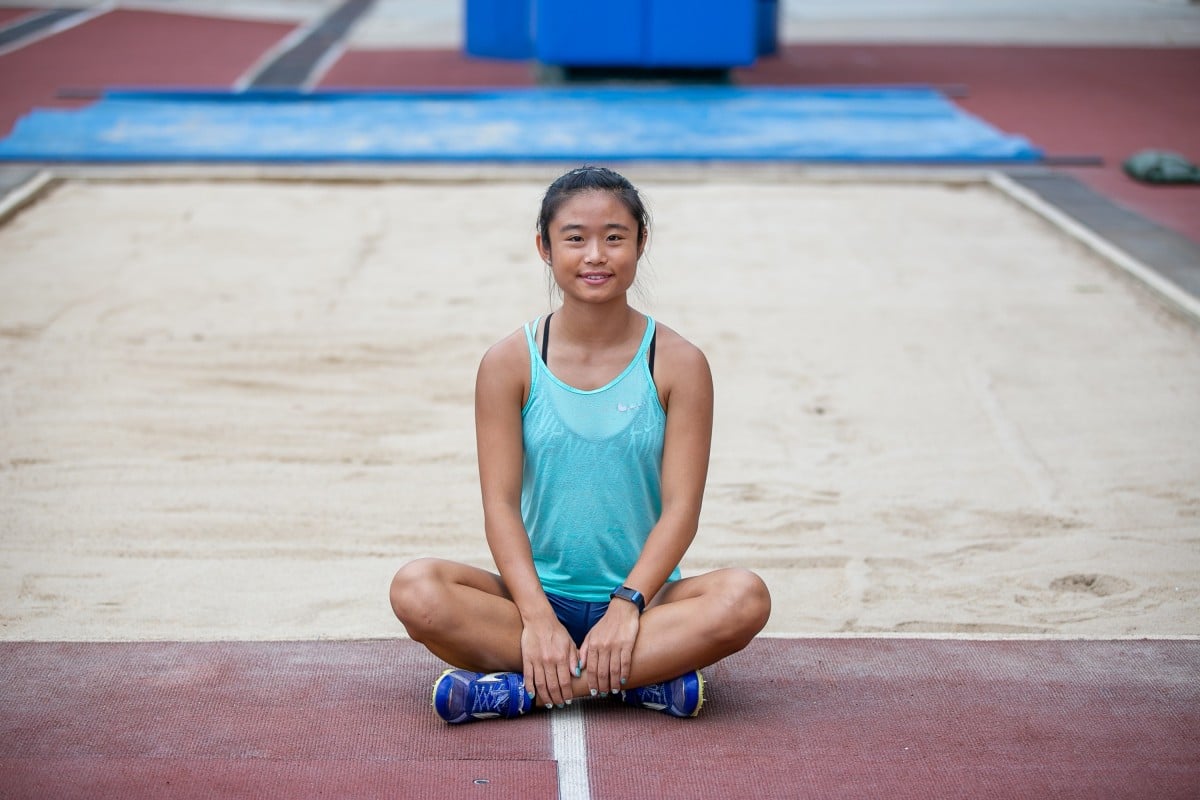 Yue has broken the Hong Kong record for women's long jump eight times in the past year.
If you Google "Tiffany Yue Ya-xin", you'll find that almost every news story on this Hong Kong long jumper was published in the past year. Before that, the athlete seemed rather overshadowed by other sporting stars in the city.
But after smashing the national record for women's long jump eight times since last September, and clinching a bronze medal at the Asian Athletics Championships in April, there is no doubt that the 21-year-old has become something of a supernova.
Yue's most recent record, which stands at 6.31 metres, was set in July, when she was competing at the 30th Summer Universiade in Naples, Italy. She placed sixth in the end, and was the top ranked among fellow Asian contenders.
How does Hong Kong high jump star Toby Lai train for 16 hours a week while preparing for the HKDSE? Efficiency and discipline
Reflecting on her performance in Italy to Young Post, the long jump star said it was a pity two of her efforts were foul jumps, otherwise she might have set an even higher record.
"I managed to jump 6.40m twice, but I was fouled. Now, that has become my goal for 2020, to complete this unfinished business," Yue said.
Still, Yue's official best so far is the latest Hong Kong record. It is a full 31cm higher than the former record that Yue first broke in last September in a local championship.
Before Yue had her taste of success, she had been struggling for months, if not years, to find her place in the world of athletics.
Unlike most athletes who started practising at a young age, Yue was off to a late and slow start. The former Good Hope School student had been a sprinter, yet she was not making any progress, so her coach told her to give long jump a shot when she was 15.
The new event was challenging for the then Form Four student, who did not know how to capitalise on her speed, which she gained from years of sprinting. Just when she thought it was time to leave the athletic field for good, she reached a personal best at her last interschool championship. That breakthrough gave her the reason she needed to stay in the game.
St Joseph's Anglo-Chinese School's record-breaking long jumper looks to Liverpool's Steven Gerrard for inspiration
"I thought to myself, I wasn't even training that seriously, but I was already pretty close to the junior record at the time, so perhaps I should keep going and see what would happen," Yue recalled.
The road to success was a lot more arduous than Yue had expected. After missing out on the junior record, she had set her heart on smashing the senior one. But to achieve that, she had to conquer her biggest weakness – her love of food.
The foodie made a drastic change to her diet last May, when she was 1cm away from the record and lost out on the chance to represent Hong Kong at the Asian Games in Jakarta, Indonesia.
La Salle College takes the crown at Kowloon and Hong Kong Island Inter-school Athletics for first time in seven years
She knew she had to cut out her favourite snacks, like instant noodles, chips and takoyaki, to be fitter and nail her run, take-off, movement in the air and landing.
Her hard work had paid off – she lost two kilograms, and also revised her training approach to hone her run-up posture and rhythm. It was at her next competition that she started her record-breaking streak.
Changing her eating plan was "quite tough, my mood was affected, as I knew I couldn't eat as much as I desired – but it worked," Yue says.
"At the same time, I was becoming more proactive in training. Instead of relying on my coach to point out my mistakes, I was aware of my own flaws and [came up with] ways to improve."
With her success came more confidence, so Yue decided to become a full-time athlete at Hong Kong Sports Institute in April, where she trains six days and more than 25 hours a week. She has also extended her study at Chinese University, in the hopes of taking part in two more Summer Universiades, which is held every two years.
Her ultimate goal, like many aspiring athletes, is to compete at least once in the Olympic Games. The fourth-year student believes she may have a chance at making the 2024 Paris Olympics.
HK teen ice hockey player Chloe Chan on gender politics and what she learned from the Japanese team at the Asian Winter Games
For now, though, the Hongkonger wants to focus her ambitions on becoming a leading long jumper in Asia – and she is getting close. The top-ranked athletes now jump between 6.47m and 6.63m. If Yue's plans to reach 6.50m goes well, she will be one of the best on the continent.
"I think I'm definitely catching up with other Asian athletes. I know I started much later than most athletes, but that's an advantage too, because I still have a lot of room for improvement," Yue says.
"The goal for next year, as I don't have any more major competitions in 2019, is to ensure I have the ability to fight for a medal in top-tier competitions in Asia."
Edited by Nicole Moraleda