As they train for the Young Post 6th Inter-school Dragon Boat Championships, rowers from Tin Shui Wai Methodist College talk about the hard work and team spirit that goes into a successful dragon boat team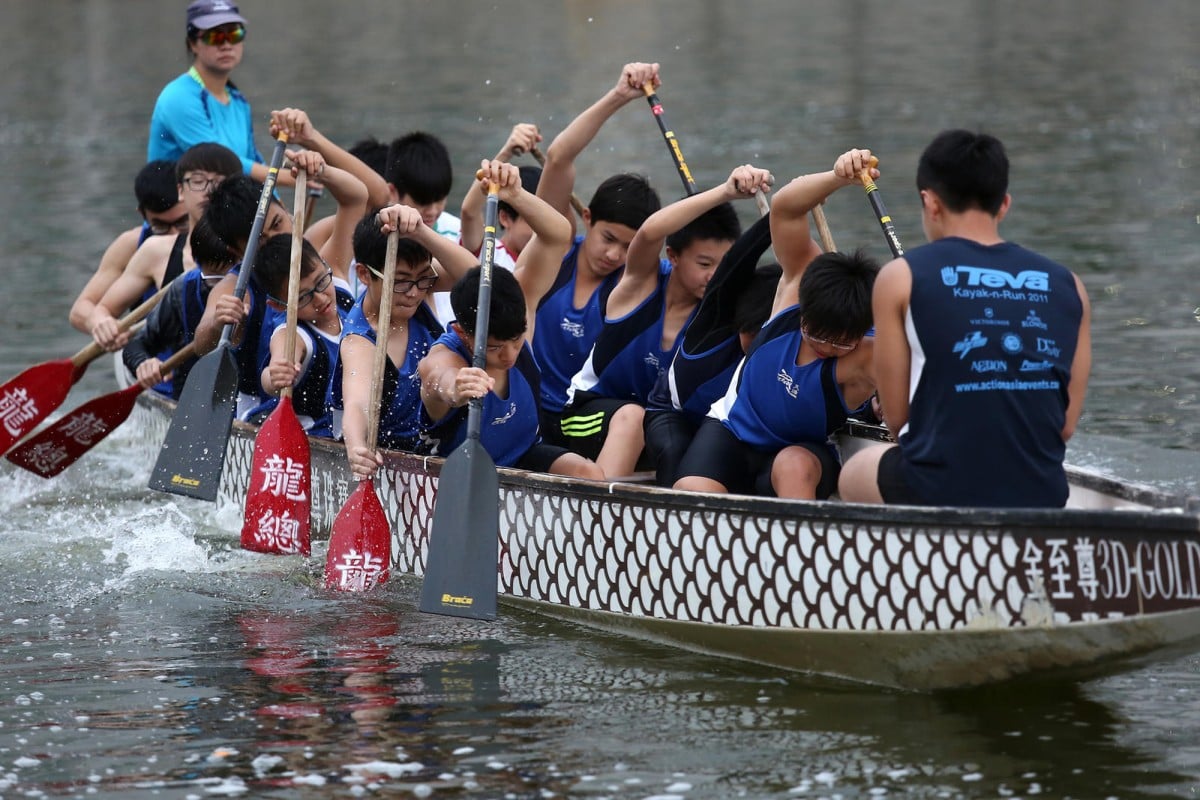 The Tin Shui Wai Methodist College dragon boat team train twice a week.
Dragon boat racing has always been a big part of the Tuen Ng Festival. While it remains a tradition to host races during the holiday, dragon boat racing has become a part of rowing in general, with tournaments being held globally, all year round.
In 2010, the Hong Kong China Dragon Boat Association and Hong Kong Schools Sports Federation teamed up to organise the first inter-school dragon boat competition. This Sunday, the Young Post 6th Inter-school Dragon Boat Championships will be held at the Shing Mun River, with 32 schools battling for honours.
Tin Shui Wai Methodist College, a school well known for their prowess in rowing, have taken part in inter-school dragon boat racing since the tournament began. Lillian Choi Siu-yin, Chinese teacher and the school's rowing coach, introduced canoeing to the school more than a decade ago. Two years later, the school decided to start a dragon boat team. "I am a passionate rower and I thought dragon boat racing is a great way for students to develop team spirit," she says.
Choi's hard work has paid off. Over the years, the school has produced several rowers who have qualified for the Hong Kong dragon boat team or have become dragon boat coaches.
This year, Leung Kwong-chung, a Form Five student, made it into the Hong Kong team. "It is a great honour to be able to represent Hong Kong," he says. "The competition on the team is intense; everyone works extra hard so they are not left off the team."
Kwong-chung started dragon boat racing when he was in Form Three because a school mate asked him to join. "To be honest, many students are hesitant to join dragon boat racing because it is really tough," he says. "The physical demands of rowing, such as sore muscles and getting sunburned, scare people away."
Despite the hardships, the teamwork involved in dragon boat racing fascinates Kwong-chung. "When we are rowing, we act as a team. You are exhausted but the team needs you to give every ounce of your energy to cross the finish line," he says. "Everybody rows as hard as they can until we pass the finish line. It feels great to be part of a team working towards a common goal."
Last year the school finished in second place, but Chow Man-kin, another fifth former on the school team, says their plan is to bring home the championship this time.
Students are busy training for this Sunday's Inter-school Dragon Boat Championships. The team trains twice a week - on Tuesday and Saturday - at the Shek Mun Dragon Boat Training Centre.
"We need to make the hour-long trip from Tin Shui Wai to Sha Tin to practise, but nobody ever complains because we know hard work pays off. Even on non-training days, Kwong-chung and I lift weights at the school gym and go jogging," says Man-kin.
"We want to win really badly this year because next year we will be doing the DSE and won't have as much time to practise."
Man-kin says their main rivals in the competition are Tsang Pik Shan Secondary School and Hong Kong Sea School.
"In the past five years, these schools [as well as Methodist College] have held the top positions in the competition, so I expect them to be the main obstacles to us winning the championship this year," he says.
Sign up for the YP Teachers Newsletter
Get updates for teachers sent directly to your inbox
Sign up for YP Weekly
Get updates sent directly to your inbox