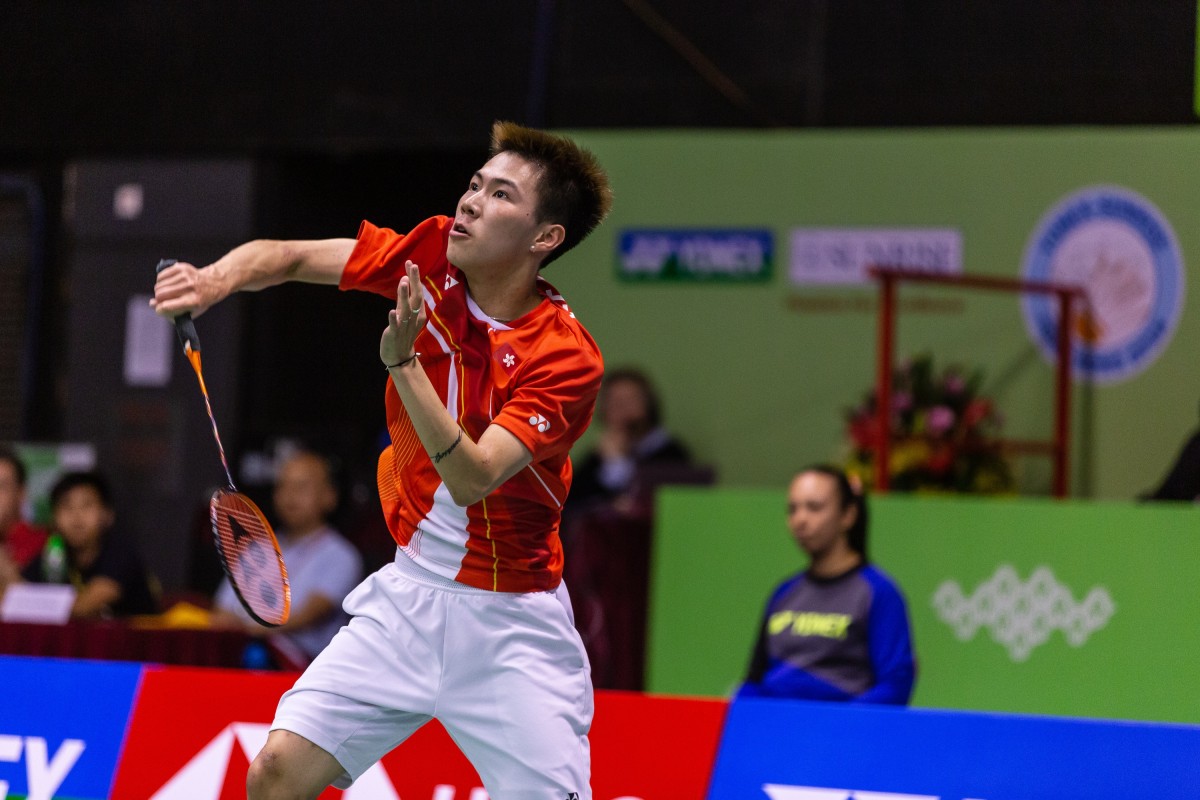 Lee Cheuk-yiu defeated top players to win the Hong Kong Open.
Hong Kong badminton star Lee Cheuk-yiu battled his way to victory to become the second local player to capture the men's singles title at the Yonex-Sunrise Hong Kong Open on Sunday.
It was a dream come true for the home crowd when the 23-year-old player came from behind to defeat Indonesia's more highly-ranked Anthony Ginting 16-21, 21-10, 22-20, in what was a thrilling encounter.
In the last game, Lee held an early lead but Ginting tied it at 18-all. The Indonesian had the momentum and reached match point, but Lee kept his cool to clinch the first Super 500 title of his career. He became the second Hong Kong player after Angus Ng Ka-long to win the Hong Kong Open. Ng won the title in 2016.
La Salle College badminton star Ko Shing-hei on the pressure of continuing his winning streak and training at Hong Kong Sports Institute
"I was so excited to hear a lot of cheering in between points, it really gave me a boost," Lee said. "It is such a great feeling to win my first Super 500 title, and to do that in front of my home crowd."
During his fairy-tale run to the final, he beat several top players, including Shi Yuqi of China and Denmark's Viktor Axelson.
"I fought my way into the finals by taking down great players one by one. This title is indeed a recognition of my abilities, but I must not become complacent," Lee said.
Outside the Coliseum where the tournament was held on Sunday, there were fierce battles between riot police and protesters at Hong Kong Polytechnic University. While warming up for the biggest match of his life, Lee said he knew the situation was tense as protesters set fire to the footbridge linking the university and Hung Hom Stadium, and police were continuously firing tear gas.
"My mood was definitely affected. But since I am here to play badminton, I had to focus on my game and give it my best shot," he said. "Hong Kong is my home. Add oil."
The Hongkonger caused controversy last Wednesday when he celebrated his first-round victory with a hand gesture that was interpreted by netizens as "Five Demands, Not One Less", one of the key slogans of the anti-government movement.
How DGS HK badminton team captain Chloe Yeung made her teammates better with 1,000-word WhatsApp messages
In a post-match interview, Lee did not respond to the controversy directly. He simply said: "People who understand would understand."
Protest slogans were chanted before and after Lee's gold medal match on Sunday, where some fans waved a flag that read "Liberate Hong Kong, Revolution of Our Times".
Following his victory at the Hong Kong Open, Lee said he is more confident of qualifying for the 2020 Tokyo Olympics to compete alongside his teammate, Ng, but he admitted it is a long shot.
"I still have to [beat] many tough opponents before I can reach my target. In fact, I don't know if I can beat the same opponents when I meet them next time. We are all very close," he said.
Meanwhile, Chen Yu-fei of China beat Ratchanok Intanon of Thailand 21-18, 13-21, 21-13, to win the women's singles crown.
It was the 13th meeting between the two, with third-seeded Chen winning 11 times. When asked about their rivalry, Chen, 21, said she uses her solid defence to counter Intanon's powerful shots. She also noted that perseverance was key to her victory, as she fought back after falling behind early in the third game.
Sha Tin College student fulfills his Star Wars fantasies through fencing
"Both of us were exhausted by the third game, so I was very happy that I was able to win," Chen said.
The result also gave the mainland player a perfect record this year, sweeping to her sixth title in six finals, including the prestigious All England Championships.
Despite her success, Chen plans to kick her training up another notch next year.
"The year 2019 has been a very rewarding year, but there's still room for improvement," she said.
Edited by M. J. Premaratne
Sign up the YP Teachers Newsletter
Get updates for teachers direct to your inbox
Subscribe to YP Weekly
Get updates direct to your inbox