Japanese comic artist Britney Hamada teaches our JRs the art of manga drawing
We usually admire art from a distance but our junior reporters had a chance to meet popular Japanese cartoonist to learn more about manga art.
Compiled by Tiffany Choi
|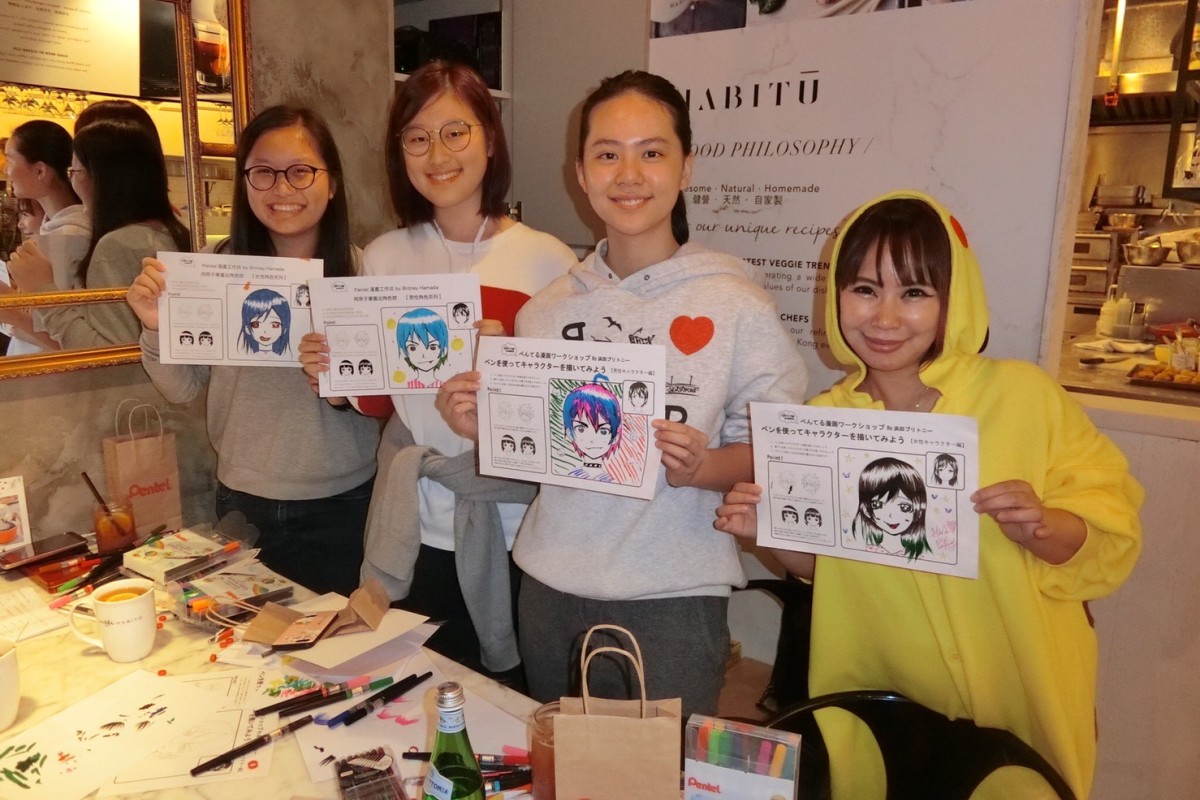 (From left) Junior Reporters Sherrie Mak, Jisoo Myung, Charlotte Fong, and cartoonist Britney Hamada.
Invited by Pentel (Hong Kong), three junior reporters got a chance to meet renowned comic artist Britney Hamada who flew all the way from Japan to Hong Kong last week.
Our junior reporters chatted with Hamada to know more about herself and learn how to draw their own manga characters.
Britney Hamada is a popular cartoonist and talent from the Chiba Prefecture of Japan. She has appeared many magazines and TV shows. Her manga includes Pagal! and Hyper Detective Linca, and she also has her own business, Piece Eight.
Hamada made her debut just one year after training in school, thanks to a recommendation by a mentor to a publisher. Hamada says that she was "incredibly lucky"because it usually takes about 10 years for cartoonists to make a breakthrough in their field.
She said she finds drawing magical and exciting. One of her favourite parts of the process of creating an image is cutting and pasting grey sections onto the panels to create shadows or patterns.
"It's really fun ... kind of like crafting," says Hamada. This process used to take a lot of time and manual work but is now mostly done digitally. However, Hamada still enjoys the traditional process of cutting and sticking by hand.
As you can probably guess, Hamada loves a good challenge. She said she was once working for a magazine which she thought was a monthly publication but turned out to be a weekly one. So she unexpectedly had to work a lot faster. Although it was one of the toughest periods of her life, it was a fun experience she would never forget.
In the future, Hamada wishes to work on more long-term projects and hopes to have one of her series animated into an anime.
Jisoo Myung
Hamada was very kind to teach us her own techniques. We first learnt how make the outline for our manga character and were given a template to guide us. Hamada wasted no time getting to work and swiftly started outlining her character. Grabbing a black pen, we followed suit and started tracing the template as carefully and accurately as we could. But Hamada reminded us that we should ignore the template and let our imagination guide us, as a manga artist's distinctive style is what defines their work.
Highlights and shadows played a huge part in the outlining process. Hamada asked us to imagine a light shining on our character and told us to think about where the light would hit and where the shadows would be. We used thicker lines for the shadows to create a three-dimensional effect.
Next we had to colour the character's hair and eyes. I found this particularly amusing as we were taught to leave a section of hair white where light would reflect off it to make the hair look super shiny. We were encouraged to use fun, bright colours to dye our character's hair.
It was a little bit tricky to colour in parts of our character as the brush was hard to control and the paint would tend to bleed out of the lines. We had to be careful not to let all the colours blend into each other.
For a finishing touch, Hamada decorated her background with glittering stars. Once again, she reminded us to let our individual creativity shine and encouraged us to fill the frame with things we like. I covered my background with emojis and stripes, and added a choker on my cheeky character to finish it.
We started with a very simple template and walked away with a colourful representation of ourselves. We added subtle differences to our character making each individual artist's work unique.
Charlotte Fong
It was great fun for us manga lovers to learn how to draw manga ourselves. It was amusing to see how making the tiniest change to a character's facial expression can make a huge difference. It gave us all an insight and new appreciation for our favourite manga.
At first we were worried there would be a bit of a language barrier, as Hamada and her assistant, Iwami, spoke in Japanese. Luckily, there were interpreters and staff to help us communicate with each other easily. We were even able to learn a few useful Japanese expressions by the end of the day.
Although we practised a lot and tried our best to draw as smoothly as possible with the tools we were given, it would obviously take more than a day to master this art. But what better way to learn than to have an accomplished manga artist such as Britney Hameda to teach you.
Sherrie Mak
Edited by Nicole Moraleda