It has been seven months since Nic Tinworth had a tumour removed from his brain, but the Hong Kong trail race organiser was more sick of letting it define his life than he was ill from the treatment.
Tinworth yesterday completed the QNET Gurkha Trailblazer 12-kilometre race near Fanling, his first since the diagnosis.
"I felt like I needed to do something," he said. "I was beginning to feel too sorry for myself."
Tinworth, who co-founded trail event organisation Race Base, has recently finished radiotherapy and ended a cycle of chemotherapy, so the race was timed perfectly for his return.
Nic Tinworth and his crew fly through the trails
"It felt bizarre, like I was back to square one," he said. "I didn't know what to eat, or how fast to run. It was exciting like I was starting again.
"It was fantastic being surrounded by friends, to feel like I was back in the community, and have that buzz. I carried that all around the course with me. I have never been that cognisant about it before now," Tinworth said.
One of the hardest aspects of his recovery was when he was stuck in hospital after his operation. Tinworth said it was like being a rat in a cage: "I only feel human when I'm outdoors."
Different people react differently to cancer treatment, but even so, Tinworth's insistence on returning to trail running so soon is a minor miracle.
"It felt defiant," he said. "All the people I spoke to said I be lucky to walk around town. I thought 'f*** that', I won't let this control any more of my life than it already does. I'll be damned if it stops me doing the thing I love."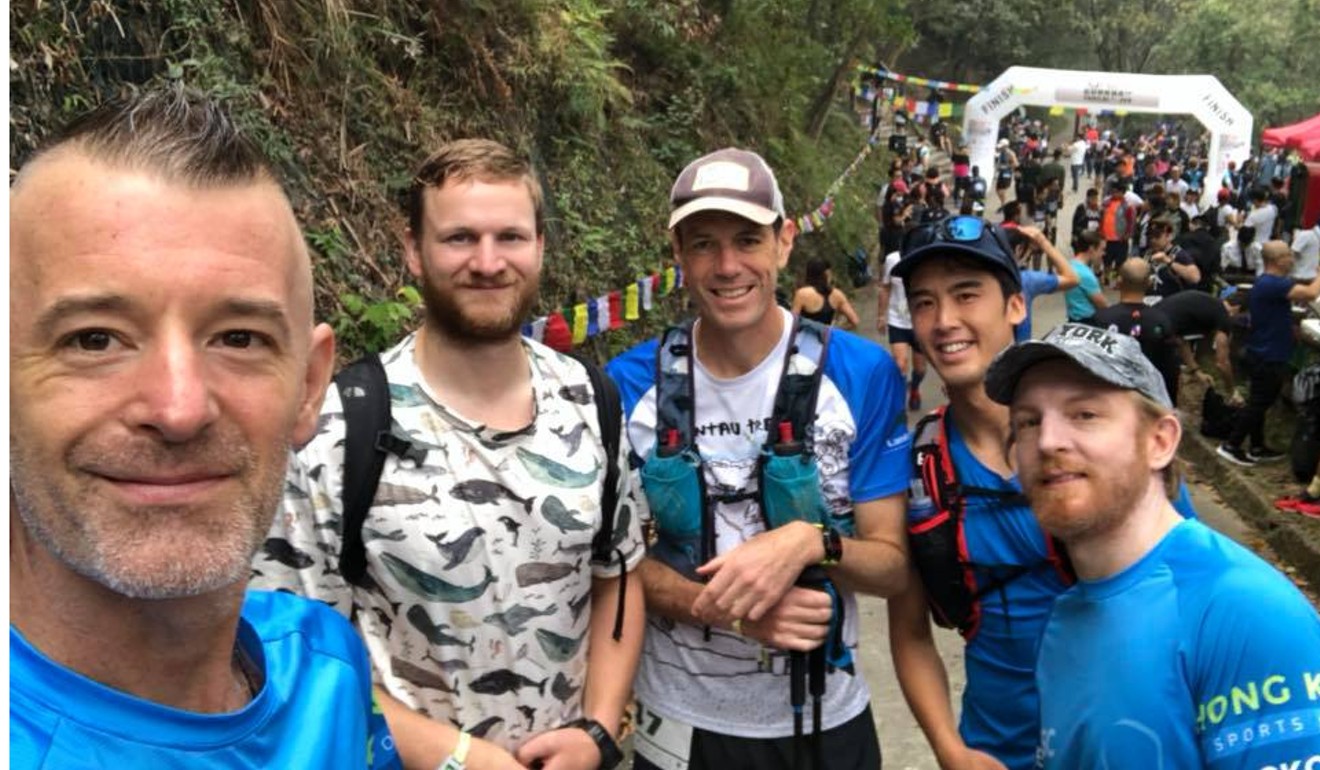 Even the training helped him break the cycle of hospital visits.
"It gave me a sense of control and ownership," Tinworth said. "One of the toughest things is feeling ruled by my treatment."
Tinworth raced with his friends Will Hayward, Brendan Lee and Joe March.
At first, he simply wanted to make the cut-offs. Even as training went well, the goal remained getting around the course. But as they neared the end and Hayward shouted that two hours is on the cards. The group began to push and finished in one hour and 55 minutes.
"Just having that support and those guys around me gives me energy," Tinworth said. "People I've never met message me and say, 'I hear you are running a race, good luck,' and it means a lot to me.
"I was overwhelmed. All I wanted to do was run happy and make the cut-offs. But to run sub-two was ... ," said Tinworth trailing off.
He now enters another cycle of chemotherapy that is more aggressive than the last. He is unsure how he will react. But given only seven months ago Tinworth had to relearn to walk, continuing to run does not seem far fetched.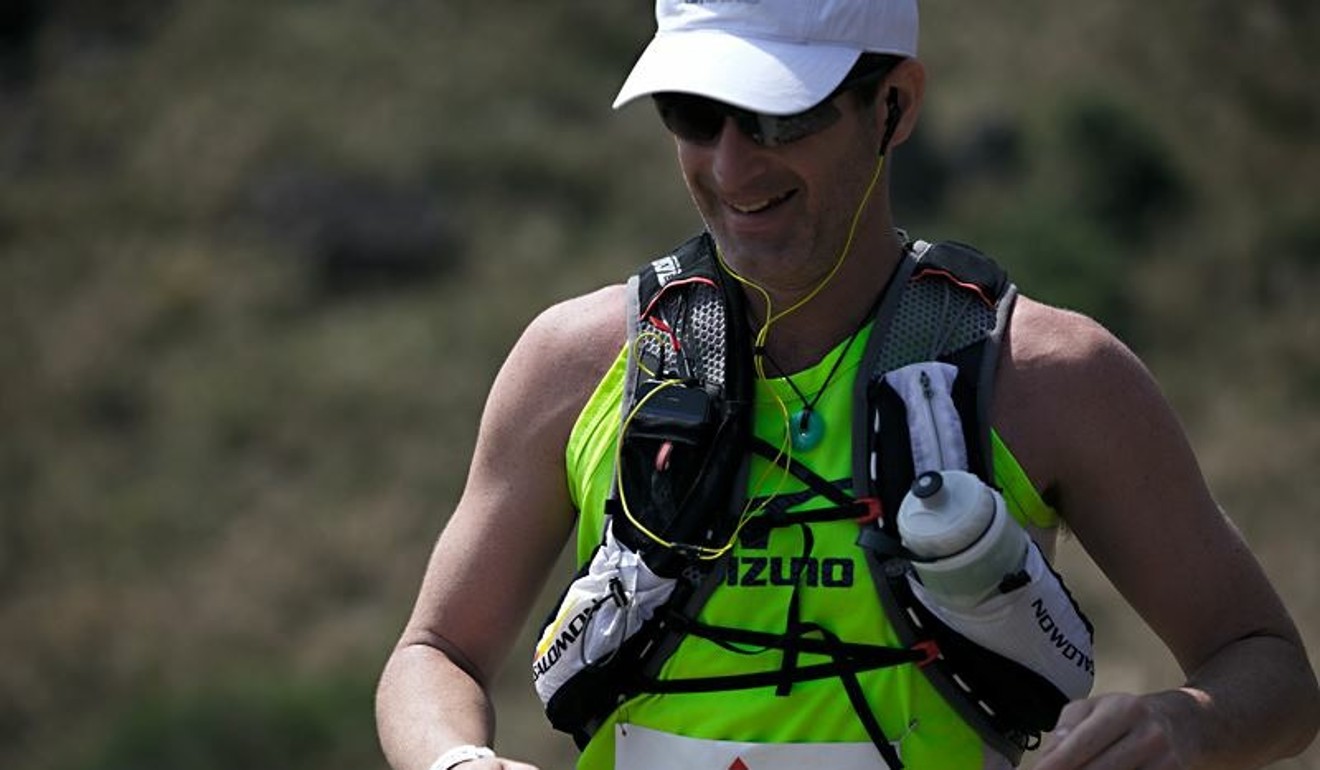 The Gurkha Trailblazer has two distances, 26km and 12km. It takes place in Fanling and the longer distance follows Pat Sin Leng ridge. The event aims to promote the work of the Nepalese Gurkha soldiers, who helped found the trail running scene and protected Hong Kong during the second world war.
Each runner raised money for the Gurkha Cemeteries Trust to fund scholarships for Nepalese youth in Hong Kong and for Child Welfare Scheme, which aims to improve government schools in Nepal.
Wat King-long won the men's 26km race in a time of 2:47.
"This is my first time running the Gurkha Trailblazer," he said. "It is more difficult than I expected, there were uphills and downhills I didn't expect. But halfway I knew I was in first and I felt good."
Wat is now focusing on road running and is hoping to finish the Standard Chartered Marathon in under 2:40.
Joseluis Alvelais finished second in 2:52 and Robin Fall was in third in 2:53.
Wat King-long nears the finish line
Zein Williams was the first woman over the line in 3:34.
"I knew it was going to be hilly but I like hills," she said. "But you have to hold back. The freedom of the downhills makes you just want to fly down but then on the flats you're screwed. So, it's about surviving."
She said it was one of the best routes she had run in Hong Kong.
She was followed by Angelika Hahn in 3:35 and Charlotte Taquet in 3:41.
Zein Williams running to victory
Ryan Whelan won the 12km in 1:01 but he was treating the race as preparation for the Gammon China Coast Marathon next weekend.
"It was a fun run with training in me," he said. "I was politely told not to do the 26km by my coach as the China Coast is an 'A' race for me this season."
With road running in mind, Whelan said he has been training on track to improve his speed, which has also benefited his trail running.
Limbu Sujan and Ninglekhu Kumar, both fittingly from Nepal, came second and third respectively in 1:11 and 1:13.
Whelan in the lead mid-course
Fredelyn Alberto won the women's 12km in 1:19.
"My legs were suffering on the hills. I'm usually good on the hills, I love doing the twins," she said. Alberto, who works as a domestic helper, could see the other women close behind her.
"On the downhill, I smashed it," she said. "On the last downhill, I said to myself I don't want to give an opportunity to anyone else."
Leslie Van came second less than a minute behind Alberto in 1:20 and Nicky Inge was third in 1:22.
Fredelyn Alberto smashes the last downhill