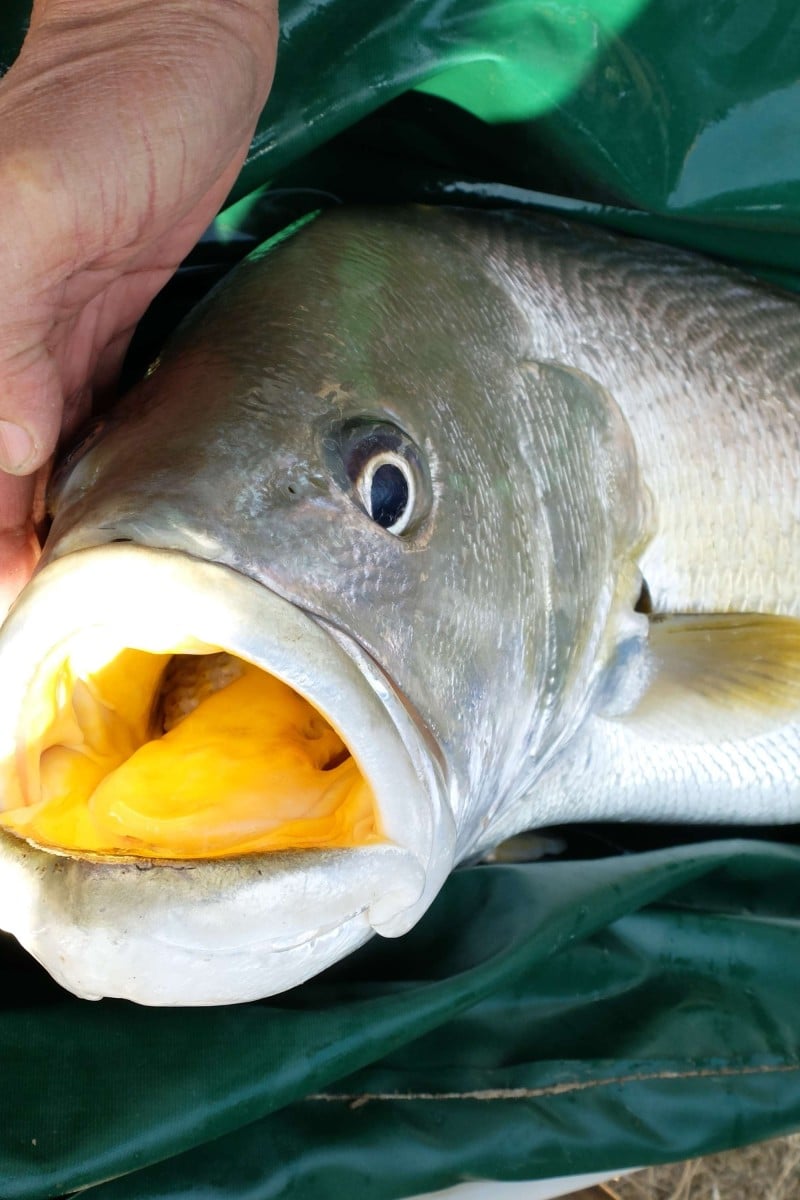 Ryan Ma is out to save the Chinese bahaba
With no help from the Hong Kong government, one local teen is doing his best to save an endangered species before it's too late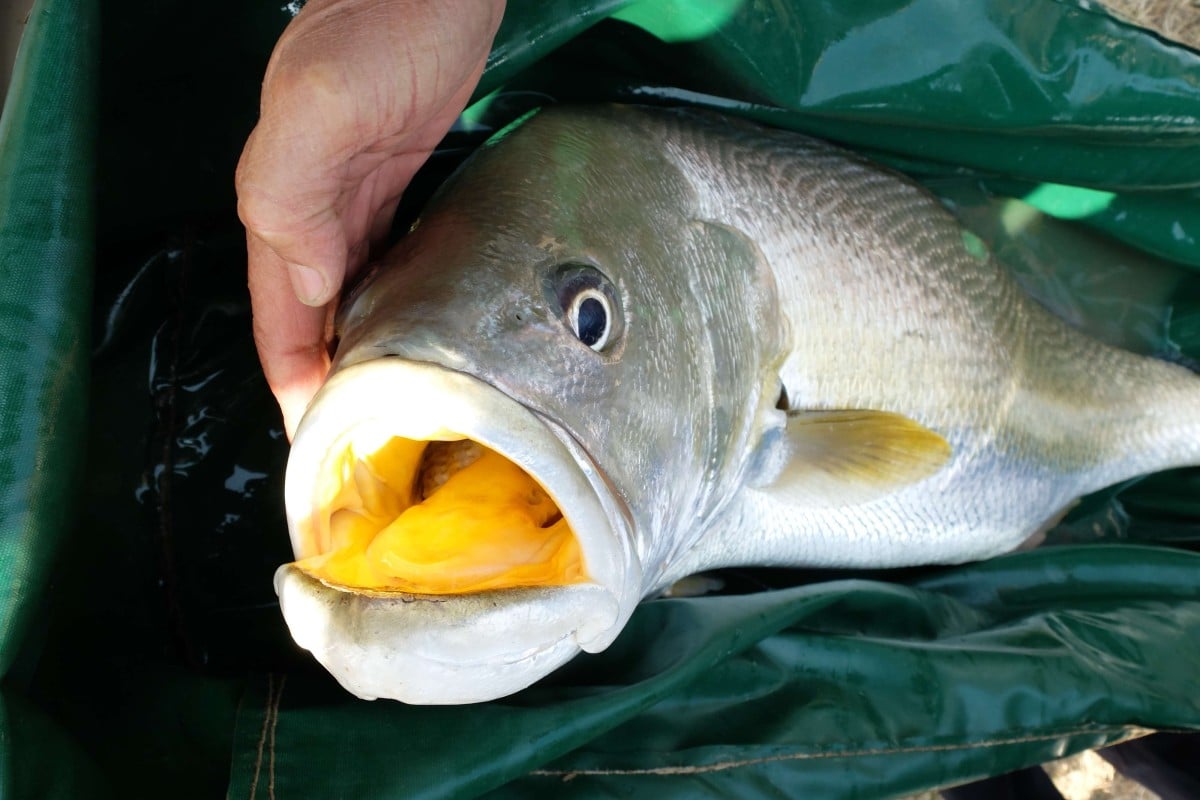 The Chinese bahaba, often referred to as the yellow-lip fish for obvious reasons.
To say Ryan Ma loves fish is an understatement. The self-proclaimed fish enthusiast has been passionate about the creatures ever since he got his first fish tank at the age of four.
"I have always enjoyed studying fish, catching fish and eating fish," says 16-year-old Ryan, who is from Hong Kong but currently studying in the US. "And when I was around seven or eight I successfully bred my first fish."
But his passion for fish is more than just a hobby. For the past few years, Ryan has been working to try and save a species of croaker called the Chinese bahaba, a fish often referred to as the yellow-lip fish. The species was once plentiful in local waters, but Hongkongers' appetite for fish maw (swim bladder) has seen their numbers drop drastically in the past 30 years.
"While reading the newspaper back in 2011, I was surprised to read about a woman who was lying down next to a golden, human-sized Chinese bahaba that she had caught."
Ryan was confused – he had always imagined croakers to be medium-sized, silver in colour and with big mouths, and this huge fish didn't fit with what he knew about the species. So he decided to look into it.
What Ryan found worried him. The Chinese bahaba, which can reach 2 metres in length and weigh up to 100kg, is native to Hong Kong waters, and is listed as critically endangered on the International union for Conservation of Nature (IUCN) red list. However, there are no existing laws to protect them in Hong Kong. Fishermen who catch Chinese bahaba can eat or sell the fish maw or flesh for thousands of dollars, and a single fish has been known to sell for as much as 3.45 million yuan (HK$4.1 million). While they aren't the target of commercial fishing, their numbers have been dropping quickly, particularly as fishermen and anglers catch them before they reach maturity, meaning far fewer numbers of the species are able to breed. Understanding the bahaba's situation, and realising how little publicity the species had, Ryan decided to act.
"The bahaba's size and colour really caught my attention," said Ryan. "So I decided that I needed to try and save the fish, even it means doing a lot of research and writing letters to different people."
His first step was to contact the Agriculture Fisheries and Conservation Department (AFCD) and ask why the Chinese bahaba is not protected, and if the department would consider protecting it. Despite explaining that the fish was a local species, his pleas fell on deaf ears. Although the AFCD responded to his letters, they simply offered excuses as to why the fish could not be protected – such as the fact that they could not be included in the Convention in International Trade in Endangered Species of Wild Fauna and Flora (CITES) list because they are not traded enough internationally, or that, because Chinese bahaba are so rare, "it would not be a practical or cost-effective solution."
Ryan couldn't understand. If the Chinese bahaba is indeed rarely seen, that is all the more reason to put specific protection in place to protect them, he reasons. Ryan also explained to the AFCD that back in the 60s, the Chinese bahaba was commonly used to make fish maw and sold as a dried, salted fish in Tai O, and it is only due to overfishing of the species that sightings have become what the AFCD refer to as "a rare occurrence".
What's more, the Chinese bahaba has been protected on the mainland under Grade II State Protection since 1989, so if the mainland is taking it seriously, Hong Kong should be, too.
High profile scientists agree. Professor Yvonne Sadovy, a fisheries scientist at the University of Hong Kong, can't believe that there is no legislation to protect vulnerable local fish from being caught. A recent HKU study identified 13 local species that are vulnerable, including two that are "critically endangered" (the croaker, or Chinese bahaba, and the yellow croaker, or crocein croaker). Four were classified as "endangered", including the Hong Kong grouper. Fishermen who catch a Chinese bahaba are free to eat it or sell it to a restaurant, and without legislation, they will be free to do that until there are no Chinese bahaba left.
Ryan also approached the World Wildlife Fund to ask if they could help. They noted that in 2007 they had recommended that the Hong Kong government devise a species-specific action plan for the Chinese bahaba, but added that the problem lies with awareness. In one of their surveys, 95 per cent of respondents said they would eat sustainably sourced food, and avoid eating species that were endangered, but Hongkongers simply don't know that the Chinese bahaba is endangered.
The depth of Ryan's research is remarkable, particularly for someone of his age. He is able to reference obscure local legislation, and persuasively argue the reasoning and logic behind his intentions. His research spans not only Hong Kong, but also the mainland, where he has studied the specific laws and controls that the Chinese government have implemented. In 2005, mainland authorities designated a protected area in the Pearl River estuary to help protect the species, and Ryan visited the nearby Chinese Bahaba Fish Protection Centre in Hu Men town, Dongguan City (東莞) in 2013 to further his research.
Along with his letters to the AFCD, to environmental groups and biodiversity professors in Hong Kong, Ryan put together an extensive report of his work and launched a petition at his school to save the Chinese bahaba. But he claims that none of it would have been possible without the help of one person: his writing teacher, Christine Choi, who is founder and director of Elephant Community Press, a programme that offers writing workshops for Hong Kong students.
"When I was younger, my English wasn't very good. I had always wanted to do this conservation project but it never happened as I didn't really know what I was doing. After speaking to my parents, I met Christine and she helped me improve my writing step by step. I started to understand how to 'make sense' of my arguments and Christine also taught me how to organise my ideas effectively. If it wasn't for her, I wouldn't have been able to do it."
But Choi maintains that it was all Ryan. "Hong Kong needs more students like Ryan, who care deeply about our community and our planet and, even more importantly, are willing to put in the hard work to take action and advocate for change," she says.
His fierce determination to challenge the government to take action is inspiring, and his passion and enthusiasm are infectious.
Although he hasn't had much success in changing the status of the Chinese bahaba yet, that doesn't mean he has failed. As American author Margaret Mead once said: "Never ever depend on governments or institutions to solve any major problems. All social change comes from the passion of individuals." If that's the case, the Chinese bahaba have nothing to worry about.
Learn more about the Chinese bahaba and what you can do to help.
Sign up for the YP Teachers Newsletter
Get updates for teachers sent directly to your inbox
Sign up for YP Weekly
Get updates sent directly to your inbox