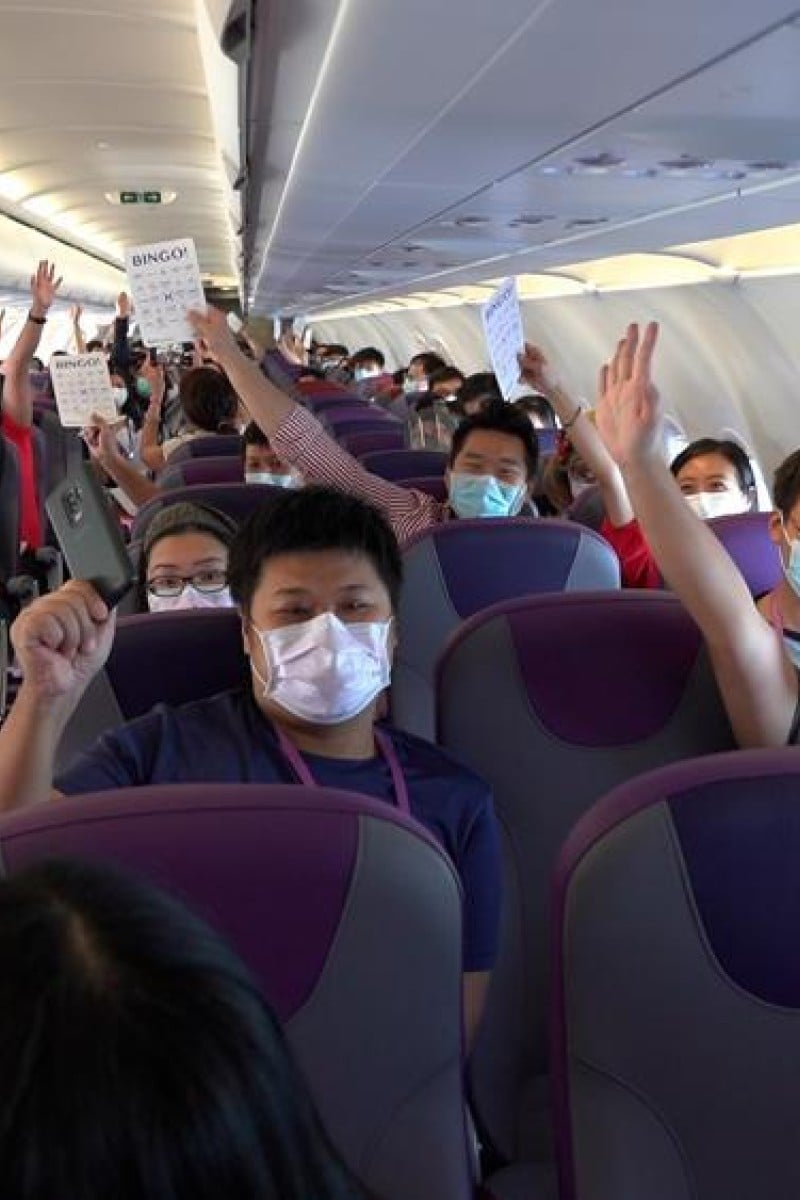 HK Express operates its first 'flight to nowhere' in skies over Hong Kong
The trip lasted a little over an hour and never left the airspace over the city

Many are excited over a proposed travel bubble with Singapore that could begin this month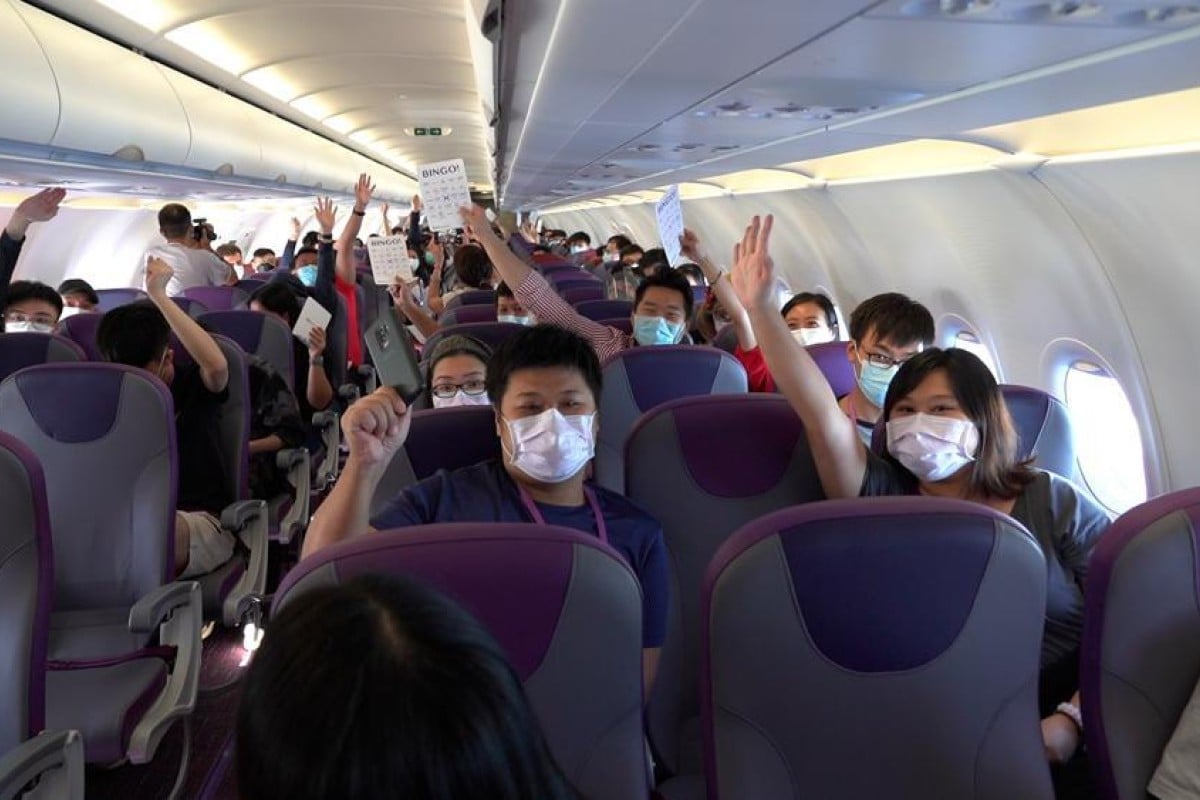 Passengers on board the HK Express flight play a game with crew members. Photo: Handout
112 Hongkongers experienced a brief sense of normalcy with their HK Express 'flight to nowhere' on Sunday, which took a short trip around the city without leaving its airspace.
The contrast from the pre-pandemic era of travel could not have been more stark: passengers were escorted through the airport terminal in single file and separated from other genuine travellers to a cordoned-off area of the airport terminal. 
Guests were also separated on the plane by an empty middle seat.
Are the 'flights to nowhere' a good or bad idea?
HK Express, Cathay Pacific's budget airline, was the first to announce it would launch sightseeing flights around Hong Kong. But it was beaten by Hong Kong Airlines, which operated its flight over the city last week.
Around 360 tickets were snapped up by Hongkongers in 90 minutes when the announcement was made by the airline last month. 
With 120 passengers booked to fly on Sunday, there were eight no-shows.
Passengers wait to get on board the 'flight to nowhere'. Photo: Handout
"I really miss the thrill of flying and the experience inside aeroplanes," said Yannick Callicott, whose most recent flight was last Christmas to and from Los Angeles. 
The 15-year-old student said being in the air gave him an adrenaline rush.
The flight, which lasted little more than an hour, flew to the south-western tip of Hong Kong airspace.
As the flight never left the city, travellers were given a special exemption from the 14 days of quarantine other arrivals face. Passengers were given special lanyards to wear around their necks, and were warned in advance to display it or risk mistakenly being sent to quarantine.
Is it the right time to discuss travel bubbles with other cities?
Airlines have resorted to special initiatives, in part to help raise some extra cash, after being devastated by the pandemic. 
On top of social distancing, HK Express has adapted to the pandemic by not selling food or drink, and will not for some time to come, depriving the carrier of a key revenue source. 
Nevertheless, the airline enthusiastically sold duty-free items to keen buyers – with model aircraft a popular choice.
Sign up for the YP Teachers Newsletter
Get updates for teachers sent directly to your inbox
Sign up for YP Weekly
Get updates sent directly to your inbox