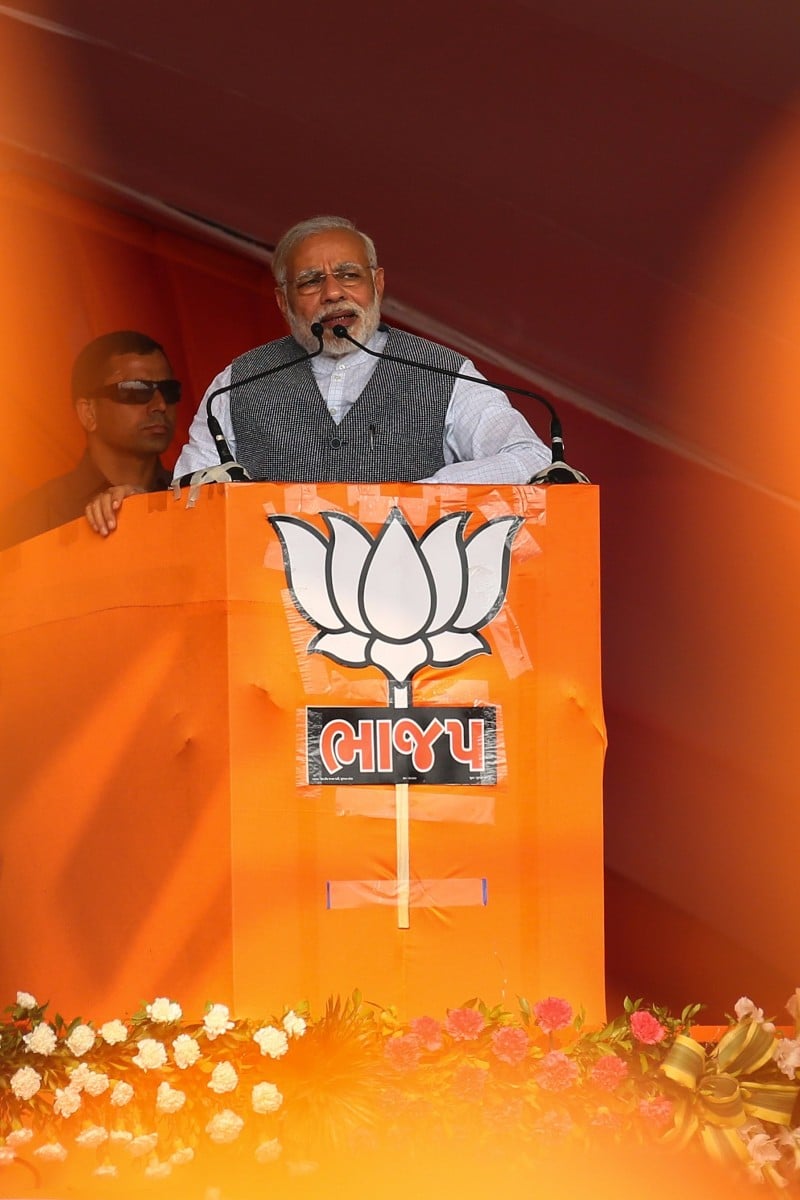 Indian Prime Minister Narendra Modi may be running out of time to fulfil his promises
He has laid the groundwork for a more promising business environment, but his government's wide-ranging reforms have been hit-or-miss
By Yashvardhan Bardoloi
|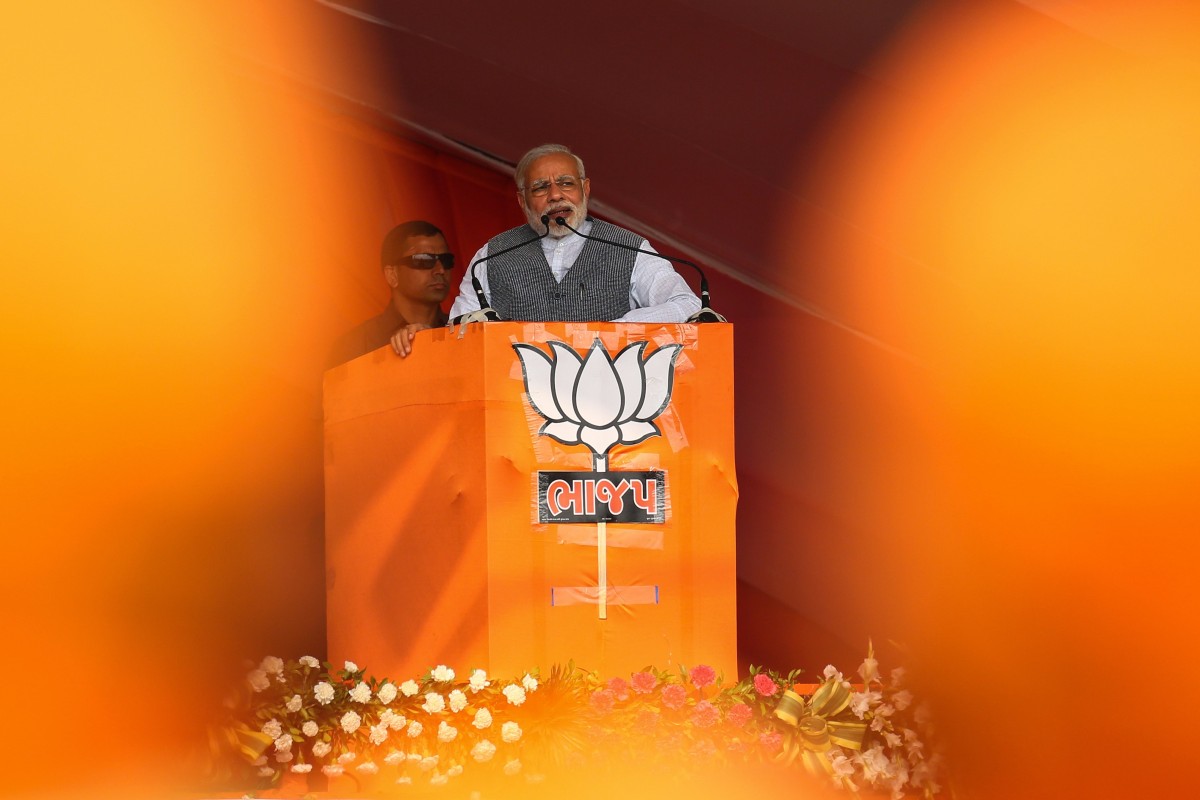 Indian Prime Minister Narendra Modi (C) is past the halfway point of his term.
Prime Minister Narendra Modi has "robbed India of its economic prowess", writes Rahul Gandhi, leader of the opposition Indian National Congress, in British newspaper, the Financial Times. But Modi doesn't need to worry about such comments: his party controls India's lower house of parliament, the Lok Sabha, as well as a majority in state legislatures.
Modi and his Bharatiya Janata Party (BJP) stormed to power on a promise to galvanise India's economy with a series of wide-ranging reforms. This article will analyse the controversy surrounding two key reforms – demonetisation and the implementation of a nationwide goods and services tax (GST) – as well as other crucial policies introduced by the Modi government.
Demonetisation
Modi's dead-of-night decision to take high-value notes out of circulation has unexpectedly become a central pillar of his economic policy. The government's objective was to expose illegally-acquired "black money", which is kept away from the taxman and frequently comes from corrupt activity. Black money bypasses the banking system, allowing wealthy individuals to avoid paying tax and allowing criminal activity to flourish.
Although noble in intention, the move was economically unwise. It was heavily criticised, both by domestic political opponents and international commentators. There is flimsy evidence to support the notion that demonetisation helped quash corruption or drastically increased the government's tax revenue. Many economists saw the move as a meaningless distraction. What's more, the policy caused major disruption. Millions had to leave work to wait in queues for hours or even days outside banks to change their old notes. The small businesses in India's large "informal economy" rely on cash transactions, and they were hit hard by demonetisation. Modi's political opponents have mercilessly exploited the policy's relative failure, claiming that demonetisation has "ruined the lives of millions".
In the case of the GST however, Modi was on firmer economic footing. Previously, each state in India had its own tax regime, making interstate commerce inefficient. State-specific tax filing was required every time goods crossed state borders; this effectively meant India has 29 separate markets. In theory, the GST is a boon for the economy.
However, opposition figures claim that its implementation has been botched. For one, instead of a single tax for all products, different items are subject to different taxes. This complicates filing and adds an unnecessary level of political and bureaucratic wrangling. In addition, small businesses that typically flew under the radar now have a significant added cost in the form of the GST, although many would argue that the benefits of bringing them into the mainstream economy is well worth the cost.
"Make in India" – the prime minister's slick campaign to turn India into a hi-tech manufacturing powerhouse – has been praised on both sides of the political aisle. The thrust of "Make in India" is greater foreign investment in the economy. Now there is more willingness to allow foreign companies to acquire Indian firms and invest more heavily in them, enabling a transfer of technology and an increase in manufacturing capacity. This is a seismic shift from the days when foreign involvement in the economy used to be seen as undermining local development. The policy framework also includes a commitment to loosening labour laws and making it easier to acquire land for infrastructure development.
However, some critics have called "Make in India" a hollow slogan without a coherent set of underlying policies. Indeed, the evidence suggests that "Make in India" has not yet been a resounding success. Loosening labour laws and land-use restrictions can become a political minefield, and the BJP's lack of a majority in the upper house also complicates issues.
To be fair, Modi has laid the groundwork for a more promising business environment, and India has shot up on the World Bank's "Ease of Doing Business" ranking from 130 to 100.
Reduce priority sector lending
Another important reform has been a push to reduce bank lending to "priority" sectors such as education and agriculture. Public sector banks account for 70 per cent of total assets in the Indian banking industry, an extraordinarily high figure. It isn't ideal to have the public sector do most of the lending, but there seems little political appetite for a privatisation of the sector. Moving away from priority lending is a promising first step.
Priority sector lending has meant that loans have been allocated inefficiently, with failing firms continually given credit. This has allowed unproductive businesses to lumber on, adding little value to the economy. Worse, the fastest-growing industries have been denied capital as banks have been saddled with non-performing loans – borrowers who are behind on their payments – and strained balance sheets. Without priority lending, market forces will determine who gets the loans, and capital will be used wisely.
One of Modi's signature campaign slogans was an appeal to the Indian people to "give me just five years" to transform the country. More than three years have passed. As with every leader, a large number of Modi's promises have not come to fruition. And, as with every leader, this is not entirely his fault: a strong partisan divide in parliament and near-constant campaigns for state legislature elections have weighed on Modi's ability to enact radical change. But it is undeniable that there has been a concerted effort to introduce reforms. Will the prime minister leave a lasting, positive mark on the economy? We will have to wait and see: the Indian people did promise Modi at least two more years
Edited by Charlotte Ames-Ettridge
Sign up for the YP Teachers Newsletter
Get updates for teachers sent directly to your inbox
Sign up for YP Weekly
Get updates sent directly to your inbox