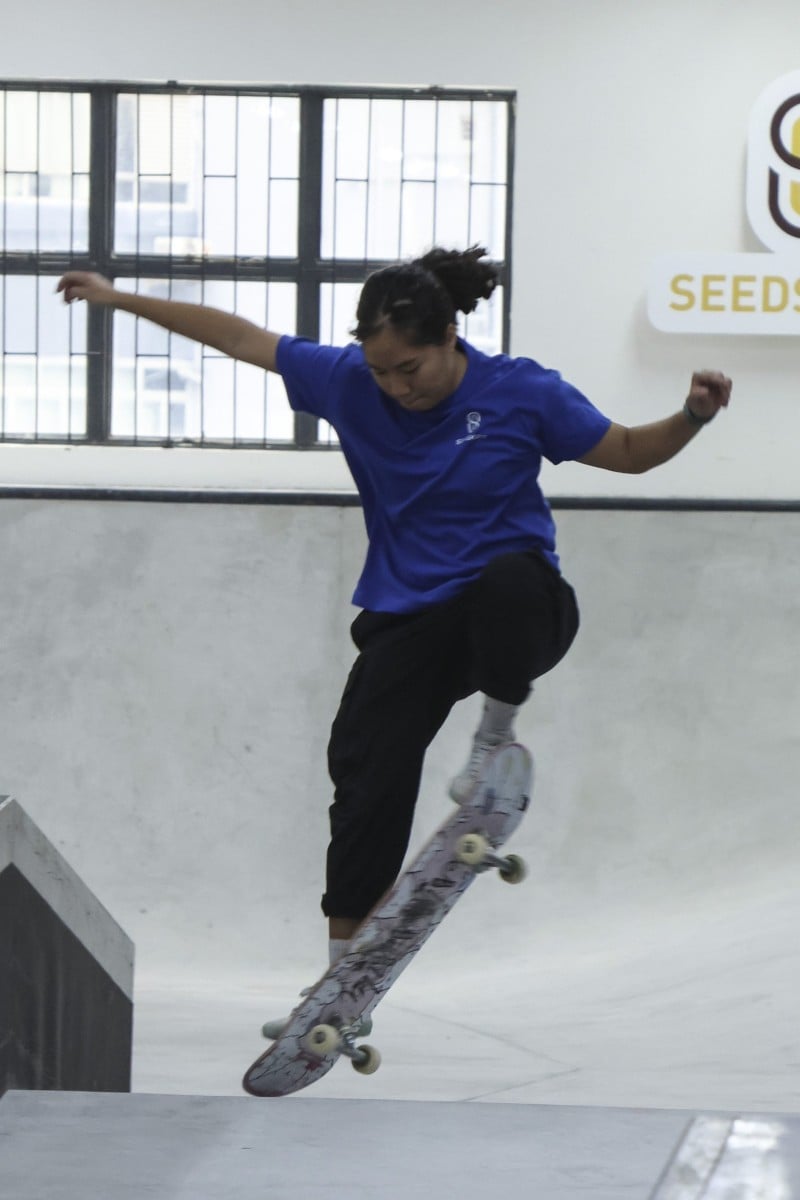 Skateboarder Ting Lui fell in love with the sport as a teen, saying it helped her gain confidence and learn how to overcome failure

The coach at the city's largest indoor skate park says it is still difficult for skaters to go pro or compete in the Olympics, as it requires a lot of money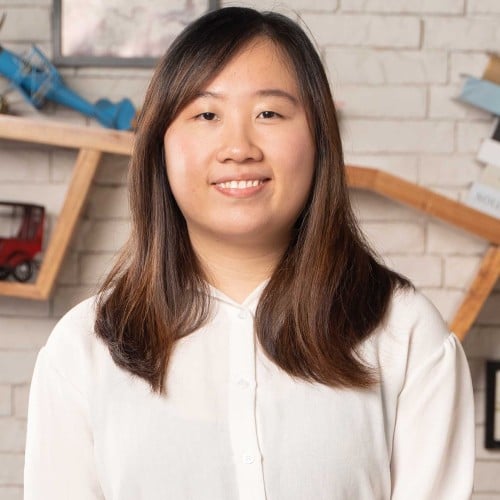 Sue joined the Post in 2021. She graduated from the University of Hong Kong with a double major in journalism and counselling.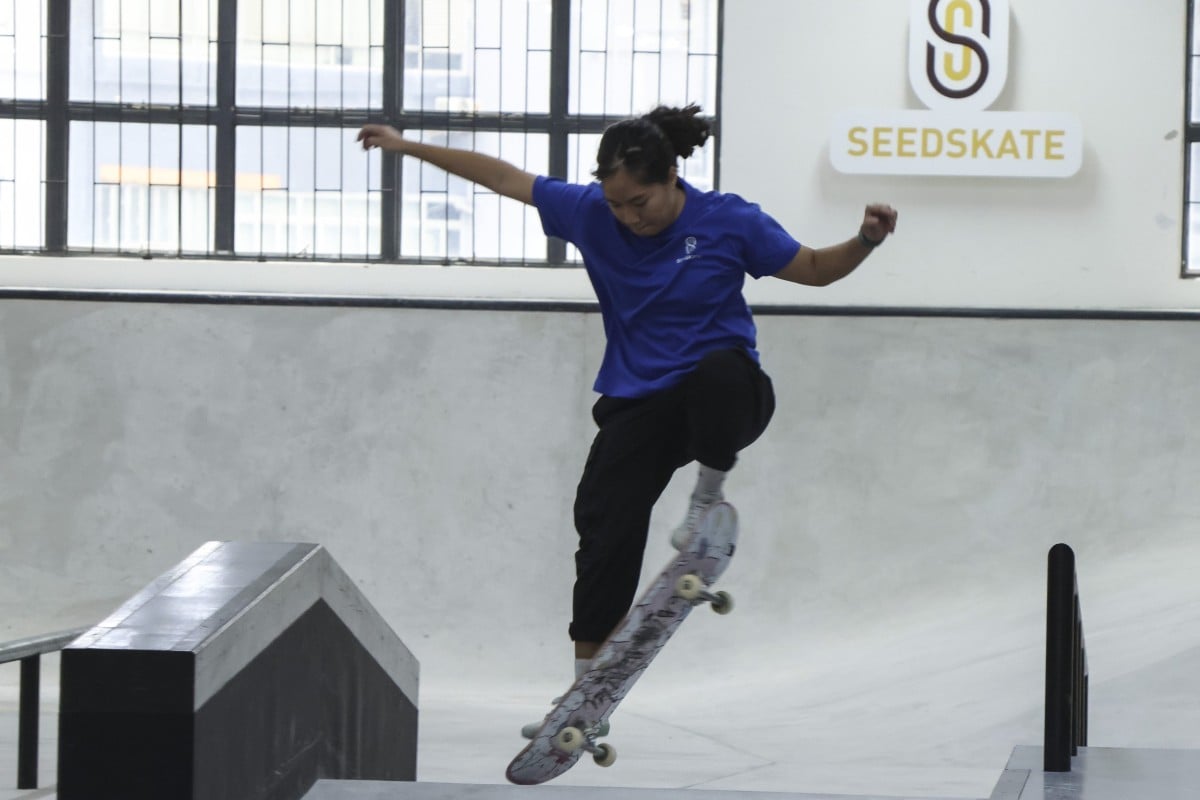 Skateboarding coach Ting Lui practices a trick at SeedSkate at The Mills in Tsuen Wan. Photo: Handout
When Ting Lui first rode a skateboard at age 15, she knew it was the sport for her.
"It was captivating," she said.
Once an introverted teen, Lui's life changed after being introduced to the sport at a youth centre in Sai Wan Ho. Little did she know that the after school pastime would become her lifelong passion – and career.
"After the DSE exam, my coach advised me to become a pro skater and to make a living by teaching people to skate … I was over the moon to take the offer," said the 25-year-old coach at Seeds Skateboarding Institution (SeedSkate).
Hong Kong tennis star Coleman Wong on joining the senior ranks and setting his sights high
Having skated for more than 10 years and coached for five years, the female athlete said the sport has grown in popularity in Hong Kong after it debuted at the 2020 Tokyo Olympics.
"Some young parents will let their children learn how to skateboard, and more women are taking up the sport," said Lui.
Given the boom, skate parks are now springing up across the city. There are currently eight skateboard grounds and five skateparks under the operation of the Leisure and Cultural Services Department, and a few private indoor skate parks.
SeedSkate, the largest indoor skatepark in Hong Kong, boasts a whopping 20,000 square metre area. Located in The Mills in Tsuen Wan, the park was designed by California Skateparks, responsible for the Olympics skate park design.
"This is a professional skate ground that can cater to the needs of both pro skaters and learners. It takes its inspiration from foreign skate grounds, while the main street area is built of concrete, which is rare to see in indoor skate parks," said Lui.
She added: "The major difference between outdoor and indoor skate grounds is the temperature. When skating outdoors during the humid summer, you really feel like you are melting."
Hong Kong Paralympic athlete calls for more education, support for disabled people
Lui said that people who don't normally like sports might enjoy skateboarding, as long as they have some ability to balance. Still, "it's important not to be afraid of falling."
Even Lui, an experienced skateboarder, still gets startled and falls during practice.
"It's hard to overcome the fear, especially when you are doing tricks on the ramp. But you have to face your demons and compete against yourself," she stressed, adding that this was why the sport can be beneficial for teenagers.
Hong Kong Olympic medallist Sarah Lee's 3am study routine
"I had low self-esteem and was afraid of talking to strangers. But skateboarding helped me open up and build up my confidence. During the process, you need to deal with failure and challenges, and if you can overcome them and ride a skateboard, you will not be scared of anything," Lui said.
While there are a lot of young, skilled skaters in the city, there's still a long way to go before Hong Kong can get a ticket to the 2024 Paris Olympic Games.
To qualify for a spot, athletes must compete in several international games and make it to the top three. But training and going to international competitions can be costly.
Skateboarding helped Lui gain confidence and learn how to deal with failure. Photo: Shutterstock
"While we're grateful to see skateboarding facilities being upgraded, we still need more support [from the government] to help skaters compete overseas," said Lui, adding that currently, only the Hong Kong Federation of Roller Sports sponsors skaters for overseas competitions and training.
Still, Lui is hopeful she may one day get to compete abroad.
"I am eyeing more international games opportunities in the future. There is no retirement age for skaters, and I will continue to skate until the day I can't."
Sign up for the YP Teachers Newsletter
Get updates for teachers sent directly to your inbox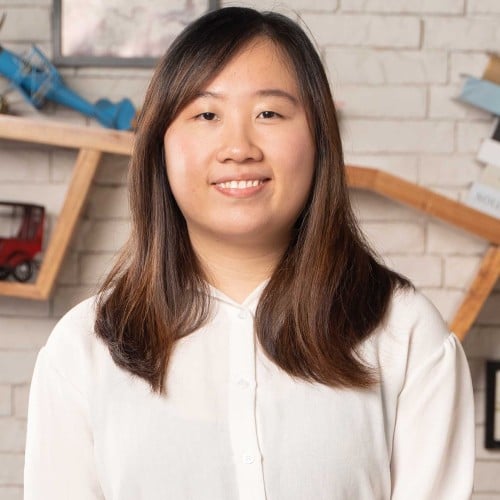 Sue joined the Post in 2021. She graduated from the University of Hong Kong with a double major in journalism and counselling.
Sign up for YP Weekly
Get updates sent directly to your inbox