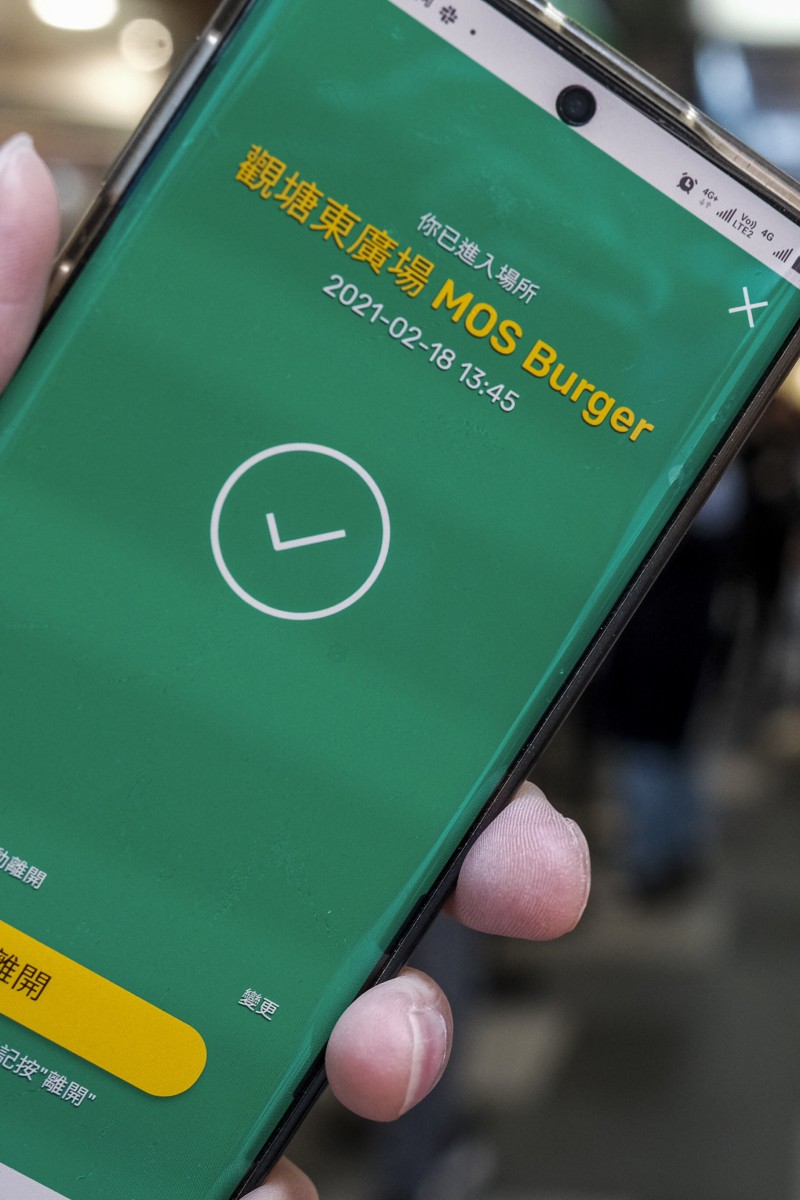 The rule will cover all restaurants, party rooms, night clubs, and karaoke and mahjong parlours

Players in catering sector call for lifting of all business restrictions since wider use of the app is expected to shore up protection in the city against Covid-19
Diners currently have the option of using the app or writing their contact details on a slip of paper. That second method is set to end for most. Photo: SCMP / Edmond So
All patrons of restaurants, bathhouses and entertainment venues in Hong Kong will be required to use the government's Covid-19 contact-tracing app from December 9. This is part of a bid by authorities to facilitate the reopening of the border with mainland China.
Confirming an earlier report by the Post on mandatory use of the "Leave Home Safe" app at eateries, the Food and Health Bureau on Tuesday said the rule would also cover party rooms, night clubs, and karaoke and mahjong parlours.
In a separate move, capacity for the city's "cruises to nowhere" packages would from December 1 be increased to 75 per cent, up from the existing 50 per cent.
"We will continue our communications with the relevant sectors in the next two weeks to ensure smooth sailing of the new measures," a government spokesman said. "We call on the public to be cooperative with the relevant requirements to enhance Hong Kong's anti-pandemic drive."
Hong Kong now requires use of 'Leave Home Safe' app to enter government buildings – here's what you should know
He added that authorities would examine other efforts to enhance the city's vaccination rate, which stood at about 70 per cent.
Lawmaker Michael Tien Puk-sun had earlier on Tuesday revealed he had knowledge of the December 9 launch date. "Since the beginning of the month, more of the elderly have downloaded the app as it is required to enter government premises and wet markets," he said.
"It is a natural step to extend it to restaurants, as a matter of time."
The "Leave Home Safe" app was launched a year ago to help authorities trace the close contacts of Covid-19 patients. On their arrival at venues, users scan QR codes, which log their entry without collecting personal data or tracking movements in real time. A government spokesman said data was saved only on users' mobile devices in an encrypted format.
A woman scans the QR code for the app outside a restaurant. Photo: SCMP / Sam Tsang
An option to provide contact details on paper is currently available to all users. Diners found by health authorities or police to have provided false information face a fixed penalty of HK$5,000 (US$642), while the restaurant's operations may be suspended.
The paper option for diners is set to end by December 9. No details are yet available on exemptions for certain groups of users.
According to official figures, the app has been downloaded more than 6.75 million times, while 78,000 private and 22,000 public venues are equipped with the QR codes for scanning.
Face Off: Is the "LeaveHomeSafe" app a good idea to combat the pandemic?
Authorities earlier this month made using the app mandatory for entry to public buildings such as government offices, wet markets and leisure facilities. Exemptions are limited to children, the elderly and people with disabilities.
The move, which took effect on November 1, was regarded as a necessary first step towards meeting Beijing's standards of coronavirus prevention and for accelerating the reopening of the border with the mainland.
Hong Kong has kept coronavirus cases and deaths to a minimum through maintaining tight inbound travel restrictions and stepping up local infection controls to align itself with the mainland's zero-Covid strategy.
However, Gordon Lam Sui-wa, convenor of the Hong Kong Small and Medium Restaurant Federation, who also runs four restaurants, said he expected mandatory use of the app for diners would affect business as some patrons held privacy concerns.
"The new rule will affect our business to a certain extent as there must be people who don't like to use the app and [they may] avoid dining out," he said. "But the city's restaurants have no choice and we have to follow the rule."
Restaurant receipts in the fourth quarter of 2020 plunged 25.1 per cent to HK$19.5 billion (US$2.5 billion) from HK$26 billion over the same period a year ago. Given the mandatory app use, Lam urged the government to lift all operation restrictions on restaurants, including limits on capacity and operating hours.
"If the government thinks that the compulsory use of the app could effectively help rein in the spread of the virus, it should remove all operating restrictions on restaurants, such as the number of people allowed for each table," he said.
"The limit on capacity should be lifted while restaurants should be allowed to operate round the clock."
Under the current rules, the "Leave Home Safe" app is mandatory only at type D and C venues, which are allowed to seat a maximum of 12 and six people at a table respectively, until 2am and midnight. Photo: SCMP / Xiaomei Chen
Simon Wong Ka-wo, president of the Hong Kong Federation of Restaurants and Related Trades, said cooperation was needed from industry players.
"Staffing arrangements have been difficult, and it's hard to check and verify the information of each customer," Wong said, referring to current challenges around giving patrons the option to write down their personal information. "Using the app will be more convenient."
Last month, the city's privacy watchdog named 14 restaurants, including Triple O's and the Grill Room, demanding they take remedial actions after finding them at fault for practices such as failing to set up or cover a collection box for personal data forms, or using a common registration form or book that risked data exposure.
On a radio programme earlier, Billy Wong Chun-hang, president of the Hong Kong Blind Union, had called for more friendly policies for the visually challenged, such as using Braille or raised dots to indicate where users could scan the QR code, or giving them the option of pre-writing the information on paper and submitting this on entry at restaurants.
Coronavirus: Hong Kong to launch quarantine-free travel to the mainland in December
Under the current rules, the app's use is mandatory only at type D and C venues, which are allowed to seat a maximum of 12 and six people at a table respectively, until 2am and midnight.
The government currently recommends use of the app at type B restaurants, which can serve up to four customers per table till 10pm. Of the roughly 16,000 licensed restaurants and bars in Hong Kong, about 11,000 are in the type B group, compared with 3,000 in type C and 2,200 for D.
Only a handful of restaurants are type A venues, which can put two customers at a table and must shut by 6pm.
Vaccine bubble rules for bars allowing groups of up to eight to sit together already require patrons to use the app and show their Covid-19 vaccination records.
Sign up for the YP Teachers Newsletter
Get updates for teachers sent directly to your inbox
Sign up for YP Weekly
Get updates sent directly to your inbox